How Pixar's 'Coco' Tears Down Cultural Walls To Tell A Universal Story [Set Visit]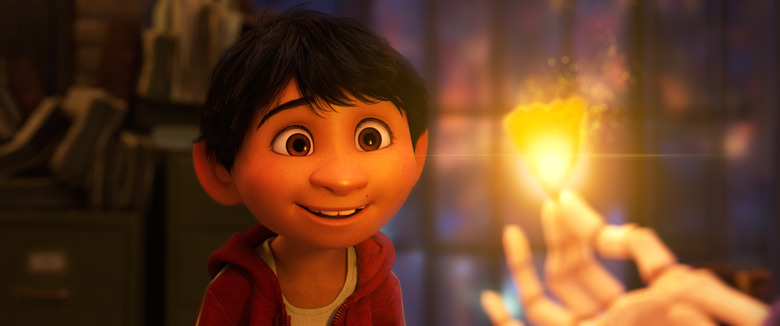 Is it possible to "Pixar-ify" an entire cultural tradition and transform it into a family-friendly, merchandise-ready movie? Those are the fears that some might have about Coco, Pixar's upcoming film centers around Mexico's beloved Day of the Dead or Día de los Muertos. But those fears can be put to rest, as Coco is as respectful in its treatment of Día de los Muertos as it is eager to share the joyous Mexican holiday with the rest of the world.
Coco follows a Mexican boy named Miguel (voiced by relative newcomer Anthony Gonzalez) whose overwhelming passion for music drives him to disobey his family — who, after a traumatizing incident from the past, has banned all music in their household — and attempt to prove himself as a musician like his idol, Ernesto de la Cruz (Benjamin Bratt). But a series of rash decisions causes him to be stuck in the Land of the Dead on Día de los Muertos. There, he teams up with a ragamuffin skeleton named Hector (Gael Garcia Bernal) on a mission to find de la Cruz, who he believes can help him return to the land of the living.
As fantastical a story as it sounds, Coco actually touches on more universal values than you would think: family, nostalgia, music, and adorable dogs. But amazingly, it tells this tale in a bilingual tongue, with the setting placed firmly in the fictional Mexican town of Santa Cecilia and its afterworld counterpart. The cast is entirely Latino, and Spanish phrases are sprinkled throughout the movie — with nary a subtitle to be seen. But rather than being alienating, these aspects of multiculturalism only serves to make Coco more authentic, serving as a bridge to a culture that hasn't often been explored in mainstream animated films.
Earlier this month, I visited Pixar to get an early glimpse of the footage of Coco, as well as insight into the process of Coco's long journey to the big screen from its directors, animators, and artists.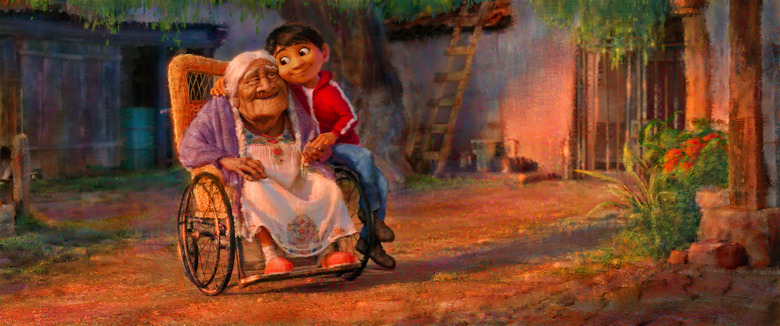 Family First
If the words family were uttered one more time in the course of Coco or during the press day, we may have had to crack open a bottle of Corona and give Vin Diesel a call. But in all seriousness, family serves as the crux of the story of Coco, and both the driving force and obstacle behind Miguel's every decision.
The lead story artist on Coco, Dean Kelly, told us that family was always going to be essential to the movie even in its development stages:
Early on we knew [the film] had at its core some really universal ideas, and one of them was what it means to be part of the family. So these elements have always been key to the story that we wanted to tell.
Miguel hails from a multi-generational family on both his living and dead side, which co-director and screenwriter Adrian Molina stressed as being of the utmost importance "because it connects to this theme of connecting across generations." Populating the Rivera family, who run a shoemaking workshop, in the land of the living are Miguel's beloved great-grandmother and the titular character of the film, Mamá Coco (Ana Ofelia Murguía), his overbearing Abuelita (Renée Victor), and his loving and soft-spoken Papá (Jaime Camil) and Mamá (Sofía Espinosa).
Meanwhile in the land of the dead, Miguel is reunited with even more family members in the skeletal forms of his great-great-grandmother Mamá Imelda (Alanna Ubach), his aunt Tía Rosita ( Selene Luna), his late great-grandfather Papá Julio (Alfonso Arau), and Miguel's late identical twin unclesTío Oscar and Tío Felipe (Herbert Siguenza).
If that seems like a lot of faces to remember when it's not even your family reunion, Coco director Lee Unkrich revealed that he wanted Miguel to have an even bigger family to start with as families would get only exponentially bigger with each generation. But he admitted it would be unwieldy, so it "came down to finding a nice assortment visually and with their personality types." In fact, Unkrich revealed that it was the classic Pixar film A Bug's Life that taught the crew how to scale back on large ensemble movies.
Molina added that having such an expansive family feels inherently Mexican, drawing on his own experiences as a Mexican-American:
So much of the film is about family and your connection to family, and in my experience in my upbringing, it's true of my Mexican-American community that it's very important. And to be true to the fact that families aren't always functional. But I think that's a very universal thing, I think a lot of people are going to take that away. But one really beautiful thing about this film is to be able to feature a Mexican family, and to be able to feature Mexican protagonists. And I think there's something really beautiful and necessary to be able to see yourself on screen, see yourself as the hero. And for a Mexican-American or Mexican family to go to it together and have that experience, I think that would be a unique thing that they could share when they go to see the movie.
Why It Had to Be Mexico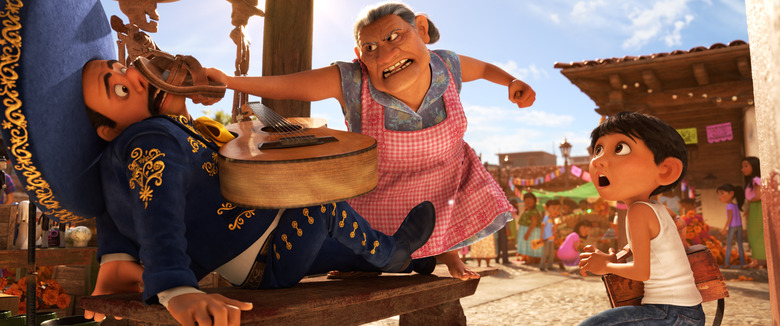 Coco is a film that can only be set in Mexico. The movie is set in one day on the Day of the Dead, the long-standing Mexican tradition that goes as far back as the indigenous, pre-colonial days of the country — with some historians tracing the holiday's roots back to an ancient Aztec festival. Rather than a somber day of reflection like the day implies, it is in actuality a joyous celebration of the memories of ancestors, with altars decorated with photographs and food, a tradition of sweeping and holding vigil at the cemetery, and a bright and costumed parade with the recognizable skull face paint.
The idea for the film came about around 2011, when Unkrich returned from a family trip to the Epcot theme park at Walt Disney World, and had been captivated by the paper mache figures on display in the Mexico pavilion — figures that had been purchased from real local artists. "That planted the seed," Unkrich said, who then developed the idea with story supervisor Jason Katz to bring to Pixar chief creative officer John Lasseter. Lasseter OK'd the idea, and the crew immediately got on a plane for Mexico to observe Día de los Muertos firsthand.
It was the first of several trips that the Coco crew took to Mexico, to research the holiday as well as several cities and towns that could serve as inspiration for Miguel's hometown of Santa Cecilia as well as the fantastical Land of the Dead. Individual members of the crew also traveled back and forth to coordinate the music collaborations with Mexican musicians.
Kelly highlighted the pivotal role these research trips had in the setting the film when and where it was:
It's so important for us to put the time into this research phase because we knew that we didn't want Coco to be a story that just took place on Dia de Los Muertos, we wanted it to be a story that could only take place on Dia de los Muertos. And we wanted these traditions to be embedded in Miguel's journey.
Another way that the crew went out of the way to pay respect to the Mexican cultures and tradition — which they had initially run afoul of in the early stages of the film's development when Disney had attempted to license the name "Day of the Dead" for Pixar's use in the film — was to bring in as many cultural consultants on as possible. While Pixar is not unfamiliar with cultural advisers, Unkrich described how it was an unusual practice to bring them on so early:
We did something that we've never done on any of our films, we brought on the core group of cultural advisers early on. We started inviting them to our [regular internal screenings]. Normally at Pixar we play our cards really close and it's not until later that we start to do public preview screenings, but in this case we started showing the screenings not just to them, but we had a series of screenings where we brought on cultural advisers from Los Angeles, different places around the country, some pretty important figures in the Latino community, and let them "into the tent" as it were.
Some of them were vary wary about what we were doing and were not sure what our intentions were and how seriously we were taking it, but I think we put them at ease pretty quickly but also made them comfortable giving us sometimes big notes. We made some big changes to the story based on the input from the advisers. It was always in an effort to make the characters relatable and the story feel great, we didn't want this to be a lesson.
But despite Unkrich and his team's determination to paint as authentic a picture of the holiday as possible with the help of research and cultural advisers, Unkrich still expressed trepidation at the prospect of helming a story that he had little familiarity with:
I knew from day 1 as soon as John said, "Yes this is the idea I want to pursue," I thought, "Oh my gosh what did I get myself into?" because I knew I wanted to get it right. The last thing I wanted to do as make a film that felt like it was made by an outsider. I'm not Latino and will never be Latino, I just can't change that. But I comforted myself in knowing that there are a lot of great films by filmmakers that were not of the cultures that they were making films about, so I took the responsibility very seriously. And it's been great having Adrian by my side and all of the cultural consultants that we gathered and the many Latino members of our crew that have been with us for a long time. And I hope we got it right. If we have any missteps, it's not for lack of trying.
Molina added, "When I heard that Coco got greenlit, I was like "Put me on that movie."
Molina began as the screenwriter for Coco, but was soon promoted to co-director alongside Unkrich. The story held personal resonance for Molina, who — though Spanish is his second language — was adamant that the film made clear to the audience that it was set in Mexico. This meant that untranslated Spanish phrases would be scattered throughout the dialogue of the film, or that all the non-plot-relevant signage is in Spanish:
We definitely wanted to include [Spanish phrases] because so much of the feeling of being in Mexico comes from the language. But then we also knew that this was going to be the domestic version of the film and most of the audience is going to come from a background where they don't know Spanish and they may only relate to an English-language part. So we created a framework for when to use Spanish and when not to use it. If there's something that works in context, the way the character's acting tells you what the word means even if you don't know what it means — like when Abuelita goes up to her grandson and strokes his face saying "Ay mijo," we know it's a gesture of affection so we don't need to translate it to "my child."
We tried to make sure our storytelling is clear while still preserving the language.
Molina praised the all-Latino cast of Coco for adding that extra layer of authenticity to the dialogue, saying that the Spanish-speaking skills of the cast allowed them to use "our actors as a resource." Molina pointed out to Garcia Bernal in particular, saying with a laugh that he "really went creative and he started keying into things like, 'Oh I want to call him chamaco, because that feels like an old-timey way I relate to this kid.'"
It's an all-Latino cast...except for perhaps one line by Pixar stalwart Jon Ratzenberger, Unkrich added dryly. Ratzenberger has made a cameo in every Pixar film since the studio broke into feature films, and Unkrich said he doesn't "want to break the tradition since Toy Story, so we're going to have an all-Latino cast plus Jon Ratzenberger."
The Language of Music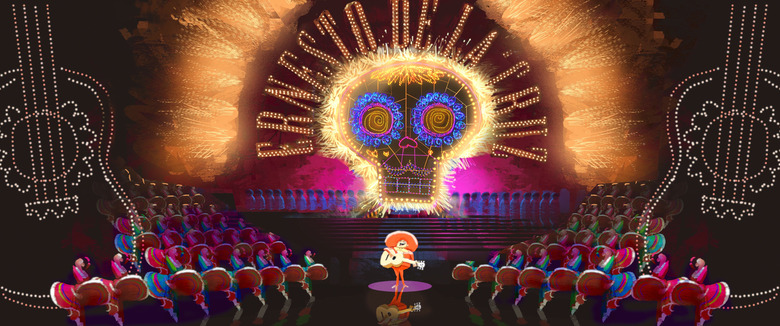 Coco is not a musical, but music is an essential part of what moves and motivates Miguel. It's what drives the plot too, and what sends Miguel off to the Land of the Dead. While the movie contains a litany of original songs, Molina and Kelly wanted none of them to be an "I Want" song in the tradition of Disney musicals — instead they had to show how Miguel felt.
Molina said that was their first real story obstacle, to "show that music was the air that Miguel breathed":
We always knew that we wanted Miguel to be moved by this deep passion for music. We're all artists here at Pixar, so it made sense to us to be fueled by your heart and feel this drive to create... But it's one thing to know it intellectually and another thing to express it in a way so that your audience feels it... And we knew we needed to make it pretty clear for Miguel, because he was going to do some pretty crazy stuff over the course of this film — he's going to run away from his family, he's going to break into a tomb, he's literally going to risk his life going into the land of the dead in pursuit of his passion to play music. And if you don't buy that this is core to his being, then you're going to wonder, "why is he doing that?"
After some brainstorming, Molina and Kelly came up with a private space that Miguel could "express his passion" away from his family, and where he has created his own haphazard ofrenda of his idol, Ernesto de la Cruz.
"We took all these elements that felt natural, and we used the context of the holiday to show how Miguel feels about wanting this connection," Molina said.
"And Miguel is kind of using it naively," Kelly added, "in his way to make that connection with his idol."
It's then that Molina was struck by inspiration from his own personal childhood memory as an aspiring animator, waking up at 4 a.m. to tape reruns of The Wonderful World of Color. Stimulated by that memory and by a random guitar line he heard at a cafe, Molina "started grabbing audio clips of Jorge Negrete and Pedro Infante films, a little bit of Ricardo Montalban, singing and talking about music" to turn into a proof of concept of Miguel's ofrenda and his duet "across generations" with de la Cruz. And thus was born the teaser clip that introduced us to Coco.
"We've gotten the note so many times in screenings past where people intellectually get what Miguel wants, but they don't feel it," Kelly said. "But after we screened this clip, we don't get that note anymore."
More will be revealed about the music and score of the film — which was scored by Michael Giacchino, Germaine Franco, and Camilo Lara of the music project Mexican Institute of Sound — at a later date.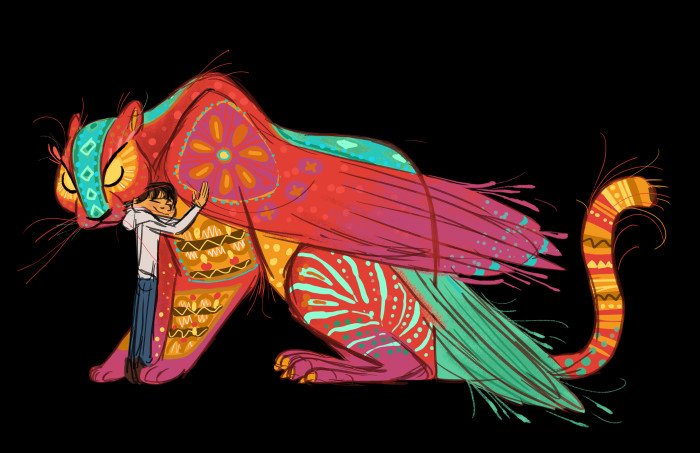 Transforming Folk Art and Practices Into Folklore
Despite the extensive research the Coco team did into the Day of the Dead, the one thing they could not find was a consistent mythology lying behind the tradition. Unkrich explained how, during their trips during the holiday, they interviewed various families about the specifics of Día de los Muertos only to be met with a resounding shrug:
I will say one thing that was interesting to me is that in all of our research and all our time spent with families... we would ask them what their vision of an afterlife was, and pretty consistently people would just say, "I don't know." So there wasn't some set vision of the afterlife that was tied to Dia de los Muertos. So we found that we were pretty much left on our own to figure that out. We knew that we wanted it to be a celebratory place, we knew that people who were there were probably excited to visit their relatives every year, so there was a kind of buoyant, festive atmosphere.
This was a boon for Unkrich and Molina, who now had creative license to portray the afterlife however they pleased. But first came the establishing of rules. Unkrich listed off some of the laws of this land they established, like whatever jobs they held in life must be continued in the afterlife — "so Miguel really didn't have anything to look forward to" — and transforming beloved aspects of the holiday, like the ofrenda and the path of marigold flowers, into actual narrative devices. The ofrenda becomes a pivotal point of conflict for Miguel, with the pictures of the ancestors on the altar acting as sort of passports that will allow them to cross over to the land of the living.
But one of the most vibrant traditions of the Day of the Dead is the path of marigold flower petals, also called cempasúchil, which Mexicans scatter on the ground to act as a guide for the spirits of their loved ones. Kelly described the process for how it transformed from some scattered petals into one of the most memorable set pieces in the film:
The Marigold Path was something we saw in all our research trips that was so beautiful, even at night it looked like they were iridescent, like they were glowing. And we thought, "we gotta use that, we have to find a way to kind of Pixar-ify it." Well how about making a literal bridge out of petals?
But the Coco team also got the chance to incorporate an aspect of Mexican culture that has little to do with the Day of the Dead: Mexican folk art named alebrijas. In the film, they are bright, vibrant chimera-like animals that act as spirit guides to the dead ancestors. They have a fascinating history behind them, one that only stretches back 70-or-so odd years.
Alonso Martinez, the technical director for characters, described the art form that he loved "since I was a kid" and how they were born out of a paper mache artist's fever dream:
When we think of folk art, we always imagine things that are from the 1800s, 1700s, or even older. Pedro Linares actually came up with them in 1936. When he fell ill, he had fever dreams in which he was the forest and all of a sudden, these creatures started appearing. And they were chimera animals, you know, mixtures of donkeys with wings, snakes with two feet, and all of these wacky animals. And they all started chanting the word "alebrijas," which doesn't have additional meaning. He named them alebrijas. And Pedro Linares was by profession a piñata maker, and so being an artist, when he woke up he was like, "Oh I have to capture this thing that I saw." And little did he know that he would make what would end up being one of Mexico's most famous forms of art.
Beloved in Mexico as "sort of Mexican action figures," Martinez said, alebrijas were originally made out of paper mache, but are now made out of soft copal wood found in Oaxaca. There's no universal symbology behind their designs, but they rather depend on the artist making it. The only constant is that they're brightly colored, which the film pays tribute to by maying them glow fluorescent in the perpetual nighttime of the Land of the Dead, according to directing animator Nickolas Rosario.
Martinez showed a clear personal affection for the alebrijas, even bringing in his own collection to show (but not touch.) "Having loved them since a kid and being a part of what I think as Mexico, shining a spotlight and having the world know about them is such a cool thing," he said.
The main alebrijas in Coco is named Pepita, who is part lizard/iguana, part eagle, part tiger, and part ram. But unlike the skeletons, painstaking detail wasn't made to make her seem overly realistic, but more graphic in an homage to the wood carvings of the popular alebrijas. And who knows? Maybe they'll gain a new layer of mythology behind them with this film, as the spiritual guides and favorite toys of both Mexican and American children alike.
"They have made such a deep impact in Mexican culture that they're taking on new forms," Martinez said.
Coco hits theaters November 22, 2017.