The Production Size Of Dune 'Blindsided' Star Timothee Chalamet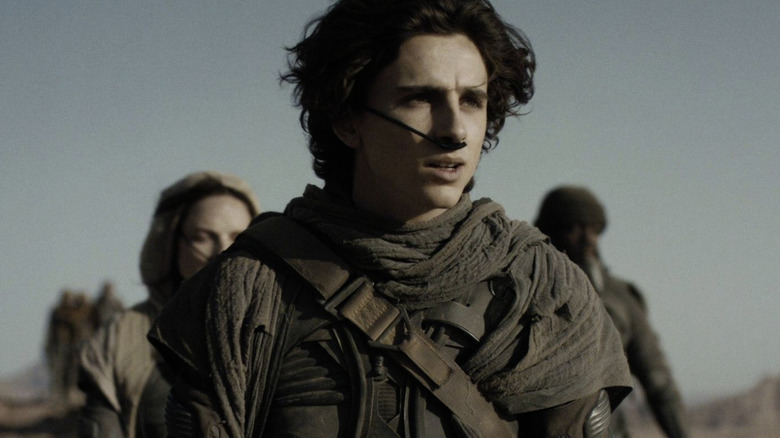 Warner Bros.
"Call Me By Your Name," "Little Women," "Dune," and this year's upcoming Luca Guadagnino film, "Bones and All." It's Timothée Chalamet's world, we're just living in it.
At just 26 years old, the young actor has already fostered an eclectic and vast career for himself. Even though he put himself on the map as an indie film darling, Chalamet has recently made his departure into acting in bigger budget studio films lately, like Adam McKay's "Don't Look Up" and the upcoming "Wonka" musical from "Paddington" director Paul King.
Last year, however, Chalamet found himself as the star of a major franchise as Paul Atreides in Denis Villeneuve's large and expensive adaptation of "Dune," one of 2021's most exciting blockbuster movies and surprising success stories. Though "Dune" has a grim history of failed attempts to go Hollywood, the film still managed to capture a wide audience with a theatrical/HBO Max dual release, greatly exceeding its box office expectations.
Chalk it up to the massive star power of Zendaya and company, or a genuine hunger from mainstream audiences for something shiny and new, but we're blessed to be living in a world where Villeneuve's adaptation of Frank Herbert's mythology gets to continue with a sequel. No matter what sold them the ticket, "Dune" was so largely successful and praised in part because of its immaculate production design, which swept audiences away into the sandy planet of Arrakis with authenticity.
As a newcomer to blockbuster filmmaking himself, Chalamet was also similarly swept away by the massive production scale of "Dune" on set.
Chalamet feels that Paul Atreides's growth and experience matches his own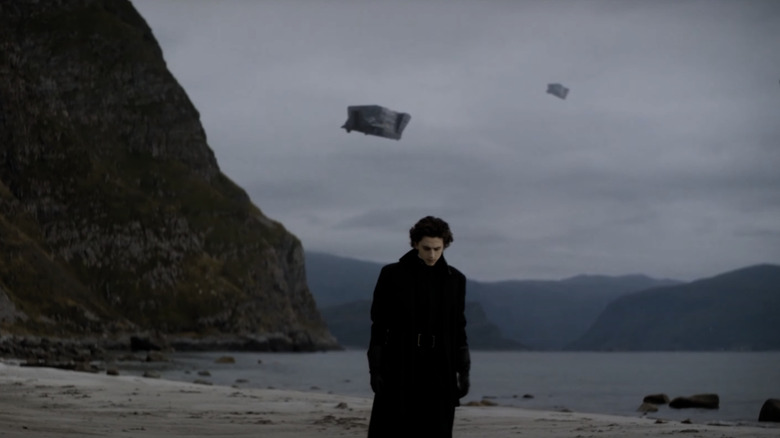 Warner Bros.
For Homme Girls magazine, Timothée Chalamet facilitated an interview with his "Bones and All" co-star, Taylor Russell at the Venice Film Festival. In it, the two young actors discussed their creative processes and the nuances of their careers. "It's something you don't get to do with movies — revisit," Chalamet admitted, remarking on the differences between acting onstage and on film:
"Actually though, I'm feeling that with 'Dune.' Speaking about how cycles match life. I was younger when I did it the first time and was kind of blindsided by how big that movie was. And now, as [my character] Paul Atreides becomes more sure on his heels, I feel more sure on my heels, too."
Even though the film would release after numerous delays in 2021, principal photography on "Dune" started in March 2019 in Budapest. Chalamet was just about 22 years old at the time, it's understandable that he would feel so much pressure to hold his own among an experienced star-studded cast, harsh weather conditions, and an unbelievably immersive set.
But, to echo Chalamet's sentiments, it will be fascinating to see how his own gained confidence and experience will reflect onto his role of Paul Atreides, as the sequel will delve deeper into the character growing into his own and making active choices that will shape the future of House Atreides and Arrakis. 
"Dune Part Two" started filming this past summer and is currently set for a November 3rd, 2023 release. With Florence Pugh and Austin Butler reportedly joining along, hopefully, Chalamet will pass on what he learned from the first film to his new fellow co-stars.