Zendaya Only Did Seven Days Of Filming On Dune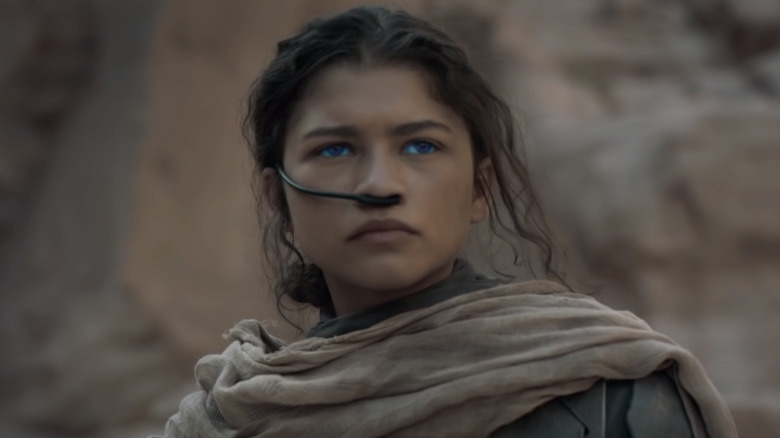 Warner Bros. Pictures
Fans may have spent years waiting for "Dune," with its sprawling, hyped up, never-ending wave of buzz, but that doesn't mean the film is immune to the most banal and pervasive of movie horrors: scheduling issues. While "Dune" is a true epic, with a plot that spans a serious amount of time and involves an impressive amount of characters, that doesn't mean shooting can go on forever. Despite the fact that the romance between Zendaya and Timothée Chalamet, who play the characters Chani and Paul Atreides respectively, is a large part of "Dune's" story, it turns out the pair had an incredibly short amount of time to shoot together and nail their intergalactic chemistry. 
In EW's behind the scenes look at the movie, Zendaya explains that she was only on the "Dune" set for a scant seven days, doing what sounds like a whirlwind of work. Even though she was in the Middle East with the rest of the cast and crew for such a short amount of time, working with director Denis Villeneuve and her co-star Chalamet, clearly left a mark:
"I didn't want to leave ... Denis had such a warmth, and there was a familial quality to the way it felt when I got there. I felt very welcomed by the crew and cast, everybody was so lovely to me."
Crafting Chani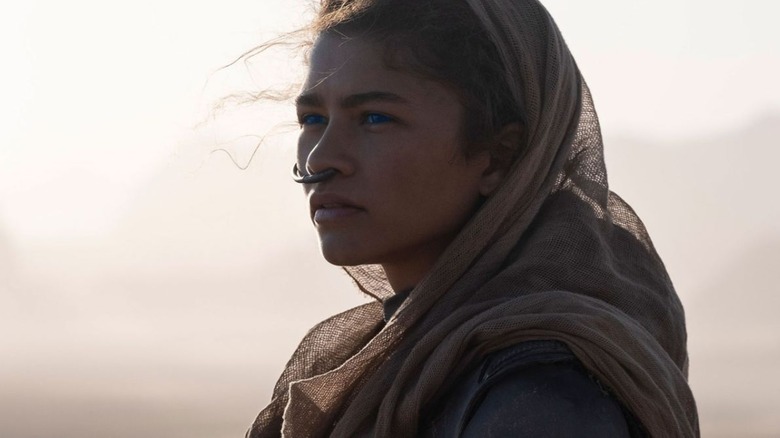 Warner Bros. Pictures
On top of the camaraderie she felt on set, Zendaya had nothing but nice things to say about Villeneuve's directing style. The way Zendaya explains it, he was both very kind and very knowledgeable, which should be a balm for any "Dune" fan who is worried about this latest adaptation. On top of that, it sounds like Villeneuve's direction made it easy to get close to Chalamet and helped her portray that monumental bond between their characters. As Zendaya says in the interview:
"Denis is so detail-oriented and thoughtful; any question I had, he had thought about before. He had answers for everything, so I was able to speak with him and develop Chani very quickly. I became very close with Timothée. We were like, 'Oh, this is great, we're gonna be besties, I can tell.'"
Best Friends Forever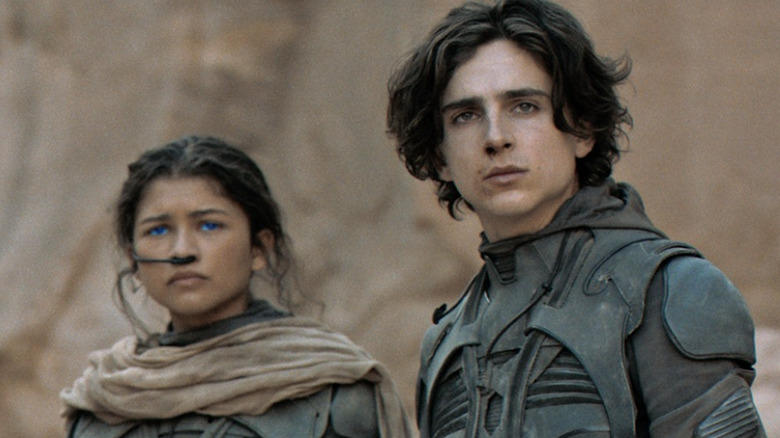 Warner Bros. Pictures
In fact, Zendaya had such a great time on set, she didn't hesitate to say how much she would love to come back. Is this a sneaky way of campaigning for a sequel? Maybe, but honestly, who can blame her? Villeneuve clearly has plans for a second "Dune" film, despite Warner Bros. keeping rather quiet about the likelihood of a sequel. Zendaya might not singlehandedly be able to sway the right people at Warner Bros., but she get's an 'A' for effort with this rather sweet quote from the same EW interview:
"There's so much story left to be told. I would love to spend more time with these characters ... I also became wonderful friends with Timothée, who's now like my family I would say. We talk all the time about how fun it's gonna be if we get to do it. Selfishly, I want to do [a second film] to have fun and spend time with my friend."
We hope you get to spend more time with your friend too, Zendaya. We're all rooting for you to spend more time with you friend.