Tom Savini Explains Why Creepshow Is Still The Greatest Horror Anthology: 'George Romero'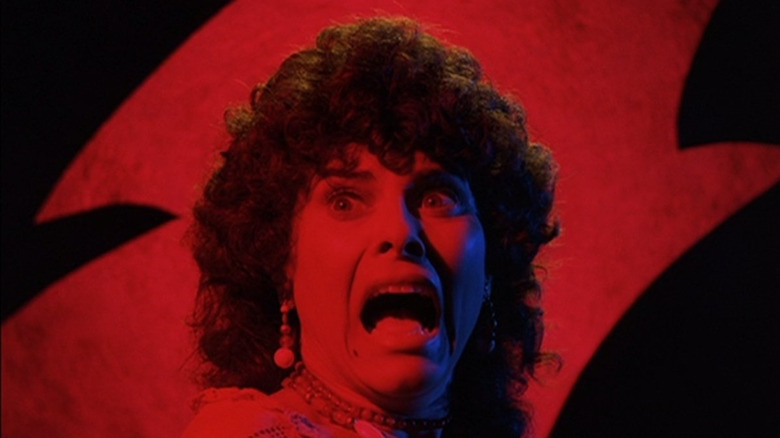 Warner Bros.
Chatting with /Film's Max Evry over a recently released special edition Blu-ray of the 2015 documentary "Smoke and Mirrors: The Story of Tom Savini," the conversation turned, naturally, to horror and one of Savini's most well-known makeup fx contributions, George Romero's 1982 horror anthology "Creepshow." The classic October viewing staple hits its 40th anniversary this year and while many anthologies have followed in the EC Comics-inspired footsteps since, few have the lasting power of the Stephen King-penned original.
Filled with Tom Savini-engineered special effects for each of its five segments, "Creepshow" thrilled audiences with headless matriarchs, a creature-in-a-crate, a moss man, waterlogged ghouls, and cockroach kills. The fans love it, but Savini credits his longtime friend and the film's director George A. Romero for its legendary status.  Savini tells Evry:
"George Romero. I mean, that's the simplest answer to that question. If you've seen "Night of the Living Dead" and everything George has done since then, it's clear where the talent was back then. I'll never lie to you: The people that were involved in that, if you notice, George never did a thing with them again. They were never involved in any of George's stuff. So clearly the talent was with George, and as far as "Creepshow" goes, how can you go wrong having stuff written by Stephen King? There's a great pool of talent here in Pittsburgh. It was that pool of talent that made "Creepshow," but it's the writing and it was the handling of it by George. The anthologies that have happened since then failed miserably. Even if you've watched the TV show, they did a great job trying to capture that, but you can't put the George Romero lightning in a bottle. Maybe it was a fluke, I don't know."
There's a show, you know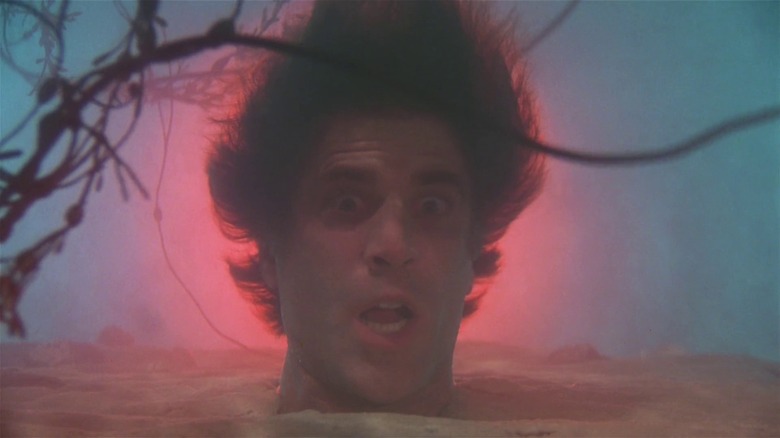 Warner Bros.
Savini is right; the bright and bold aesthetics are easy to imitate, but you can't recapture the spirit of Romero's "Creepshow." Each of its segments – that's "Father's Day," "The Lonesome Death of Jordy Verrill," "Something to Tide You Over," "The Crate," and "They're Creeping Up on You!" with narrative bookends – is infinitely quotable, and as far as the fx work goes, Savini tells Max Evry that the film is his "masterpiece" — anyone who's watched in horror as a horde of cockroaches burst from a dead man's mouth in the final segment would agree.
Both sequels to "Creepshow" have gotten less love than the one helmed by the Godfather of Horror; Romero and King had diminished involvement in Michael Gornick's 1987 effort "Creepshow 2" with Romero writing the screenplay based on some of King's stories. We don't talk about "Creepshow 3."
But in 2019, the horror tides turned. Genre streaming service Shudder released a "Creepshow" anthology series with filmmaker/SFX maestro Greg Nicotero as showrunner, and it was received well among horror fans. In good faith, the first episode, "Gray Matter," was another King adaptation written by Byron Willinger and Philip de Blasi. Each episode since has been an entertaining ride, swinging between terror and absurdity. In Chris Evangelista's review for /Film, he echoes Savini's sentiment: "The Creepshow TV series was never going to live up to the classic movie, but its bloody heart is in the right place." Want to tap into the creepy spirit and jump into the show? Start with the B-side episode of the series pilot, "The House of the Head," and use this handy /Film list as your guide.