Servant Season 4 Trailer: M. Night Shyamalan's Horror Series Returns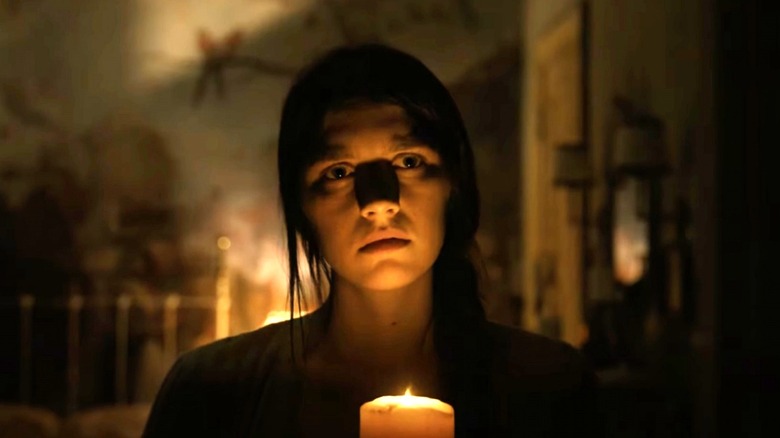 Apple TV+
Warning: This article contains mild spoilers for the first three seasons of "Servant."
M. Night Shyamalan sure is keeping busy these days. Last month, the trailer dropped for his highly anticipated horror film "Knock At The Cabin," all while he's been absolutely crushing it with the mystery series "Servant" for Apple TV+. Created by Tony Basgallop with Shyamalan serving as executive producer, showrunner, and the director of multiple episodes, "Servant" is a psychological horror streaming television series about a wealthy Philadelphia couple named Dorothy and Sean Turner (Lauren Ambrose, Toby Kebbell) who endure the tragic loss of their thirteen-week-old son, Jericho.
In an attempt to heal, the couple introduces a lifelike reborn doll as transitory object therapy. Unfortunately, Dorothy begins believing the doll is her actual child and hires a young nanny named Leanne Grayson (Nell Tiger Free) to move in to help take care of "the baby" full-time. As is the case with any Shyamalan project, this setup is only the tip of the iceberg, and the past three seasons have seen the mystery evolve into something truly unbelievable.
"Servant" is heading into its fourth and final season, promising a "final reckoning" with the madness brought to the Turner family. Leanne's unexplainable powers are stronger than ever, her connection to the violent Church of Lesser Saints is as harrowing as ever, and just what the hell is going on with baby Jericho? The season 4 teaser is over two minutes of chaos, but promises the answers we crave will finally be provided before the show comes to a close.
Watch the Servant season 4 trailer
"Servant" has been a wild ride from the very beginning, and the meek Leanne has proven to be a powerful and dangerous woman. The trailer shows her in complete control of her surroundings, and it's starting to seem as if nothing and no one can take her down. "I can feel the dark thing in me getting bigger," she says. Just moments later, Leanne seemingly causes a glass roof to shatter with her mind. LEANNE, WHAT IS THE DARK THING?! Things with the cult are escalating fast, and the Turners are going to have to take some serious actions to get out of these unwieldy circumstances. The cult looks bigger, their house is being infested, and the gasp-worthy cliffhanger in the season 3 finale may not have been all that it appeared.
In addition to the typical cast, season 4 will also bring back fan-favorite performer Rupert Grint, who will also be in Shyamalan's "Knock at the Cabin." The final season's directors include M. Night Shyamalan, Ishana Night Shyamalan, Carlo Mirabella-Davis, Dylan Holmes, Celine Held & Logan George, Kitty Green, Nimrod Antal, and Veronika Franz & Severin Fiala. Episodes will be written by Ishana Night Shyamalan, Alyssa Clark, Laura Marks, Devin Conroy, Henry Chaisson, Amy Louise Johnson, and Kara Lee Corthron.
Season 4 of "Servant" premieres on Apple TV+ on January 13, 2023.