Diamonds Are Forever's Las Vegas Setting Called For A Different Kind Of James Bond Script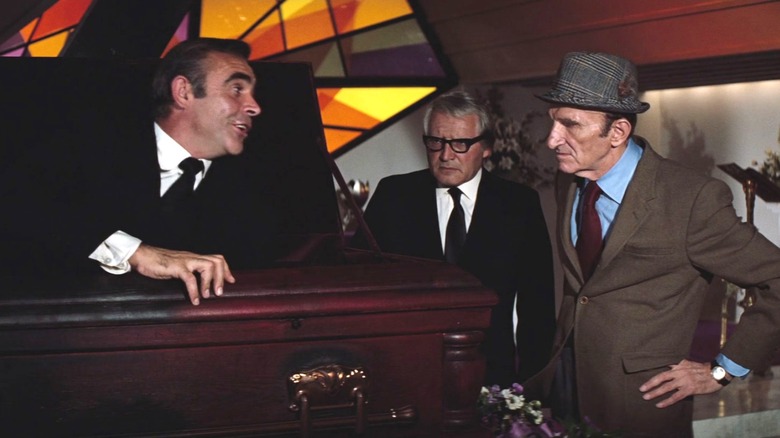 United Artists
Even from the first few minutes of "Diamonds Are Forever," it's pretty clear that the writing is a little different than past James Bond films. The introduction races along at a breakneck pace with a new one-two-punch dynamism. Sure, it's no "this never happened to the other fellow," a top-tier opening gag from George Lazenby's stint as Bond, but the beginning of "Diamonds Are Forever" is full of promise.
Unfortunately, by the time that body doubles and murderous duos get thrown into the mix, the movie starts to fall apart — there's a reason that "Diamonds Are Forever" ranked #20 out of 24 in our list of Bond films. Nevertheless, the movie's writing keeps a spunky attitude, constantly cracking jokes and unapologetically tossing in ridiculous elements (Thumper and Bambi taking turns swinging from the ceiling, anyone?). As it turns out, there might be a good explanation for the unique writing style: the producers made it a point to hire a screenwriter that would let Vegas shine.
'The Brits don't write people in Vegas well'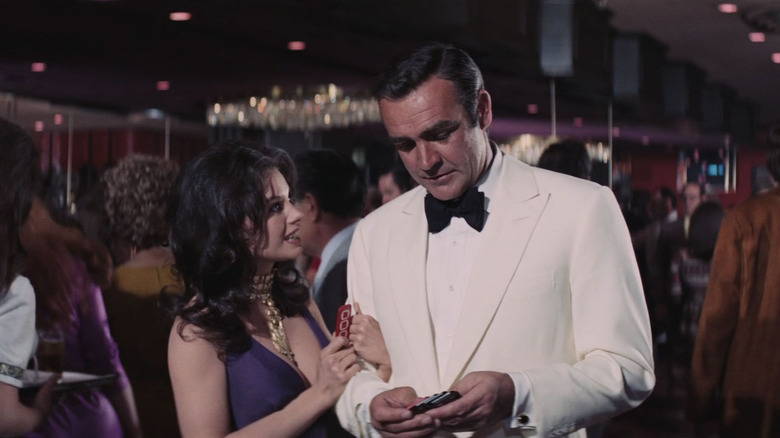 United Artists
When producer Albert Broccoli sat down to find someone who could make the script of "Diamonds Are Forever" sparkle, he realized that he had a problem on his hands. As screenwriter Tom Mankiewicz would tell Superman Cinema in 2006, Broccoli had a very particular idea of the writer's demographics — and the requirements didn't leave many candidates in the running:
"I need an American writer and I want him to be young. Most of the picture takes place in Vegas. The Brits don't write people in Vegas well, but I need someone who can write in the British idiom and it's impossible to find someone."
As Mankiewicz went on to explain, the president of United Artists had recently seen one of his plays which featured British characters — and evidently thought the characters were pretty convincing. The playwright was given an opportunity to rework a few pages of an existing "Diamonds Are Forever" script, and when United Artists was happy with the result, he landed the full project.
Notably though, Mankiewicz wasn't the first American screenwriter to work on the Bond franchise — or even on "Diamonds Are Forever": despite being from the same side of the pond, Richard Maibaum wrote the first draft of the film's script (and would work on nearly every single 007 film from the Connery to Dalton eras). Evidently, his nationality didn't lead to an exciting Vegas scene — at least in the eyes of United Artists producers. Still, the swap might be for the best: Mankiewicz came up with the idea of Blofeld clones, a ridiculous yet entertaining element that just might've been the highlight of the whole movie (sorry Bambi and Thumper).
The crew had a blast during filming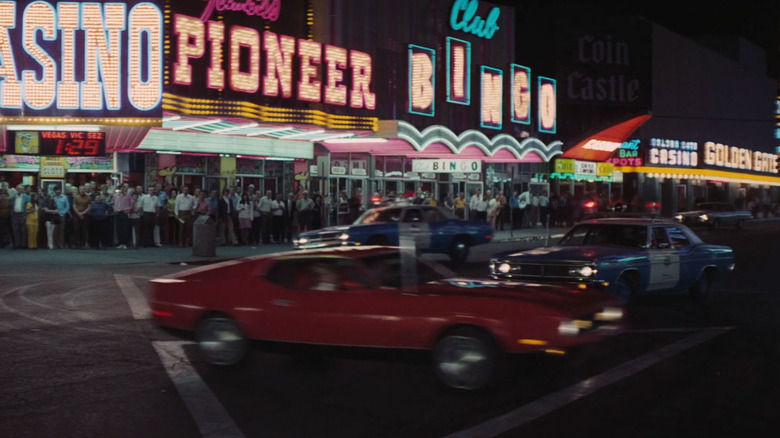 United Artists
As for the Vegas scenes, there might've been a reason that Mankiewicz was so good at making them feel exciting: when the crew began filming in the city of angels, they took on a work hard, play hard attitude. According to the film's commentary track, the team lived at the now-shuttered Riviera hotel and casino — famed for its elaborate shows and mob ties — and took full advantage of the entertainment. To be fair, some of the outings could've been construed as research ventures: Elvira actress Cassandra Peterson would later recall that her on-screen career began when "Diamonds Are Forever" filmed one of her Vegas shows. Still, there's no question that the film's crew set out to have a good time, too. In a 1971 interview with The Montreal Gazette, Connery revealed that he was determined to live it up:
"The first week I didn't get any sleep at all. We shot every night, I caught all the shows and played golf all day. On the weekend I collapsed – boy, did I collapse. Like a skull with legs."
That being said, the actor wasn't much of a gambler. The newspaper reported that while he did play a few slot machine games, he was very careful about where he spent his money — and always had a "boyish, un-Bondian grin" whenever he'd collect his winnings. On the other hand, Mankiewicz was a little more willing to cut loose when it came to gambling. As he'd recall on the film's commentary track, he lost around $6,000 — 4 weeks' worth of salary — while gambling during the 7 weeks that "Diamonds Are Forever" filmed in Vegas.