GLOW Teaser Trailer: Netflix's New Series Starring Allison Brie Goes Inside The Wrestling Ring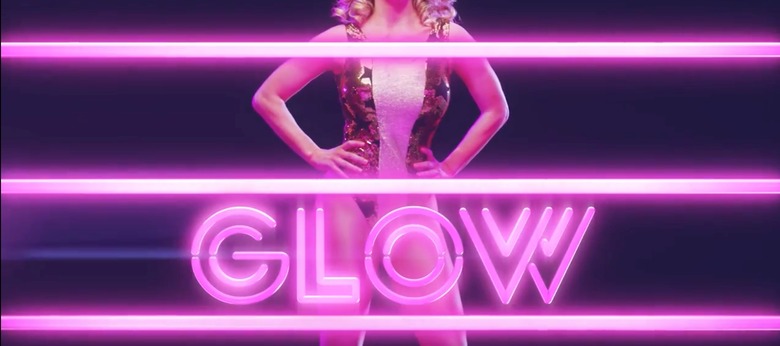 One of the Netflix original television series that I'm really excited about is G.L.O.W., from  Orange Is The New Black and Weeds creator Jenji Kohan. The new dramedy series is based on the real-life 1980's female wrestling league "Gorgeous Ladies of Wrestling," featuring a cast that includes Alison Brie (Mad Men), Ellen Wong (Scott Pilgrim), Betty Gilpin (Nurse Jackie), Marc Maron (Maron), and more. Watch the first GLOW teaser trailer now after the jump.
GLOW Teaser Trailer
I know, the teaser trailer doesn't quite reveal too much, but the history behind the true story is very compelling. G.L.O.W. was a popular professional wrestling league based in Las Vegas during the 1980's.  Most of the league's wrestlers had no prior experience, instead were actresses, models, dancers, and stunt women hoping to use the league to get into show business. The wrestling show was produced very differently from Vince McMahon's WWE (then WWF) as it was filmed like a traditional television series with actual seasons with some of the stars sometimes changing from season to season. The syndicated television show was produced for four seasons from 1986 to 1990 from the Riviera Hotel on the Las Vegas Strip.
In 2012 there was a documentary produced about the league titled GLOW: The Story of the Gorgeous Ladies of Wrestling., which I highly recommend checking out. Jenji Kohan (Orange is the New Black) and Tara Herrmann (Orange is the New Black) are executive producers, and series co-creators Liz Flahive (Homeland) and Carly Mensch (Orange is the New Black) serve as showrunners.
The official plot synopsis for Netflix's G.L.O.W. follows:
"Inspired by the short-lived but beloved show from the 80s, GLOW tells the fictional story of Ruth Wilder (Alison Brie), an out-of-work, struggling actress in 1980s Los Angeles who finds one last chance for stardom when she's thrust into the glitter and spandex world of women's wrestling. In addition to working with 12 Hollywood misfits, Ruth also has to compete with Debbie Eagan (Betty Gilpin) a former soap actress who left the business to have a baby, only to be sucked back into work when her picture perfect life is not what it seems. And at the wheel is Sam Sylvia (Marc Maron), a washed-up, coked-up B-movie director who now must lead 14 women on the journey to wrestling stardom."
All ten episodes of G.L.O.W. Season 1 will be released on Netflix on June 23rd, 2017. Click here to see a full listing of the Netflix original tv shows and movies.