Black Mirror Made Jordan Peele Realize He Wanted Daniel Kaluuya To Star In Get Out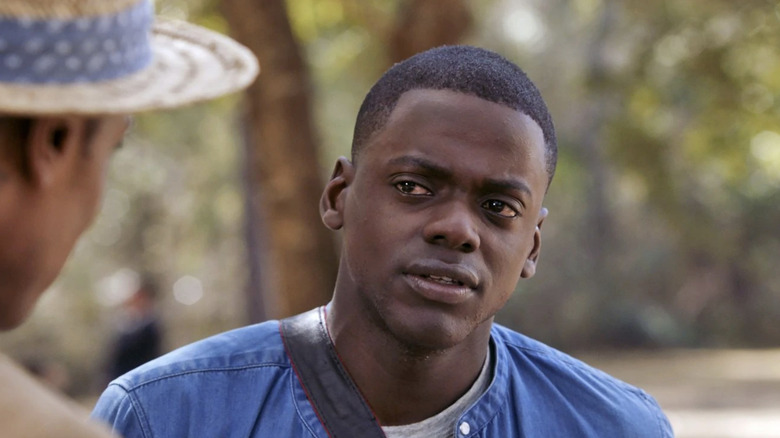 Universal Pictures
Jordan Peele's directorial debut "Get Out" took the world by storm when it was released in theaters in 2017. The film was praised for its sharp direction, timely (and haunting) message, and lead performances. Specifically, Daniel Kaluuya's Oscar-nominated turn as photographer Chris Washington received widespread acclaim, with Kaluuya moving from being an unknown actor to a well-known actor who has gone on to play prominent roles in other films such as "Widows" and "Black Panther." Most recently, Kaluuya reunited with Jordan Peele for a starring role alongside Keke Palmer in the 2022 Summer Blockbuster "Nope."
Jordan Peele's casting of Kaluuya in the lead role of "Get Out" wasn't an accident, but rather the result of the multi-layered "Black Mirror" episode "Fifteen Million Merits." The episode gave Kaluuya a chance to shine and prove himself as a performer, showing his ability to convey various complex emotions. Kaluuya's powerful performance in this "Black Mirror" episode is something Peele would later watch and in turn, discover who he wanted to play the lead role in his first feature film. 
An actor with incredible range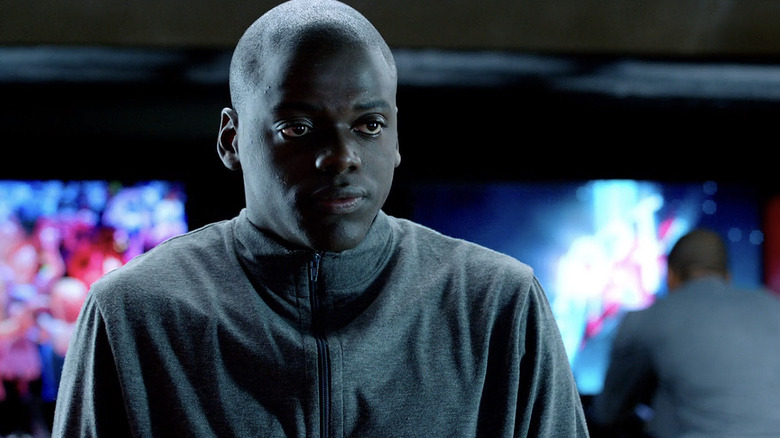 Netflix
In a 2018 interview with Deadline, Jordan Peele spoke in detail about Kaluuya's performance in "Fifteen Million Merits," and how it immediately conveyed the similar range he was expecting of whoever ended up playing Chris in "Get Out."
"It was Black Mirror. I had this immediate feeling of, how is this guy so good, and I haven't seen his work before? The way I can best describe it is, he showed the full range of the two opposite sides of Chris. Different characters, different emotions. The character goes from being quiet, introspective, and subdued with a relatable sense of compliance with the system, and then by the end, he explodes and is primal."
Peele's description of Kaluuya's performance is one that could best exemplify both Chris and his "Black Mirror" character. The director would go into further detail about Kaluuya's incredible "Black Mirror" performance, speaking on how the actor's monologue cemented him as the best choice to portray Chris:
"In the Black Mirror episode, he showed it in just monologue, this primal, frugal, passionate monologue that just feels like a Greek tragedy. And so I knew I needed somebody who could do both of those things, and either one of those, he does better than anyone else."
'A towering performance'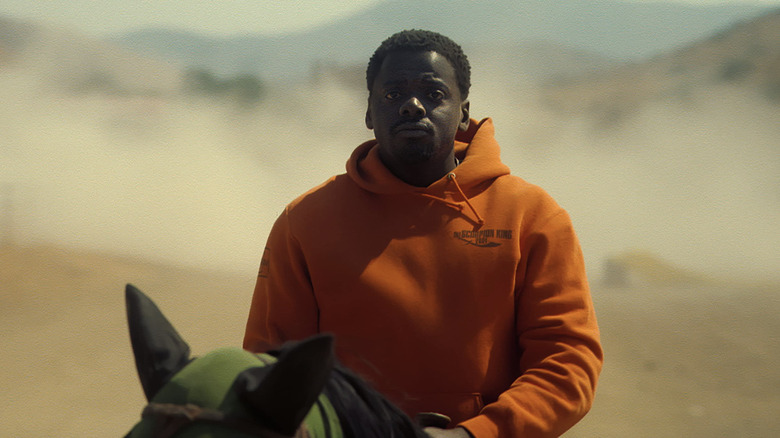 Universal Pictures
One of the writers of "Fifteen Million Merits," Charlie Brooker, already knew when watching the episode that Kaluuya's performance would lead to his success. In an interview with Entertainment Weekly, Brooker spoke about waiting for others to realize the actor's potential, seeing it as only a matter of time:
"It's a very tricky part because he hardly says anything for the first 15-20 minutes; he's depressed. When he comes to that big speech at the end where he has this huge explosion and rails against everything in that world, he was so incredible in that scene, such a towering performance, that I remember thinking, 'As soon as anyone sees this, surely this guy will get snapped up by everyone.' I was waiting for that, and it felt like it didn't quite happen; he was in 'Sicario' and working, but I thought he was a leading man."
The leading man opportunity for Kaluuya eventually came in the form of "Get Out," and Brooker couldn't be happier that Jordan Peele primarily based the decision of his casting off of the "Black Mirror" episode:
"I remember seeing the trailer for Get Out like, 'Oh my god it's Daniel!' I later discovered later that it was because Jordan Peele had seen him in 'Fifteen Million Merits' that he was cast in Get Out. That was like, oh that's good. Obviously he would have got there on his own because he's such a talent, but it's very gratifying that was literally the thing Jordan Peele saw that made him go, who is this guy?"
Daniel Kaluuya was a talented actor from the start, and in retrospect, Peele's discovery of his range and passion feels almost inevitable. Hopefully, there will be more leading man opportunities for Kaluuya in the future, whether with Jordan Peele or another filmmaker.