Every Daniel Kaluuya Movie Ranked Worst To Best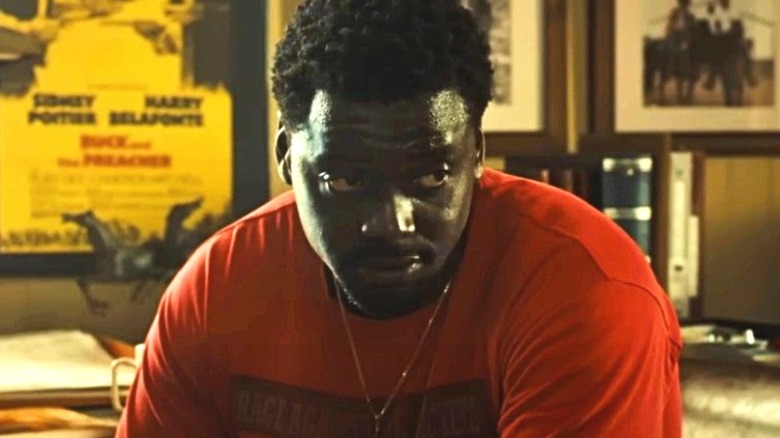 Universal Pictures
The following article contains spoilers for all of Daniel Kaluuya's films, including "Nope."
Daniel Kaluuya is just getting started. Sure, he may already be a pop culture icon thanks to breakthrough performances in "Black Mirror" and "Get Out," but the London-born actor is only 33 years old. That's easy to forget given his illustrious resume — he's already collaborated with prolific directors, has a supporting role in the Marvel Cinematic Universe, and even won an Oscar — but really, he still has an entire career ahead of him.
It might not be in front of the camera, however. In a 2022 interview with The Hollywood Reporter, Kaluuya called this moment in his career "the end of a chapter," and said that he's shifting his focus to writing and producing. Though we're bound to see more on-screen work following "Nope," now may be the perfect time to survey Kaluuya's career thus far and see how each film stacks up.
For this ranking, we're going to focus exclusively on Kaluuya's feature film output. This means no television programming, including made-for-TV movies, limited series, and specials. Sorry "Doctor Who" and "Black Mirror" fans, but this list ain't for you.
13. Chatroom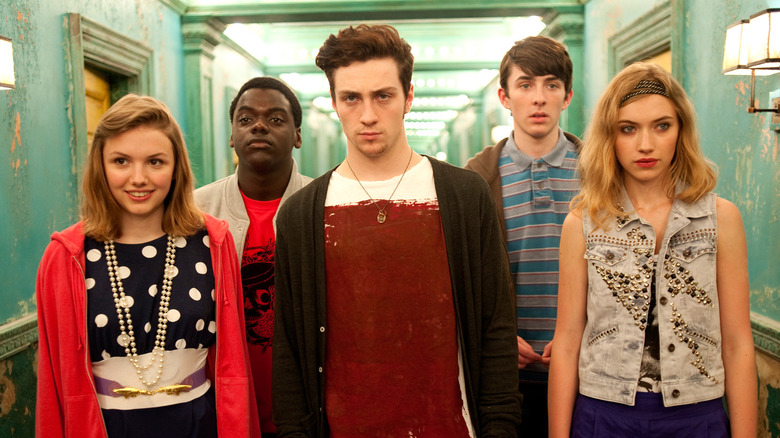 Revolver Entertainment
It's a bit too fitting that our list begins with Kaluuya's first principal film role. Look, not every actor hits it out of the park right away, and Kaluuya made a slew of half-baked movies before finally hitting his stride. Enter "Chatroom," the 2010 horror film directed by legendary Japanese filmmaker Hideo Nakata ("Ringu").
Also starring a young Aaron Taylor-Johnson and Imogen Poots, "Chatroom" imagines the early days of instant messaging as a hall of hotel rooms. Taylor-Johnson's William opens one for teens in London's Chelsea district and attracts a few fresh faces. However, William proves to be more manipulative than he lets on, and begins to wreak havoc on the kids' mental health. It's not great; what begins as a socially apt ensemble piece eventually descends into a confusing, boring mess. Even the film's clever visual metaphor gets lost in its own indulgence.
Kaluuya plays Mo, a quiet 17-year-old who begins to form romantic feelings for his friend's 11-year-old sister. He confides in William that he's afraid of being labeled a pedophile, but William insists that he come clean, which naturally backfires. The film makes light of this entire subplot, and feels tone-deaf as a result; at times, it's unclear whether or not Nakata was attempting to direct a farce. Kaluuya gives the character an earnest quality, but the writing and direction overwhelm his efforts.
12. A Christmas Carol (2020)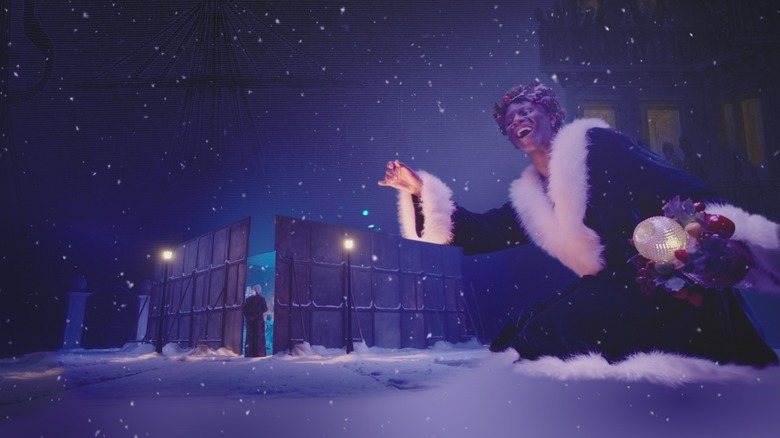 Frith Street Films
Throughout film history, there have been many adaptations of "A Christmas Carol," but Jacqui and David Morris' take on Dickens' classic tale certainly stands out — and not necessarily for the right reasons. In this version, the on-screen cast is made up of interpretive dancers who don't move their mouths; a separate, star-studded roster of actors voice the characters, with an adapted version of Dickens' original text serving as the screenplay.
While the dancers are incredibly talented, the choreography is too abstract to carry an entire story. Even worse, the voice acting doesn't always match the dancers' performances, making it pretty awkward to watch. Thankfully, Kaluuya's voice work for the Ghost of Christmas Present is well-matched by his dancer, Mikey Boateng, who exudes the kind of charisma that has become a Kaluuya trademark.
Though it's obviously a film, "A Christmas Carol" is very theatrical by design. Several sets are designed like a stage, with a camera positioned along the fourth wall. Even the steadicam work used for the more elaborate sets feels strained. "A Christmas Carol" does feature some visual effects that could only be executed on film, but there's no cinematic edge beyond that. It all feels like it would have been more immersive as a stage play, which is one of the worst crimes a film can commit.
11. Johnny English Reborn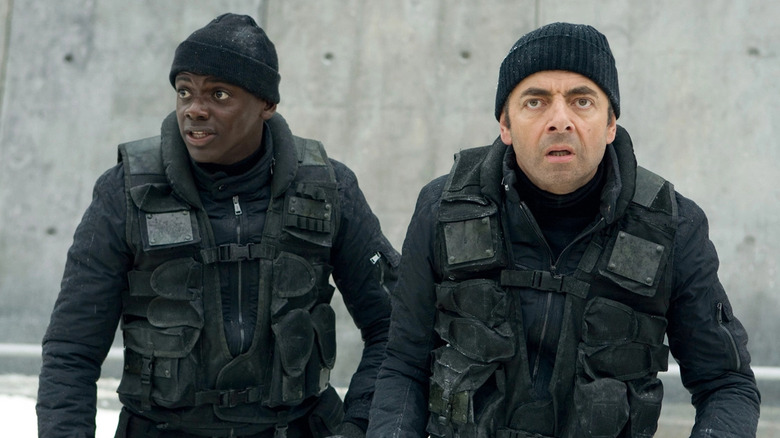 Universal Pictures
Eight years after his silver-screen debut, Johnny English was tapped for another mission. "Johnny English Reborn" saw Rowan Atkinson's Bond parody return alongside a brand-new supporting cast, which includes Gillian Anderson, Rosamund Pike, and a squeaky-clean Daniel Kaluuya. Kaluuya plays Colin Tucker, a young MI7 agent assigned to assist English in uncovering an assassination plot against the Chinese premier. Tucker is inexperienced, but he's eager to prove himself, and winds up solving more of the mystery than English (admittedly, that isn't too surprising).
Kaluuya's wholesome enthusiasm elevates the character beyond a straight-man archetype. You really believe that Tucker admires English and is excited to learn from him. As it turns out, that's a bit of art imitating life. During his appearance on "Hot Ones," Kaluuya reminisced about his formative time on set. "Just being 21 and being next to [Atkinson] for that many months, I learned so much from him."
Though the beloved British comedian does plenty of funny flailing, it's far from Atkinson's best work. Some of the visual gags are chuckle-worthy, but it's ultimately a tame parody. The all-too-safe slapstick makes you wonder who this movie is really for. But hey, what do we know? The box-office success of "Reborn" inspired a third entry in the series, "Johnny English Strikes Again." Hopefully, it's less mediocre than its predecessor.
10. Kick-Ass 2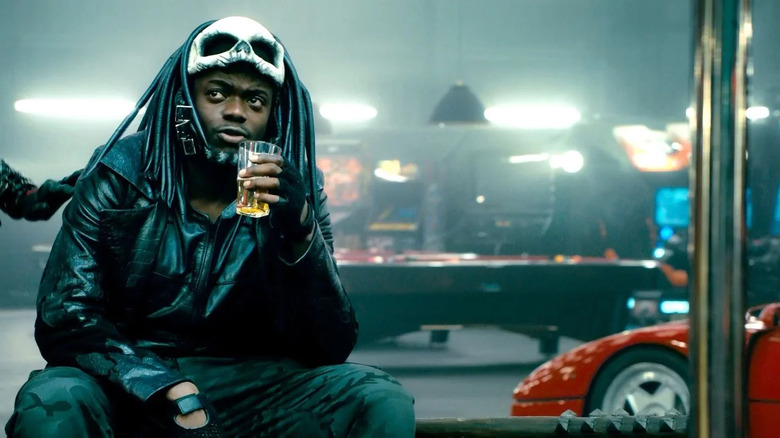 Universal Pictures
Matthew Vaughn's potty-mouthed superhero shtick threw audiences for a loop when the original "Kick-Ass" premiered in 2010. But Vaughn did not return for the sequel, leaving it to writer-director Jeff Wadlow to recapture the original film's brazen sense of style. Sadly, all it took was three short years for the sheen to wear off. "Kick-Ass 2" does have some fun fight sequences and a few gnarly kills, but it doesn't quite replicate the first installment's shock and awe.
That being said, the original "Kick-Ass" had more to it than just violence. It felt like an honest story about real underdogs. Now that heroes are more commonplace in this fictional world, a lot of that conflict fizzles out. "Kick-Ass" also had quippy writing and unexpected heart, which helped to offset all of the tastelessness. By contrast, the sequel often uses juvenile humor as a crutch, with plenty of thoughtless jokes that feel offensive just for the sake of it.
For example, Daniel Kaluuya plays Black Death, an MMA fighter recruited by Chris D'Amico, aka The Motherf***er, to join his team of supervillains. Those are lazy, slapped together names that give you a taste of what we're talking about. You could blink and miss Kaluuya in the movie — he speaks maybe ten lines total — but at least he gets to wear weird Predator dreadlocks. I guess that counts for something?
9. Welcome to the Punch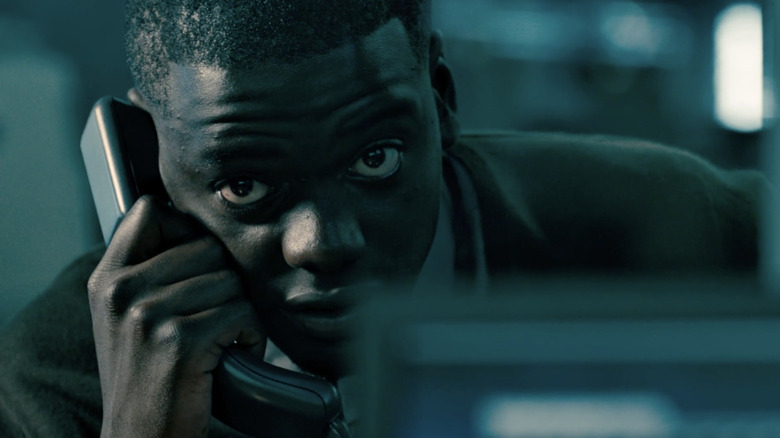 Momentum Pictures
This forgotten action film provided another minor role for Daniel Kaluuya, but let's face it: You're here for James McAvoy and Mark Strong. The two acclaimed Brits go head-to-head in this crime thriller, which centers on police detective Max Lewisnky (McAvoy), who is shot by infamous criminal Jacob Sternwood (Strong). Sternwood goes into hiding shortly thereafter, but when he reemerges following the death of his son, Lewinsky seeks his long-awaited vengeance. Kaluuya plays Juka Ogadowa, a desk jockey who assists Lewinsky pin down Sternwood's whereabouts.
The color scheme and basic story make "Welcome to the Punch" seem like your run-of-the-mill action thriller and, well, it is, but it's not without some merits. The material is clearly elevated by its two leads, with a strong yet underutilized supporting turn from Andrea Riseborough, but this cat-and-mouse revenge story does take some interesting turns. When it's revealed that the police are working with illegal gun runners and Sternwood proves to be more empathetic than expected, Lewinsky realizes they are both products of the same corrupt institutions. Juka is even tasked with taking Lewinsky down after he begins siding with Sternwood. The film may not lean heavily enough into this fascinating duality, but big ideas are at least present in the film. That's more than many other movies of this ilk can claim.
8. Queen & Slim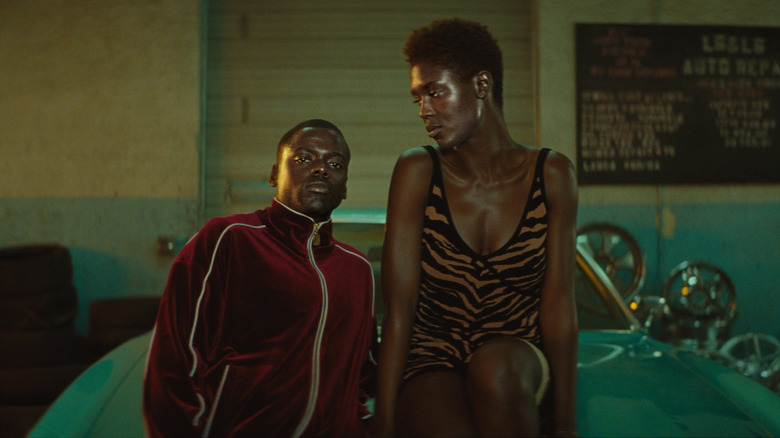 Universal Pictures
If "Bonnie and Clyde" was told through the lens of police brutality and Black Lives Matter, you'd get "Queen & Slim." It's a road-trip romance, yes, but this isn't some carefree crime spree. In fact, "Queen" and "Slim" are actually a young black couple who go unnamed for most of the runtime and don't commit any crimes at all. When a police officer pulls them over, a heated confrontation results in Slim shooting the officer. It's an act of self-defense, but the pair are branded as criminals all the same and forced to go on the run.
The film is anchored by its leads, Jodie Turner-Smith and Daniel Kaluuya. Turner-Smith is immediately the more confident and stubborn member of the pair, leaving Kaluuya to provide a much-needed sensitivity. Slim initially can't process the situation; he's a man of God, yet can't reconcile his faith with the path he has been led down. By getting to know Queen, however, he discovers that his choices will make him the man, and partner, that he has to be.
"Queen & Slim" begins with a palpable tension, but its second half sputters along in comparison. That said, the tragic ending makes the titular duo into symbols of something larger, transforming the story into a legend for our current political moment.
Cass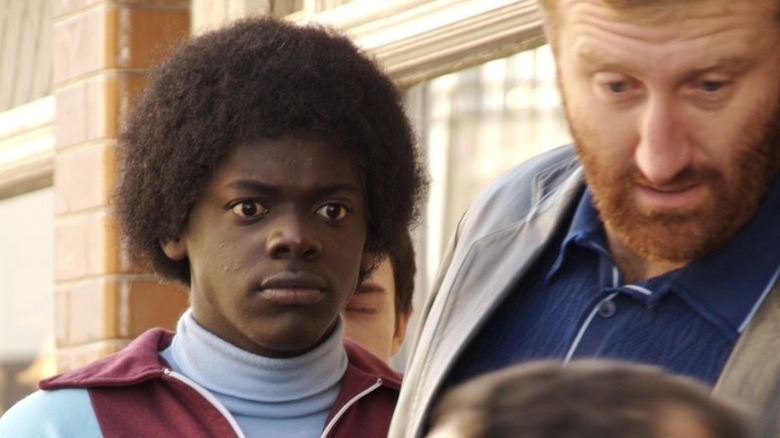 Optimum Releasing
Kaluuya's first feature film role lasts, collectively, all of five minutes. In "Cass," he plays a 14-year-old Cass Pennant, who would eventually grow up to be the first football hooligan to receive a long-term prison sentence. Sporting a beast of a 'fro, Kaluuya immediately conveys the swagger we expect from Cass, portrayed in adulthood and beyond by Nonso Anozie ("Ender's Game"). He also showcases the kind of confidence that has characterized his onscreen presence throughout his career.
With the success of shows like "Ted Lasso" and the growing popularity of English football in the U.S., many Americans may be interested in watching "Cass," a gateway into the history and culture behind football hooliganism. Football fans of all stripes engaged in riotous gang warfare, and Cass Pennant was at the center of it all as the leader of the Inter City Firm, who repped West Ham United.
Initially, Pennant rises through the ranks and gains a respect not usually afforded to Black citizens in the UK. However, his time in prison brings with it a much-needed reality check. Pennant attempts to find love and settle down, but his past keeps coming back to haunt him. Featuring an excellent lead performance from Anozie, "Cass" is the best film to come out of Kaluuya's humble beginnings, and remains a powerful story about a man in conflict with his upbringing. It deserves more love!
6. Sicario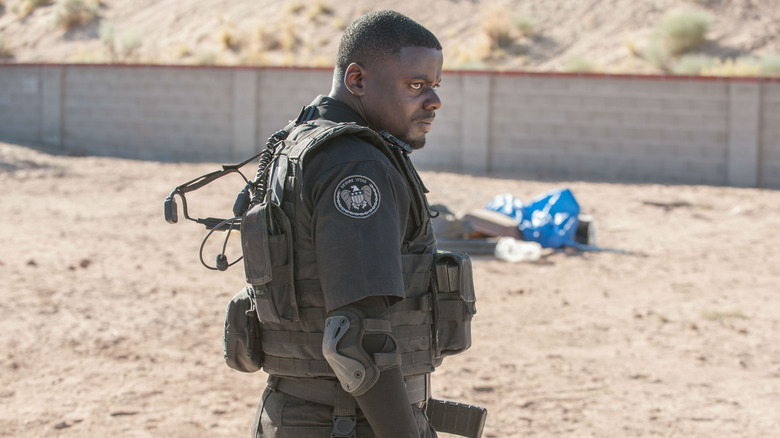 Lionsgate
Okay, now we're getting to the good stuff.
Before Denis Villenueve went deep down the sci-fi rabbit hole, he gave us "Sicario," a heart-pounding war thriller that pulls no punches. Like all of Villenueve's films, it is a visual and sonic masterclass; there's steadfast camerawork, absorbing sound design, and a tight grip on the pacing in every scene. If it wasn't for some story hiccups in the third act, the film would be one of Villenueve's best.
Kate Macer, played by Emily Blunt, is positioned as the film's protagonist in the very first sequence. However, "Sicario" shifts its focus to Alejandro Gillick, played by Benicio Del Toro, during the climax, stopping Kate dead in her tracks. It's a fitting development in terms of theme, but it leaves our main character with an abrupt lack of satisfying closure and hurts the film overall.
Kaluuya portrays Reggie Wayne, Kate's partner at the FBI and a justified skeptic about Kate's position on the new task force. This was Kaluuya's first major film role following his breakout performance in "Black Mirror," which began a transition to the kind of roles we associate Kaluuya with today. In movies like "Chatroom" and "Johnny English Reborn," Kaluuya is wide-eyed and exuberant. With "Sicario," Kaluuya introduced a more grounded, cynical screen persona that has defined his career ever since.
5. Nope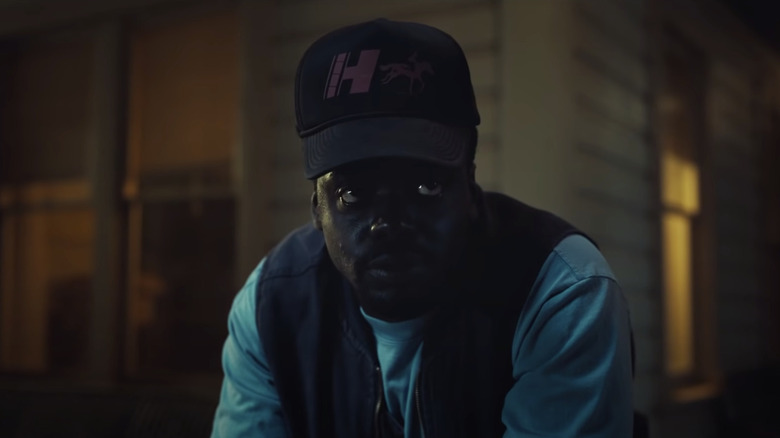 Universal Pictures
It's difficult to confidently rank "Nope," given that it's still so fresh in our minds. Jordan Peele's latest feature is his most thematically obtuse, necessitating multiple viewings to fully understand. Still, film lovers across the internet are already connecting more and more of the dots, including our very own Josh Spiegel, who describes "Nope" in his spoiler-filled review as "a commentary on the exploitation wrought by people upon themselves and each other, especially within Hollywood." Peele's alien design, which resembles a camera lens and then a camera shutter, implicates the spectacle of film as something that both artists as well as viewers must reckon with.
Daniel Kaluuya leads the film as OJ Haywood, a professional horse trainer who is forced to take over the family business when his father mysteriously dies. While many modern Kaluuya performances are calm and collected, OJ brings things to a whole new level. Kaluuya is often quiet in the role, more often than not grumbling his lines under his breath. But he actually gets more mileage in this role while observing and reacting; seeing OJ simply watch Jean Jacket from below instills more fear than any of his dialogue. This only makes it more enthralling when OJ takes the reins, both metaphorically and literally, during the film's intense climax.
4. Black Panther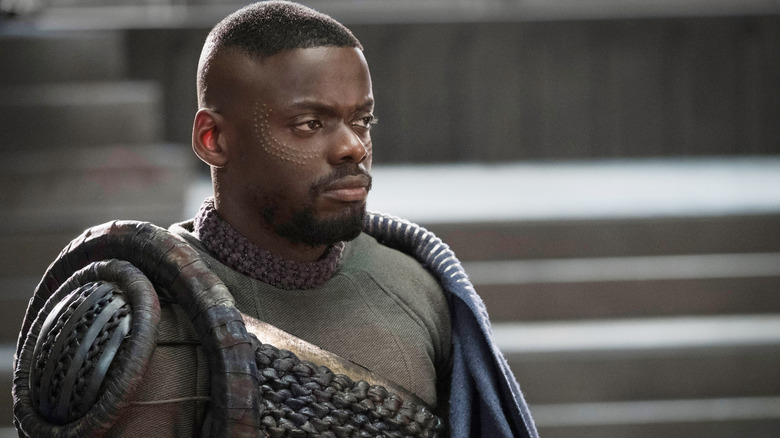 Walt Disney Studios Motion Pictures
Even though the Marvel Cinematic Universe is bigger than ever, very few of its films manage to reach the bar set by "Black Panther." How could they? Ryan Coogler's politically charged, spiritually resonant story became a cultural phenomenon in and of itself. On the other hand, as the MCU becomes more interconnected, the singular story of T'Challa and his reckoning with Wakanda's isolationism is something to aspire to. Coogler and Joe Robert Cole's script is incredibly focused, even when weaving in previously established MCU characters like Ulysses Klaue and Everett Ross.
In "Black Panther," Kaluuya plays W'Kabi, leader of the Border Tribe. Despite his limited screen time, he's imperative to the story; W'Kabi's desire for revenge creates a rift between himself and T'Challa, his best friend, and drives his support for Killmonger's takeover of Wakanda. Kaluuya plays the character with a quiet conviction and touches of charm that help us immediately understand W'Kabi and his philosophy. When he champions Killmonger on the throne, you can't help but see his point. In a deleted scene between W'Kabi and Okoye, we see his passionate side, further highlighting Kaluuya's range as a performer. Though he will not be reprising his role in "Wakanda Forever," fans agree that the actor left his mark on a largely underappreciated character.
3. Judas and the Black Messiah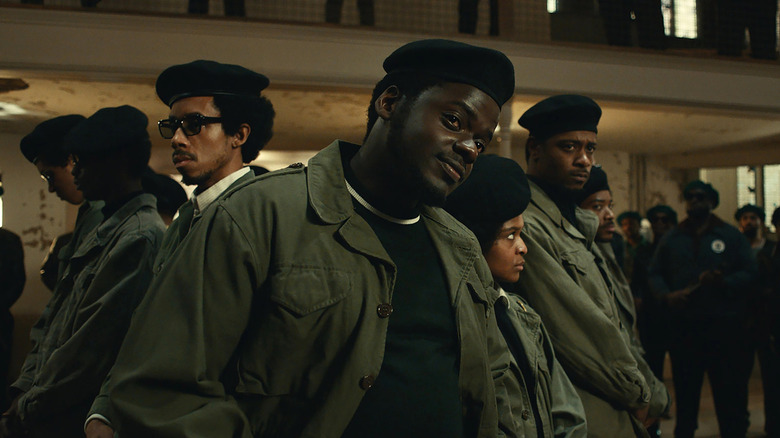 Warner Bros. Pictures
From "Black Panther" to the Black Panther Party.
It's hard to overstate how much of a lock Daniel Kaluuya was for the best supporting actor Oscar in 2021. Kaluuya's electric portrayal of civil rights leader Fred Hampton in "Judas and the Black Messiah" simply commands your attention. He so perfectly embodies Hampton's intensity that Kaluuya actually lost his voice while recreating Hampton's speeches. As such, it was no surprise to see Kaluuya take home the gold, capping off his meteoric rise in the industry.
In his acceptance speech, Kaluuya recognized "the gift that is Lakeith Stanfield," who was nominated in the same category. But Stanfield's portrayal of Bill O'Neal, an FBI informant who is complicit in Hampton's assassination, could never match Kaluuya's bombastic presence. Instead, in his shadow, Stanfield grounds the story in its central tragedy: the realization that the police will always find a way to dismantle revolutions, even if they have to do so from the inside. It's a cold, harsh lesson, one that's reflected in the film's steely aesthetic. Illinois is washed in grays, greens, and beiges. Nighttime scenes are shrouded in darkness, with heavy contrasts. It pushes the film's noir elements to the forefront without sacrificing a modern look, making it feel as though this story could still happen today.
2. Widows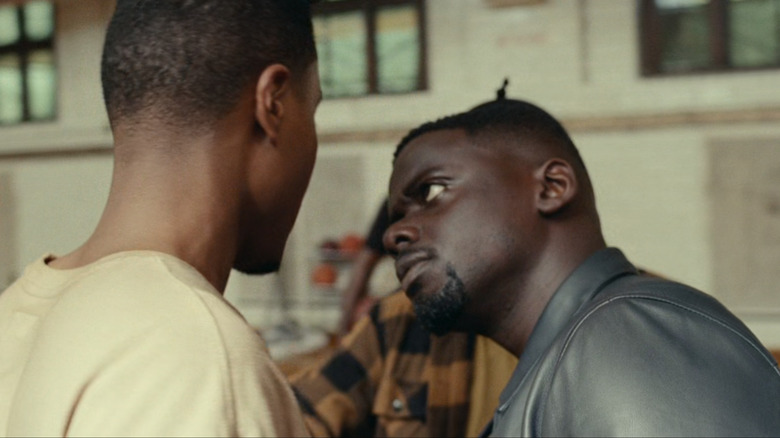 20th Century Studios
In 2018, five years after his breakout success with "12 Years a Slave," Steve McQueen returned to cinemas with one of the year's best films, "Widows." Critics knew it, but audiences barely saw it. I guess a lot of people missed the memo: When Steve McQueen rolls up, you roll up.
"Widows" follows three women whose husbands die while attempting to steal money from a crime boss. When that boss demands the cash's return, the wives team up to commit another heist, this time stealing from the crime boss' political opponent. Though the film's plot is pretty dense, every development is crystal clear thanks to a tightly written script, strong visual storytelling, and masterful performances. After two acts that are almost exclusively build-up, the film explodes into its third act, which is one of the most gripping sequences in the heist genre and stone-cold proof that McQueen is one of the best directors in the business.
In his most methodical performance to date, Kaluuya steals every scene he's in as Jatemme Manning, crime boss Jamal Manning's brother and fixer. Balancing glimmers of levity with cutthroat violence, Kaluuya exhibits incredible control in a deeply intimidating role. Nowhere is this better spotlighted than in the confrontation in the gymnasium. As two failed bodyguards freestyle, Jatemme bops to the beat, lowering their defenses. Then, without warning, he shoots them both — he shows no remorse. It's a harrowing moment and one of Kaluuya's most memorable scenes as an actor, period.
1. Get Out
Universal Pictures
Was there ever really any doubt? Jordan Peele's directorial debut remains an indelible work of social commentary and is widely considered one of the best films of the 2010s. Designed as a wake-up call for the "post-racial lie" in American politics, Peele's sharply written horror-thriller captured the Black experience in a way not before seen in mainstream cinema. Filled with exciting twists and turns that made it one of 2017's most memorable theatergoing experiences, "Get Out" implanted itself into the zeitgeist and rightfully kick-started Peele's career as one of most exciting directors working today.
Kaluuya's performance as Chris Washington similarly shot his reputation into the stratosphere, earning him international acclaim and a surprise Oscar nomination. You wouldn't think the role of "an everyman," as Kaluuya described Chris in an interview with GQ, would inspire such praise. However, that status gives Kaluuya an important duality to play with while portraying the character.
Kaluuya's signature charisma and impeccable restraint make him instantly relatable, especially when the tension begins to creep in. It's only during the "Sunken Place" scene that Kaluuya finally lets go of that artifice, succumbing to absolute terror and, at times, rage. There's a reason why his wide-eyed, teary face has become such an iconic image; it's a scene that showcases Kaluuya's range and his complete commitment to realizing the film's striking second half. Kaluuya fully devotes himself to every role he plays in whatever capacity is needed, and nowhere is that more clear than in the film that put him on the map.