Leslie Jordan Was A TV Guest Star You Were Always Happy To See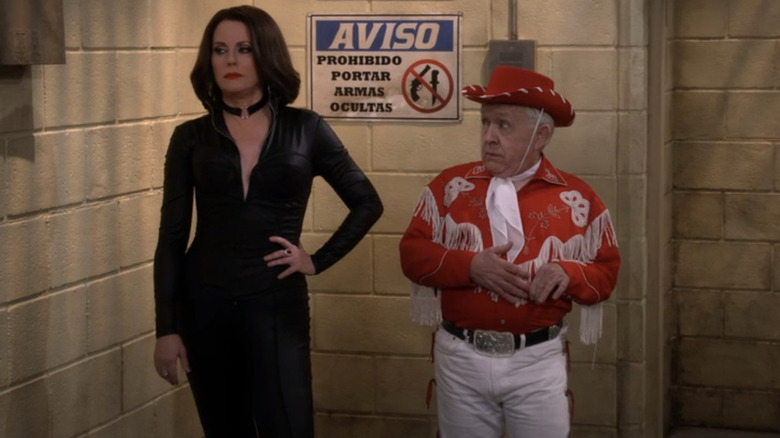 NBC
Family, friends, and fans of the incomparable Leslie Jordan are still reeling after his untimely passing yesterday at the age of 67, but the body of work Jordan leaves behind is filled with nothing but a delightful array of joy and talent. Leslie Jordan was a multi-hyphenate performer, with the gay icon enjoying countless roles as a character actor, vocalist, writer, and personality across a multitude of genres. Based on the memorial posts made by those who worked with him and knew him best, the assumption that Leslie Jordan was just as kind and friendly off-screen as he appeared to be has been confirmed, with countless celebrities acknowledging that no one else could do it quite like Leslie Jordan.
As a character actor, Jordan spent a lot of his career playing side characters and guest roles, which is no shade to his talents or abilities. Leslie Jordan was the kind of character actor you looked forward to seeing on your favorite show, or became the motivating factor to try out a series you've never seen, just to catch a glimpse of what kind of Southern-fried fabulousness he was going to inject into the role. Never one to be held down by limitations, Jordan's appearances were varied and vivacious. If Leslie Jordan was making an appearance, chances are, the episode was about to be one of the best in the whole run.
He shined on shows for adult audiences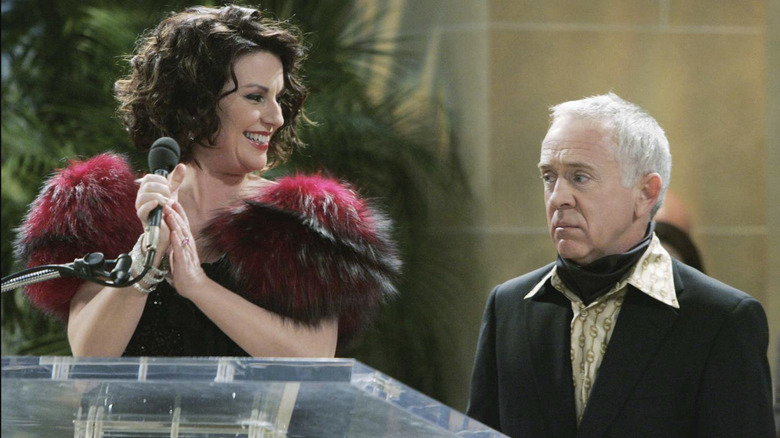 NBC
Jordan was a mainstay on just about every show your mom liked in the 1990s and 2000s, popping up everywhere, including on "Ally McBeal," "Caroline in the City," "Boston Public," "Boston Legal," "Nash Bridges," "Murphy Brown," "Desperate Housewives," and "Lois & Clark: The New Adventures of Superman." All of these shows were ripe for character actor guest appearances, but Leslie always completely stole the spotlight whenever he arrived on screen. He even played the Ferengi crewman, Kol, in the "Star Trek: Voyager" third season episode "False Profits." There was no character Leslie Jordan couldn't play, but he was always in his strongest element when allowed to transform characters into something that only he could pull off.
Until very recently, Jordan was most well-known for his recurring guest spot on "Will & Grace" as Beverley Leslie, the homophobic homosexual millionaire rival of Megan Mullally's Karen Walker. Leslie would arrive to exchange barbs with Walker, often mocking her alcoholism, and sex life, frequently comparing her to being the devil or a vampire. To clap back, Walker would mock his short stature and feminine presentation, while both delivered their lines with hilarious venom that could only be spoken in their memorable voices. Jordan won an Emmy for Outstanding Guest Actor in a Comedy Series for this role in 2006, a well-deserved accolade for such a fantastic character.
He knew when to tone it down for the kids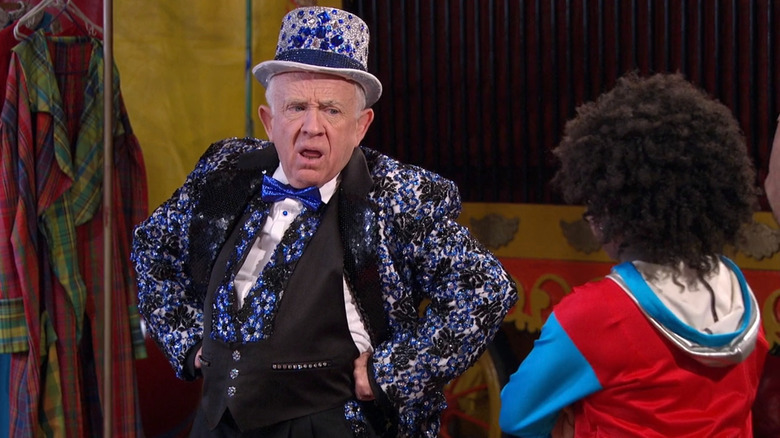 The Disney Channel
Part of Leslie Jordan's charm was how often he'd say something sexually forward or sarcastic with his sweet-as-pie Southern dialect, which made him perfect comedic relief when handling adult material. At the same time, his charming demeanor and friendly attitude made him a wonderful addition to any family-friendly show. Jordan had guest spots on shows like the original "Sabrina the Teenage Witch," but two appearances truly shined above the rest.
During the original run of "Pee-Wee's Playhouse," Jordan appeared in the episode "Mystery," as a new neighbor named Busby who has been stealing Pee-wee's things in an attempt to be more like him, hoping that it would make Pee-wee want to be his friend if he saw they had things in common. The official Pee-wee Herman Instagram account highlighted the episode yesterday, noting that the episode was written specifically for Jordan after seeing his guest spot on "Murphy Brown." It's such a sweet episode on friendship, made even better by his commitment to the role and the innocence of Busby.
Just a few years ago, Jordan appeared on the Zendaya starring Disney Channel series "K.C. Undercover," as the depressed ringleader of a failing circus named Cecil B. Deville in the two-part episodes "Tightrope of Doom." Jordan dazzles in his almost exclusively sequined wardrobe but spends most of his screen time exchanging sass with small children. He takes a similar approach to his Beverley Leslie character on "Will & Grace," but filters it through a Disney Channel-appropriate level of snark. It's an absolute delight to see him sharing the screen with gifted young performers like Zendaya and Trinitee Stokes, and he looks to be having so much fun acting opposite children who can roast as well as he can.
He had the perfect voice for animation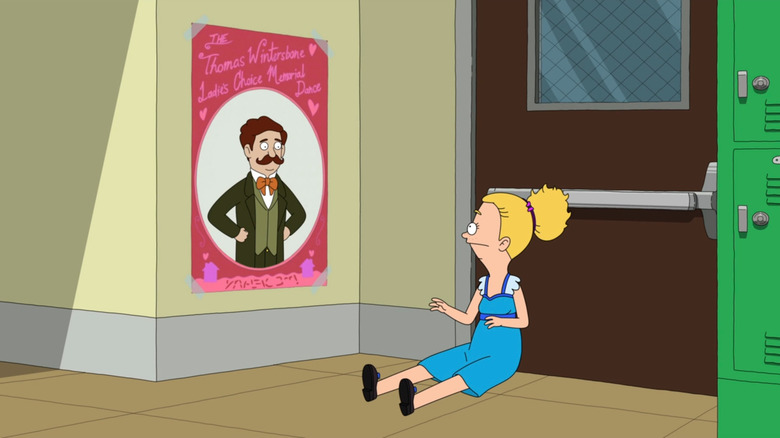 FOX
Leslie Jordan's voice is so distinctively inimitable, it's no surprise that he frequently lent his trademark tone to animated shows. On "American Dad!," Jordan played Mr. Beauregard, the premier hairstylist of Langley Falls. Much like Jordan, he speaks with a Southern drawl and is incredibly short, so the character is often riding on the back of a greyhound dog. Mr. Beauregard's favorite pastime is "finding stupid people and mocking them," a perfect fit for an actor with the well-established skill of reading people to filth with a smile.
Jordan appeared in the season 9 "Supernatural" episode "Dog Dean Afternoon," voicing a Yorkie that is the sole witness to a murder. Dean Winchester performs a spell that allows him to communicate with dogs, but Jordan's Yorkie is far more interested in Sam Winchester and demands that he give him belly rubs in exchange for information. It's dementedly hilarious hearing a dog borderline objectify a grown man, but because it's Leslie Jordan as a dog, you can't help but love every second of it.
When "The Great North" debuted in 2021, one of the best episodes of the freshman season featured a guest role Jordan as town historical figure Thomas Wintersbone, a gay man who entered a Lavender Marriage with a lesbian to avoid persecution, but who had been straight-washed by history as a couple with a love so strong it "could not be contained by two cabins." In reality, the two cabins were so the two could live their gay lives freely without interrupting the other. Jordan's approach to telling the story is equal parts flamboyant hilarity and heartfelt sincerity, and he was truly the only person who could have pulled it off.
He was loved for being himself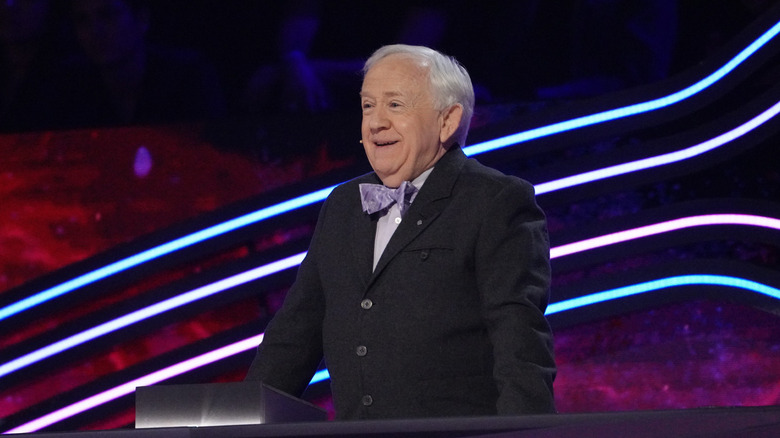 FOX
After Jordan skyrocketed to fame during the early months of the pandemic by posting delightfully relatable videos on Instagram and TikTok, Jordan became a bonafide celebrity personality. He served as a guest judge on "RuPaul's Drag Race," returned to direct "Moulin Ru: The Rusical," and even became the subject of the "Snatch Game" challenge when Trinity the Tuck delivered a winning impersonation of him. As a longtime LGBTQIA+ activist, Jordan is completely in his element on RuPaul's stage and provided some of the series' best moments.
Through the series, Jordan developed a friendship with drag performer Trixie Mattel, having a cameo appearance in the music video for her country song "Mama Don't Make Me Put on the Dress Again," and guest judging a lifeguard competition on her show "Trixie Motel." Jordan was able to be himself every step of the way, and stole the show just by delivering off-the-cuff comments like "​​You may know me from 'Will & Grace,' you might know me from Instagram, who knows? You might know me from the alley in West Hollywood."
Jordan was also featured as a guest panelist on seasons six, seven, and eight of "The Masked Singer." Jordan debuted as the character Soft Serve in season 6, performing a rendition of "This Little Light of Mine" and as of publication, remains the oldest guest mask of "The Masked Singer." His commentary on the show was unmatched because no one on the planet can crack a one-liner quite like Leslie Jordan. The world of entertainment has an unfillable void in his absence, and we are all so lucky to have been able to experience his gifts.