The 12 Best James Stewart Movie Moments, Ranked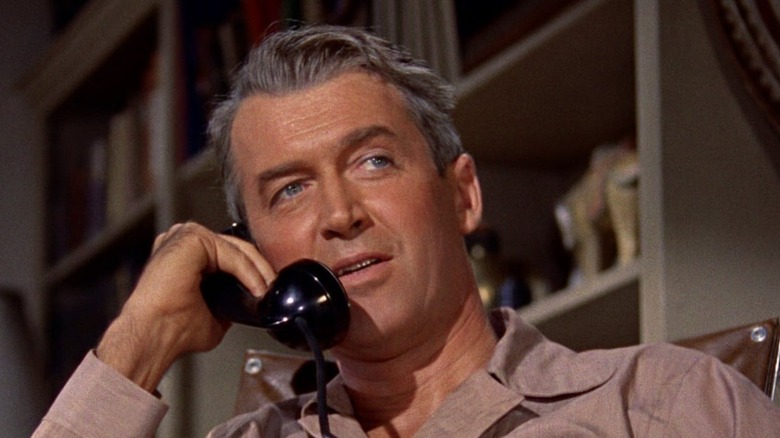 Paramount Pictures
James "Jimmy" Stewart is a beloved national treasure and one of the few Hollywood stars of the golden era who maintained an unimpeachable reputation as a faithful husband and war hero. Despite his public persona as a "gee shucks" goody-two-shoes, Stewart's film roles were often more complex. Audiences in the 1950s struggled to accept Stewart's most dark and twisted role in Hitchcock's "Vertigo," but this wasn't the first time he had dipped his toe in murkier waters. 
Stewart was best known for his instantly recognizable voice, a drawn-out drawl that was softly soothing, with line deliveries full of well-timed pauses. Stewart also stammered when his characters got excited or angry, which became another famous and much-imitated trademark. Despite only being an inch taller than Cary Grant, Stewart seemed much taller due to his slender frame and long face. He towered over his leading ladies, which increased the romanticism of scenes where they would have to fling their heads right back for a kiss or embrace. Stewart knew exactly how to use his distinctive voice and lanky physicality to great effect in his roles, helping him create some of the most iconic characters in cinema history. Stewart has been a part of many stand-out scenes in his career, leading to memorable moments that have endured over the decades since. Join us for a tour through the 12 best James Stewart movie moments.
12. Rupert starts to suspect — Rope (1948)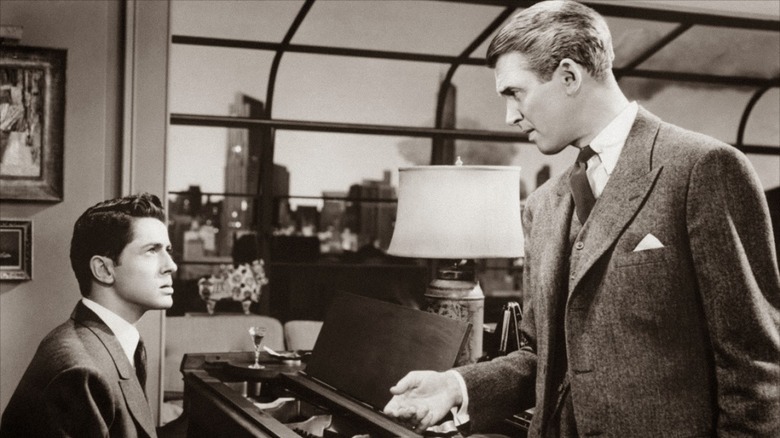 Warner Bros. Pictures
Hitchcock's experimental film adaptation of a 1929 play famously made great use of a single location, taking place in real-time through seamlessly edited long takes. In "Rope" two young intellectuals named Brandon (John Dall) and Phillip (Farley Granger) murder their former school friend David, in what they believe will be the perfect murder. Part of their motivation is to impress their former housemaster Rupert (James Stewart), who they believe is a follower of Nietzsche's Übermensch ideals. They put the body in a chest, atop which they serve a buffet at a party attended by the parents and fiancée of the victim. At the party, Brandon remains cool and collected, while Phillip copes with his nerves by drinking too much.
The best moment comes when Phillip begins playing piano, and Rupert says "I seem to be the only one having a good time."  Aware that something feels 'off' about the party, Rupert sets off a metronome on the piano and begins to interrogate Phillip by asking where David is: "You're more than usually allergic to the truth tonight, Phillip ... You're quite a good chicken strangler if I recall." This is something Phillip previously denied doing. Stewart's calm-but-insistent tone contrasts with Granger's erratic temperament, which veers from laughter, to angrily shouting. Granger and Stewart both brilliantly calibrate their performances in this scene, reacting to each other second by second, with Phillip's nerves being triggered by Rupert's every word and movement. A masterclass of acting.
11. War finally arrives — Shenandoah (1965)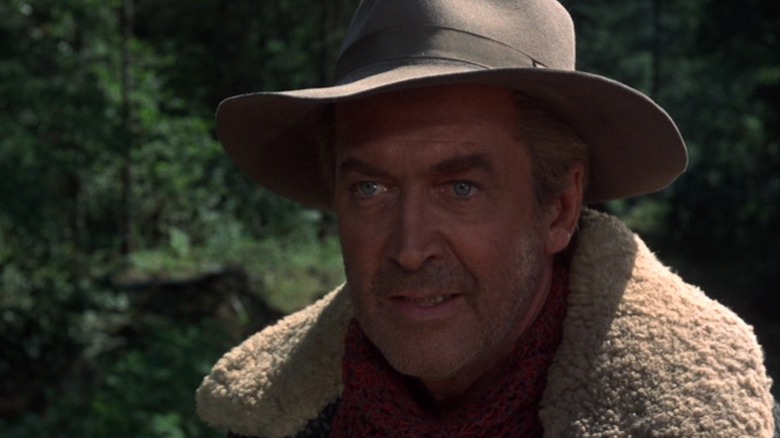 Universal Pictures
This Civil War movie is divided neatly into two halves. For the entire first half, James Stewart's simple farmer Charlie Anderson is determined that his six sons not become embroiled in war. A pivotal moment happens halfway through "Shenandoah" when Charlie's youngest son (known as Boy) is mistaken for a Rebel soldier and taken prisoner by a Union patrol. Charlie can no longer ignore the war. There's a great zoom-in on Stewart as he practically turns to the camera, takes the cigar out of his mouth, and says, "now it concerns us."
Charlie tells his daughter-in-law Ann (Katharine Ross, in her debut role), "I don't know how these people dare take a son of mine. When I catch up with them, it's going to be a horrible thing to behold." Charlie references his thorny relationship with God and the fact that he's probably going to hell. Boy is special because Charlie's wife died in childbirth: "I look at him. I see her." Charlie's parting words concern Ann's baby: "Just keep her warm and fat, she'll probably turn out to be the only one around here with a brain." As this was now the 1960s, "Shenandoah" reveals some interesting and more complex notions regarding both war and religion, and seeing Stewart with a rebellious attitude to both is different from what we'd seen from him before. Stewart brings a perfect combination of harsh and abrasive, but with plenty of twinkly-eyed humor.
10. Ending — It's a Wonderful Life (1946)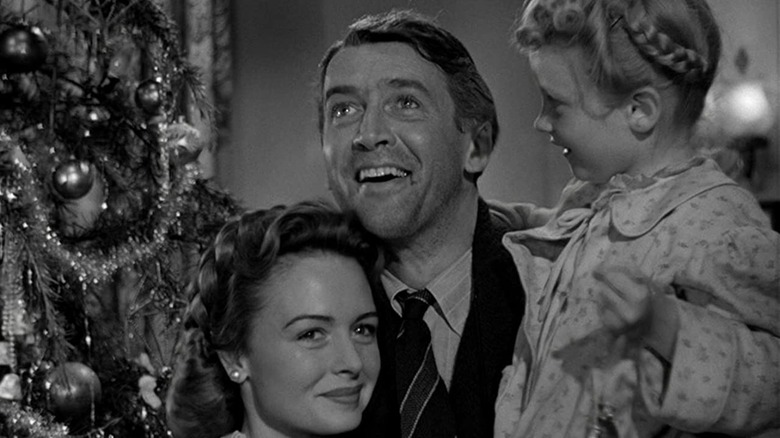 RKO Radio Pictures
In 1946, James Stewart starred in a film that would become the enduring Christmas classic he's best known. George Bailey in "It's a Wonderful Life" is certainly the persona that Stewart remains associated with to this day, i.e. family man in a small town who helps others/is beloved by all. Bailey finds himself in a desperate financial situation, contemplating suicide on a bridge, when Clarence the angel is sent to show what his town would've been like had he never existed.
The ending is the most memorable part, when George is back on the bridge, pleading with God to let him go back to his old life. "I want to live again." Snow begins to fall, indicating that his prayers have been answered. He runs home and hugs his children, showering Mary with kisses. Townspeople pour in with cash to prevent George from going to jail. By the time the bell rings, and George says "atta boy Clarence" with everyone singing Auld Lang Syne, there isn't a dry eye in the house. Stewart brilliantly portrays this emotional rollercoaster, from sobbing on the bridge to excitedly running home to his family, not caring if he does go to jail as long as he can hug and kiss them one more time, then his wonder at everyone crowding in with handfuls of cash, to his tearful realization that Clarence did in fact get his wings. Sentimental, yes, but heart-warming all the same.
9. Gillian enchants Shep — Bell, Book and Candle (1958)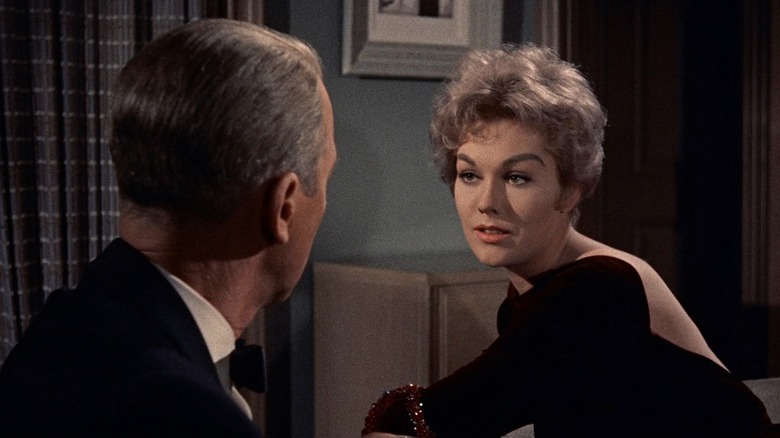 Columbia Pictures
In 1958, the 50-year-old James Stewart starred in two movies with Kim Novak which could not be more different. "Bell, Book & Candle" (which functions as both a Halloween and a Christmas movie) is considered his last performance as a romantic lead. Novak plays the witch Gil Holroyd, while Stewart plays her upstairs neighbor Shep, the latter engaged to Merle with plans to marry on Christmas Day. Gil still has her sights on him, luring him into her apartment late on Christmas Eve.
She has a familiar (a Siamese cat named Pyewacket) and is wearing a sleek backless number. She purrs at Shep, "It's nice having you over me." While Shep prattles on about Merle, Gil uses Pyewacket to enchant him into falling in love with her. Holding the cat just below her own cat-like eyes, their purring and humming becoming one. When Shep is about to leave, he abruptly changes his mind and kisses Gil instead. Suddenly, there is a cut to the top of the Flatiron building, where Gil is in a fantastic hooded cloak. Shep seems confused and Gil says, "you wanted to go dancing in the snow." This perfect romantic moment peaks with Shep saying, "I'm gonna mush your nose," before flinging his hat off the top of the building. "Bell, Book & Candle" feels ahead of its time, while Stewart and Novak have amazing chemistry used to very different effect in "Vertigo."
8. Café scene — The Shop Around the Corner (1940)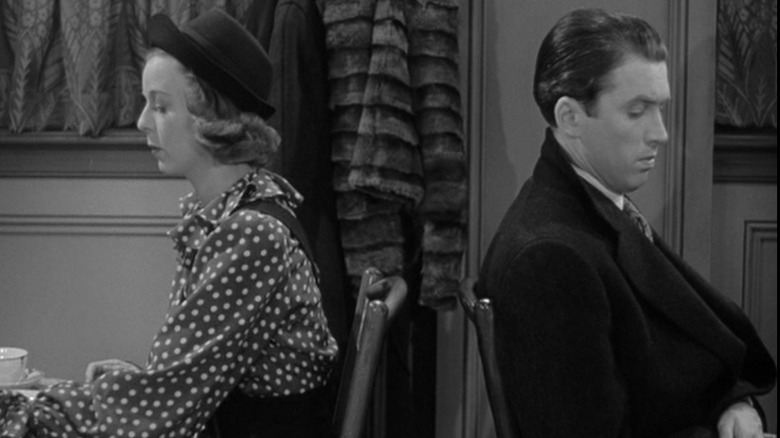 MGM
Setting the blueprint for many enemies-to-lovers rom-coms to come (particularly "You've Got Mail"), "The Shop Around the Corner" is set in Budapest and centers on two bickering co-workers at a leather-goods shop named Kralik (James Stewart) and Klara (Margaret Sullivan). They are unaware that they've been writing anonymous letters to one another and falling in love via correspondence. Things come to a head when Klara says she wants to meet her pen pal in a café, using a carnation in a copy of "Anna Karenina" so she can be identified. Kralik comes to the café and realizes that his secret love is Klara, but she is still unaware of what's really going on.
Kralik tries to drop hints that if they scratched each other's surfaces, they might be surprised by what they find. Klara responds, "I know exactly what I'd find – instead of a heart, a handbag. Instead of a soul, a suitcase. Instead of an intellect, a cigarette lighter which doesn't work." Kralik responds, "that's a very interesting mixture of poetry and meanness." Klara then calls Kralik a "little insignificant clerk." This is the exact moment his heart breaks, which you can see all over Stewart's wounded expression. He leaves, reeling from her hurtful words. With zingy dialogue, and fantastic chemistry between Stewart and Sullavan, "The Shop Around the Corner" is a lovely example of Stewart's skill as a romantic lead.
7. Panties — Anatomy of a Murder (1959)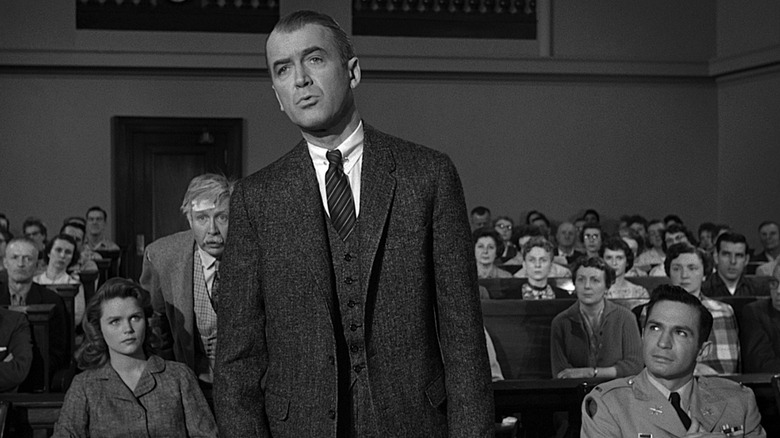 Columbia Pictures
In 1959, Golden Age Hollywood star James Stewart performed alongside Actors Studio alumni Lee Remick and Ben Gazzara, who were part of ushering in a new era. "Anatomy of a Murder" is one of the best courtroom dramas of all time and has been praised by members of the legal profession for its realism. Stewart plays Biegler, a small-town lawyer who takes on the case of Frederick Manion (Gazzara), accused of murdering Barney Quill. Manion's defense is that Quill raped his wife Laura (Remick). Biegler's entire case revolves around him being allowed to enter the rape into the record, something that the prosecution obviously tries to block at every turn.
Biegler says, "the prosecution would like to separate the motive from the act. That's like trying to take the core from an apple without breaking the skin ... I beg the court, I beg the court to let me cut into the apple!" Stewart cleverly weaponizes his famously soft tones to plead with the judge, without getting hysterical. The introduction of the rape leads to a debate between the judge and lawyers over the word "panties," with Biegler not being much help because he's a bachelor (as many Stewart characters are). "Anatomy of a Murder" makes a brilliant counterpoint to "Mr. Smith Goes to Washington," as this is Stewart 20 years later, much less bombastic but no less effective.
6. Standing up to Nazis — The Mortal Storm (1940)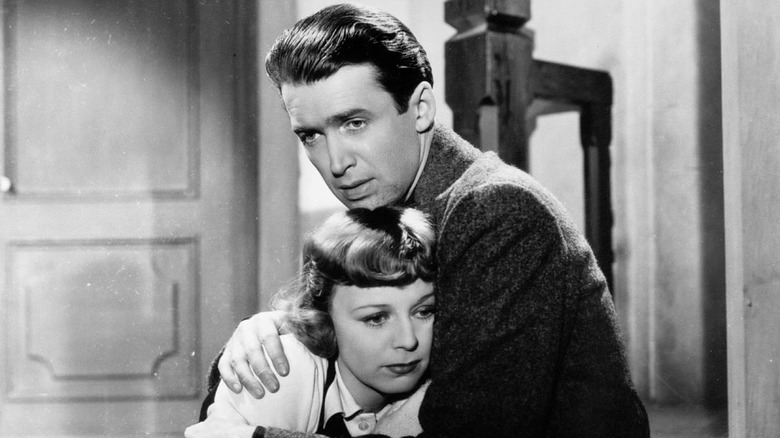 MGM
World War II movies released during the war are always fascinating, as they don't have the benefit of hindsight. This is especially the case with "The Mortal Storm," which was made before the war had even started and released before the US entered the war. It is set on the German/Austrian border in the early '30s and examines the rise of fascism after Hitler came to power. It's an explicitly anti-Nazi movie, made before the full extent of the Holocaust was widely known.
James Stewart plays Martin, a farmer not whipped into Hitler fever like his friends. Margaret Sullavan plays Freya, whose father is non-Aryan (a term used in the film instead of Jewish). One night at an inn, young men wearing swastikas are singing "patriotic" songs while doing the Heil Hitler salute. They berate an elderly professor who refuses to join in, so Martin escorts him out, saying, "that old chap's been decent to me. I can't stand by and see him bullied." Martin's friend asks him if he's going to join the party, or "herd with the pacifist vermin we're going to stamp out." Before he can respond, Martin is alerted that they're beating up the old professor out in the snow. "The Mortal Storm" is especially stirring knowing what Stewart would go on to do during the war. It's an extraordinary war film that captures a specific moment in time, examining the causes of a war that had barely started.
5. Mr. Smith's Filibuster — Mr. Smith Goes to Washington (1939)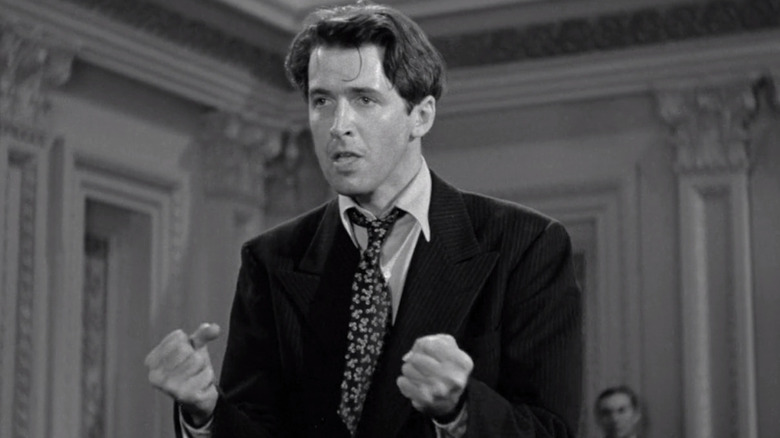 Columbia Pictures
The last 30 minutes of Frank Capra's "Mr. Smith Goes to Washington," about an idealistic young senator who comes up against corruption, are an extraordinary tour-de-force from James Stewart. At the end of the film, Jefferson Smith finds himself backed into a corner and out of options. The only desperate path he can go down is "democracy's finest show," the filibuster. From the moment that Harry Carey's President of the Senate realizes what's about to happen and lets out a wide, sly grin, we know we're going to be in for quite a ride.
Supporting Smith in his fight for what he believes is right is Jean Arthur's Saunders, who confesses her love for him via a note during the filibuster. Saunders and Smith's rival Jim Taylor competes to feed his versions of the filibuster to newspapers. We find Jeff passing the 23-hour mark — his eyes bleary, his voice hoarse, and he can barely stand — still holding passionate court about Lady Liberty. "You'll see the whole parade of what man's carved out for himself after centuries of fighting." It's heartbreaking to see him clutching the telegrams telling him to yield the floor, utterly defeated, and whisper, "I guess this is just another lost cause." Finally, he faints. While "It's a Wonderful Life" is more widely regarded as the classic Capra-Stewart movie, the actor is even more impressive here as a man who refuses to yield, despite being placed under enormous pressure.
4. Lisa in Thowald's apartment — Rear Window (1954)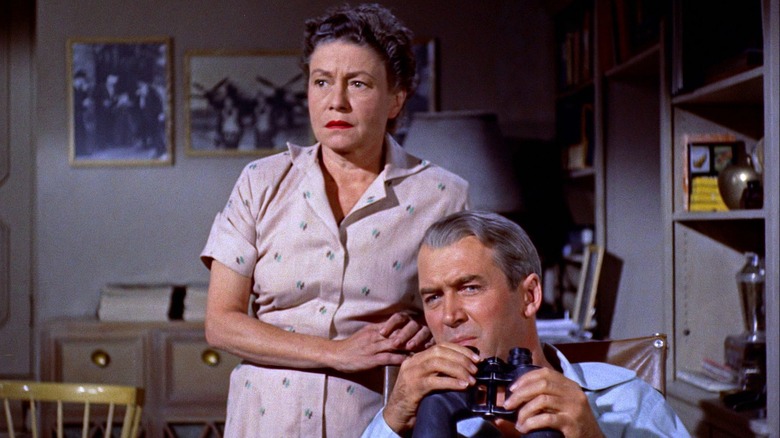 Paramount Pictures
That most Hitchcockian of themes — voyeurism — reached its zenith in 1954, with James Stewart playing the wheelchair-bound war photographer Jeff in "Rear Window". He lazily spies on his neighbors one summer and becomes obsessed with one in particular, convinced that Lars Thorwald (Raymond Burr) has killed his wife. Jeff recruits his nurse Stella (Thelma Ritter) and girlfriend Lisa (Grace Kelly) to help him investigate. Kelly's Lisa is not only beautiful but courageous and adept, meaning that she can achieve much more than the impotent Jeff, who is forced to observe through the long zoom of his camera lens. She makes the reckless decision to go into Thorwald's apartment looking for evidence. 
When Thorwald returns with Lisa still in the apartment, Stewart can only hoarsely call out, squirm in his chair, and cling to Stella as he watches Thorwald grab Lisa and throw her down. Stewart shakily putting his hands behind his neck expresses all of the frustration of someone frozen, watching the woman he loves being attacked. The police arrive, and Lisa indicates to Jeff that she is wearing Mrs. Thorwald's wedding ring. There is a bone-chilling moment when Thorwald realizes what she's doing and looks directly at us. It's clear why this is considered one of Hitchcock and Stewart's best films. It has an ingenious conceit, utilizes incredible set design, and Stewart gives one of his best performances while sitting down in one spot for virtually the entire duration of the movie.
3. All these golden moments — Harvey (1950)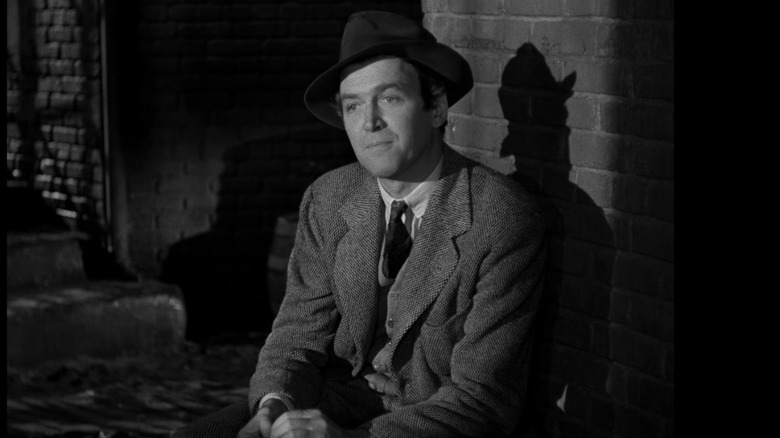 Universal Pictures
Perhaps the most ideal casting in James Stewart's career happened when he took on the role of a man whose best friend is an invisible six-foot-tall rabbit named Harvey. Stewart absolutely sells this conceit with his sincerity, warmth, and heart. His sister tries to have him committed to an institution, only for him to win the staff over with his naivete. Stewart's Elwood P. Dowd ends up in an alley behind his favorite bar with a young doctor and nurse from the institution, and he explains how Harvey helps people. "Harvey and I sit in the bars ... and soon the faces of all the other people turn toward mine and smile. They're saying, 'We don't know your name, mister, but you're a very nice fella.' Harvey and I warm ourselves in all these golden moments."
"They tell us about the big terrible things they've done and the big wonderful things they'll do. Their hopes, and their regrets ... All very large, because nobody ever brings anything small into a bar. And then I introduce them to Harvey ... and he's bigger and grander than anything they offer me." It's a monologue that feels like it could only have been delivered in Stewart's famously drawn-out and softly-spoken drawl where there is no rush, plenty of pauses, and you believe everything he's saying. Stewart was frequently associated with nostalgia, sentimentality, 'home-spun wisdom.' and a 'gee, shucks' persona, but never put to better use than in "Harvey."
2. Judy transforms into Madeleine — Vertigo (1958)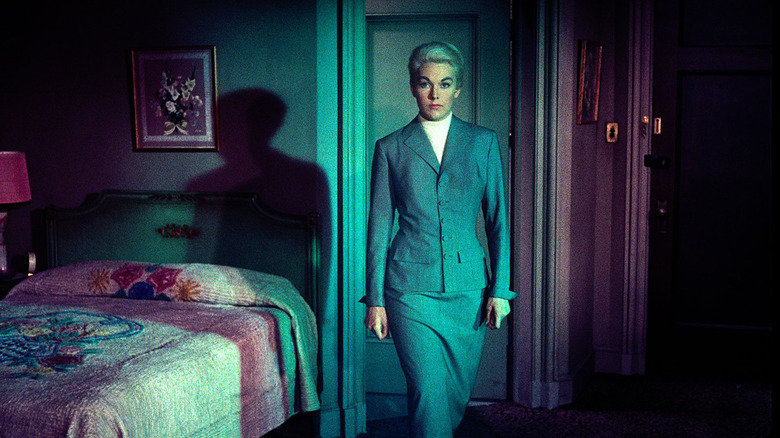 Paramount Pictures
It is fitting that the two best moments from James Stewart's Alfred Hitchcock collaborations are both scenes where he's reacting and watching women (blondes, obviously) do something dangerous, thrilling, and sexy. The complex themes of "Vertigo" really come to a head when Scottie (Stewart) molds Judy (Kim Novak) into his former lover Madeleine. He believes Madeleine to be dead and feels responsible. Judy has her hair dyed from brunette to blonde, wears the same gray suit, and has make-up done to match Madeleine's. When she returns with her hair down at the back, Scottie is still not satisfied. The tension is palpable as she goes into the bathroom to pin her hair back, with Stewart a bundle of nervous energy.
Judy emerges from the bathroom, with her hair finally correct. She is shrouded in steam as if emerging from the mists of time, bathed in the neon green glow that washes over the room. Bernard Hermann's strings reach a crescendo as Judy walks towards Scottie as if Madeleine has risen from the dead. You see the wave of relief wash over Stewart, since all Scottie wants is to be reunited with this ghost. The camera spins around them and despite the messed-up nature of what has transpired, there is still somehow a sense of romance. He showers this hybrid woman with urgent kisses, her head flung right back due to the height difference. An iconic scene in movie history, and justifiably so.
1. Put me in your pocket — The Philadelphia Story (1940)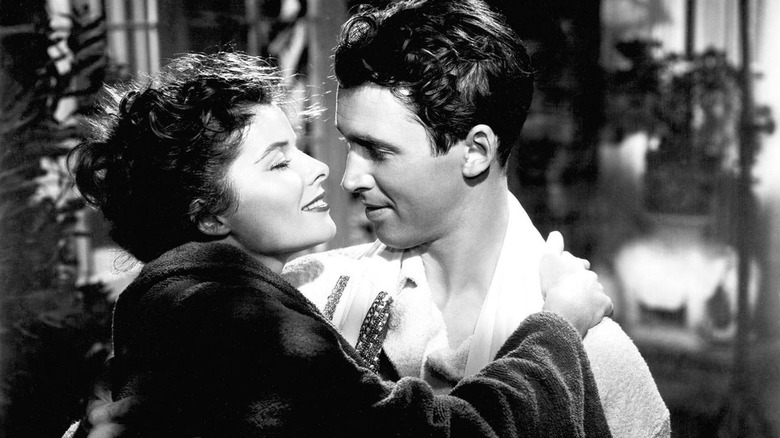 MGM
It's hard to believe we were ever lucky enough to get a romantic comedy starring Jimmy Stewart, Cary Grant, and Katherine Hepburn, but "The Philadelphia Story" has zingy dialogue and wonderful chemistry between all three leads. Mike Connor (Stewart) has been assigned to cover Tracy Lord's society wedding, further complicated by her ex-husband Dexter (Grant) turning up. 
It's the early hours of the wedding day, and both Tracy and Mike are champagne-drunk. "Whiskey is a slap on the back and champagne is a heavy mist before my eyes." They keep pushing each other's buttons, with Tracy calling Mike an intellectual snob or professor, but they eventually succumb to a first kiss: "It can't be anything like love can it? Would it be inconvenient?" Tracy whisks Mike off to the swimming pool saying, "put me in your pocket, Mike." It's delightful that this is the performance Stewart won the Oscar for, a rare example of the Academy making an inspired choice. Mike carries Tracy back from the pool crooning "Somewhere Over the Rainbow," and Dexter decides to punch him before groom-to-be George has the chance. Grant is so impressive in this little moment as Dexter makes quick-fire decisions in order to minimize the damage to Tracy, who he clearly still cares for. He also likes Mike, despite him being his rival. All three leads are at the top of their game here and play off one another to perfection.