Why You've Got Mail Is Dated In The Most Fun Way Possible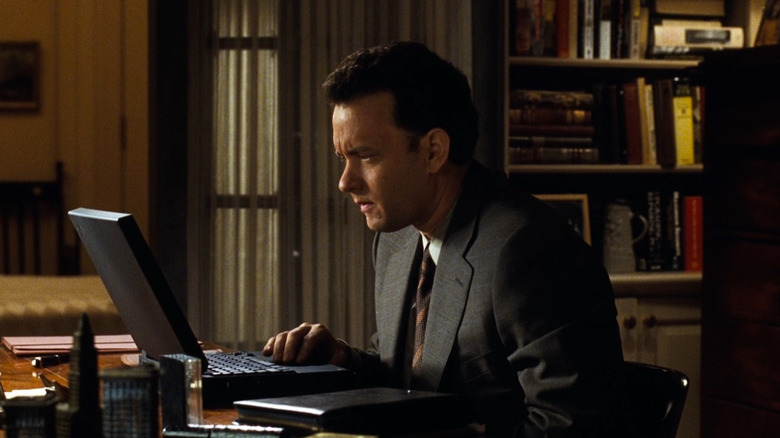 Warner Bros. Pictures
In 1998 the late, great filmmaker Nora Ephron — patron saint of the cutesy romantic comedy — devised a plan to duplicate the success of her 1993 hit "Sleepless in Seattle" by reuniting America's sweethearts Tom Hanks and Meg Ryan in a loose remake of Ernst Lubitsch's 1940 classic "The Shop Around the Corner," set in her hometown of New York City. What Ephron wound up with was, while wildly successful at the time, a movie that seems to encompass so many distinctly dated '90s motifs when viewed through a modern lens.
As it happens, tonight (Thursday, September 30) I will be hosting a free NYC outdoor screening event for Alamo Drafthouse where we will be showing "You've Got Mail" right in the heart of the city it's set in. The screening is being put on by Alamo to celebrate the forthcoming fall opening of its new Lower Manhattan theater location, and will begin at 7 P.M. outside of 28 Liberty Street's South Plaza. Expect themed goodies and popcorn before the show! In the meantime, let's take a look back at this beautiful little time capsule that may in fact be more dated than the World War II-era movie it's based on. 
The Shop Around the Corner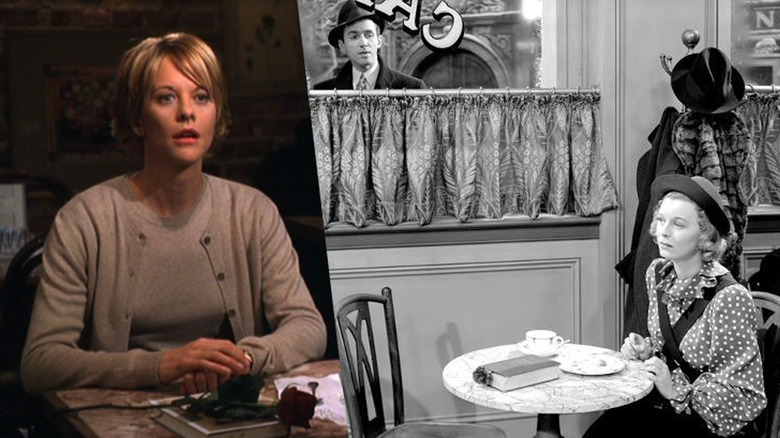 Warner Bros. Pictures
Ephron was attempting to emulate the light touch of German-born American director Ernst Lubitsch, master of the comedy-of-errors genre in such films as "Ninotchka," "To Be or Not to Be," and "Heaven Can Wait," the latter two having also been remade. The original "The Shop Around the Corner" does not involve rival shop owners as "You've Got Mail" does, but rather a single leather goods store in Budapest called Matuschek's. While most of the signage in the film is in Hungarian, the accents are all over the place, anchored by its two distinctly American leads in the stammery Jimmy Stewart and motor-mouthed Margaret Sullavan. 
As in Ephron's movie, Stewart and Sullivan have been anonymously corresponding with each other (via letters instead of email, obvs), and like the 1998 movie we first encounter their courtship in medias res. After months of literate and lofty back-and-forths the two are finally ready to meet IRL, and the conflicts in the situation unfold similarly, although the 1998 film spends much more time actually detailing the letters the two are sending each other. Whether this choice of Ephron's strengthens the relationship between Hanks and Ryan or is simply too literary to be cinematic is up for debate. Showing all the AOL emails and AIM sessions certainly made the film long — 30 minutes longer than "Shop Around the Corner," to be precise.
While so many of the situations in the two versions are different, one scene from 1940 made it to the 1998 version nearly unchanged: the cafe scene. In this classic moment, Sullivan/Ryan waits anxiously for the arrival of her mystery man with a flower on a book on the table in front of her, only for Stewart/Hanks to discover via a third party pal (Felix Bressart in the original, Dave Chappelle in the remake) looking through the cafe window that his love interest is actually his work nemesis. Instead of walking in and 'fessing up that it is he who has been writing to her all this time, there instead follows a confrontation between the two that is both ironic and tragic in its hurtfulness. As it happens, this is the standout scene in both films. 
The Most '90s Movie?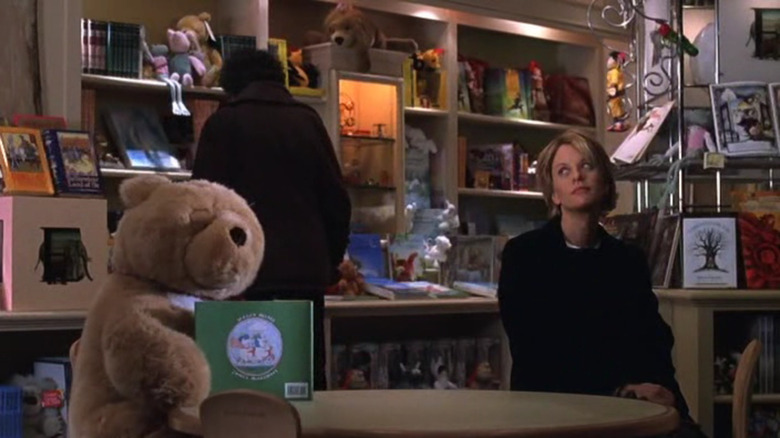 Warner Bros. Pictures
The most obviously dated aspect of "You've Got Mail" is in its title, a reference to the America Online (AOL) slogan said by Elwood Edwards once a user would login. Painfully slow dial-up login is seen several times in the film, where the lag time may actually have been far shorter than in reality, for product placement (not to mention pacing) reasons. Incidentally, AOL would buy the film's studio Warner Bros. only a few years later, a failed effort which ended in 2009 when AOL was spun off. 
Product placements don't end there, with the rival laptops used by the stars: Hanks has an IBM ThinkPad 300, while Ryan uses an Apple Powerbook Classic. In an interesting twist, producer Lauren Shuler Donner had her then-production assistant Kevin Feige (later of Marvel Studios triumph) teach Ryan, Hanks and Ephron how to use computers and send emails. There's also plenty of scenes set in and discussions of Starbucks. You know, that trendy up-and-coming coffee chain that was popping up around then?
The film is centrally concerned with the David versus Goliath competition between a cold, heartless corporate conglomerate bookstore operated by Hanks and a cute, quaint little mom-and-pop children's bookstore owned by Ryan, modeled after NYC's amazing Books of Wonder. The big irony is internet giant Amazon wound up sending most big box bookstores like Borders and Barnes and Noble into an early dirtnap, with smaller boutique book shops like Books of Wonder now the last men standing in that arena.
Why It Still Holds Up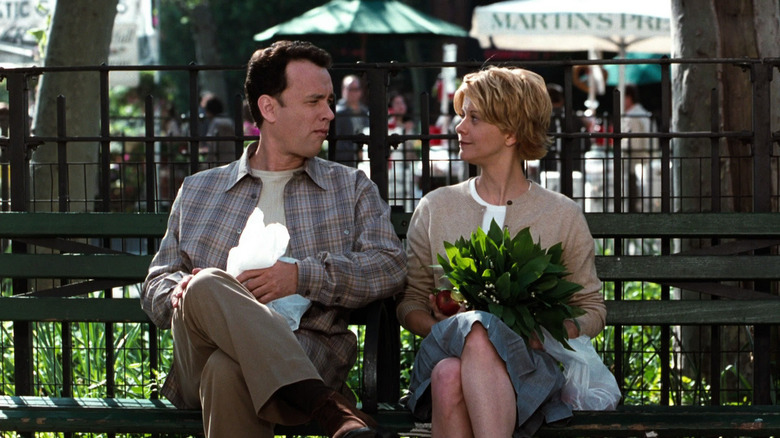 Warner Bros. Pictures
Even with all of its email fetishizing, its '90s normcore outfits, and its The Cranberries needledrops, "You've Got Mail" is still a fun romantic comedy that serves as a perfect trilogy capper to Ephron's two other will they/won't they scripts "When Harry Met Sally" and "Sleepless in Seattle." It's also a love letter to a pre-9/11 New York City that still exists more or less as you see it in the film ... you can still get a great hot dog at Gray's Papaya!
And what's amazing is the coupling between big and small business represented by Hanks and Ryan wound up being true, as both the giant brick-and-mortar superstores and the boutique shops have had to pull out all the stops to attract customers in the online age. Computers may have brought them together, but it is computers that may well do them both in at the end.