House Of The Dragon Proves You Don't Need A Star – You Just Need An Actor As Good As Emma D'Arcy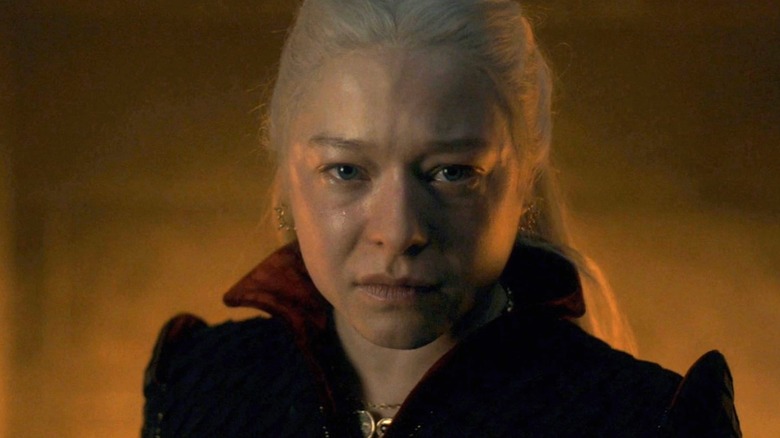 HBO
For the first five episodes of "House of the Dragon," Princess Rhaenyra Targaryen was played by the precocious Milly Alcock, a rising star out of Australia known for performing in the dramedy "Upright" and the hit horror short "The Familiars," which played as part of this year's Etheria Film Night. As the teenaged version of the primary protagonist of the new "Game of Thrones" prequel series, fans knew not to get too attached to the actor, as Alcock had already been announced as only appearing in the first five episodes of the series.
Few could have anticipated just how beloved Alcock's performance would be as the pint-sized queen of chaos, which meant Emma D'Arcy, who plays the adult version of Rhaenyra Targaryen, certainly had their work cut out for them to follow in Alcock's shadow. When audiences were first introduced to adult Rhaenyra, it was on the battlefield — or at least, the form of the battlefield reserved for the women of Westeros. Welcoming the new Rhaenyra during a harrowing childbirth sequence was a bold choice and one that solidified the princess' place as the most un-f***-withable character in the entire series.
"House of the Dragon" promised plenty of established actors playing key roles, like Paddy Considine as King Viserys and Matt Smith as Daemon Targaryen. However, the "Game of Thrones" franchise is notorious for turning relatively unknown actors into superstardom; just look at Emilia Clarke, Sophie Turner, Kit Harington, and Maisie Williams. After only five episodes of the new series, Emma D'Arcy has become the latest to transition from relative obscurity into an international superstar.
Where did Emma D'Arcy come from?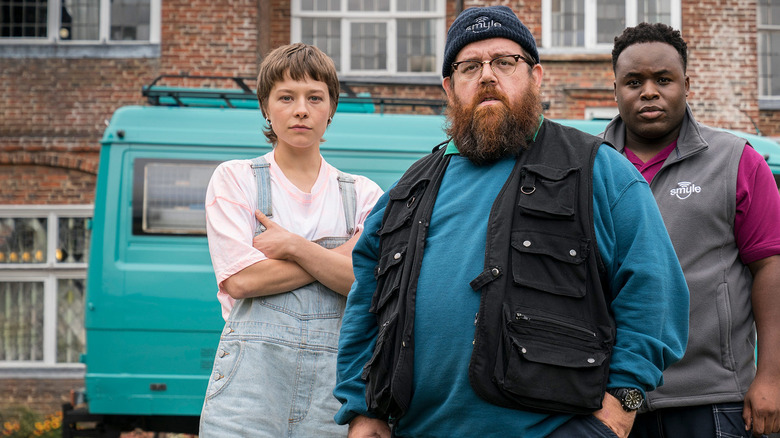 Prime Video
D'Arcy is a British actor who studied Fine Art at the University of Oxford's Ruskin School of Art, who has admitted in interviews to having never watched "Game of Thrones" until after they'd already been cast as The Black Queen. Before "House of the Dragon," D'Arcy had performed in a number of theatrical stage productions, with only a handful of film and television credits to their name. In the films "Misbehavior" and "Mothering Sunday," D'Arcy doesn't even appear on the poster, and when it comes to shows like "Wanderlust," "Hanna," and "Truth Seekers," either their part was relatively small or the series ended after just one season. Unless you're someone with a vested interest in knowing every single British actor currently working, chances are "House of the Dragon" was the first time you'd even heard of D'Arcy.
We're currently living in a time where algorithms and a built-in audience base are often just as important (and often even more important) than whether or not an actor is the best person for the job, which makes casting a relative unknown like D'Arcy in the biggest role on the biggest show on HBO seem like a massive risk. And yet the entire world has unanimously bet all their money on the Blacks, declaring Rhaenyra Targaryen as the stand-out performance of the series. HOTD fans are currently in collective mourning knowing we'll have to wait until 2024 to see what comes next with "The Dance of the Dragons," and that we won't have a new adventure with Emma D'Arcy on our screen every Sunday night.
The best person for the role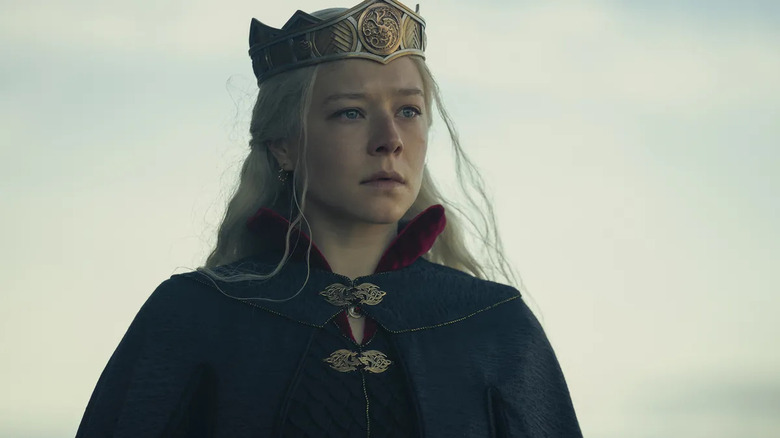 HBO
"House of the Dragon" is proof positive that productions don't need a household name or an already established celebrity to get the entire world to follow their lead performer into the flames and back — they just need an actor with the remarkable talents of someone like Emma D'Arcy. If they're not in Emmy contention this year for their moving, tormented, powerful, and steadfast performance as princess-turned-queen Rhaenrya, something has gone seriously wrong. Those who were squabbling "Emma who?" are now eating their words with a double helping of humble pie, because Emma D'Arcy absolutely obliterated every scene they were in. It's so rare to see such an undeniable talent completely wipe the floor with the script they've been given, but D'Arcy poured their blood, sweat, tears, and controlled eyebrow presentation into every last second on screen.
Off-screen, D'Arcy has become a certifiable queer icon, with bars across the country reporting record-highs of people ordering Negroni Sbagliato (you know, with Prosecco in it) cocktails all because D'Arcy mentioned in a casual interview that it was their favorite drink. A little over a month ago, D'Arcy was just another actor trying to make it in this industry, and now they're a cultural phenomenon. More productions should take a page out of the "House of the Dragon" playbook and cast based on the work and acting prowess above all else. If a show wants its own Emma D'Arcy, they need to prioritize fostering new talent rather than resting on the tired mindset that a big name will do all the work for them.