The Daily Stream: Little Demon Is A Profane Family Comedy With A Huge Heart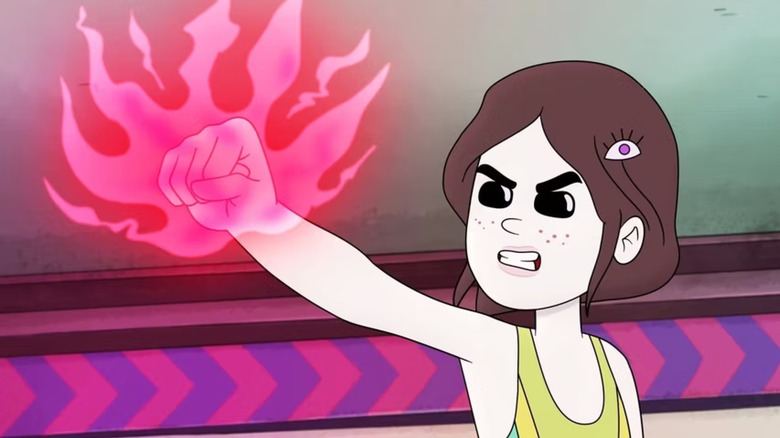 FXX
The series: "Little Demon"
Where you can stream it: Hulu 
The pitch: Thirteen or so years ago, partying pagan Laura (voiced by Aubrey Plaza) hooked up with the prince of darkness himself, Satan (voiced by Danny DeVito). Nine months later she gave birth to the Antichrist, and named her Chrissy. Now Chrissy (voiced by Lucy DeVito) has hit her teen years, and despite Laura's attempts to keep her safe from her dear old dad, Satan has re-entered the picture. He wants a chance to be a part of Chrissy's life, and while Laura doesn't trust him, she wants to try and give Chrissy a bit more freedom after years on the run. 
"Little Demon" starts out as a goofy animated comedy about a teenager discovering that she's the Antichrist, but soon develops into a story about dysfunctional families and how we hurt the people we love the most. 
Why it's essential viewing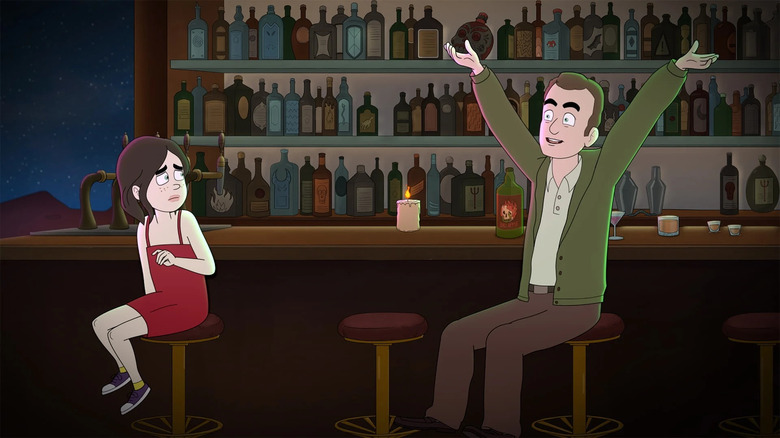 FXX
I'm going to be brutally honest with you — I didn't expect to love "Little Demon." Sure, it's a series about the spawn of Satan with the kind of comedy and voice acting pedigree that makes my heart go pitter-patter, but I had serious reservations. The animation style was kind of odd and there are already tons of great animated shows for adults, like "Star Trek: Lower Decks," "Harley Quinn," and even "Rick & Morty," so I wasn't sure that this show could do anything different enough to be compelling. "Little Demon" is even executive produced by "Rick & Morty" co-creator Dan Harmon, so wouldn't it just be more of the same?
I was wrong. Hilariously, horribly wrong. 
Danny DeVito's live-tweets of the episodes on his Twitter account convinced me to check out the first few episodes, and they were fiercely funny. Around episode 3, however, I started to notice the emotionally intelligent character writing hidden beneath the blasphemous and brutally gross humor. Anyone who checks the series out needs to be prepared for lots of swearing, grotesque violence, and jokes that occasionally test the bounds of good taste, but should you have the stomach for it, "Little Demon" has one of the most interesting mother-daughter relationships in all of television. 
Parenting is a mother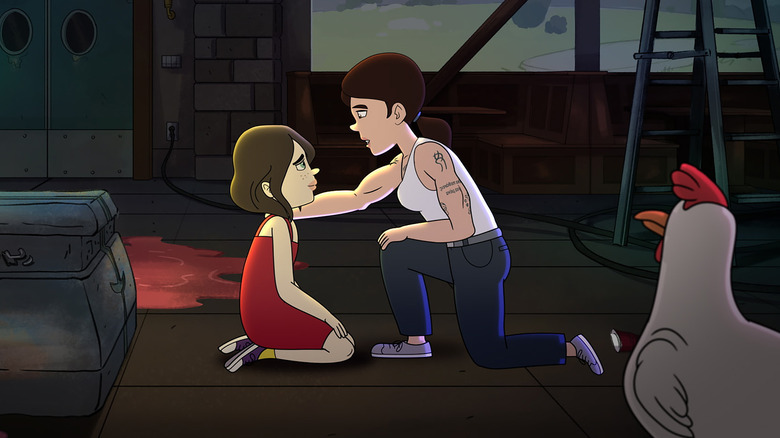 FXX
After 13 years on the run, Laura and Satan finally have to share parenting duties. Laura has been so focused on Chrissy and keeping her safe that she hasn't created any kind of life for herself. Even if you remove the satanic element, there's a lot to unpack in their mother-daughter relationship because all they've ever had is one another. 
Laura is a compelling character who screws up over and over again, but she's almost always doing it out of her love for Chrissy. Compared to Satan, who seems to only ever do anything for himself, she's Parent of the Year. She's a killer witch who's better at banishing demons than baking cookies, but she's also doing her best to be a good mom. Unfortunately, she's only human, and the stresses of raising the Antichrist all on her own have worn her down. 
The series may be called "Little Demon" and Chrissy is ostensibly the show's main protagonist, but Laura's season 1 arc is too good to ignore. She manages to make her first real friend in 13 years, growing close to her new next door neighbor, Darlene (Lennon Parnham). In episode 3, Laura finally lets Darlene in a little bit, and it's the beginning of her growth. Their friendship is one of the show's greatest strengths, and Darlene helps Laura on her journey to finding her identity as more than just the mother of the Antichrist. 
Learning through love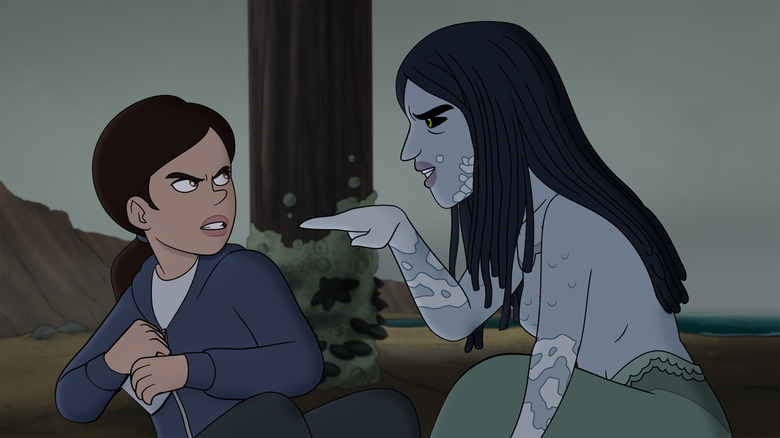 FXX
Chrissy ends up torn between her parents, and during one period where she's off doing her own thing, Laura finally gets a break. It's a weird break, because everything in Laura's life is weird, but she ends up having a romance with a sea hag (voiced by Pamela Adlon). The episode expands on Laura's pathos and helps dig into the very difficult topic of her parenthood, because she clearly feels trapped by it. Laura resents Chrissy for existing, even though she loves her more than anything. That's some deep, challenging stuff to deal with, but "Little Demon" does it with surprising nuance, all while including lots of big, gross laughs. 
Laura isn't the only character who gets to grow over the course of the first season, but her arc alone makes the show work checking out. Everything else is just the sweet icing on this devil's food cake.
A wild world with tons of room to grow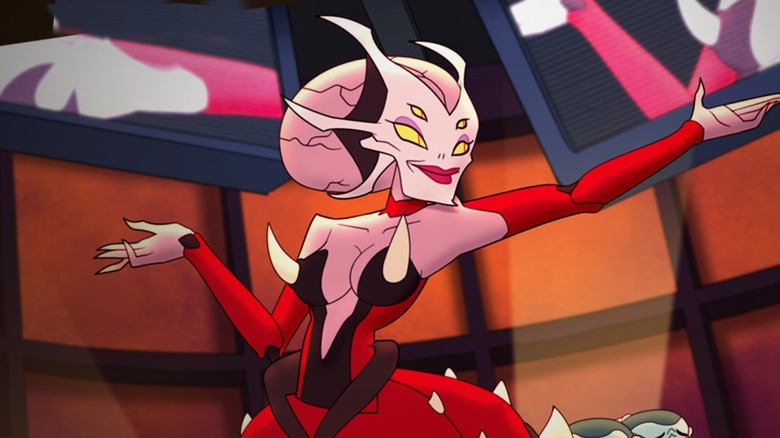 FXX
The characters and voice acting on "Little Demon" are simply great. Chrissy is a believable teenager, and her best friend Bennigan (Eugene Cordero) is the sweetest sad sack. DeVito is excellent as Satan, and there are even hints that he could grow and change. 
There are some brilliant guest actors and characters, too, like Shangela as the host of a demonic reality show and Michael Shannon as a demon hunter who got his penis blown off. Mark Ruffalo even voices a hellhound named "Bark Roofalo." Other guest voice stars include Mel Brooks, Rhea Perlman, Patrick Wilson, Dave Bautista, William Jackson Harper, Arnold Schwarzenegger, June Diane Raphael, Toks Olagundoye, Sam Richardson, Richard Kind, and Lamorne Morris. (Richard Kind plays himself, except as one of the non-Antichrist spawns of Satan!)
"Little Demon" gets better as its first season goes on, and by the end I found myself contemplating a deal with Satan to make sure it gets a second season, because it's not just fun — it's got some important lessons hidden in the hilarity.