How Ryan Coogler Intends To Introduce Ironheart In Black Panther: Wakanda Forever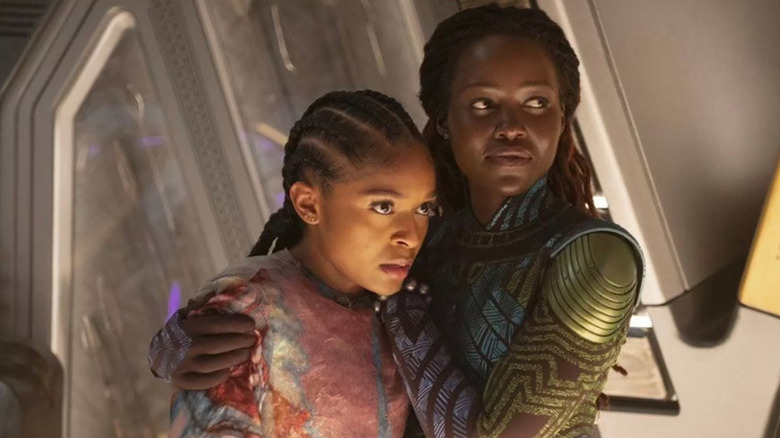 Target/Marvel Studios
"Black Panther: Wakanda Forever" is introducing two new major characters into the Marvel Cinematic Universe: Namor (Tenoch Huerta), who will bring mutants into the MCU, and Riri Williams a.k.a. Ironheart, played by Dominique Thorne, whose two film credits prior to this are "If Beale Street Could Talk" and "Judas and the Black Messiah."
While there are — even in a Hollywood saturated with superhero films — plenty of comic book characters like Namor who have been around for decades yet are still waiting to enter the live-action spotlight, Riri's path to MCU stardom has, like Thorne's, been comparatively shorter. It was only back in 2016 that Marvel Comics introduced the character, created by writer Brian Michael Bendis and artist Mike Deodato, as a brilliant young M.I.T. student who built her own suit of Iron Man armor in her dorm room.
Fast forward to 2022, and now Riri is gearing up to headline her own Disney+ series, "Ironheart," coming in 2023. "Black Panther: Wakanda Forever" director Ryan Coogler happens to be executive producing that series, and in an interview with Entertainment Weekly, he discussed the MCU debut of Ironheart, likening her to Miles Morales, hero of the Oscar-winning animated film, "Spider-Man: Into the Spider-Verse."
"I remember when Riri was invented in publishing, and there was a level of excitement around her coming up," Coogler said. "It was similar to when Miles Morales was invented. Having lived with these archetypical characters for so long, it's always exciting seeing somebody come up and take on the moniker with a different background."
'She brings a different type of energy'
Oddly enough, the most we've seen of Ironheart so far in trailers or marketing has come in the above Target commercial. After the events of the first "Black Panther" movie and "Avengers: Infinity War" in 2018, there was initially some speculation that Shuri (Letitia Wright) could possibly take over the Ironheart or Iron Man mantle since she had already proven herself just as smart if not smarter than Tony Stark (Robert Downey Jr.) by innovating ideas he had never thought of in the lab with Vision (Paul Bettany).
In "Black Panther: Wakanda Forever," however, it looks like Shuri will be teaming up with Ironheart, who is something of a rare intellectual peer for her in the same way that Bruce Banner (Mark Ruffalo) once was for Tony. The difference, in this case, is that audiences will be seeing two genius Black women from very different walks of life come together. Though both Ironheart and Shuri have a science-based profile, one hails from a big city in the U.S., while the other is, you know, the princess of Wakanda.
"[Ironheart] brings a different type of energy," Coogler told EW, "but she also has some similarities to characters that we've seen in this universe before. The film deals with a lot of things, but one of them is foils — people who exist in contrast, but there's a thread of similarity. In this film, we get to see Shuri meet someone who has some things in common with her but is also very, very different."
"Black Panther: Wakanda Forever" is in theaters on November 11, 2022.