How Steven Levitan Reverse Engineered The Fictional Show At The Center Of Reboot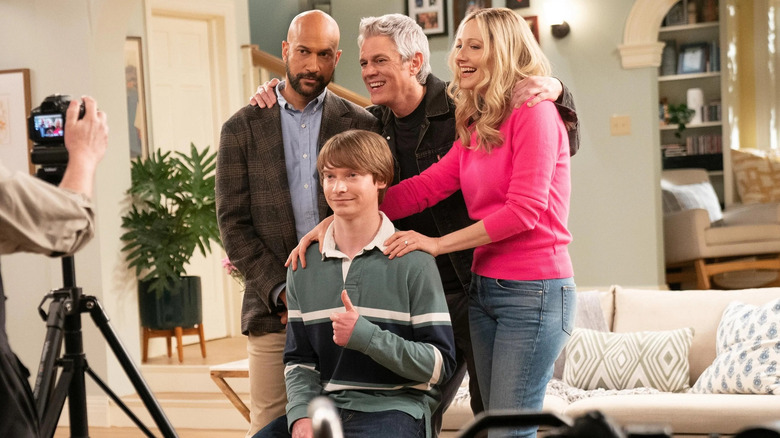 Hulu
Sitcoms about dysfunctional families are old news. Now, from the creator of "Modern Family" comes the future of the genre: a snarky meta-comedy about a dysfunctional TV cast. "Reboot" tells the story of "Step Right Up," an early 2000s family sitcom that's being rebooted for a new generation. It may not be a tale as old as time, but it's certainly a timely concept given the overwhelming power of nostalgia. We've got reboots coming out the wazoo, so it was only a matter of time before nonexistent shows started getting the same treatment.
The fictional sitcom in question was a long-running hit that now lives out its days being constantly replayed on a streaming service. Then along comes Hannah Korman (Rachel Bloom), a cutting-edge indie screenwriter who wants to helm the reboot. Hannah has big ideas for the future of "Step Right Up": she wants to make it morally complex, add darker themes, more realism, and the kind of comedy that brings it into the 21st century with witty commentary instead of cheap gags. The only thing standing in her way is the show's original creator, Gordon (Paul Reiser), who is still legally attached to the series and uses that to worm his way into her writers' room
What happens next is very much worth checking out: two warring writers with different ideas of comedy, a cast reconnecting after years of being apart, and many veteran comedians joining forces for a hilarious series. "Reboot" not only has Levitan at the helm, but stars Keegan-Michael Key, Johnny Knoxville, Judy Greer, Calum Worthy, Rachel Bloom, and Paul Reiser.
At the center of all their hilarity is a show that doesn't even really exist. But despite being fictional, "Step Right Up" was built to feel as real and familiar as possible.
The origins of Step Right Up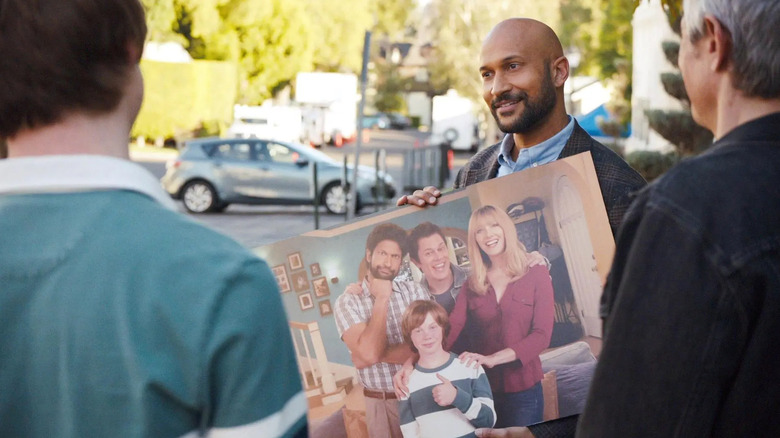 Hulu
During an interview with Collider, Levitan explained that after deciding on the concept of "Reboot" and assembling an idea of the cast, he worked backward to figure out what kind of show they would need to be rebooting:
"It's funny, it was one of those little details where I didn't really care what that show was, I just needed it to be a viable show. I knew what I wanted the modern-day cast to be, so I had to reverse engineer a show that made sense with that cast: having these two actors and a woman, all about the same age, and a grown-up kid. I reverse-engineered it from that. It's a little 'My Two Dads,' it's a little 'Fuller House,' or 'Full House,' and I went with that."
"Step Right Up" has a premise so simple and familiar that the series never has to take a moment to explicitly explain it. All we have to do is glance at the cast, watch a clip from the series, and the puzzle pieces fit together with ease. It's about an adorable kid being raised by his mother, stepdad, and biological father in a single household. Lots of crazy sitcom hijinks ensue! From the looks of it, the show is heartwarming, absurd, and eerily familiar (even though it doesn't have a clear real-life analog).
A theme song to remember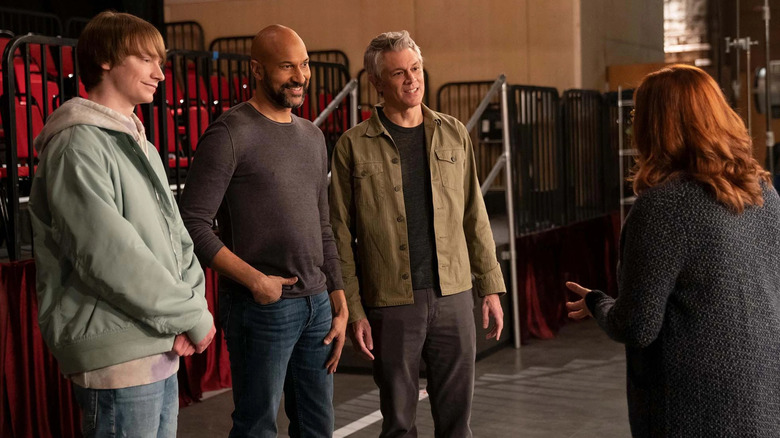 Hulu
In recreating the classic sitcom experience, the other crucial element Levitan needed was an irresistibly catchy theme song. Pulling back the curtain on its creation process, he told Collider:
"It's so fun to write insipid things. I listened to a few of those old theme songs and I knew I wanted it to sound ridiculously authentic to that time. You have to listen to it and think, "Oh, yeah, that could easily be real."
Cut from the same cloth as "Full House" or "Boy Meets World," the fictional series needed to be believable as the kind of show that was a household staple — earworm theme song and all. Using past themes as inspiration, Levitan wrote the lyrics himself and enlisted former "Ambrosia" singer Rick Cowling to help him pull it all together.
"I hummed the tune into my phone and recorded it, and then sent it to a friend of mine, named Rick Cowling, who's a wonderful musician and singer, and I said, 'Can you turn this into something?' Within three hours, he sent it back to me, fully orchestrated with him singing it. I was like, 'This is absolutely 100% perfect.' He nailed it. I must have played it 150 times for myself and for everybody I saw because I just loved it so much. It's catchy. It gets in your ear. Be careful, everybody."
The "Reboot" pilot very cleverly begins with a scene from "Step Right Up" before launching right into its opening theme song. In other words, there's no avoiding that catchy tune! So if you dare venture into the world of "Reboot" (which you very much should), just prepare to spend the next week humming along to the theme song.