Strange World Trailer: A Multigenerational Family Adventure Film With Wobbly Creatures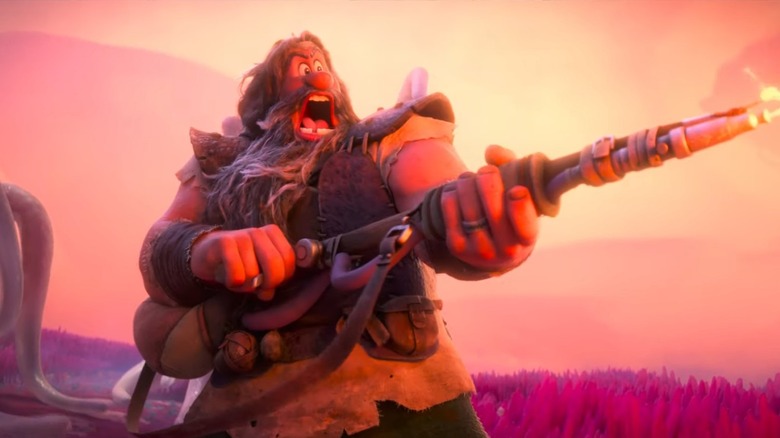 Disney
This has been an outstanding year for animation. From Mamoru Hosoda's "Belle" and the brilliant creativity of "Turning Red" to the sea-faring, sea chanty-singing adventure of "The Sea Beast," the stop-motion insanity of "Mad God," and the upcoming stop-motion marvel of Henry Selick's "Wendell & Wild" and Guillermo del Toro's haunting fairy tale "Pinocchio." The 2022 animation year has shown how versatile the medium is, allowing filmmakers to break molds and tell all kinds of stories meant for very different audiences in animation.
Now, one of the oldest and biggest animation studios out there, Walt Disney Animation Studios, is about to enter the race with a movie that promises to be a wildly different ride than the studio's formulaic fare. In their 61st film, Disney is channeling pulp sci-fi stories with "Strange World," a film that feels like a throwback to that brief period in time when they left musicals behind and delivered two fantastic sci-fi adventure films with unique personalities and looks — "Atlantis," and "Treasure Planet."
"Strange World" follows the Clades, a family of legendary explorers who embark on a journey to a mysterious place inhabited by weird creatures in order to save their world. The film has a star-studded cast that includes Jake Gyllenhaal, Dennis Quaid, Lucy Liu, and Jakoukie Young-White.
A pulp new world
The new trailer shines a light on the story and focuses on the family adventure aspect of "Strange World." We see Gyllenhaal's Searcher Clade encounter his estranged father Jaeger (Quaid) in the titular strange world after Jaeger disappeared decades earlier on an expedition. Their relationship and that of Searcher with his own son Ethan (Young-White) seems to be the emotional focus of the story, which makes sense given "Strange World" director, Don Hall, previously write "Meet the Robinson."
Though the upbeat song and the focus on laughs kind of sells this as a more formulaic Disney film in terms of tone, the prominent use of monsters and big action hopefully makes this more of an inventive film from the studio. Creature design is a big part of "Strange World," with "chonky" and "juicy" being keywords to the design of the film. Indeed, the trees and weird little critters have more in common with the video game "Spore" than the type of merchandise-ready animal companions of a Disney film, even if they are still cute enough to make for popular toys — a character in the trailer already says he wants to merchandise one of the critters!
Disney Animation's "Strange World" hits theaters on November 23, 2022.