The Sea Beast Invites You To Sing Along To A Sea Shanty In An Adorable Music Video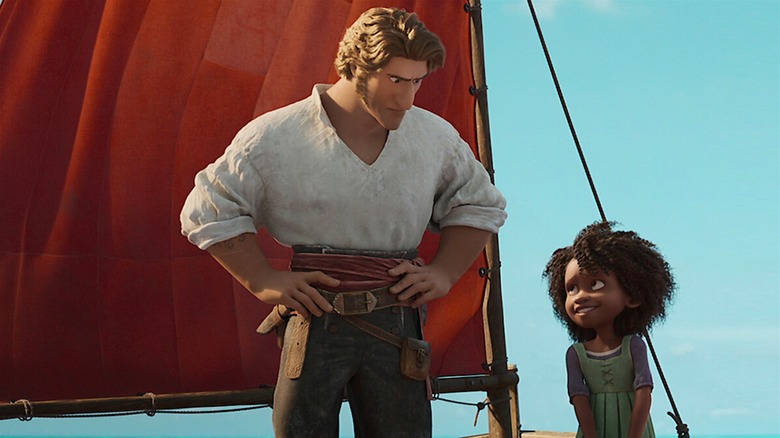 Netflix
Dive into the world of dangerous beasts and tenacious hunters with this banger sea shanty from the animated adventure film, "The Sea Beast." Titled "Captain Crow," the sea shanty is obviously extremely catchy and chronicles the tale of the titular character, who is called "the greatest of all hunters" by one of the kids telling the story.
For some context, "The Sea Beast" is directed by Chris Williams, and follows a legendary monster hunter who undergoes a change of heart after a young girl ends up befriending a sea monster that is deemed extremely dangerous. "The Sea Beast" is set in a world in which sea monsters are rampant, terrorizing humans who live near the coast. The narrative follows a group of bounty hunters who kill these sea monsters and harvest their horns, and they are led by Captain Crow (Jared Harris). Per the sea shanty, Crow is celebrated by the local folks as a protector, as he kills dangerous monsters and keeps everyone else safe. Naturally, everyone raises him a toast.
Honestly, "Captain Crow" is a bop, and you can check out the track below.
'So sing the hunters' praises, wherever men draw breath...'
"The Sea Beast" focuses on Crow's senior crewman Jacob Holland (Karl Urban), who, along with the other hunters, aids Crow in the search for the most dangerous monster: The Red Bluster. The "Moby Dick" parallels are pretty clear, as Crow is also driven purely by vengeance like Captain Ahab, and his crew is ready to go to any lengths to accomplish this mission.
However, things get complicated when sea monster hunting is on the verge of being banned by the local monarchy, which triggers a competition of sorts between different monster hunting ships and their crew. Meanwhile, a child named Maisie (Zaris-Angel Hator) sneaks into Crow's ship and it is gradually revealed that the sea monsters are not what everyone believes them to be.
The sea shanty captures the sentiment of the local townsfolk, and how they perceive Crow and the hunters to be valiant heroes who live great lives and die even greater deaths. Here's how the sea shanty is described, as per Netflix's synopsis:
"Sing along and listen to the tale of a legendary monster hunter who was born into life at sea and grew to become the most fearsome and successful in the known world. He's made history with his exploits aboard The Inevitable and this sailor's song will ensure no one ever forgets his name. Captain Crow is our hero!"
"The Sea Beast" will premiere on Netflix on July 8, 2022.