Classic Hollywood Star Anna May Wong Will Make History As The First Asian American Woman On US Currency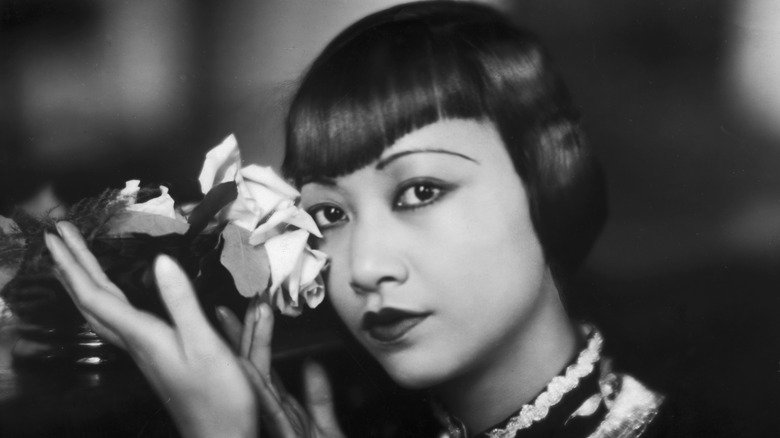 General Photographic Agency/Getty Images
As part of the American Women Quarters Program from the United States Mint, classic Hollywood star Anna May Wong is making history as the first Asian American woman ever featured on U.S. currency. The program launched earlier this year and will continue through 2025, releasing up to five new designs on the back of quarters. Wong joins Maya Angelou, Dr. Sally Ride, Wilma Mankiller, and Nina Otero-Warren as part of the first wave of releases. Production on the Anna May Wong quarters began on October 18, 2022, and will feature an image of Wong resting her face in her hands surrounded by the bulbs of a marquee sign. Wong is considered by many to be the first Chinese American movie star, starting her career in entertainment when she was only 14 years old as an extra in the film "The Red Lantern."
Born Wong Liu Tsong, her family gave her the English name "Anna May." Wong's work spanned silent film, sound film, television, stage, and radio for over four decades, and she appeared in over 60 films. In addition to her groundbreaking work in movies, Wong also became the first Asian American lead actor in a U.S. television show for her role in "The Gallery of Madame Liu-Tsong." Wong came to prominence during a painfully bigoted time in Hollywood's history, later working in England, Germany, and France in addition to the States. She was honored with a star on the Hollywood Walk of Fame in 1960 before passing away in 1961. More than 300 million quarters featuring her likeness are anticipated to be in circulation.
A star in spite of the odds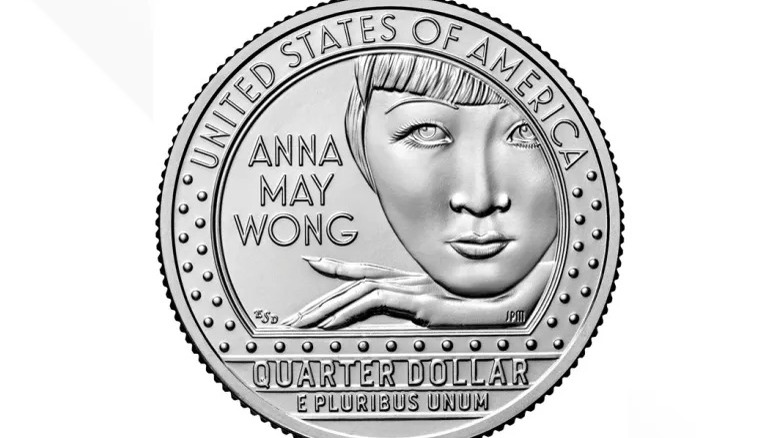 United States Mint
Anna May Wong's career took off during the 1920s, one of the most xenophobic eras filled with widespread anti-Asian hate, as the Chinese Exclusion Act, which prohibited immigrant Chinese laborers in the United States, was in full effect. Despite it all, Wong thrived as a Hollywood superstar, a trailblazing figure that continues to inspire generations of AAPI actors. While she was a powerhouse performer, she was unfortunately met with ridiculous amounts of bigotry. In 1935, Wong was denied the leading role of the Chinese character O-Lan in Pearl S. Buck's "The Good Earth," with MGM instead choosing to cast Luise Rainer in yellowface — a despicable practice that continued for far, far too long.
"Why is it that the screen Chinese is nearly always the villain of the piece, and so cruel a villain -– murderous, treacherous, a snake in the grass," Wong said in a 1933 interview with the Los Angeles Times. "We are not like that." Despite her undeniable beauty, Wong was never able to play a romantic lead as the Hays Code prohibited any form of interracial kissing or intimacy shown on screen. Ventris Gibson, the director of the U.S. Mint, hailed Wong in the press release as "a courageous advocate who championed for increased representation and more multi-dimensional roles for Asian American actors".
While there has been definite progress worthy of acknowledgment for AAPI representation, may her honor be a continued reminder to support AAPI artistry and combat anti-Asian hate.