Pop Culture Imports: 25 AAPI Movies And TV To Stream Now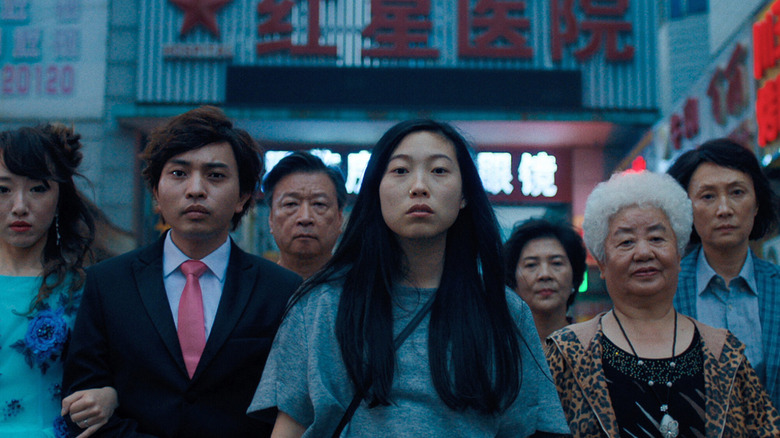 A24
Happy Asian American and Pacific Islander Heritage Month! For this month's super-sized Pop Culture Imports, we're doing something a little different. Rather than focus on foreign-language films as we usually do, this month we're highlighting AAPI movies in honor of AAPI Heritage Month.
Whether that be a thriller that stars John Cho (of which there are more than you think), insanely cool shows based on the ideas of Bruce Lee, or frothy romantic comedies that opened the gateway for mainstream Asian-led Hollywood movies, there's something for everyone to watch as we appreciate and celebrate the AAPI community, especially in the midst of still-tense times for Asians in America. 
So sit down, call your grandma, and let's go through 25 AAPI movies that you can stream now.
After Yang – Showtime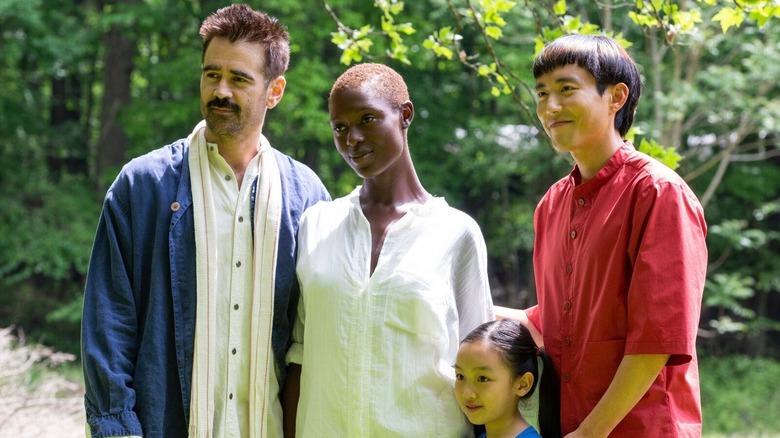 A24
Genre: Sci-fi drama
Director: Kogonada
Cast: Colin Farrell, Jodie Turner-Smith, Justin H. Min, Malea Emma Tjandrawidjaja.
Set in a near-future where android helpers are a common staple of families, "After Yang" is a meditative drama that uses its sci-fi premise to ask a key question: what do we really know about each other's inner lives? That's something Jake (Colin Farrell) and Kyra (Jodie Turner-Smith) find out when their family android Yang (Justin H. Min), which they purchased as a companion for their adoptive Chinese daughter Mika (Malea Emma Tjandrawidjaja), breaks down. In Jake's attempt to repair Yang, he uncovers something incredible about Yang's past. Meditative, minimalist, and bittersweet, "After Yang" digs into the heartache of transracial transhumanism, and shows how a life in pieces can be rendered meaningful through the sheer weight of existence.
Watch This If You Like: "WALL-E," wondering whether robots dream of electric loved ones who have long passed away.
Always Be My Maybe – Netflix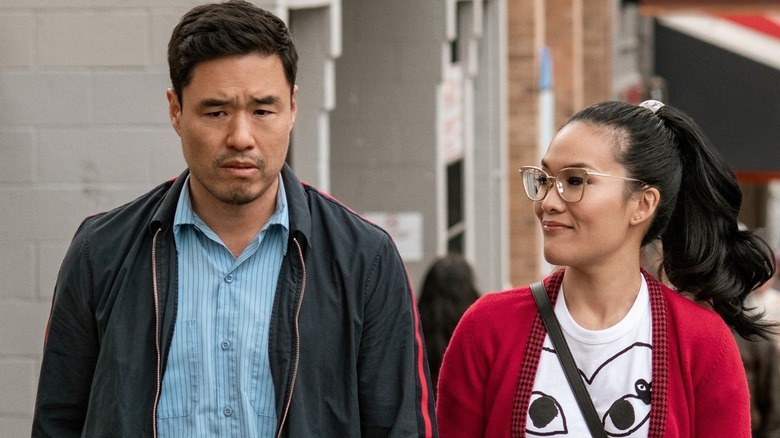 Netflix
Genre: Romantic comedy
Director: Nahnatchka Khan
Cast: Ali Wong, Randall Park and Michael Golamco
Ali Wong and Randall Park — what more could you need? Just throw in a wild Keanu Reeves cameo and you've got a perfect Asian-led riff on "When Harry Met Sally." Wong and Park (who co-wrote the script with Michael Golamco) star as childhood friends who fall out of touch after a teenage fling ends badly. Sixteen years later, they run into each other again and sparks fly, but careers and other lovers — and Keanu Reeves — get in the way. Sweet, funny, and charming, "Always Be My Maybe" is much more than the Reeves memes that emerged from it (though those are pretty good).
Watch This If You Like: "When Harry Met Sally," Keanu Reeves memes.
Bend it Like Beckham – HBO Max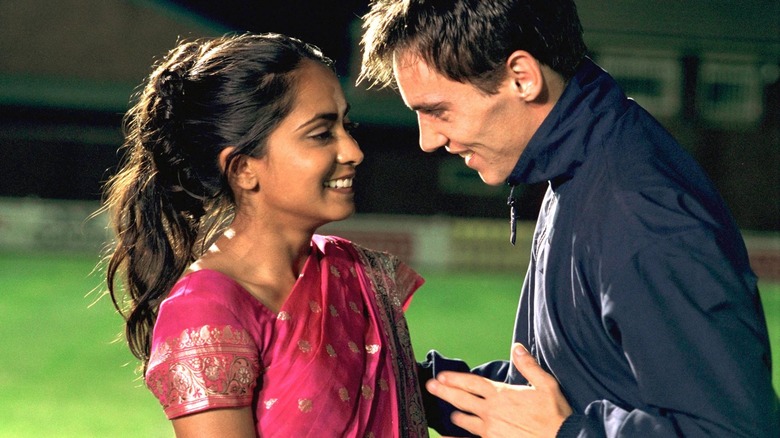 Fox Searchlight Pictures
Genre: Sports rom-com
Director: Gurinder Chadha
Cast: Parminder Nagra, Keira Knightley, Jonathan Rhys Meyers, Anupam Kher, Juliet Stevenson, Shaznay Lewis, Archie Panjabi.
"Bend It Like Beckham" is a breezy romantic comedy meets feel-good sports film meets culture-clash comedy about Jess Bhamra (Parminder Nagra), a daughter of a strict Indian family who dreams of playing in a professional soccer team. But when her skills are seen by semi-pro player Jules (Keira Knightley), Jess is persuaded to join her team, which she is forced to hide from her family. To make matters more complicated, Jess begins to fall for her dreamy coach, Joe (Jonathan Rhys Meyers). Twenty years after its release, "Bend It Like Beckham" still feels as nimble as the footwork of its lead characters.
Watch This If You Like: "She's the Man," bending it like Beckham.
Better Luck Tomorrow – The Roku Channel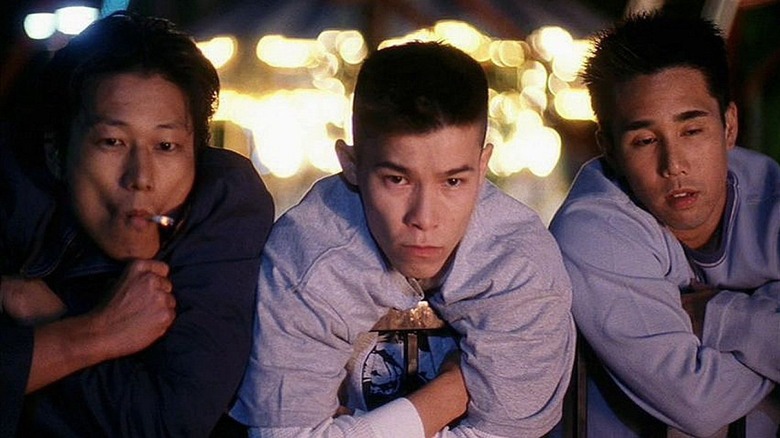 MTV Films
Genre: Crime drama
Director: Justin Lin
Cast: Parry Shen, Jason Tobin, Sung Kang, Roger Fan, John Cho.
A group of Asian American overachievers turn to a life of petty crime, and it ends ... in murder. Loosely inspired by the real-life murder of student Stuart Tay, "Better Luck Tomorrow" follows a group of Asian American students who grow bored with their straight-A lifestyles, and start to hawk computer parts for easy money. But their crimes slowly escalate until they're asked by a haughty private school kid (John Cho) to rob his parents' house, and things only get more violent from there. "Better Luck Tomorrow" is the movie that unofficially kicked off the "Asian American wave" that we're enjoying now, injecting a jolt of energy into the crime genre and setting off a polarizing reaction over the film's (lack of) morality. Not to mention, it introduced the world to Justin Lin and his longtime collaborator Sung Kang, both of whom would go on to give the same kick in the pants to the "Fast and Furious" franchise.
Watch This If You Like: "Trainspotting," "Spring Breakers," baby John Cho.
The Big Sick – Prime Video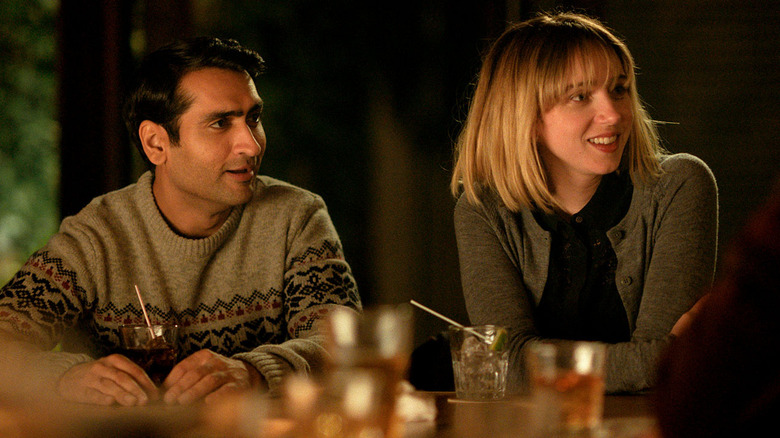 Amazon Studios
Genre: Romantic comedy
Director: Michael Showalter
Cast: Kumail Nanjiani, Zoe Kazan, Holly Hunter, Ray Romano, Adeel Akhtar, Anupam Kher.
Loosely based on the real-life romance between Nanjiani and his wife Emily V. Gordon (both of whom co-wrote the Oscar-nominated screenplay), "The Big Sick" is a big charmer of a rom-com. Nanjiani stars as a struggling stand-up comedian and Uber driver who falls in love with Emily (Zoe Kazan), a white psychology student, but his reluctance to reveal their relationship to his strict immigrant parents cause them to break up. But when Emily is hospitalized and put in a coma, Kumail ends up staying by her bedside and bonding with her parents (Holly Hunter and Ray Romano, both terrific). A sweet, unconventional rom-com, "The Big Sick" deals with complicated issues with a light touch, anchored by Nanjiani's extremely likable performance.
Watch This If You Like: "Funny People," lots of medical terms thrown in between sweet romantic moments.
Blinded by the Light – HBO Max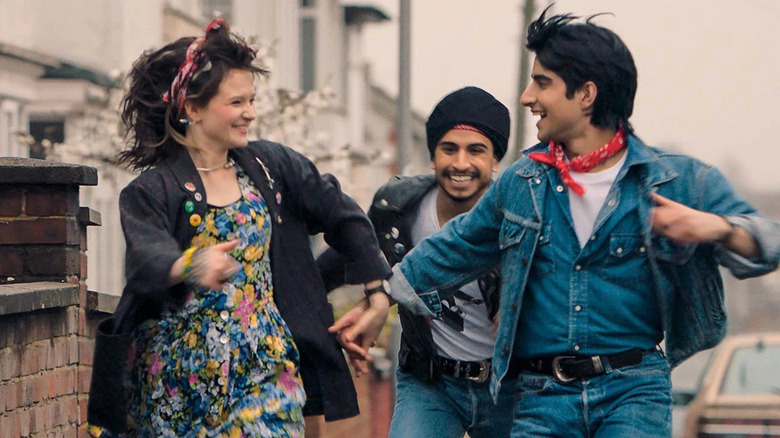 Entertainment One Films
Genre: Coming-of-age comedy
Director: Gurinder Chadha
Cast: Viveik Kalra, Kulvinder Ghir, Meera Ganatra, Nell Williams, Aaron Phagura, Dean-Charles Chapman.
"Bend It Like Beckham" director Gurinder Chadha makes it on this list again with this shoulda-been-jukebox-musical "Blinded by the Light." A coming of age dramedy inspired by the life of journalist Sarfraz Manzoor and his love of Bruce Springsteen, "Blinded by the Light" follows sensitive high school student Javed, a dreamer who feels like an outcast both at home and at school. He struggles with the strict values of his Pakistani migrant father and with the racism of an '80s working-class town, and finds an unusual escape in the music of Bruce Springsteen. "Blinded by the Light" is wonderful, it's joyful, and it's a vibrant and affecting ode to the power of music.
Watch This If You Like: "Sing Street," Bruce Springsteen, duh.
Crazy Rich Asians – HBO Max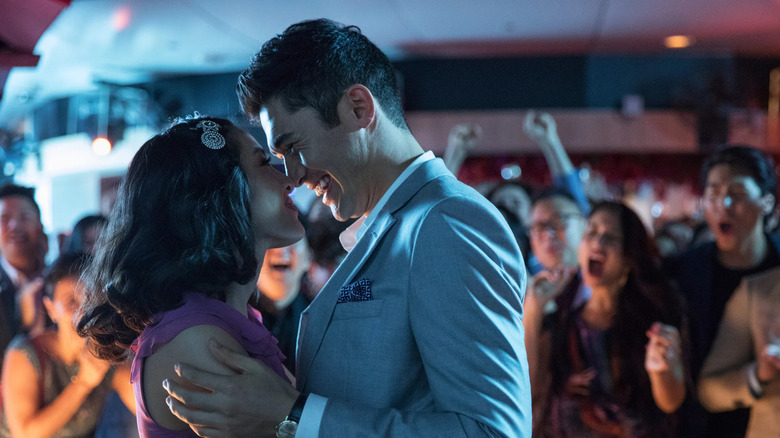 Warner Bros.
Genre: Romantic comedy
Director: Jon M. Chu
Cast: Constance Wu, Henry Golding, Gemma Chan, Lisa Lu, Awkwafina, Ken Jeong, Michelle Yeoh.
We can't make this list without the big one. "Crazy Rich Asians" stars Constance Wu as a Chinese-American professor who travels to Singapore to meet her boyfriend's (Henry Golding) parents, only to discover they're part of one of the richest families in the world. Culture clash, class clash, and hijinks ensue. Like it or not, "Crazy Rich Asians" opened the doors for all the Asian-led Hollywood movies to follow, proving that there was a place for a movie with a majority Asian cast to be a huge theatrical hit. And as fun and trivial as "Crazy Rich Asians" might be, Jon M. Chu's adaptation of Kevin Kwan's beach read knows everything that's riding on its shoulders, giving a bit of an edge to this otherwise frothy romance.
Watch This If You Like: "Meet the Parents," "Guess Who's Coming to Dinner," Coldplay's "Yellow."
The Farewell – Showtime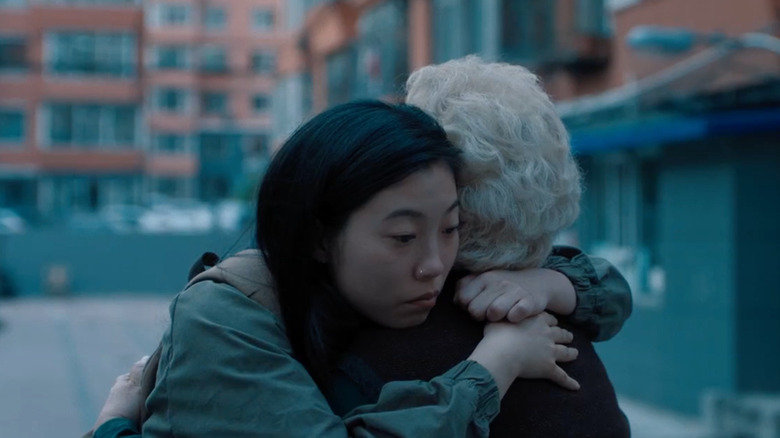 A24
Genre: Drama
Director: Lulu Wang
Cast: Awkwafina, Tzi Ma, Diana Lin, and Zhao Shuzhen.
Based on the true story of director Lulu Wang, "The Farewell" is a story of cultural and generational clash through the perspective of Billi (Awkwafina in her dramatic breakout role), a Chinese-American woman who learns that her grandmother Nai Nai (Zhao Shuzhen) is dying. Shocked to learn that, in keeping with Chinese custom, her family is keeping the truth of the illness from Nai Nai, Billi joins them in China under the pretense of attending a wedding so that they can spend one last time with Nai Nai. Quietly devastating and devastatingly funny, "The Farewell" is a candid and complicated portrayal of grief and the difference between how the east and west process that grief. "The Farewell" doesn't ask you to understand the choices by its characters. But it does allow you to live with them as they live with these choices.
Watch This If You Like: "Ordinary People," calling grandma to tell her that you love her.
The Half of It – Netflix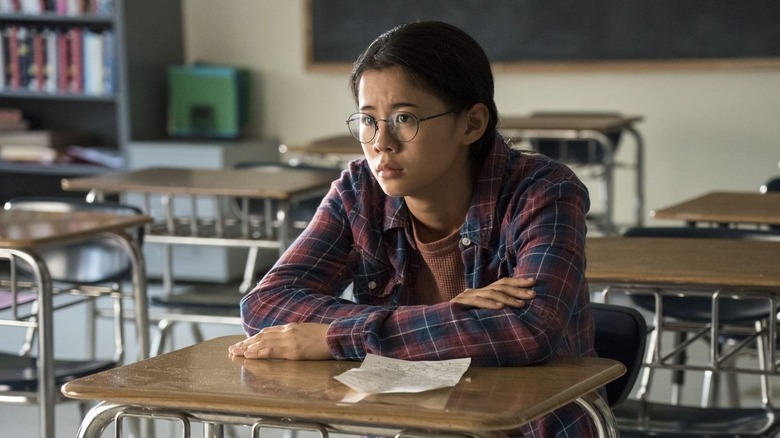 Netflix
Genre: Teen rom-com
Director: Alice Wu
Cast: Leah Lewis, Daniel Diemer, Alexxis Lemire.
It's a classic love story: Guy asks girl to write a love letter to popular girl, girl falls in love with popular girl, everyone lives happily ever after. But rather than being a cutesy queer riff on "Cyrano de Bergerac," Alice Wu's "The Half Of It" becomes something far richer and more interesting. "The Half of It" stars Leah Lewis as Ellie Chu, a bookish teen who supplements her dad's meager income by selling essays to her classmates. One day, she's asked by bumbling jock Paul Munsky (Daniel Diemer) to write a love letter to the prettiest girl in school, Aster Flores (Alexxis Lemire), and she inadvertently finds the deepest connection she's ever had. "The Half of It" is a sweet, refreshing addition to the coming-of-age genre and the rare depiction of platonic soulmates.
Watch This If You Like: "Me and Earl and the Dying Girl," good adaptations of "Cyrano."
Harold and Kumar Go to White Castle – Netflix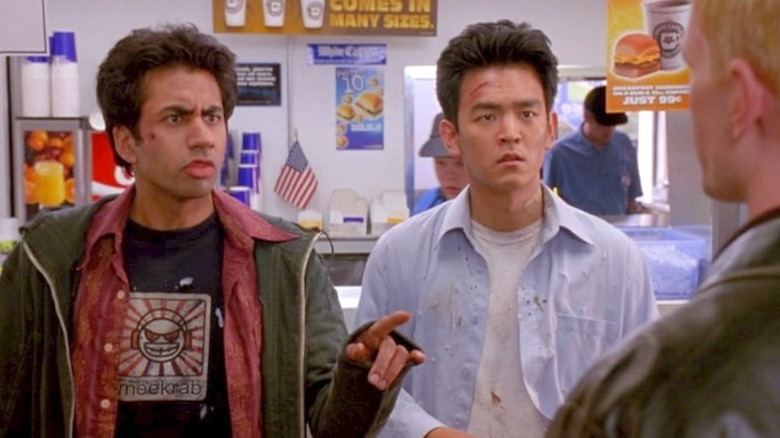 New Line Cinema
Genre: Comedy
Director: Danny Leiner
Cast: John Cho, Kal Penn, and Neil Patrick Harris.
Maybe I'm stretching the definition of an AAPI movie by including "Harold and Kumar Go to White Castle," but we need movies about how Asians can be stoners too! Aside from being the movie that essentially launched John Cho and Kal Penn's careers, there's more to "Harold and Kumar" that meets the eye. A ribald, ridiculous buddy comedy about two best friends who get stoned one night and decide to get White Castle hamburgers, only for the night to spiral into one of the most stressful and insane nights of their lives, "Harold and Kumar Go to White Castle" would slyly subvert racial stereotypes — all while making very stupid stoner jokes.
Watch This If You Like: "Pineapple Express," wondering what White Castle burgers taste like.
The Joy Luck Club – Prime Video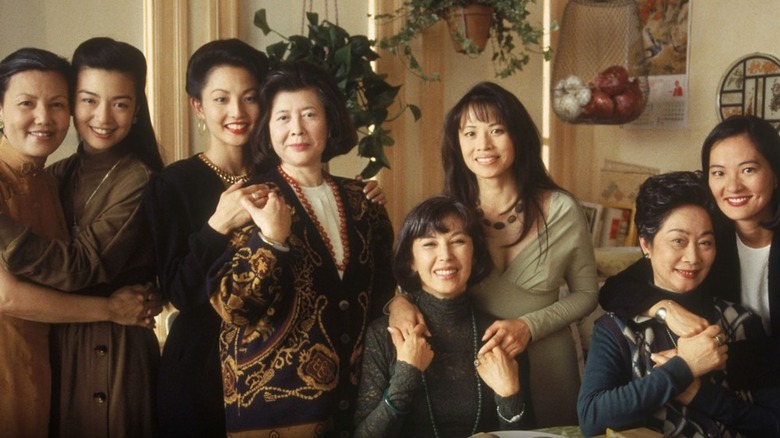 Buena Vista Pictures
Genre: Drama
Director: Wayne Wang
Cast: Tsai Chin, Kieu Chinh, Lisa Lu, France Nuyen, Rosalind Chao, Lauren Tom, Tamlyn Tomita, Ming-Na Wen.
Here it is, the foundational Asian-led Hollywood film. Its influence can't be overstated, and its importance can't be overlooked. And even nearly 30 years since its release, "The Joy Luck Club" still has the ability to profoundly move. Based on Amy Tan's 1989 novel of the same name, "The Joy Luck Club" is an intergenerational drama that follows four Chinese women, whose hidden pasts are told alongside the stories of their Chinese-American daughters. "The Joy Luck Club" is melodrama at its finest, interweaving the joys and tragedies of the women's stories seamlessly, along with plenty of delicious shots of food.
Watch This If You Like: "Fried Green Tomatoes," "Passing," food and crying.
Lucky Grandma – The Roku Channel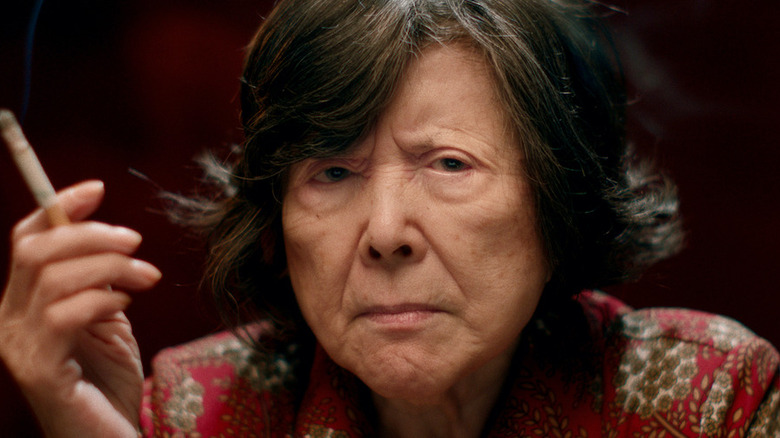 Good Deed Entertainment
Genre: Crime comedy-drama
Director: Sasie Sealy
Cast: Tsai Chin
Here's a premise you won't be able to resist: a grandma stumbles into a neo-noir where she becomes the target of rival Chinatown gangs. But what could be a gimmick turns into a riveting nail-biter, thanks to electrifying star Tsai Chin, who plays the titular Grandma Wong. Only, she runs into nothing but bad luck: first losing all her money in a risky game of poker, then — when a bag of money literally falls into her lap, courtesy of the dead guy next to her on the bus — she gets dragged into a feud between two rival Chinatown gangs. "Lucky Grandma" is a stylish, high-stakes crime drama, and Chin is endlessly charismatic, resulting in a total blast of a movie.
Watch This If You Like: "Kiss Kiss Bang Bang," gambling.
Master of None - Netflix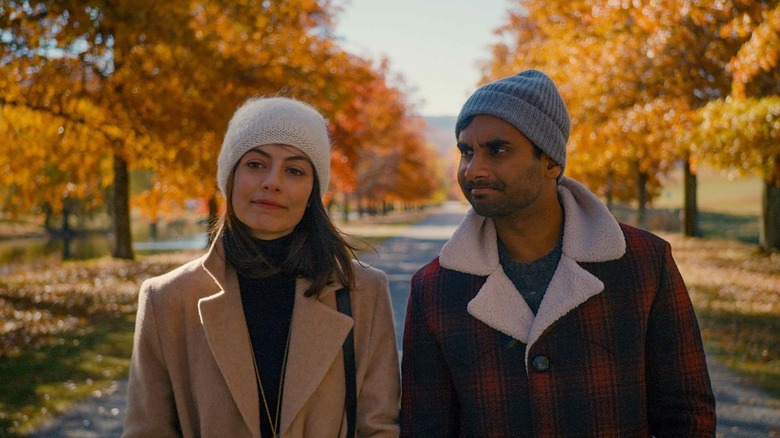 Netflix
Genre: Comedy-drama series
Creator: Aziz Ansari and Alan Yang
Cast: Aziz Ansari, Eric Wareheim, Noël Wells, Lena Waithe, Kelvin Yu.
The hype has died down around "Master of None," but its impact can't be undersold. Aziz Ansari's brilliant comedy-drama series charting the pains of millennial dating was smart, funny, moving, and even experimental at times, playing with form and paying homage to Ansari's love of Italian cinema at one point. (We'll talk about Ansari's vices and somewhat flat characterizations of women in the series at some other time.) But one episode that stands out, especially in relation to this list, is the tremendous season 1 episode "Parents," penned by Ansari and Yang and inspired by the stories of their own immigrant parents.
Watch This If You Like: "Girls," "Ramy," indulgent shots of pasta.
Minari – Showtime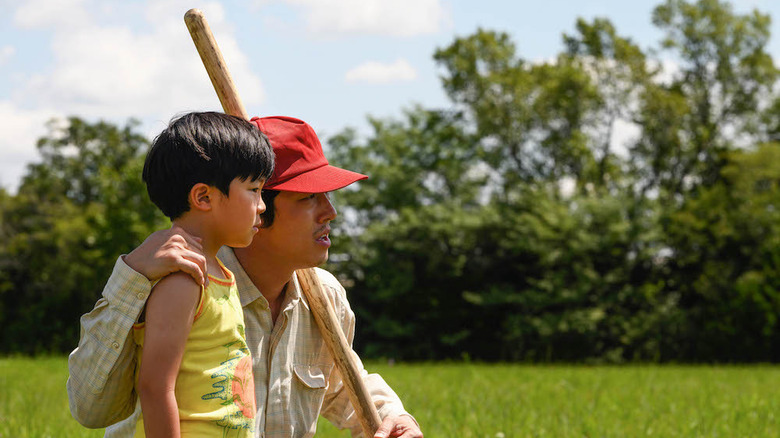 A24
Genre: Drama
Director: Lee Isaac Chung
Cast: Steven Yeun, Han Ye-ri, Alan Kim, Noel Kate Cho, Youn Yuh-jung, Will Patton.
"Minari is truly the best. It grows anywhere, like weeds."
Lee Isaac Chung's intensely personal and semi-autobiographical drama film follows a family in the '80s as the patriarch (Steven Yeun) uproots them from California to rural Arkansas, in a pipe dream to start a farm with Korean produce. The shaky family dynamics are further rattled by the arrival of their maternal grandmother Soon-ja (an incredible Youn Yuh-jung, who won an Oscar for her performance), whose brusque ways perplexes young David (Alan Kim). The immigrant angst has never been stronger than in "Minari," a love letter to keeping your roots even while chasing the American dream.
Watch This If You Like: "The Florida Project," mountain dew.
Never Have I Ever – Netflix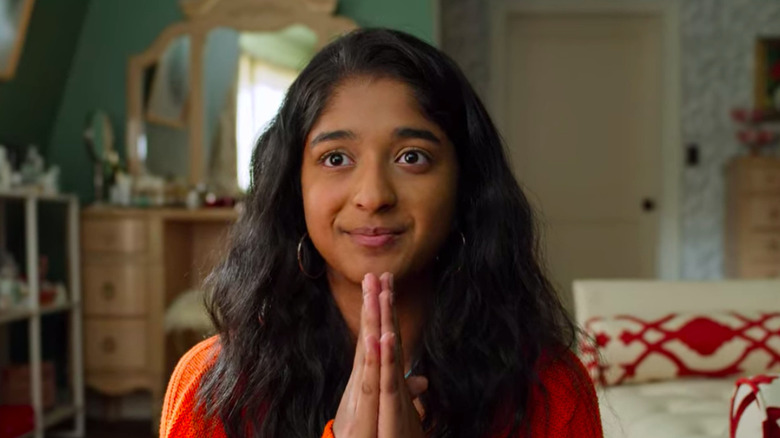 Netflix
Genre: Teen comedy series
Creator: Mindy Kaling and Lang Fisher
Cast: Maitreyi Ramakrishnan, Poorna Jagannathan, Richa Moorjani, Darren Barnet, Jaren Lewison.
Creator Mindy Kaling found her groove with "Never Have I Ever," a charming teen comedy loosely inspired by her childhood growing up in a Massachusetts suburb. But less than an autobiographical comedy about growing up an awkward immigrant teen, "Never Have I Ever" is a disarmingly sincere exploration of grief and a hell of a romantic comedy. Kaling plays to her strengths of writing obnoxious, questionably likable female protagonists — played here with a nervy charm by Maitreyi Ramakrishnan — and of writing swoony romances. And Kaling balances both with incredible ease, following Ramakrishnan's 15-year-old Devi as she self-destructs her life following the death of her dad, but still finds herself in the middle of an amazing love triangle.
Watch This If You Like: "Fleabag," "The Sex Lives of College Girls," Team Ben!
Pachinko – Apple TV+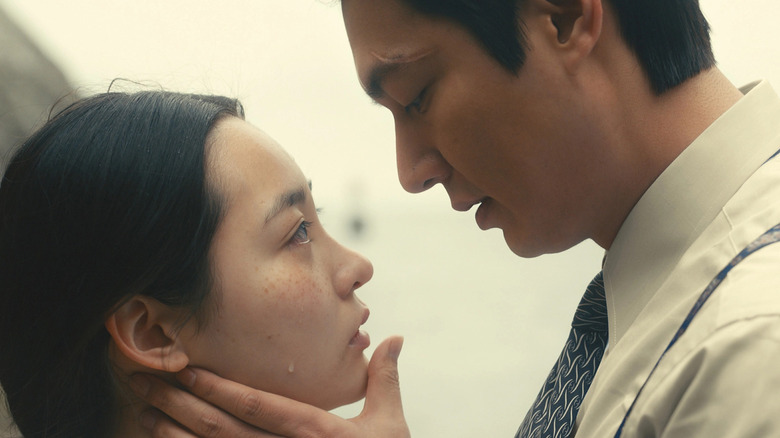 Apple TV+
Genre: Historical drama series
Creator: Soo Hugh
Cast: Youn Yuh-jung, Lee Min-ho, Kim Min-ha and Jin Ha.
Based on the novel of the same name by Min Jin Lee, "Pachinko" tells the little-known story of Korean immigrants who migrate to Japan, enduring discrimination and prejudice through World War II and beyond. Though an imperfect adaptation of Lee's astonishing novel, "Pachinko" is a magnificent achievement of television, weaving the story of Sunja (played by Kim Min-ha as a young woman, Youn Yuh-jung as an older woman), a Korean woman who when impregnated out of wedlock, migrates to Japan in the early 20th century and ... endures. A story of resilience amid strife, directors Kogonada and Justin Chon turn "Pachinko" into a stunning event that can't be missed.
Watch This If You Like: "The Joy Luck Club," crying in H Mart.
Pen15 – Hulu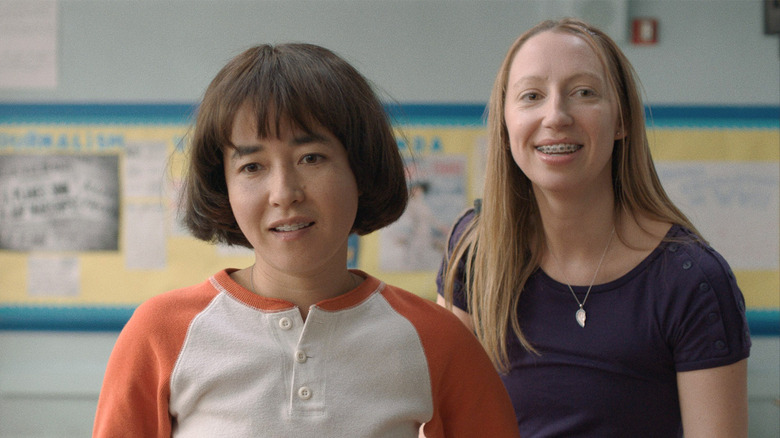 Hulu
Genre: Comedy series
Creator: Maya Erskine, Anna Konkle, and Sam Zvibleman.
Cast: Maya Erskine, Anna Konkle, Mutsuko Erskine, Richard Karn, Taylor Nichols, Melora Walters, Taj Cross, Dallas Liu.
Cringe comedy has never felt so, well, cringe. "Pen15" is middle school humiliation at its most real and most awkward, except for the fact that our middle school protagonists are played by 30-year-old women acting opposite actual middle schoolers. But that bit of Brechtian unreality adds to the whole experience of "Pen15," which is a sharp, witty, painfully mortifying depiction of what it was like to be a 13-year-old social outcast in 2000. Maya Erskine and Anna Konkle are brilliant and a joy to watch onscreen, even if you're watching it through the gaps in your fingers.
Watch This If You Like: Dying of SHAME.
Raya and the Last Dragon – Disney+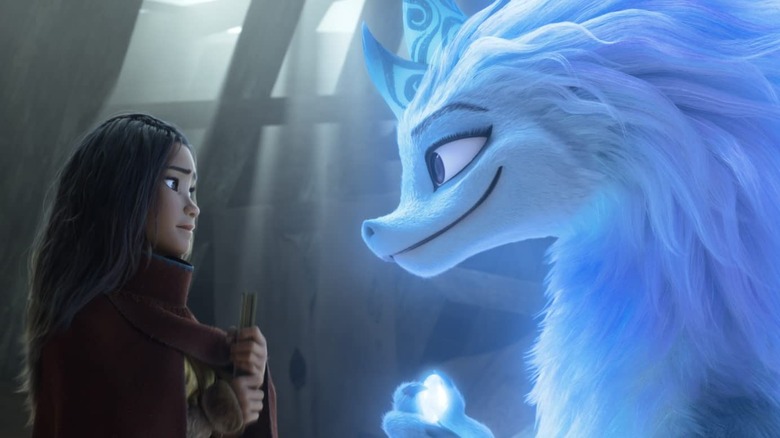 Disney
Genre: Fantasy adventure
Director: Don Hall and Carlos López Estrada,
Cast: Kelly Marie Tran, Awkwafina, Izaac Wang, Gemma Chan, Daniel Dae Kim, Benedict Wong, and Sandra Oh
If you want all your Southeast Asian representation thrown into one stunningly animated melting pot, look no further than "Raya and the Last Dragon." Disney's ode to Southeast Asian culture is a thrilling fantasy epic that follows a lone warrior (Kelly Marie Tran) who sets out on a quest to find the last dragon in order to free her world from the terror of evil spirits known as the Druun. Beautifully animated and action-packed, "Raya and the Last Dragon" might feel a little stale on the representation front (more on that here), but there's no denying it looks incredible.
Watch This If You Like: "Avatar: The Last Airbender," dragons that talk like Awkwafina!
Searching – Prime Video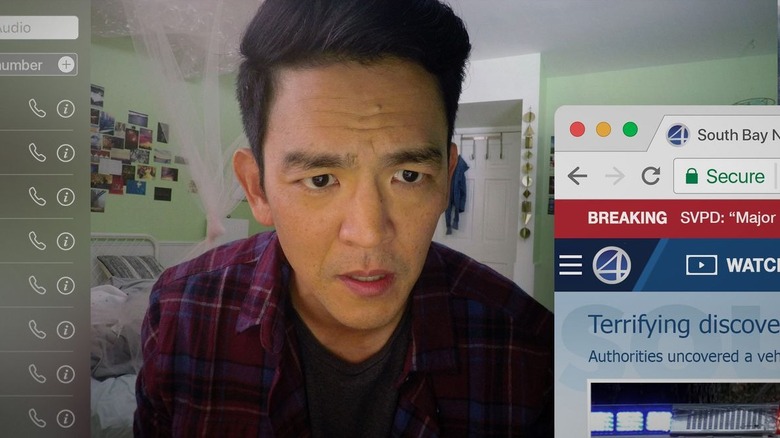 Sony Pictures
Genre: Mystery thriller
Director: Aneesh Chaganty
Cast: John Cho, Debra Messing
It's kind of astonishing that it took until 2018 for a mainstream Hollywood thriller to be headlined by an Asian actor, but that's one of the many achievements that "Searching" proudly wields. John Cho (hey, him again!) stars as David Kim, a father trying to find his missing daughter with the help of a police detective (Debra Messing), in a film that plays out exclusively over computer screens. "Searching" is a nail-biter — a revolutionary use of the "Screenlife" movie format (which still hasn't been able to achieve the lightning in a bottle of "Searching") and a good old-fashioned thriller. It's all on the charisma of Cho, who finally earned his long-deserved status as Hollywood leading man with this film.
Watch This If You Like: "Unsane," "Run," John Cho's big old face.
Shang-Chi and the Legend of the Ten Rings – Disney+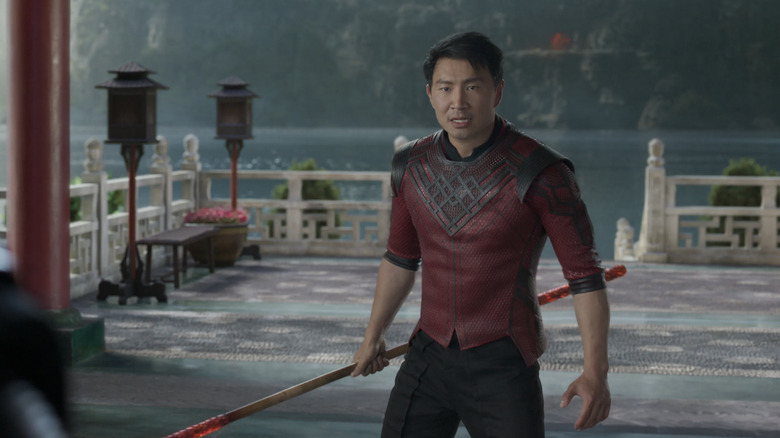 Marvel Studios
Genre: Superhero action
Director: Destin Daniel Cretton
Cast: Simu Liu, Awkwafina, Meng'er Zhang, Fala Chen, Florian Munteanu, Benedict Wong, Michelle Yeoh, Ben Kingsley, Tony Leung.
Unimpressive though "Shang-Chi and the Legend of the Ten Rings" was, I would be remiss to not include it on this list. The Marvel movie follows Shang-Chi (Simu Liu) as he steps up to his destiny to stop his immortal father (Tony Leung) from unleashing evil mystical forces upon the world, in his grieving father's impossible quest to revive his dead wife. Marvel's first Asian superhero and the first Asian superhero to make his big-screen debut, Shang-Chi's biggest problem is that his villain is so much more interesting than him — and that the film's best wuxia-inspired sequences are only a pale imitation of the real thing. But at least it could turn people on to the brilliance that is Tony Leung and his storied career.
Watch This If You Like: "Crouching Tiger, Hidden Dragon," wuxia movies, Tony Leung.
Tigertail – Netflix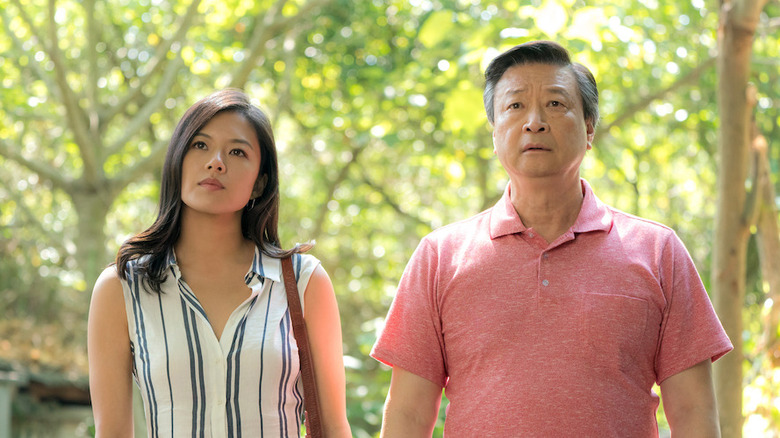 Netflix
Genre: Drama
Director: Alan Yang
Cast: Tzi Ma, Christine Ko, Hayden Szeto, Lee Hong-chi, Kunjue Li, Fiona Fu, Yang Kuei-mei, James Saito, Joan Chen.
Alan Yang expands on his acclaimed "Parents" episode of "Master of None" with "Tigertail," a moving and stylish immigrant drama that feels indebted to the moody films of Wong Kar-wai. Everyone's Chinese dad, Tzi Ma, stars as Pin-Jui, a Chinese immigrant who had to separate from the love of his life as a young man and spends much of his adult life regretting his tragic past, which begins to wear on his marriage and his daughter, with whom he grows estranged. While not groundbreaking by any means, "Tigertail" gives the rare and well-earned spotlight to a phenomenal Tzi Ma.
Watch This If You Like: "In the Mood for Love," that "Parents" episode of "Master of None."
To All the Boys I've Loved Before – Netflix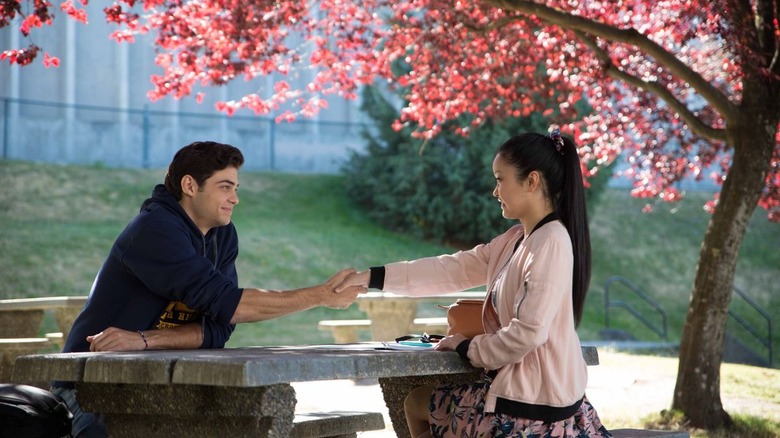 Netflix
Genre: Teen rom-com
Director: Susan Johnson
Cast: Lana Condor, Noah Centineo, Janel Parrish, Anna Cathcart, Madeleine Arthur, Emilija Baranac, Israel Broussard, John Corbett.
Based on the book of the same name by Jenny Han, "To All the Boys I've Loved Before" is the story of Lara Jean (Lana Condor), a shy teen who has written love letters to all the boys she's had crushes on, but never sent them. When they mysteriously get sent out to their recipients, Lara Jean must enter a fake relationship with Peter (Noah Centineo) to convince everyone that she's not in love with her older sister's boyfriend. But feelings catch, and cute things ensue. Predictable and cheesy though it may be, Netflix's sleeper hit is still as charming as ever, despite its progressively disappointing sequels.
Watch This If You Like: "10 Things I Hate About You," the fake relationship trope!
Turning Red – Disney+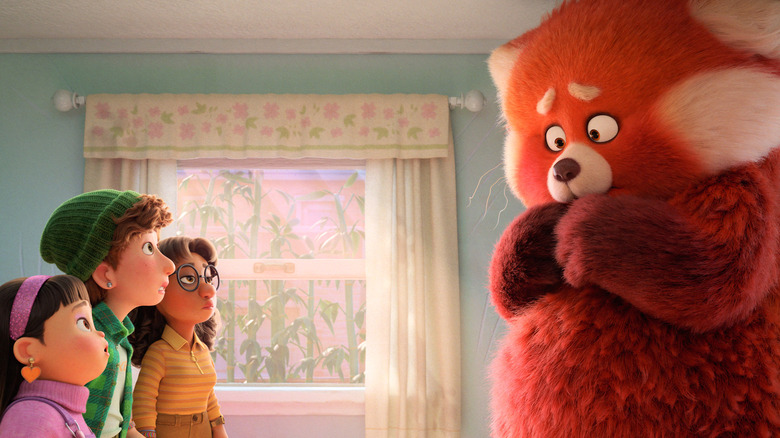 Pixar
Genre: Fantasy-comedy
Director: Domee Shi
Cast: Rosalie Chiang, Sandra Oh, Ava Morse, Hyein Park, Maitreyi Ramakrishnan, Orion Lee, Wai Ching Ho, Tristan Allerick Chen, James Hong.
Pixar's "Turning Red" is one of the most accurate cinematic depictions of what it was like to be a hormonal teenage girl — except for, you know, the whole turning into a giant red panda bit. (Though I don't know, it's your life.) But Domee Shi's first animated feature film is a delight all the way through, using its anime influences and mortifyingly close-to-home depictions of pubescent humiliation to deliver an uproarious, vibrant, joyful movie on the power of friendship, and healing the pain of intergenerational strife.
Watch This If You Like: "Sailor Moon," boybands.
Warrior – HBO Max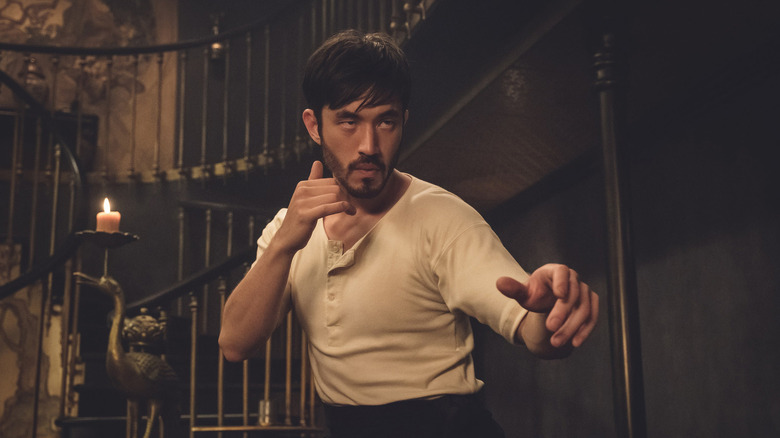 HBO Max
Genre: Historical action series
Creator: Jonathan Tropper
Cast: Andrew Koji, Olivia Cheng, Jason Tobin, Dianne Doan, Kieran Bew.
Based on an original concept and treatment by Bruce Lee, "Warrior" is the martial arts show that the Hollywood legend never got to make (because, you know, racism). Lee's daughter Shannon Lee executive produces this Western-inspired historical action series, which is set during the Tong Wars in late 1870s San Francisco. Andrew Koji is magnetic as Ah Sahm, a Chinese martial arts expert who travels to San Francisco in search of his sister and gets embroiled in the seedy exploits of the tongs that rule Chinatown, as the anti-Chinese sentiment grows among the public and in the local government. Hyperviolent, sexy, and extremely fun, "Warrior" is, in a word, awesome.
Watch This If You Like: Bruce Lee movies, Westerns, people killing people by sticking their hands in someone's chest and ripping out their heart!!
The Wedding Banquet – Pluto TV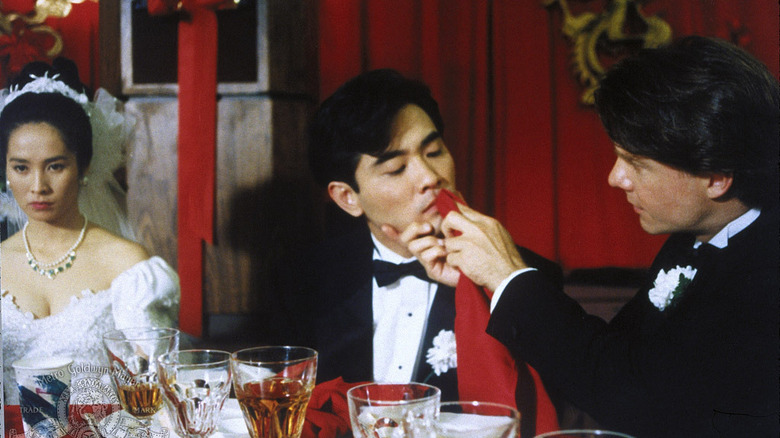 Good Machine
Genre: Romantic comedy
Director: Ang Lee
Cast: Ah-Leh Gua, Sihung Lung, May Chin, Winston Chao, Mitchell Lichtenstein.
"The Wedding Banquet" follows Wai-Tung (Winston Chao), a gay New Yorker who, at the urging of his loving boyfriend Simon (Mitchell Lichtenstein) attempts to satisfy his parents by entering a phony marriage with a struggling artist looking for a green card (May Chin). But the marriage of convenience suddenly becomes inconvenient when Wai-Tung's parents show up in America to throw their son a lavish wedding banquet. Naturally, hijinks ensue. An early and unlikely entry in Ang Lee's cinematic oeuvre, "The Wedding Banquet" avoids being a run-of-the-mill broad comedy thanks to Lee's touches of deep authenticity and manages to become a tender and terribly funny depiction of queer Asian love.
Watch This If You Like: "The Bird Cage," wedding hijinks!