The Muppets Mayhem Executive Producers Pitched More Muppet Integration In Disney Parks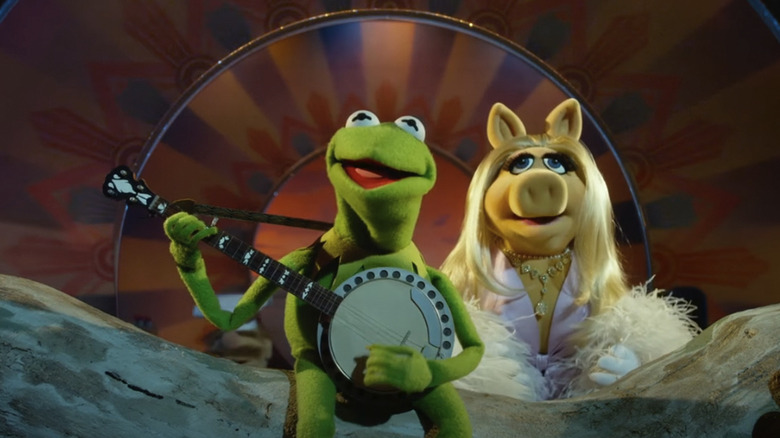 Disney
Following their triumphant performance at the Outside Lands Music and Arts Festival in San Francisco back in 2016, Dr. Teeth & the Electric Mayhem have been carefully planning their next moves in the music industry. After years of waiting, we finally have an idea of what they're up to: A Disney+ series. It was announced in early 2022 that the band would be the stars of a brand new show called "The Muppet Mayhem" from Adam F. Goldberg of the hit ABC sitcom "The Goldbergs."
At this year's New York Comic Con, Goldberg was joined on stage by his co-creators and fellow executive producers Jeff Yorkes and veteran "Muppets" performer Bill Barretta (whose characters include Pepe the Prawn and Dr. Teeth himself), as well as human cast members Lilly Singh, Tahj Mowry, Saara Chaudry, and Anders Holm, to share some details about the long-awaited project. However, after their Main Stage panel, Goldberg and Yorkes revealed in the press room that if things go their way, fans won't just be seeing the beloved band on their personal screens — they'll be headed to Disney parks, as well.
'You can't just pitch a show'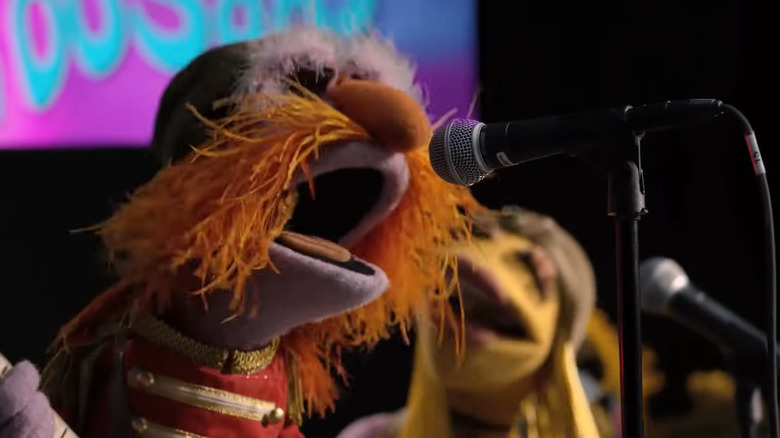 Disney
During our roundtable interviews with Goldberg and Yorkes, they were discussing how their new show is to The Muppets as "The Mandalorian" is to "Star Wars" or as "She-Hulk: Attorney At Law" is to the Marvel Cinematic Universe, in that these shows are expanding the brands that we know and love by diving into these previously unexplored areas of the lore. But fans aren't just able to visit the MCU or a galaxy far, far away via the House of Mouse's signature streaming service. Both properties have recently been integrated into Disney Parks in massive ways around the world. And though you can visit Kermit and the gang at "Muppet*Vision 3D" in Walt Disney World, the Muppets' presence in the park has dwindled over the years.
However, while developing "The Muppets Mayhem," the executive producers also considered ways to re-introduce the fan favorite characters to Disney theme park guests. "That was also part of our pitch," said Yorkes. "You can't just pitch a show. It's gotta be, 'This is what the show's going to be, but here are products and this is theme park integration.'" Unfortunately, he didn't share the specific ideas that they had, but hopefully they come to fruition and we see them soon enough.
Goldberg, while in agreement that there should be more Muppets in the parks in general, shared a very important lesson he learned throughout this process:
"We quickly learned that they don't want pitches for parks from us. They have so many people and Imagineers, but it's important to us that the Muppets have a huge presence at the parks. They should! I mean, the Muppets, those characters are just as well known as any Marvel character, if not more."
Can you picture that?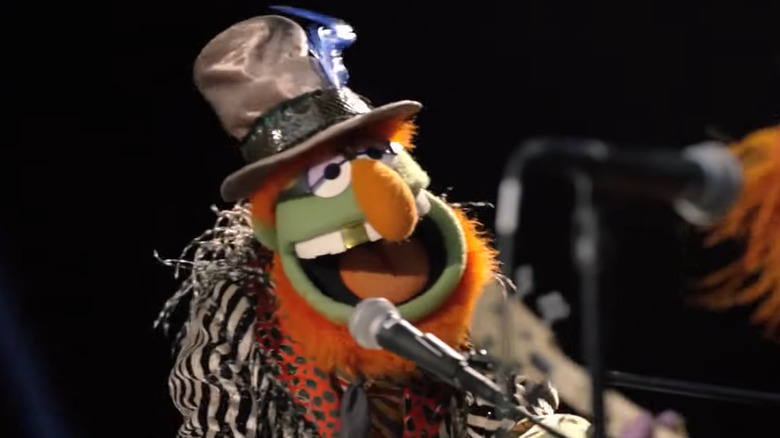 Disney
But the team isn't stopping there. In a perfect world, the duo shared that they would love to take Dr. Teeth and the Electric Mayhem on tour after the first season. Similar to the band's surprise appearance at this year's D23 Expo, Jeff Yorkes said that ideally they could "show the first two episodes and then they'll play two songs" at each stop on this tour. At the panel, Bill Barretta shared that an Electric Mayhem tour was always something that he wanted to do, so that's at least one key person on board with the idea. Now we just need the upcoming series to be a hit so the Disney executives can give all of this the green light and make the dreams of these life-long Muppets fans can come true. 
In the meantime, we anxiously await the premiere of "The Muppets Mayhem" at some point in 2023.