Every Brooklyn Nine-Nine Halloween Heist, Ranked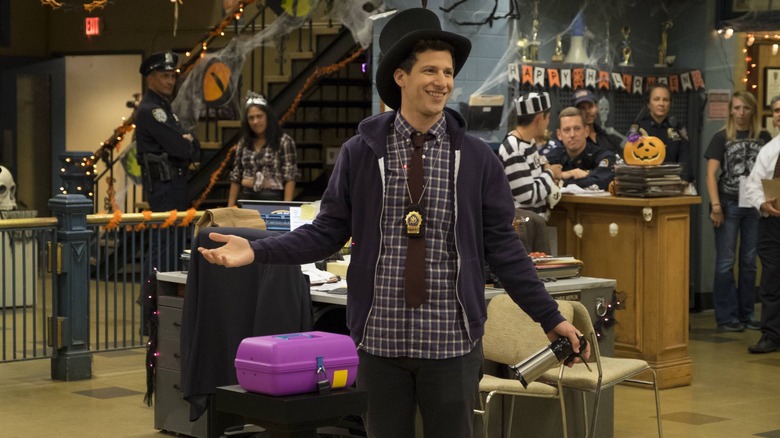 NBCUniversal Television
Many beloved television shows are known for having stellar Halloween episodes. "Roseanne" and "Bob's Burgers" truly shine in their spooky specials, and "The Simpsons" has created an institution within an institution with its annual "Treehouse of Horror" installments. "Brooklyn Nine-Nine" shows a similar love for the holiday, kicking the show's wacky antics up a notch for each season's Halloween Heist. Though the show struggled to reconcile its "good guy" NYPD characters with 2020's political climate, which had little use for "copaganda" shows, no matter how nuanced or well-intentioned, "Brooklyn Nine-Nine" never lost sight of what made it such a special show. The series used the Halloween Heist episodes to emphasize the squad's devotion to each other along with their hilarious competitive streak that was always rooted in love.
As good as the Heist episodes are, it's difficult to rank them from worst to best. Establishing a Halloween Heist hierarchy depends on how well each episode maintains or subverts the famously thrilling storylines. They take their inspiration from the action movies so beloved by Detective Jake Peralta (Andy Samberg), and as such, they involve plot twists, double and triple crosses, over-the-top stunts and pyrotechnics, and a highly satisfying flashback scene in which the winner explains how they pulled it all off. You could shuffle this list like a deck of cards and still come up with a pretty good ranking, but you can't win the heist unless you play (or can you?), so the ranking must go on.
8. HalloVeen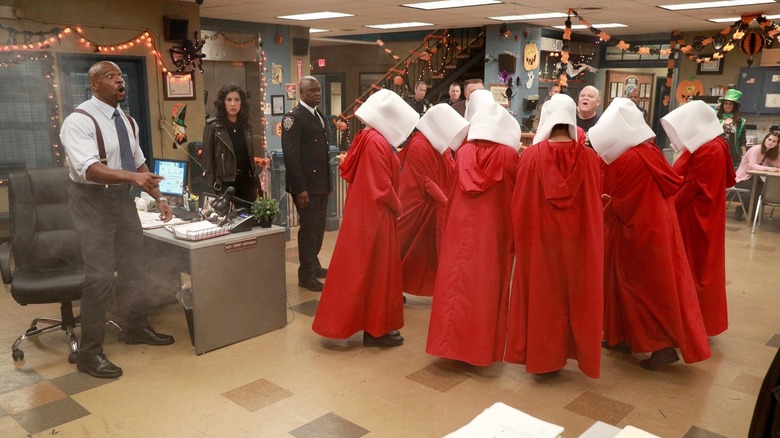 NBCUniversal Television
Most of the squad agrees with this Season 5 episode taking last place. "HalloVeen" is when Jake hijacks the heist to propose to Detective Amy Santiago (Melissa Fumero), ensuring that no one wins the fifth annual Halloween Heist. The object to be heisted changes every year. In "HalloVeen," the prize is a championship belt. Jake switches out the heist belt for one that has a marriage proposal inscribed on it and makes sure Amy finds it.
It's a wonderfully romantic gesture, but it also irritates the rest of the squad, who indicate in the following year's heist that they hated Jake taking over the heist for his agenda. Captain Holt (Andre Braugher) is the biggest stickler for the fact that there's no winner this year since Amy didn't have possession of the correct belt at midnight. It's the beginning of one of the heist's best running gags, as each member of the squad bickers over who has the most wins.
Other classic heist hallmarks pop up in "HalloVeen." Captain Holt's dog, Cheddar (and Cheddar's doppelgänger), play a part in the heist. Bill Hummertrout (Winston Story), a random person whom Jake hired to take part in a past heist, reveals one of the disturbing ways he makes a living. Nostalgic and contemporary pop culture references appear as well, with a distraction ruse featuring dozens of Handmaids from "The Handmaid's Tale" and a nod to Nickelodeon's classic kids' competition show "GUTS." Despite Jake hijacking the heist for his proposal, "HalloVeen" is a fine addition to the heist legacy.
7. Halloween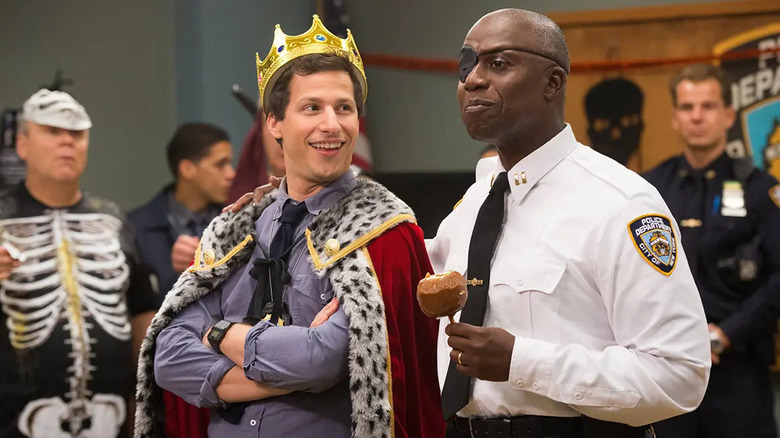 NBCUniversal Television
One of the difficulties in ranking the Halloween episodes is that each heist tops the preceding year in terms of wacky plot twists and surprises. The plots operate at breakneck speed, and that speed only increases from year to year, so Season 1's Halloween Heist would inevitably be near the bottom of this list. Still, it's a terrific episode that highlights the evolution of the characters and their relationships.
The first heist begins (problematically) when Jake bemoans how unintelligent criminals are and how he would commit the perfect crime without anyone else in the squad catching him because he's too smart. When Holt disagrees, they face off, with both attempting to steal Holt's Medal of Valor before midnight on Halloween. The winner earns the title of "amazing detective-slash-genius" (one of many plot details that becomes important in later heists). Jake wins after he bribes the rest of the squad to help him, beginning the tradition of sidelined players taking part in the heist and laying the groundwork for future betrayals.
One of the most satisfying minor plot threads throughout the Halloween Heist episodes is seeing Amy's attitude toward Halloween change as she begins to love the heists. She starts the episode proclaiming, "Halloween is the worst." Everyone is drunker, ruder, and more naked on Halloween, and it makes her life much more difficult. However, after being partnered with Jake's fun-loving best friend, Charles Boyle (Joe Lo Truglio), and helping Jake win the heist, she softens a bit on her hatred of the holiday. No matter how old you are, Halloween is fun, and it's gratifying to see Amy learn to love the spooky season.
6. The Last Day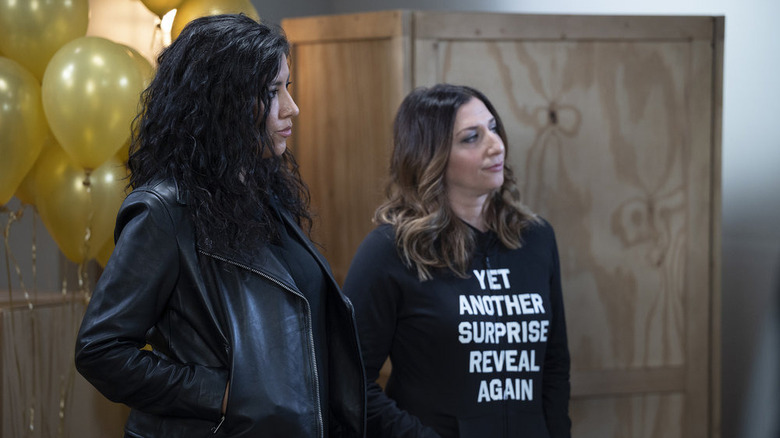 NBCUniversal Television
The Halloween Heist is so important to "Brooklyn Nine-Nine" that the series finale centers on a heist. Amy and Holt are leaving for new horizons in the NYPD while Jake is leaving the NYPD to focus on his son, Mac. Jake plans this Season 8 heist as the ultimate goodbye, but in true heist fashion, he must compete with Amy and Holt's ultimate goodbye agendas as well.
"The Last Day," which takes place in two parts, is the perfect sendoff for these beloved characters. Gina Linetti (Chelsea Peretti), the precinct's former civilian administrator, returns with several "surprise reveals," each denoted by a sweatshirt. It's classic Gina — self-centered beyond belief, incredibly extra yet undeniably compelling. Terry Jeffords (Terry Crews), who moves up through the ranks throughout the show, ending the series as the precinct's new captain, gets to show off his brains and his brawn. He uses his engineering know-how to get out of a locked room when he and Holt are trapped due to heist-related shenanigans. In a satisfying payoff to a running joke, he bursts through a wall like the Kool-Aid Man, even yelling "Oh yeah!" as the cherry on top of the hilarious gag.
Each character gets their moment in the sun, but those moments never feel forced. They feel like authentic and earned emotional beats within what the squad believes will be their last heist. Happily, there's a time jump at the very end of the episode with the squad members returning on Halloween to continue their tradition. Terry caps off the finale, yelling his trademark "Nine-Nine!" to a rousing return from his friends, proving that though they may not all work together anymore, the Halloween Heist lives on.
5. Valloweaster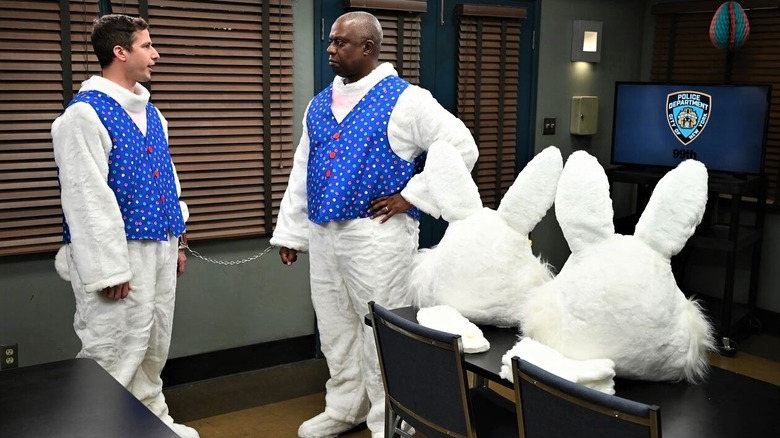 NBCUniversal Television
This Season 7 episode adopts a unique (and welcome) framing device, showing the viewer the heist through the eyes of members of the precinct who don't participate in them. As an Easter Bunny jumps off the roof of the precinct, one unnamed cop asks another, "This is still going on?" The viewer gets as wrapped up in the machinations and victory tallies of the heists as the main characters do, so it's refreshing to get a glimpse of the background characters looking in on the wacky antics from the outside.
With that said, "Valloweaster" has to be the silliest and most convoluted heist yet. That's a good thing, as the entire appeal of the Halloween Heist is the contrast between an intricately plotted crime caper and a goofy workplace comedy. The items being heisted in this episode are the "Infinitude Gems," knockoff Infinity Gems from the definitely-not-an-MCU movie "Avangaboys." The heist has to be postponed twice due to the gems being swallowed — first by Cheddar and then by Norm Scully (Joel McKinnon Miller), an oafish tenured detective who often inadvertently sabotages the heist plans of more skilled players.
Cheddar is a vital part of most heists, and he truly shines in "Valloweaster." When Holt deploys him with a whistle, Cheddar comes running into the precinct in slow motion, galloping majestically through the smoke to the raucous opening chords of The Stooges' "I Wanna Be Your Dog." It's a perfect heist moment that is both utterly ridiculous and completely cool. Other perfect heist moments include Bill being creepy for no reason, his oddly lecherous "Hello, bunnies" directed at the costumed Easter Bunnies sending a chill down the viewer's spine, and Detective Rosa Diaz (Stephanie Beatriz) winning three times in one heist as she brilliantly pulls off a plan that spans three different holidays.
4. Halloween II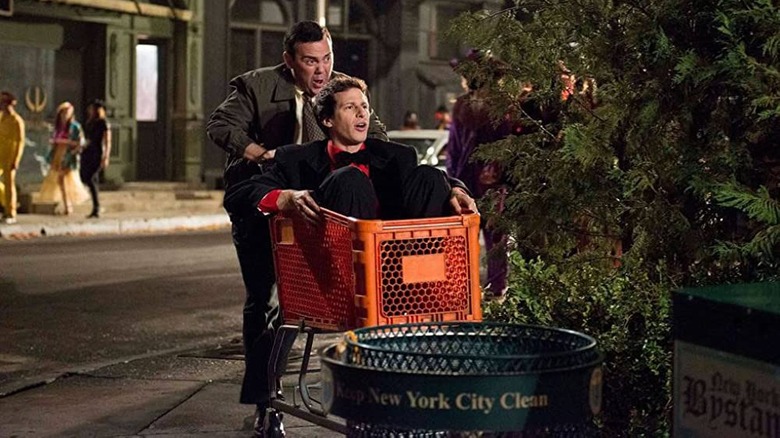 NBCUniversal Television
The Season 2 heist (aptly named "Halloween II") begins the tradition of one-upping the previous year's heist, and it features some of the funniest acts of misdirection because of how it plays with Jake's (and the viewer's) perception of the other characters. Once again, Jake and Holt are pitted against each other, as Jake vies to steal the watch off Holt's wrist. Holt comes out on top this time, having enlisted the rest of the squad to help him embarrass Jake, who has been smug since his victory in the first heist.
One of the episode's best (and most chaotic) moments comes when Jake is running down the street to get his car back after it was towed. He's accosted by a group of drunken partygoers in bear suits, who turn out to be partners Scully and Michael Hitchcock (Dirk Blocker). He then he gets on a party bus where he's pickpocketed. This ensures he has no identification when he tries to retrieve his car.
The party bus is one of the funniest scenes in Halloween Heist history. Rosa, famous for her low, deadpan monotone, wears a cat costume and uses a high, girly voice to distract Jake. Then, Holt, dressed as a plague doctor and bellowing "Halloween!" in his best drunken reveler voice, steals Jake's badge so he can't use his police privilege at the impound lot. Each heist episode features an explanation sequence in which the winner lays out their ingenious plan, and Jake's shock at finding out who the two partiers were is almost as funny as the satisfaction on Rosa and Holt's faces when they unmask.
3. Cinco de Mayo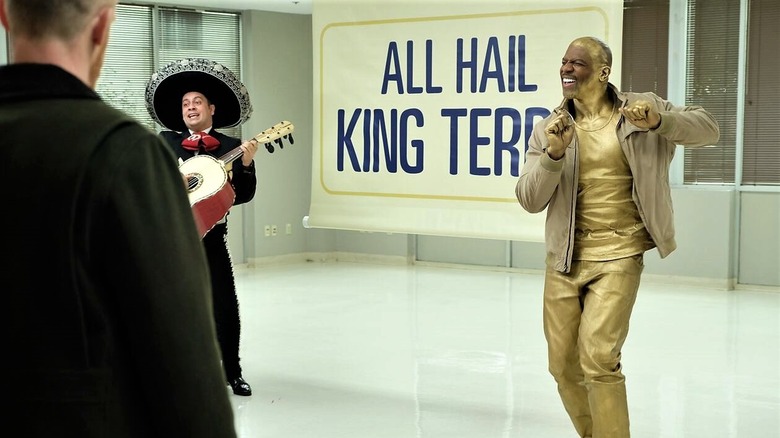 NBCUniversal Television
This Season 6 episode is perhaps the series' most self-aware heist episode. Rosa declares that she's not participating, saying, "We've exhausted every possibility of this thing. Literally, nothing new can happen. It's boring." Appropriately, "Cinco de Mayo" tries to shake the fake cobwebs off the heist concept by having it take place on a new holiday and feature far more surprises, double-crosses, and wild plot twists than any previous heist.
"Cinco de Mayo" is one of the best heist episodes for a few reasons. Terry wins this heist, outmaneuvering Jake at every step, even revealing an identical victory banner and song that give him the opportunity for some well-earned gloating. The impetus for this heist is (supposedly) to take Terry's mind off his upcoming sergeant's exam, but the squad laughs at the idea of him winning the heist, and it's nice to see them get their comeuppance for doubting Terry's abilities. Terry's incredibly physically strong, and the squad occasionally thinks of him as being all brawn, but he proves in "Cinco de Mayo" that he can outsmart them all.
Another reason this heist ranks above most of the others is the inclusion of Kevin Cozner (Marc Evan Jackson), Captain Holt's husband. Jackson has a dry delivery that plays well off the more expressive cast members, and Kevin's bemusement at the heist tomfoolery gives way to unbridled enthusiasm as he learns just how fun the Halloween shenanigans can be. He gets one of the best heist lines, telling Terry and Jake, "I'm going to slice your Achilles' tendons, peel off your fingernails, and stick knitting needles in your eyes," just before turning to Holt and saying, "Raymond, you were right. These heists are fun."
2. Halloween IV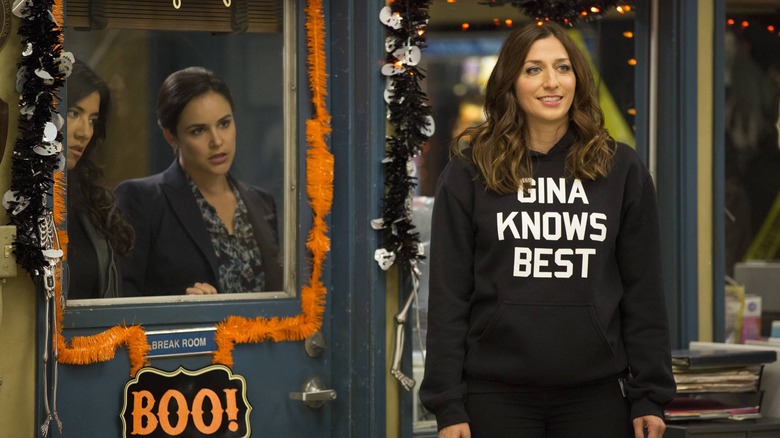 NBCUniversal Television
This Season 4 episode is when the rules of the heist really start to change. Up until now, the winner has earned the title of "amazing detective-slash-genius," with the previous winners being Jake, Holt, and Amy. Gina jumps in to shake things up, pretending to fail as Jake's partner only to steal the heist prize, a plaque locked in Amy's childhood Caboodle, and rename the title "amazing human-slash-genius" to make sure the heist no longer excludes people who aren't detectives. She also fits in a surreal detail about ordering a statue of Tyrese riding a dolphin — which is the type of bizarre Gina-ism that turns an A episode into an A+.
"Halloween IV" also sees the first appearances of the heist's secret MVPs: Bill and Cheddar. Bill arrives in the middle of the precinct like a disturbing glitter bomb, spreading his leering intensity everywhere he goes and getting just as wrapped up in the heist as the rest of the squad, possibly even more so, which makes him an endearing addition to the series. The Halloween Heists are both the pettiest and most important events in the series, and it's thrilling for the viewer to see a newcomer discover how deadly serious these silly games are.
"Halloween IV" also represents a turning point in Amy's relationship with the holiday. When the infamously "Type A " Amy shares her heist binder with Rosa (complete with recommended reading of "Kristy's Big Day" from "The Baby-Sitters Club" series), she's ecstatic to discover that Rosa is all in on Amy's planning because of how badly she wants to win. It's a charming bonding moment between the only two female detectives in the precinct, and it's a big step toward making Amy love Halloween.
1. Halloween III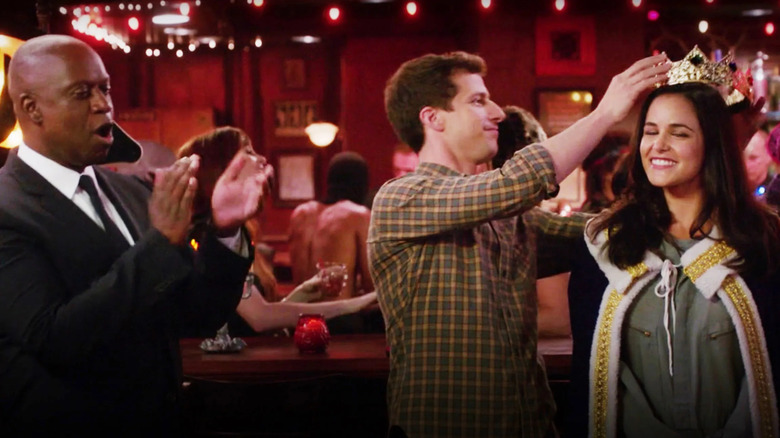 NBCUniversal Television
The best Halloween Heist episode is also the first one that opens the playing field up to more squad members than just Jake and Holt. When Amy's offer for help is rejected by both men, who assume her loyalties lie elsewhere, she decides to beat them at their own game and win the heist. Jake gives this heist the best nickname — "Halloween Heist III: The Heistening." A cackling witch decoration is a terrific detail that adds both humor and legitimate suspense to the proceedings.
It also has the best gag with Charles' costume. In previous years, he's shown up to work in costume while the rest of the squad made fun of him for it, but when he arrives this year, everyone is dressed up and wondering why he's in regular work clothes. When he dashes out to grab his "emergency costume" and returns dressed as Elvis, everyone else is back in their work clothes and mocking him again.
The appeal of the Halloween Heists is that they rely so much on how well these characters know each other, how good they are as detectives, and how surprising they are as human beings. The Halloween Heist is both the most important thing in the world and the least important thing in the world. It's a game of contradictions and double-crosses that bring people closer. Ultimately, the heists are about the joy of Halloween, the one night when adults can play and be childlike. These heist episodes understand the importance of embracing the side of us that craves fun, adventure, and excitement. The Halloween Heist urges us to pursue joy for its own sake.