'Brooklyn Nine-Nine' Will Be The Same Show On NBC, New Halloween Episode Confirmed [TCA 2018]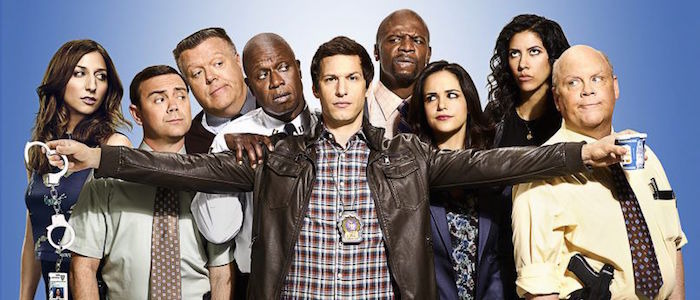 Brooklyn Nine-Nine may have gotten more press when it was cancelled than it had in five years of airing on the Fox network. When Fox pulled it from its Fall schedule, fans rallied to save the show. NBC stepped in. NBC Universal was already the producer of the show, so they gave it a midseason slot on their schedule. It was official: Brooklyn-Nine Nine would return for a sixth season.
NBC brought the cast and executive producer of Brooklyn Nine-Nine out for a Television Critics Association panel. Find out how the show will remain the same on a new network, what's in store for Jake and the rest of the cew in the new season and how they plan to tackle more social issues.
New Network, Same Show
Executive producer and showrunner Dan Goor represented the creative team of Brooklyn Nine-Nine. While he's still a ways off from beginning the new season, Goor assured fans it would be the same show on NBC.
"Yes, the mandate from NBC all along is we know this show, we love this show, that's why we picked up this show, please keep making the same show," Goor said. "In a lot of ways, I think it is the same type of show. I don't want to say it's the same show. I think it's going to be even better this year. Definitely put that in. I'm doing The Secret. There are no substantive changes in terms of our approach to the show or anything else."
This makes sense, but it's still reassuring to confirm. Networks don't usually rescue fan favorites to retool them. Scrubs stayed the same when it moved from NBC to ABC, so did The Mindy Project going from Fox to Hulu. So NBC knows what the fans like and they're just giving it a new home.
The Halloween Heist Will Still Happen in the Spring
Brooklyn Nine-Nine's midseason time slot means it will air long after Halloween, Thanksgiving and Christmas, all holidays that feature prominently in episodes. Goor said they wouldn't let the late airing stop them from their Halloween traditions.
"I think we had a very good idea for how to do the Halloween Heist and we want to continue doing it," Goor said. "They're some of our favorite episodes to watch and also some of the hardest to write because of the twists and turns. We have a really good idea how to do it."
Every Halloween, the Nine-Nine compete for the title of Ultimate Detective/Genius. We can still appreciate that if they air it in February.
Jake and Amy's Married Life
Season 5 ended with the wedding of Jake (Andy Samberg) and Amy (Melissa Fumero). Could you imagine if we never got to see their married life? The same sort of things they bicker about in the precinct will now plague their home lives.
"Mostly, I think really small detail oriented story lines about their finances, not happy with each other about what to spend on what," Samberg said. "At the wedding ceremony, Holt says he's excited to see their childish marriage. I think that's going to be how it goes. They'll maintain that same dynamic but it'll be fun to explore it through the lens of marriage."
Fumero had some ideas too.
"The day they combine their bank accounts is going to be a big day," she said. "It's going to be little stories like that that are going to be really fun to explore. What domestic life will they make new bets on and compete with?"
They Hope to Do a MeToo episode
The season 4 episode "Moo Moo" dealt with Terry (Terry Crews) getting racially profiled. Goor hopes to do another episode addressing socially relevant issues, if they can get the script right.
"Our challenge is to make them feel true to the show, be funny, but at the same time give weight to the issue and explore it in a fair way," Goor said. "We definitely intend to continue doing that. We intend to go down the road of Rosa's interaction with her parents and her journey coming out but there are other issues. I don't want to say we're going to do it unless we can figure it out, but we're really interested in doing a MeToo storyline. It's something we're actively talking about in our writers room."
Samberg vouched for the extra time such episodes take, so wanting to tackle a subject is not the final word.
"The 'Moo Moo' episode was something that took a really long time to be written in a way that was like yes, this is how the show wants to do this," Samberg said. "There's a ton of stuff like that that would be incredible to do but we're not going to do it unless we have the right take that will do it justice."
Gina Rodriguez is in Negotiations to Return
Gina Rodriguez guest starred on the fifth season finale of Brooklyn Nine-Nine as a potential love interest for Rosa. The show wants her back, but Rodriguez is the lead on The CW's Jane the Virgin, so it's complicated.
"We are in conversations with her," Goor said. "We had a great time with her. I think she had a really good time on the show. She is the star of a television show and hugely successful in Hollywood. I am hopeful that we'll be able to get her back in some capacity. We're in talks is what I should say. We're still early in the process of everything. She wants to come back and we want to have her."
Brooklyn Nine-Nine returns next year on NBC.