Terry Crews Was Willing To Suffer An Allergic Reaction For The Sake Of His Brooklyn Nine-Nine Role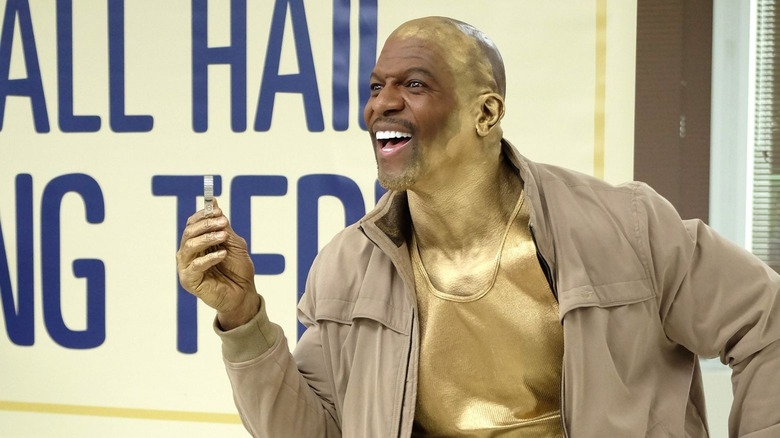 NBC
Led by Andy Samberg and Andre Braugher, "Brooklyn Nine-Nine" is a charming, intelligent take on the cop show format. The sitcom follows a group of wacky, lovable, and hilarious co-workers who know how to have fun, even if they work in law enforcement. "Brooklyn Nine-Nine" is the best of workplace sitcoms — its characters are distinct and clever, the hijinks they're up to provide viewers with immeasurable joy, and its manic sense of humor will leave you breathless from laughter. 
Terry Crews, who plays the veteran Terry Jeffords and helps run the 99th precinct in Brooklyn as Sergeant, is at the heart of the show. Crews has been exceptionally dedicated to his "Brooklyn Nine-Nine" role, so much so that he was willing to suffer an allergic reaction for his character.
Complications from a Halloween heist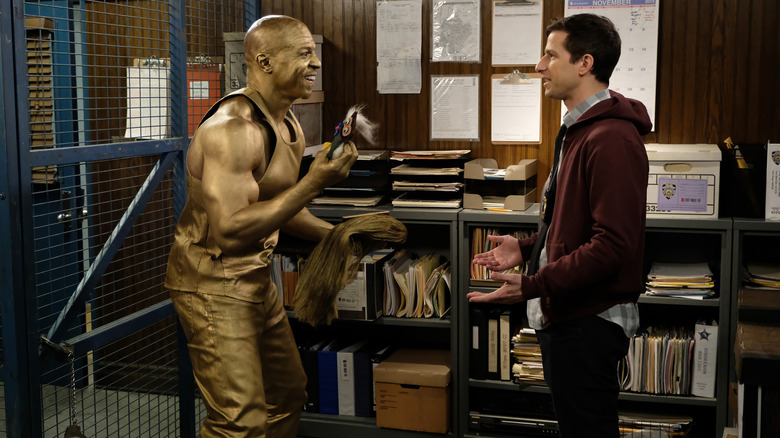 NBC
As Sergeant Jeffords, Terry Crews portrayed a character that was caring, protective of his squad, and had a wacky habit of referring to himself in the third person. How much of that is true for Crews is unknown, but at least we know that the actor was willing to go to extreme lengths for Sergeant Jeffords to shine. 
In the "Cinco de Mayo" episode from the show's sixth season, the squad preponed their annual Halloween heist to help distract their Sergeant from his stress-inducing Lieutenant's exam. Interestingly, Terry Crews didn't precisely have a stress-free time filming this sequence. The actor needed to be covered in gold paint for the heist's winning sequence, and the actor was, of course, up to the challenge — not knowing the complications it would bring.
'It was worth it'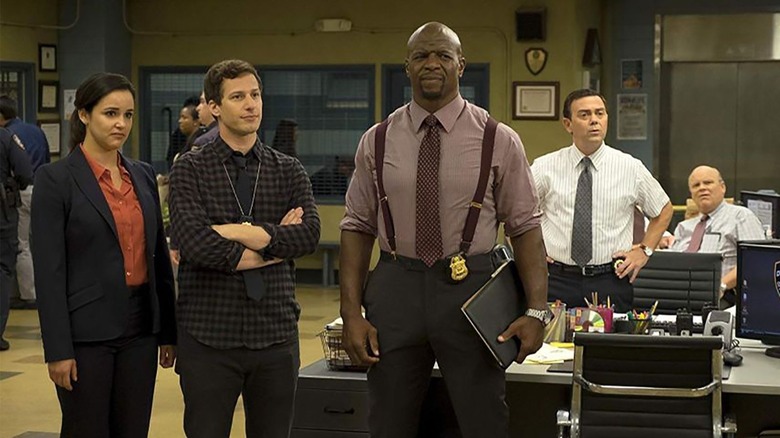 NBC
Terry Crews didn't know that he was allergic to metal paint and suffered from the side effects long after filming the episode. That's fine by the performer, though, who described the physical pain caused as a "price to be paid" for him to have won the memorable heist. Here's what the actor shared during his interview with TV Guide:
"That, the heists, they are – every year we think we can't top them. And the fact that I won, it was so kind of, like, satisfying. It felt like you get your Super Bowl. Me being painted in gold, and the fact that I was actually allergic to the metal for a week after that, but it was worth it! I was like, "I'm going to – I don't care! This is the price to be paid to win the heist!"
"Brooklyn Nine-Nine" came to an end with its eighth season in September 2021. It had a good run — but all good things come to an end, as did the 99th precinct's terrific adventures on the small screen.