How Brooklyn Nine-Nine Got Through Its Ratings-Challenged Season One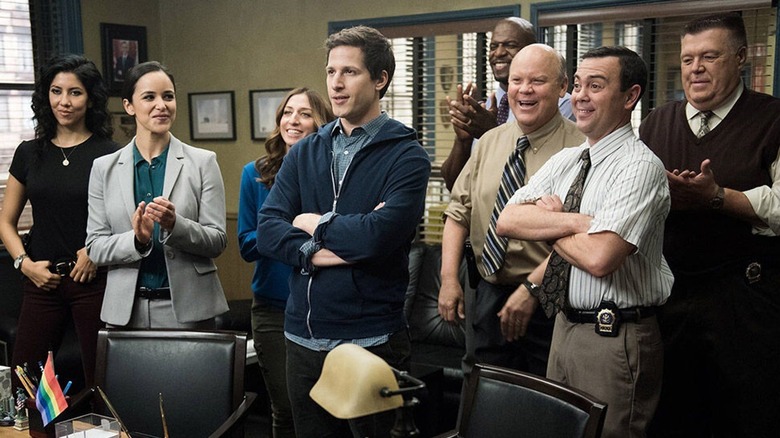 NBCUniversal
"Brooklyn Nine-Nine" wrapped up its final season in 2021. Detective Jake Peralta (Andy Samberg) and the rest of the borough's 99th precinct got up to their final caper and went their separate ways. At the very least, the show was able to go out on a high note.
The office comedy from Michael Schur and Dan Goor had a troubled past over its eight seasons. Its original home was at Fox, but the series was canceled there after five seasons. After the cancellation, "Brooklyn Nine-Nine" was picked up by NBC, where it aired for another three seasons. Following real-life controversies, the show came to an end with a delayed and shortened eighth season. The show almost didn't make it out of its first season, however.
Testing is like an interrogation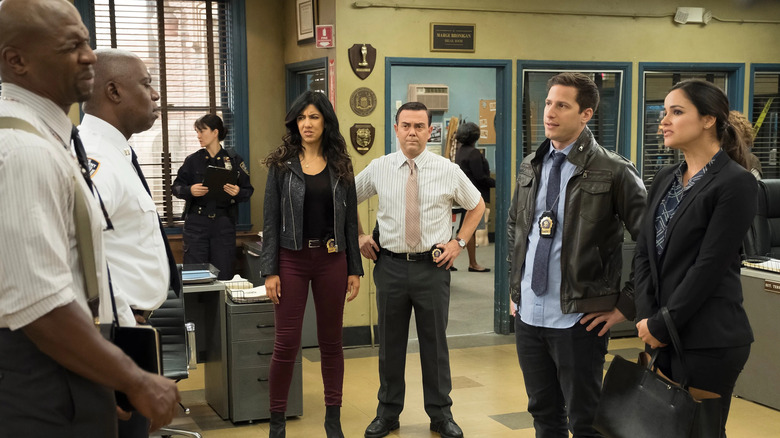 NBCUniversal
"Brooklyn Nine-Nine" was co-produced by Universal Television, where Mike Schur had a development deal following the success of "Parks and Recreation." NBC passed on the series, however, forcing the production team to shop the show around. Fox ultimately picked it up.
Schur admitted that even in the testing phase prior to selling the series to Fox, it was hard to gain traction for an ensemble comedy. "Testing is a silly process," he told Deadline. "There are a lot of problems: It's very unscientific, especially since they test in North Hollywood. It's as though the crowd in North Hollywood represents everyone in America."
He continued, lamenting that the overall problem with selling the "Brooklyn Nine-Nine" pilot was that a single episode isn't enough time for a show to truly find its feet:
"If testing is going to give any accurate reading of a show, they should show four episodes. You get feedback like, 'The side characters are underdeveloped.' Of course! They are only onscreen for 18 seconds. It's a Catch-22: You can't make four episodes unless it tests well."
Trying to catch the ratings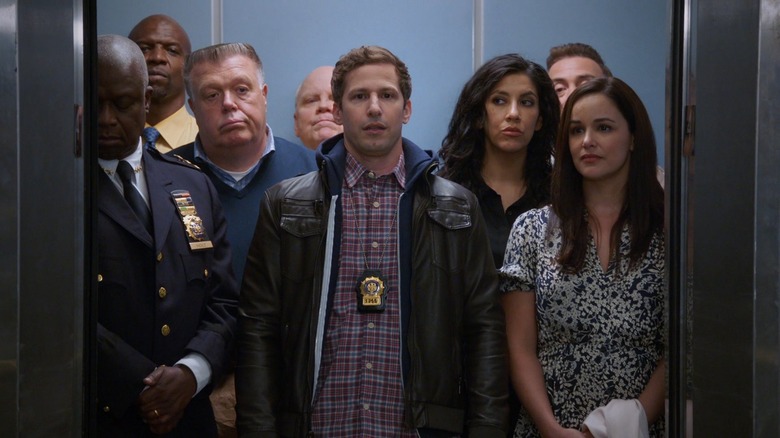 NBCUniversal
For its very first season on Fox, "Brooklyn Nine-Nine" suffered from weaker ratings, even for a smaller network. Despite that, Mike Schur noted that Fox was "on board from the beginning." The network was behind the show, but the audience wasn't there.
Schur pointed to gimmicks that older television shows used to pump up the ratings. One of the most famous was the celebrity guest spot, something "Brooklyn Nine-Nine" did try over its lengthy run. "If this was 35 years ago, we'd pull a guest-starring stunt and put Mary Tyler Moore on, but that stuff doesn't work anymore," he explained. "The last time [it worked] in recent TV history was 'How I Met Your Mother' with Britney Spears."
The problem is the ratings boosts don't stick. Audiences will tune in for the special episode during an event like the Super Bowl, only to see ratings go back to where they were previously. Schur agreed there was a great deal of frustration within the production team and the network over the ratings:
"The network is incredibly sympathetic, and they're frustrated just like producers. They're looking to monetize that number, and the problem with advertisers is that they only monetize Live +3. Everyone is fully aware of the insanity of these numbers and until there's a new standard, it's like reporting the score for a basketball game six minutes into the game."
Despite these issues, "Brooklyn Nine-Nine" did make it to eight great seasons. It's a feat not a lot of modern television can boast. Schur and Goor are still working in comedy, albeit separately these days. Schur is the executive producer of "Rutherford Falls" on Peacock and "Hacks" on HBO Max, while Goor is executive producing "Grand Crew" on NBC and "Killing It" on Peacock.