Killing It Trailer: Craig Robinson Is In The Snake Killing Business And Business Is Good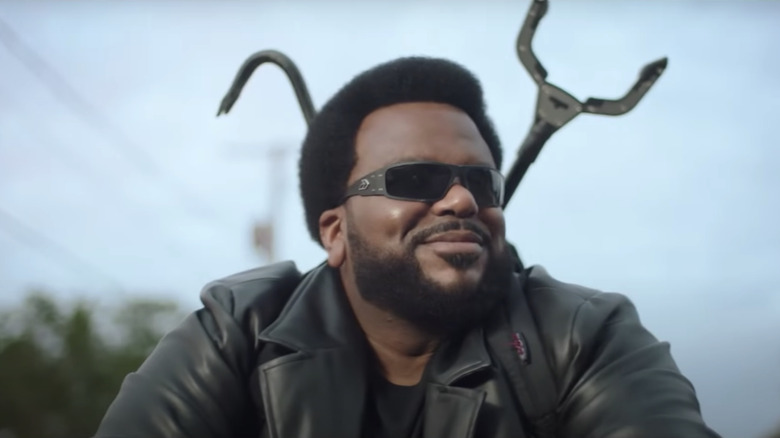 Peacock
If you've been missing the good ol' days before algorithms told us what would pull in good numbers when studios would greenlight absolutely bananas ridiculous stories, Peacock's new series "Killing It" might be just what you've been looking for. Craig Robinson ("The Office," "Brooklyn Nine-Nine," "Hot Tub Time Machine") stars as a down-on-his-luck divorced dad who is about to lose his daughter if his ex-wife's new beau decides to move the family to Columbus, Ohio. When it seems like all hope is lost, Craig (Robinson is playing a character with his own name) catches the Uber ride of a lifetime, where his Australian driver Jillian (Claudia O'Doherty) introduces him to the world of the illegal snake trade. Sure, she pulled over in the middle of his drive to hammer a Burmese python to death to make a bounty, but who are we to judge how a woman gets her bag?
Last month, Peacock released a teaser for "Killing It," showing Craig as a wealthy man donning a custom-made kimono and trying to inspire his maid with the story of his humble beginnings. While a snake flashed in a chaotic montage of moments from the series, there was no way we could have predicted this show was going to be about Craig Robinson hunting and killing snakes for profit. Everything about this show sounds like it was made in a Mad Libs pitch for an '80s adventure series, and I absolutely mean that as a compliment.
Killing It trailer
Fresh from the minds of the comedic weirdos behind "Brooklyn Nine-Nine," Dan Goor and Luke Del Tredici, the new Peacock series "Killing It" looks like it's surprisingly grounded in reality. As it turns out, Burmese pythons are an invasive species totally mucking up the Florida ecosystem, and snake hunting is actually encouraged. Whether or not there's an illegal snake trade trading skins for cash is still up for debate, but America is a capitalist hellscape so, uhhh ...probably. In fact, Goor and Del Tredici said in a statement about the show that they wanted to explore "America's quasi-religious obsession with entrepreneurship and wealth." Having Robinson part of a snake hunting regime is thematically hilarious, definitely a way to poke fun at the way American society continually becomes a snake eating its own tail.
Similarly to how "Brooklyn Nine-Nine" ended its run by diving headfirst into tackling the systemic issues of the police force, "Killing It" will no doubt take a venom-filled bite out of capitalism, the so-called "American dream," and point out the systemic failures of our financial institutions. But, because it's from the guys behind "Brooklyn Nine-Nine" and starring Craig Robinson, we'll get that sweet, sweet comedic safety net to keep us from having a full existential crisis. Plus, who doesn't want to see Craig Robinson dressed like a homegrown version of Blade and killin' snakes?! 
"Killing It" will be available to stream on Peacock starting Thursday, April 14, 2022.