How Hello Dolly! Solved A Script Problem For Butch Cassidy And The Sundance Kid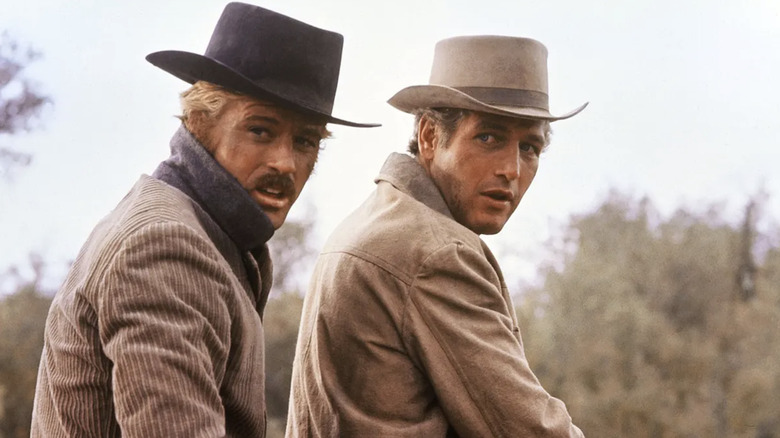 20th Century Fox
In a lot of ways, one of the reasons "Butch Cassidy and the Sundance Kid" remains such an enduring western is because it wasn't afraid to break some genre rules. Both screenwriter William Goldman and director George Roy Hill injected their own idiosyncrasies into this retelling of the two infamous outlaws. It's why the movie has just as many laughs as it does shootouts — fluctuating perfectly between slapstick and dryly delivered one-liners. Hill even went out of his way to remove some of its funnier moments after he decided the audience was laughing too much at a screening. 
But such tonal shifts are exactly what makes "Butch Cassidy and the Sundance Kid" so unique and mold-breaking. Like the Burt Bacharach soundtracked bicycle montage scene in which he lulls away at "Raindrops Keep Fallin' on My Head" — which was actually written for the film. At worst jarringly anachronistic, the presence of the buoyant soft-rock melancholy isn't exactly amiss given the tragedy the titular characters are hurling towards. But that's not the sole montage in the film nor is it the only one that underscores the immense creativity of everyone behind it.
The problem with running directly to Bolivia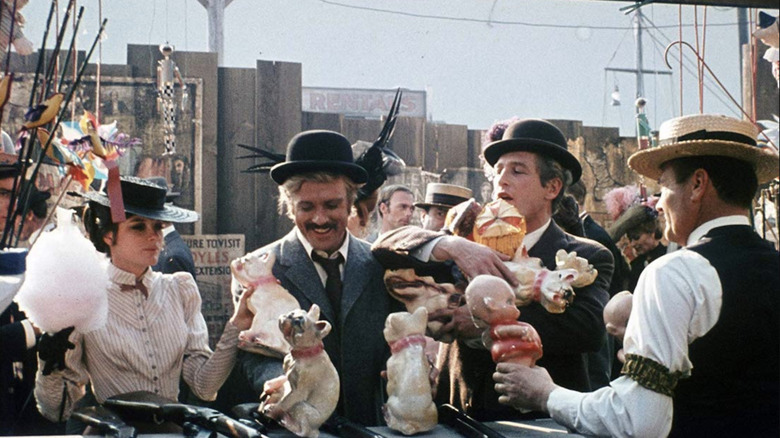 20th Century Fox
In its final act, Butch and Sundance try to escape a relentless posse by running to Bolivia. But their retreat — one of the few concrete certainties about the duo's travels — was protested by at least one studio head for being antithetical to the western genre. Telling Goldman when he was pitching the script, "All I know is John Wayne don't run away." At least one other person took issue with the flight from America to Bolivia, albeit for different and far more constructive reasons. 
"There's something wrong with this script," photographer Lawrence Schiller remembers telling Paul Newman in "LIFE Butch Cassidy and the Sundance Kid at 50." But his complaint was over how quickly the group originally arrived in South America. To Schiller, it was unrealistic but it also presented an opportunity to really ground the film further in its fictionalized realism. He's the one credited with first suggesting they do a montage to show their travels in order to give the illusion of a long voyage. 
After all, they couldn't just buy a one-way direct plane ticket to their destination. But the montage also serves as a sort of whimsical buffer against the heavily foreshadowed and bloody end that awaits Butch and Sundance. Originally, it's possible they'd planned to actually film clips of the group but in the end, had to resort to just photographs. But the stills actually lend a much deeper bittersweetness to "Butch Cassidy and the Sundance Kid." Showing the central trio during one of their final moments of true unfettered happiness together before everything comes crashing down.
Butch and Sundance visit Hello Dolly!
20th Century Fox
Schiller's idea was approved by producer John Foreman but when one door opens, sometimes all you find inside is another closed door. Now he had to figure out how to transform the location for this montage so it looked like 1899. No easy task at a time when visual effects artists or the technology for their craft was non-existent. And then — rather on brand of her — "Hello Dolly!" swooped in to save the day when Fox president Richard Zanuck granted the crew access to the set of the film. 
It's unclear but it's possible Hill was under the impression they'd actually get to film on the set. Instead, they had to settle for a montage of stills taken by Schiller. Capturing the trio in posed and candid shots, he documented the outlaws' sojourn and even superimposed some onto period-specific photographs to enhance their realism. 
As a result, the montage looks like a sequence you'd see in a documentary about the outlaws — not a film starring Paul Newman and Robert Redford — though it feels more immersive than didactic. Something it has in common with the rest of the film since Goldman based his script on what little could be considered fact and gently embellished the rest. But it was also just a creative way to give the plot breadth and the audience more time with the characters in a way that didn't involve adding half a dozen individual scenes. This is probably why the only kind word Vincent Canby's critique of the film in The New York Times contained was directed at what he called its "lovely" five-minute montage.