One Of Butch Cassidy's Most Famous Scenes Was Also Its Most Controversial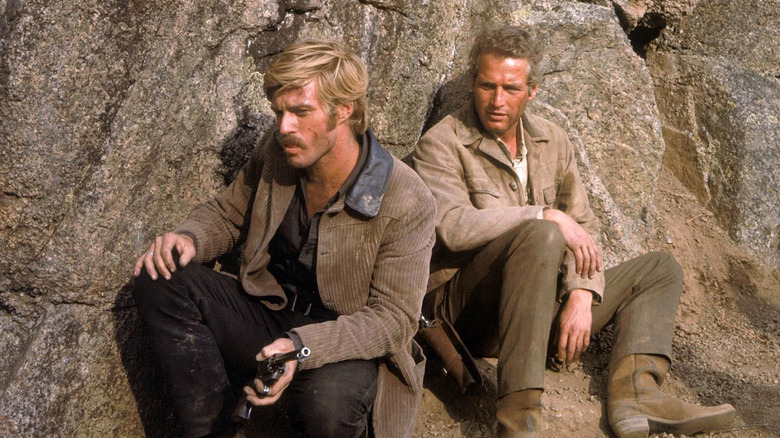 Twentieth Century Fox
George Roy Hill's lively western "Butch Cassidy and the Sundance Kid" stars the effervescent film icons Paul Newman and Robert Redford as a pair of close-knit outlaws on the run to Bolivia. What is now considered to be one of the defining films of late 1960s American cinema was lambasted by some critics during its initial release. They were perplexed by Hill's inventive subversion of classic western genre tropes, especially the inclusion of a montage that includes the upbeat ditty "Raindrops Keep Falling on My Head" — a song that was released more than half a century after the time in which "Butch Cassidy and the Sundance Kid" is set.
The director wanted to put a contemporary spin on the fabled genre that had been a staple during the Golden Era of Hollywood. "The characters are modern rather than traditional in approach and temperament, and [Goldman's] dialogue ... has a very contemporary rhythm and sound to it, and we didn't want a traditional Western score," he noted in a documentary on "Butch Cassidy and the Sundance Kid" (via LA Times). Rather than use his long-time partner Elmer Bernstein, composer of the classic western "The Magnificent Seven," he chose songwriter Burt Bacharach because he wanted a modern pop sound that juxtaposed the time period and emphasized the mood.
The most jarring element for critics was Hill's use of anachronistic music. There was one scene in particular that they hated the most, especially Time Magazine's reviewer, who wrote: 
"Director George Roy Hill abruptly annihilates the nostalgia with a scat-singing sound track by Burt Bacharach at his most cacophonous. Coupled with a mod love song, Raindrops Keep Falling on My Head — wedged in while Newman does stunts on a bicycle — the score makes the film as absurd and anachronistic as the celebrated Smothers Brothers cowboy who played the kerosene-powered guitar."
Critics felt the happy-go-lucky "Raindrops Keep Falling on My Head" was an odd choice for Hill's adventurous shoot 'em up. 20th Century Fox board said the song's placement in the film was "too risky and unconventional," Robert Redford felt the choice was terrible, and singer B.J. Thomas' agents thought it would destroy his career. However, the song made narrative sense to Thomas because it is "an American song. The song came from Butch, and it says as long as you're free, you're okay. It worked for me." (via Vanity Fair). The lightness in Thomas' voice, the song's rat-a-tat-tat simplicity, and playful circus-style interlude against the sunny, pastoral landscape conveys the sweetness of Sundance's relationship with Etta (Katharine Ross) and the overall tranquility before chaos ensues. 
This inventive use of soundtrack was part of a larger wave of filmmaking that was changing the cinematic landscape during the late 1960s and early 1970s. 
The New Hollywood Movement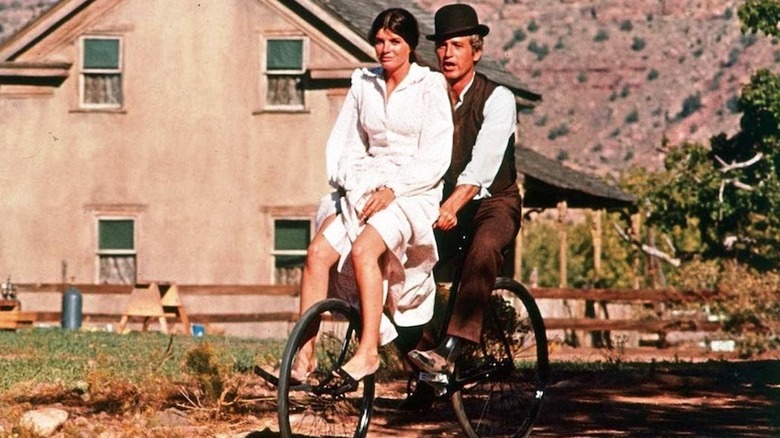 Twentieth Century Fox
"Butch Cassidy and the Sundance Kid" was misunderstood during its release because the New Hollywood movement was still in its early years. A group of talented young filmmakers — such as Peter Bogdanovich, Martin Scorsese, and George Roy Hill — were taking formal risks that were new to mainstream audiences. Their films had a wild, imaginative style influenced by European and Asian art cinema and movements such as Italian neorealism or the French New Wave. Films made during this time period broke free from the traditions of classical Hollywood filmmaking, corresponding with the tempestuous cultural climate; the horrors of the JFK assassination, the anti-Vietnam War movement, civil rights protests, and threat of nuclear war enabled these radical films to flourish. 
New Hollywood films rejected the rules of the studio system for non-linear narratives that often "prompt spectator responses more uncertain and discomforting." Film studies professor Todd Berliner also notes that they "place an uncommon emphasis on irresolution, particularly at the moment of climax or in epilogues, when more conventional Hollywood movies busy themselves tying up loose ends (via The Take). A great example of this is the freeze frame ending in "Butch Cassidy and the Sundance Kid," where Hill "transforms the duo's certain deaths into something wholly triumphant and poignant," rather than providing straightforward answers about their fate.
Hill disregards standard western genre conventions to reflect on male bonding in a more spirited way. Butch and Sundance are not the stoic and macho western heroes of yore, but fumbling, quick-witted companions who willingly admit their weaknesses. The cheery "Raindrops Keep Falling on My Head" certainly doesn't match the rugged masculinity of John Wayne-era films. Using popular soundtracks in creative ways was another aspect of New Hollywood films, a tradition that largely began with "The Graduate," which famously used Simon and Garfunkel to score Benjamin Braddock's growing pains. In 1971, another revisionist western would use contemporary music: "McCabe and Mrs. Miller." Leonard Cohen's languid "The Stranger Song" was the perfect choice for Robert Altman's melancholy film. 
"Butch Cassidy and the Sundance Kid's" insertion of a modern pop song into a period western was met with controversy simply because audiences were still getting used to Hollywood's inventive new style. George Roy Hill's use of "Raindrops Keep Falling on My Head" shows how exciting it can be for filmmakers not to limit themselves to arbitrary rules about time periods, but instead choose music that communicates the feeling of the scene.