The 14 Best Gene Kelly Movies Ranked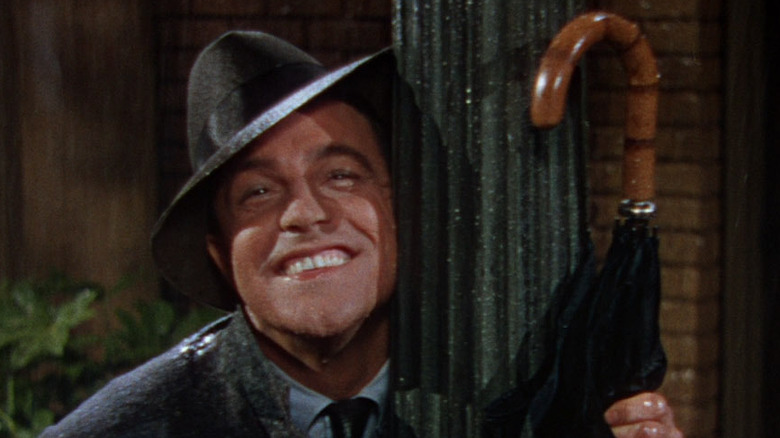 MGM
Gene Kelly was one of the most influential dancers of the 20th century. While the more formal Fred Astaire was known for wearing top-hat-and-tails in ballroom dances such as the foxtrot and quickstep, Kelly brought a looser, more energetic, and modern style of dance to the Hollywood musical. 
As a director, choreographer, and performer, Kelly exploited film for what it could bring to dance that the stage couldn't. Kelly used innovative techniques that can be seen in the split-screen dance in "It's Always Fair Weather," the dance with his reflection in "Cover Girl," and in the incorporation of animation in "Anchors Aweigh." He would also use the camera as part of the dance, making it move through and with the dancers.
It was Kelly's use of a modern style of ballet in the Hollywood musical that created some of the most spectacular scenes ever seen in cinema and which had a lasting impact on both film and dance. In "Singin' in the Rain" and "An American in Paris," the ballet sequences form some of the most breathtaking and sumptuous visuals of all time. Kelly's collaborations with Judy Garland, Frank Sinatra, and Cyd Charisse helped establish him as one of the foremost stars of the classic Hollywood era. Join me on a tour of 14 of Gene Kelly's best movies.
14. Take Me Out to the Ball Game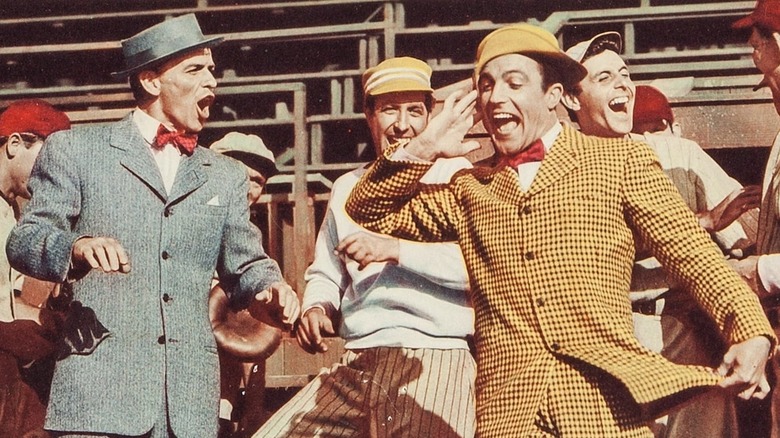 MGM
Although "Take Me Out to the Ball Game" is officially a Busby Berkeley musical, it's based on a story by Stanley Donen and Gene Kelly. "Take Me Out to the Ball Game" is set in 1908 and stars Kelly and Frank Sinatra as part-time baseball players and part-time vaudevillians. The title song is the most well-known and an unofficial anthem for the sport. The third star is bathing beauty Esther Williams, who more than holds her own as the new owner of Kelly and Sinatra's team.
There's an all-American theme running through proceedings, from Kelly and Sinatra proudly singing about how they broke hearts in every state while on tour in "Yes, Indeedy" to the wonderful ensemble number, "Strictly USA." There's also a nod to Kelly's Irish roots in "The Hat My Dear Old Father Wore Upon St. Patrick's Day."
Coming out in the same year as "On the Town," this baseball-themed musical was a hit on a similar scale but wasn't destined to have the same lasting impact as that other Kelly-Sinatra team-up. "Take Me Out to the Ball Game" still has its charm, particularly in Williams, and is worth watching as a comparison.
13. What a Way to Go!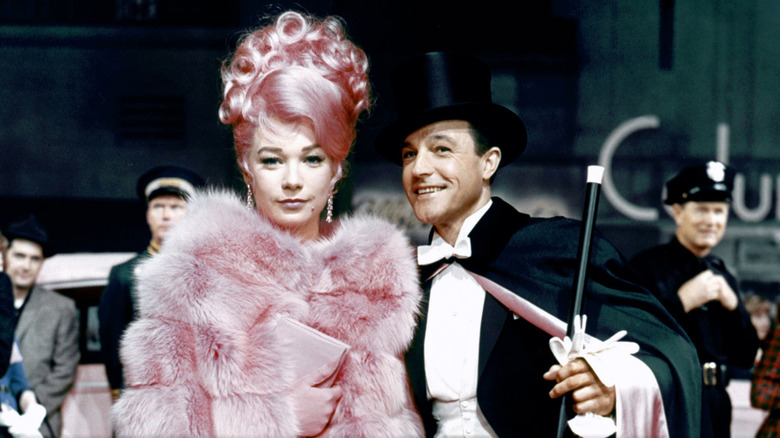 20th Century Fox
If someone asked, "What is the most '60s movie you can think of?" this bizarre mash-up of different movie styles in one psychedelic fever dream would be a great answer. "What a Way to Go!" sees Shirley MacLaine telling the tales of her four husbands, played by Dick Van Dyke, Paul Newman, Robert Mitchum, and Gene Kelly, and how each one got fantastically rich but met untimely deaths. Newman and Mitchum are both fishes-out-of-water in this raucous comedy, but song-and-dance-men Van Dyke and Kelly are at home amongst the ridiculous sets and silly costumes.
The marriage of Louisa (MacLaine) and Pinky (Kelly) is a visual highpoint of this wacky ride because Pinky likes everything to be pink. There's a pink poolside scene in which MacLaine wears a stunning black bikini, then the film premiere in which Kelly wears a pink silk-lined cape and MacLaine wears a pink chinchilla coat. Preceding this, there's a musical sequence on their "Houseboat on the Hudson" that parodies the kinds of lavish musicals that Kelly made in the early '50s. It's fun to see Kelly do a comedic take on a younger version of himself, who perhaps did take things too seriously at times.
Watching "What a Way to Go!" is a bizarrely fun experience, and Shirley MacLaine is one lucky gal!
12. The Pirate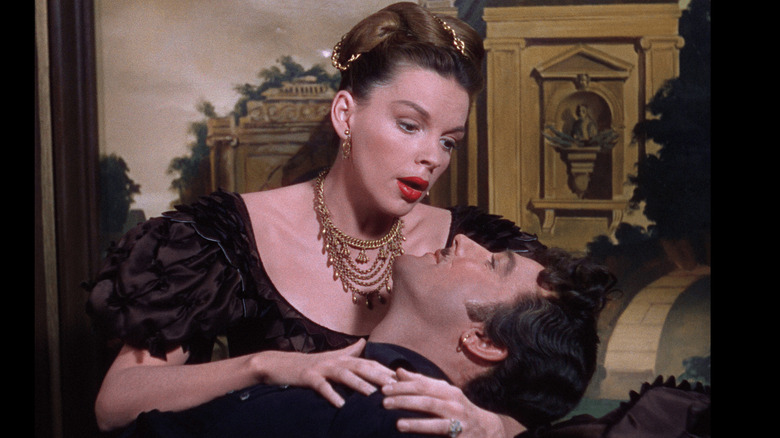 MGM
Gene Kelly starred in two period movies in 1948, and both could be described as swashbucklers: "The Three Musketeers," featuring a miscast Kelly playing D'Artagnan, and "The Pirate" in which Kelly' based his performance on his childhood hero Douglas Fairbanks. "The Pirate" is the funnier, livelier, and more musical of the two, suiting Kelly much better. 
"The Pirate" has songs by Cole Porter, is directed by Vincente Minelli, and stars Judy Garland, as Manuela, a girl who dreams of being swept away by the dread pirate Macoco but is engaged to the town mayor, Don Pedro. When Serafin (Kelly) comes to town with his traveling circus, he immediately falls in love with her. Much farce ensues, with mistaken identities, hypnotism, and more. Walter Slezak is great as the villain, Don Pedro, and whatever was going on behind the scenes with the troubled Garland never bleeds into her polished performance onscreen.
As with "Summer Stock," the best-known song-and-dance number is not representative of the movie as a whole. Here, it's "Be a Clown," which comes in the finale after Manuela has joined Serafin's circus. Seeing Kelly in his pirate costume (including mustache and earring), with a determination to seduce all of the ladies in the town sure is fun, especially when he scoops a lit cigarette into his mouth so he can kiss a girl. "The Pirate" is wildly entertaining and a great vehicle for both Garland and Kelly's talents.
11. Xanadu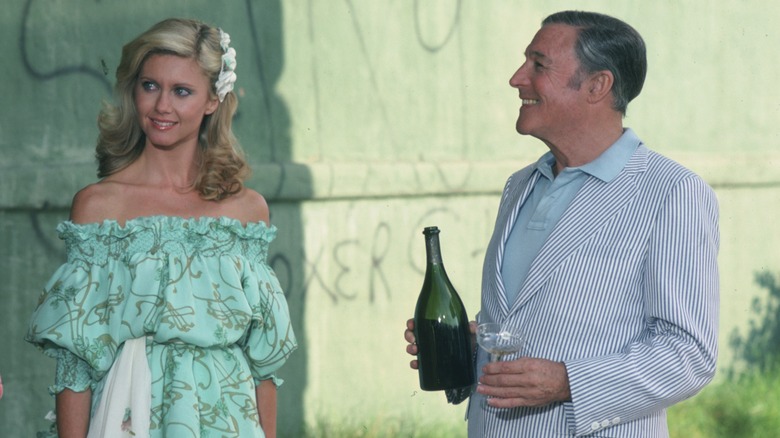 Universal
Seeing Gene Kelly flung out of the "golden age of musicals" era that we know and love him for is always going to be a curiosity. However, his turn the 1980 roller-disco musical "Xanadu" is a lovely swan song to his career. His role was written to cater to his strengths. The film even features Kelly tap-dancing and doing a World War II-era number with Olivia Newton-John called "Whenever You're Away From Me."
Kelly's character's name is Danny McGuire, the same as in 1944's "Cover Girl." That surely can't be a coincidence. Although Michael Beck is something of a charisma-vacuum in the lead role of Sonny Malone, Kelly has some delightful chemistry with him as a mysterious mentor and benefactor. His scenes with Newton-John are also great. Still, the whole thing escalates into increasingly bizarre musical numbers towards the end with the many costume changes of "All Over the World." They even manage to get Kelly into a pair of roller skates for "Xanadu."
With more rotating dynamic cuts, colorful dissolves, and crazy, swiveling wipes than you shake a stick at, "Xanadu" is the ultimate 1980s movie, and that's before you even add rollerskating,  ELO, and Olivia Newton-John. I'm just happy that Kelly got to have one last, wild adventure in the world of movie musicals before tapping out.
10. Anchors Aweigh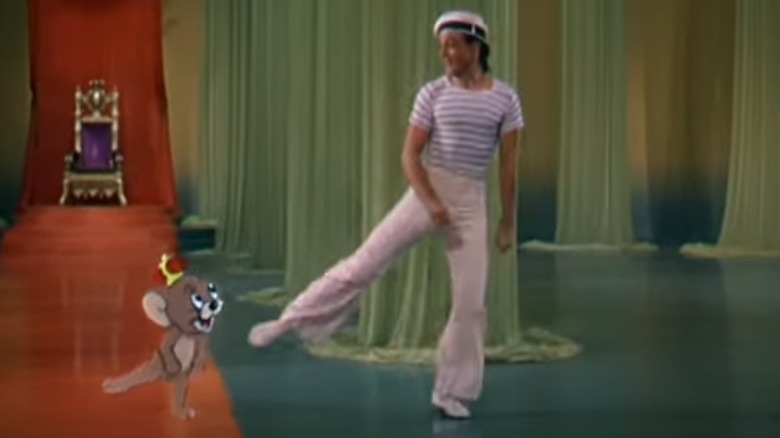 MGM
Gene Kelly starred in three World War II musicals that feature small groups of sailors or soldiers in the big city for one wild weekend. The first was "Anchors Aweigh," and unlike the latter two, "On the Town" and "It's Always Fair Weather" which were both set in New York, this one is set in Los Angeles and is more about Hollywood than the war. "Anchors Aweigh" was also the first of three movies that saw Kelly co-star with Frank Sinatra. Their contrasting energies work well in their collaborations.
"Anchors Aweigh" is best known for an innovative sequence in which Kelly dances with Jerry, the famous cartoon mouse. It works so well because Kelly sells Jerry being there. Just as when he dances with the umbrella in "Singin in the Rain" or a sheet of newspaper in "Summer Stock" or his reflection in "Cover Girl," he could make an inanimate object or an animated character come to life in any musical number.
Sinatra plays against type as the shy Clarence, and Kelly plays the more worldly Joe. "Anchors Aweigh" is also notable for Dean Stockwell's early role as Donald, the kid that Clarence and Joe end up taking under their wing. It's always nice to see some old Hollywood sites such as the Hollywood Bowl and the MGM lot. The movie does have quite a lot to offer outside of its most famous scene.
9. Brigadoon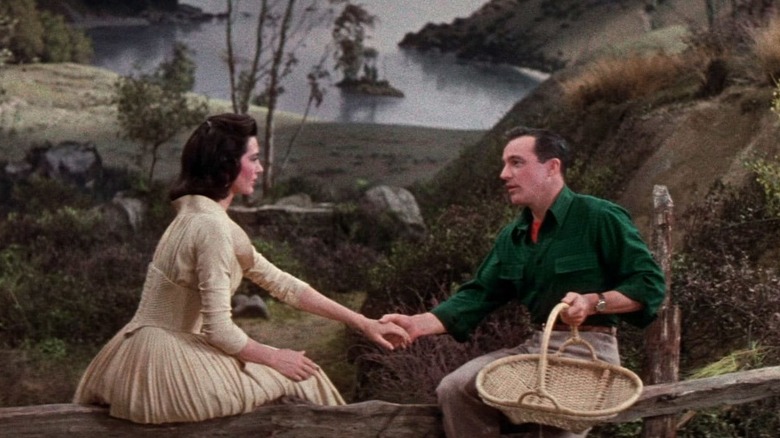 MGM
Another lavish Vincente Minelli musical for Gene Kelly, lots of things about "Brigadoon" shouldn't work, including casting Cyd Charisse as an 18th-century Scottish woman and attempting to replicate the Scottish highlands on Hollywood sound stages. Nevertheless, the film ends up having a charm — maybe because of those very factors. The sets and backdrops in particular give the whole film a hyperreal, dreamlike quality which is fitting for a tale of a magical village that appears for just one day every century.
The greens and reds in "Brigadoon" are gorgeous, and the costumes are, of course, a highlight that can be seen on full display in crowd numbers such as "I'll Go Home with Bonnie Jean." In the best friend role, Van Johnson makes a good companion for Kelly.
One of the best sequences is shortly before the finale when Kelly's Tommy Albright returns to New York. There's a busy bar-restaurant scene that is in stark contrast to everything that has preceded it. Kelly's acting is great here, as he finds the crowds, his friends, and his fiancée unbearable. All he can do is dream of Charisse's Fiona and the Scottish wilds. "Brigadoon" is not as full of memorable numbers as some of Kelly's other classic musicals, but it certainly has a sensual visual appeal.
8. On the Town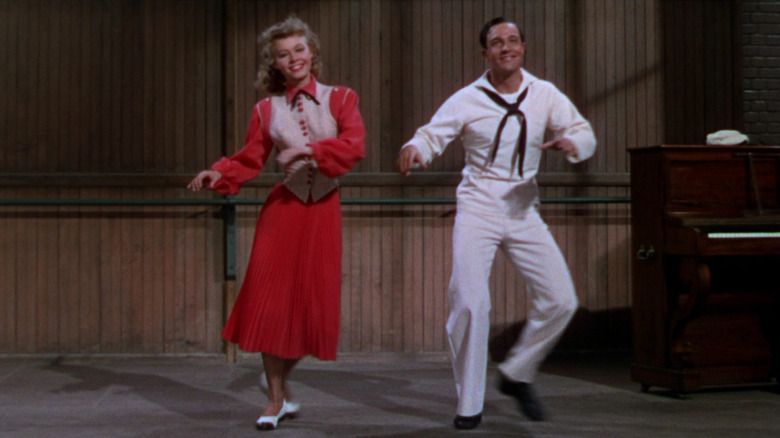 MGM
New York, New York, it's a wonderful town! So wonderful that Stanley Donen and Gene Kelly wanted to film on location there as much as possible for their first directorial collaboration, "On the Town." Co-starring Frank Sinatra and Ann Miller, it tells the tale of three sailors on a 24-hour leave in New York City. "What can possibly happen in just one day?" you may ask. It turns out, plenty! Vera-Ellen plays Kelly's love interest, Ivy Smith, who he ends up pursuing for the whole day with the help of his friends.
Vera-Ellen impresses in the "Miss Turnstiles" sequence which sees plenty of costume changes and athleticism. "Prehistoric Man," led by Ann Miller, is one of the most fun sequences (although it is slightly painful to watch towards the end). Singing "On the Town" on top of the Empire State Building is as about as New York as it gets. This being a Gene Kelly movie, he gets to do balletic fantasy in "A Day in New York."
Sinatra and Kelly were a great team, and the location shooting does make "On the Town" stand out from other musicals of the era. "On the Town" is a wonderful World War II-era, New York musical that's a fun ride from beginning to end.
7. Cover Girl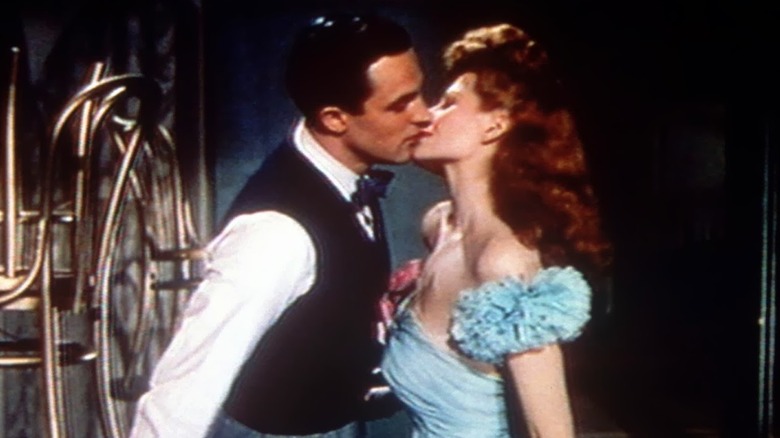 Columbia Pictures
Rita Hayworth is the star of the show in this lovely movie that was a wartime hit and also helped establish Gene Kelly as a musical star. Hayworth plays Rusty, a nightclub dancer who becomes a famous magazine cover girl. This puts a strain on her relationship with her boyfriend, Danny McGuire (Kelly), who runs the nightclub act. 
Eve Arden (who would go on to play Principal McGee in "Grease") as Cornelia Jackson is a highlight in terms of casting. Her line deliveries and facial expressions make her one of the most gifted comediennes of the era. Phil Silvers also helps bring the physical comedy. The "cover girl" sequence in which we see the covers of Harper's Bazaar, Vogue, Cosmopolitan, and Glamour come to life with models in various gorgeous costumes is a visual spectacular.
Kelly's "Alter-Ego Dance," in which he dances with his reflection, is a classic musical number that helped him gain greater control over the choreography and direction in his future projects. Although her singing voice was dubbed, Hayworth's dancing is impressive, and she has great chemistry with both Silvers and Kelly. "Cover Girl" is essential to seeing the start of the Kelly we would come to know and love in the musicals still considered classics today.
6. Summer Stock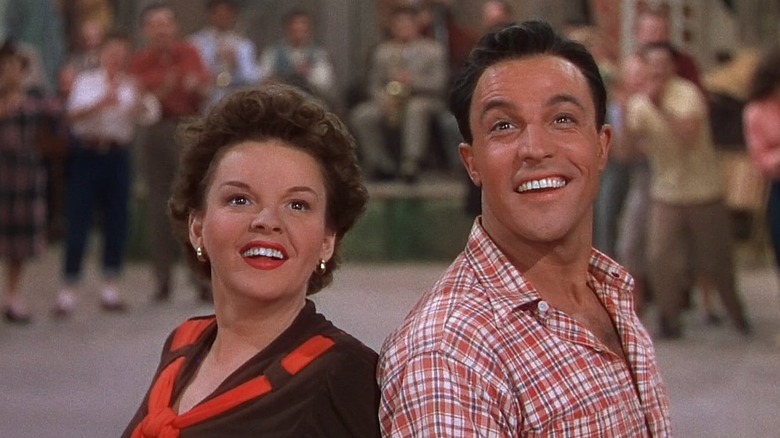 MGM
A movie filled with "let's put on the show right here!" energy, Gene Kelly and his traveling theatrical troupe once again roll into town and sweep Judy Garland off her feet in "Summer Stock." Garland plays a sensible girl who's trying her hardest to keep the family farm going while her flighty actress sister (Gloria DeHaven) does what she wants. She reluctantly agrees to let Kelly's band of players use her barn in exchange for helping around the farm. 
Phil Silvers (who would become best known as Sergeant Bilko) teams up with Kelly for the second time, displaying his gift for farcical physical comedy and slapstick. It's always interesting to see Kelly playing a hard taskmaster director (as he does here, in "Cover Girl," and in"Les Girls"), as we know that he could very much be like that in real life. Of course, he gets softened by the love of a good woman, and nothing can beat Kelly in romantic mode. The looks he gives his leading ladies are absolutely swoon-worthy.
"Summer Stock" is probably best known for Garland's "Get Happy" number in which she wears a sexy black tuxedo jacket and fedora ensemble. "Summer Stock" is a colorful, energetic, and funny movie, and the Kelly-Garland partnership is wonderful.
5. It's Always Fair Weather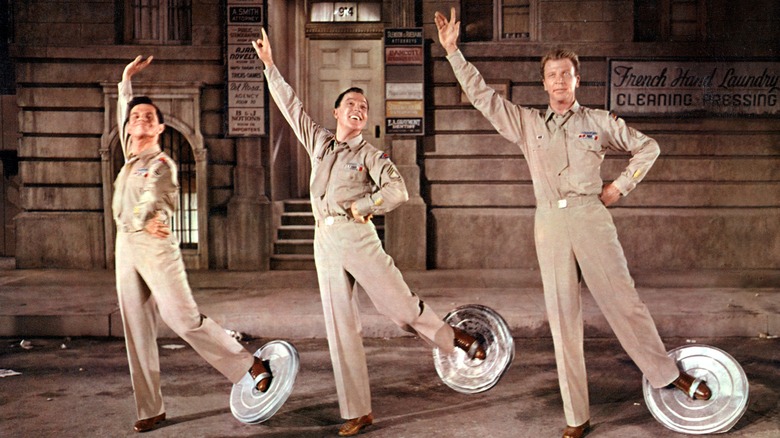 MGM
While "It's Always Fair Weather" has touches of both "Anchors Aweigh" and "On the Town," as it starts with three soldiers celebrating the end of World War II in New York. Made 10 years after the war, it is surprisingly reflective of the sometimes difficult transition to civilian life that soldiers sometimes face. "It's Always Fair Weather" is also about the nature of friendship, showing that the bonds formed in war don't necessarily translate to "normal" life. The dawning realization of "I Shouldn't Have Come," set to "The Blue Danube," when the trio is reunited is very funny.
Like "Singin' in the Rain" and "On the Town," this film was co-directed by Stanley Donen and Gene Kelly. The differences in height among the principal cast of Kelly, Dan Dailey, and Michael Kidd give the dance sequences a dynamism before they even start. An undoubted highlight is "The Binge" which features the trio dancing with trash can lids. The innovative techniques continue with the split-screen effect used in "Once Upon a Time" and Kelly rollerskating through the streets in "I Like Myself." Cyd Charisse is also here, and she once again gets to wear a knock-out ensemble. 
While the themes are more downbeat than your average MGM musical, this darker tone makes "It's Always Fair Weather" interesting. Some great comedy and thrilling dance sequences make this one of Kelly's best.
4. The Young Girls of Rochefort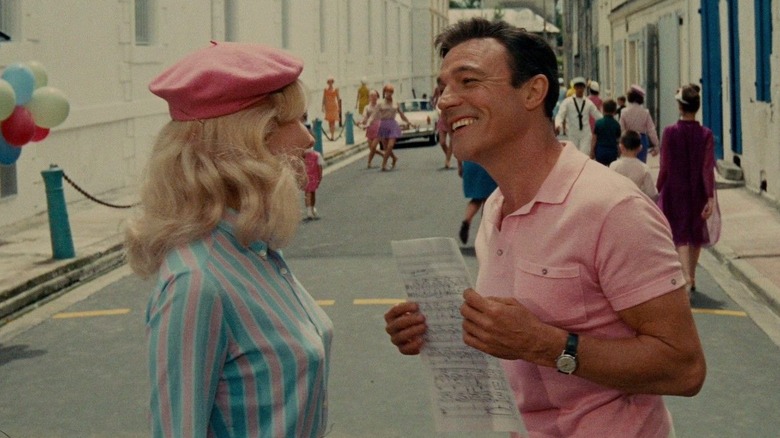 Comacico
A candy-colored extravaganza that uses the same bright aesthetic as director Jacques Demy's "The Umbrellas of Cherbourg,"  this musical is another feast for the eyes. Kelly was 55 by the time "The Young Girls of Rochefort" came around, and although he does seem a little too old for the role, both he and George Chakiris (best known for "West Side Story") bring the Hollywood musical to the French setting. 
Having made "An American in Paris" and "Les Girls," Kelly was something of a Francophile. He replicates some of his choreography from "An American in Paris" with Françoise Dorléac in the music shop scene towards the end. It's a shame that Kelly's lovely singing voice is dubbed. His introduction, in which he dances among sailors, schoolboys, and other citizens of the town while wearing a pink shirt, is a delightful number.
While none of the love stories in "Rochefort" are as heart-wrenching as the central one in "Cherbourg," "The Young Girls of Rochefort" is still a gorgeous, fresh take on the musical. The use of practical locations, the old Hollywood-style choreography, the romantic sincerity, and the costume design (which is to die for), all combine into something you want to dive into and revel in for a couple of hours.
3. Singin' in the Rain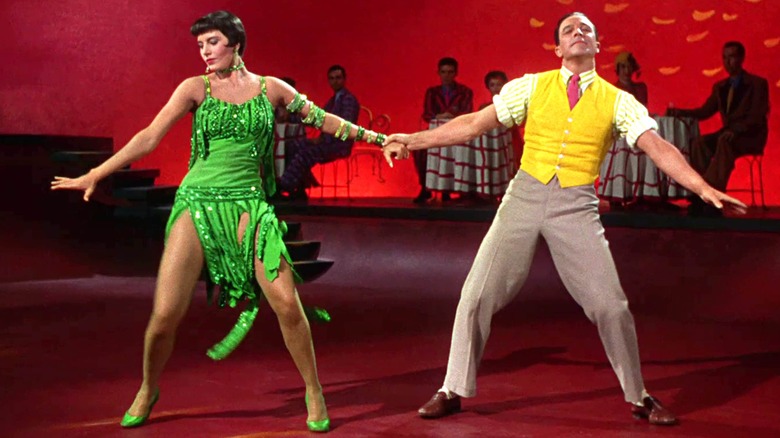 MGM
It may be controversial to have one of the widely agreed-upon best movies of all time at No. 3, but these top three are all five-star masterpieces. "Singin' in the Rain" really has everything. Highlights include Donald O'Connor's extraordinary physical prowess in "Make 'Em Laugh," Jean Hagen's hilarious performance as Lina Lamont, the sublime synchronicity of "Moses Supposes," and the amazing "Broadway Melody."
Debbie Reynolds, who was 20 years younger than Kelly, wrote in her memoir that he was extremely critical of her on-set and that her feet bled after filming the "Good Morning" number. However, it's hard to argue that "Good Morning" segueing into "Singin' in the Rain" isn't one of the most thrilling sections of any musical. Although Kelly has danced better than in the famous rain-soaked number, the song combined with his lovesick, childlike exuberance is what makes it so iconic. Cyd Cherise is stunning in her iconic green dress in the "Broadway Melody" number.
This movie has so many different dance styles that it's a mind-blowing visual feast. More than just a musical extravaganza, the film is also a funny and clever commentary on Hollywood's transition from silent movies to "talkies." "Singin' in the Rain" is a phenomenal achievement and deserves its lofty reputation.
2. Hello, Dolly!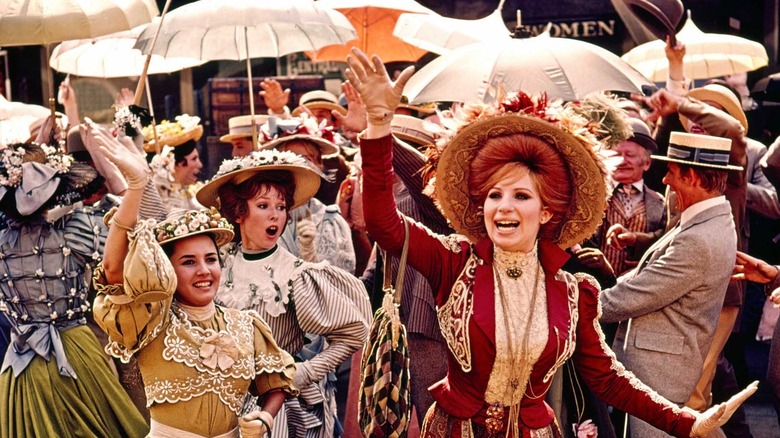 20th Century Fox
With films such as "My Fair Lady," "Oliver!" "Chitty Chitty Bang Bang," "Bedknobs & Broomsticks," and "Mary Poppins," the 1960s were the heyday of lavish big-budget musicals set in the 19th century. Gene Kelly's "Hello, Dolly!" stands out because it's set in New York instead of London, and being from 1969, it was a swan song for the subgenre. From the cast of thousands to the gorgeous sets (especially the Harmonia Gardens Restaurant) to the beautiful costumes, every cent of the gargantuan budget is on the screen. Barbra Streisand's hat budget alone must have been through the roof!
With the one-two punch of "Funny Girl" and "Hello, Dolly!" Streisand burst onto the scene as a fully-fledged, bonafide star. The undoubted highlight is the "Put On Your Sunday Clothes" number (a scene which WALL-E the robot will enjoy 800 years in the future). The Harmonia Gardens set is used for a good thirty-minute portion of the film, including the "Hello, Dolly!" sequence with Louis Armstrong. It's easy to understand why this huge and expensive set was used for so much of the film. How there isn't a Harmonia Gardens recreated in Vegas is beyond me.
"Hello, Dolly!" is a sumptuous feast for the eyes and ears and the last hurrah for Kelly as a director of movie musicals.
1. An American in Paris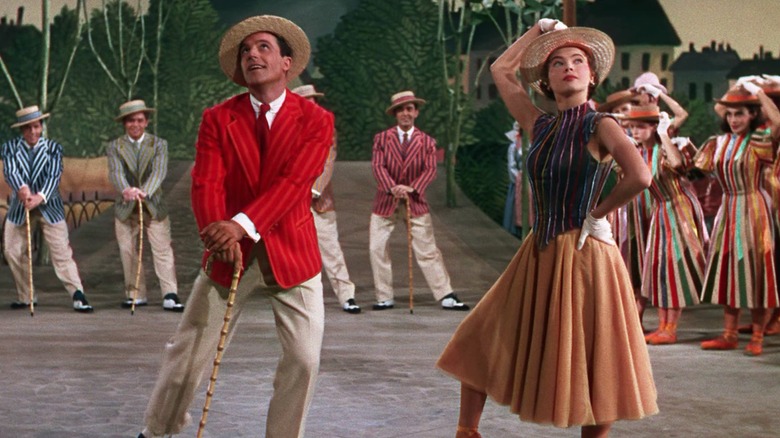 MGM
If your favorite part of "Singin' in the Rain" is the "Broadway Melody" ballet, then the musical Gene Kelly made the preceding year must feel tailor-made for you. In Vincente Minelli's "An American in Paris" (featuring music by George Gershwin), Kelly plays a struggling artist who falls in love with Lise (Leslie Caron). Their moonlit stroll on the banks of the Seine and the dance that accompanies "Love is Here to Stay" make for one of the most lushly romantic scenes of any movie.
The upbeat numbers "I Got Rhythm" and "S'Wonderful" are delightful, and although it was all filmed on the MGM lot, the use of extras (particularly the kids) and the production design do a good job of recreating the bustling feel of Paris streets. The black-and-white New Year's Ball is an amazing showcase for Orry-Kelly's costumes. What sets "An American in Paris" apart is the 17-minute ballet sequence at the end with its stunning sets, costumes, music, and dance.
"An American in Paris" is everything you could want from an MGM Hollywood musical. It is a peak example from the hey-day of the form. The Gershwin music, the Orry-Kelly costumes, and Gene Kelly at the top of his game combine to make this best picture Oscar winner one of the greatest musicals of all time.