Maya Hawke Thought Stranger Things Season 4 Went Too Easy With Its Deaths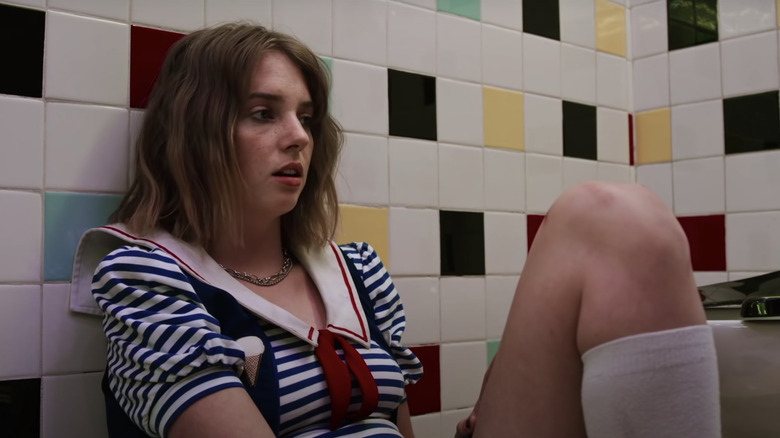 Netflix
Millie Bobby Brown isn't the only "Stranger Things" cast member who thinks the show should be more ruthless about killing off characters. In recent weeks, Maya Hawke — who of course, plays Robin Buckley on "Stranger Things" — has ventured out with a role in another Netflix title, "Do Revenge," the promotion of which saw her sitting down with her co-star Camila Mendes ("Riverdale") for a lie detector test via Vanity Fair. The questions veered straight into the Upside Down territory of spoilers, so if you aren't caught up with "Stranger Things" season 4 yet, look away now.
Mendes asked Hawke point-blank if she thought Eddie Munson (Joseph Quinn) should have died in season 4, to which Hawke responded, "I don't think he should have died, but I do think the show has too many characters." When asked if she thought anyone else should have died (to help whittle down the show's sprawling cast), Hawke said, "Yes, I think more people should have died." Yet she would not elaborate on who specifically was deserving of death, preferring instead to steer Mendes back to simple "yes or no questions."
You can see the full exchange between the two actresses in the video below. The question about Eddie's death starts at the 16:58 mark.
'This is Hawkins, it's not Westeros'
"Stranger Things" has had its share of character deaths, beginning with Barb Holland (Shannon Purser) in season 1. As of yet, though, we haven't really seen the show dispatch one of its core characters. Instead, it tends to introduce new supporting characters and then kill them off within one or two seasons, as it did with Bob Newby (Sean Astin) in season 2, Billy Hargrove (Dacre Montgomery) and Alexei (Alec Utgoff) in season 3, and Eddie in season 4. 
Hawke's comments in the above video harken back to what Millie Bobby Brown said over the summer about how "Stranger Things" needs "to have the mindset of 'Game of Thrones'" and not be afraid to kill characters off. She joked that showrunners the Duffer brothers "are sensitive Sallies who don't want to kill anybody off," citing the example of Jim Hopper (David Harbour), who was presumed dead, only to turn up alive in a Russian prison. (Another example is Sadie Sink's Max Mayfield, who seemed marked for death by Jamie Campbell Bower's Vecna, but is now in a coma.)
Matt Duffer responded to this on an episode of the Happy Sad Confused podcast by saying, "Believe us, we've explored all options in the writing room. Just as a complete hypothetical, if you kill Mike [Finn Wolfhard], it's like... that's a depressing... we aren't 'Game of Thrones.' This is Hawkins, it's not Westeros."
"Stranger Things" is headed into its fifth and final season after this, so if the Duffer brothers want to raise the dramatic stakes and give the show an epic conclusion, who knows, maybe they will be a little more ruthless about killing off characters before the end. In the meantime, the first four seasons of "Stranger Things" are now streaming on Netflix.