Titans Season 4 Teaser And Clip Showcase Brother Blood And A Bearded Lex Luthor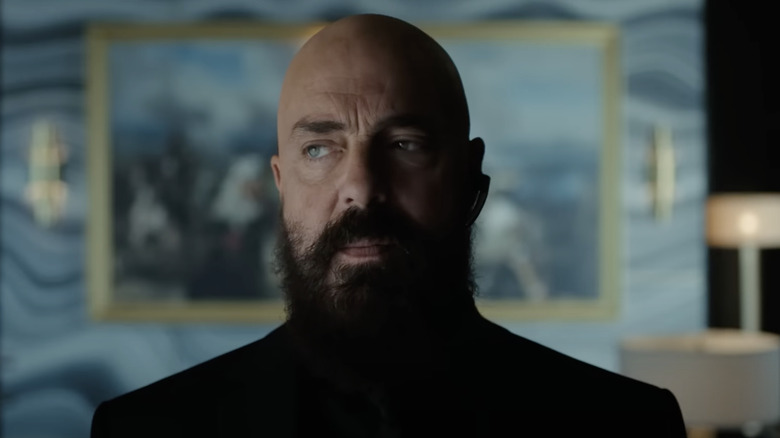 HBO Max
DC's live-action "Titans" series is returning to HBO Max early next month, and in tandem with New York Comic-Con this past weekend, the streamer has released an official teaser and clip giving fans a taste of some new villains who are coming to the show in season 4. Developed by Akiva Goldsman, Geoff Johns, and Greg Berlanti, "Titans" is going the route of many a streaming series and splitting this season up so that it's only part 1 of season 4 that is coming your way next month.
Let's start by looking at the teaser, which you can see below.
Watch the Titans season 4 teaser
The teaser doesn't show much, just arcane symbols and a hand rising out of a vat of blood while chanting goes on in the background. The chanting sounds similar to what we heard a decade ago in "The Dark Knight Rises," but of course, this ain't a Batman movie, and Titans team leader Nightwing (Brenton Thwaites) might take offense to the implication that it is, since he's been known to say, "F*** Batman."
No, knowing comic book history, that's more likely the Cult of Blood, not the League of Shadows, in the "Titans" season 4 teaser. The hand itself belongs to Brother Blood (not Ra's al Ghul, who did cameo in "The Dark Knight Rises" and had his own green Lazarus Pits that he rose out of in "Batman: The Animated Series.")
In "Titans" season 4, Joseph Morgan plays Brother Blood, who was created by Marv Wolfman and George Pérez and first appeared in "The New Teen Titans" #21, published by DC Comics in 1982. Earlier this year, the actor discussed bringing the character to life and how he would not be Brother Blood right away, saying (via ComicBook.com):
"What's been hugely enjoyable for me – in fact, this is the reason I wanted to do this part in the first place – is that as you know, I'm playing a character called Brother Blood. But that's not where he starts off, he starts his journey as Sebastian Sangue and it's really an origin story of a villain that we're playing out here. What's been incredibly rewarding for me – and will continue to be, I think – is exploring how he gets from being Sebastian to becoming Brother Blood."
Happy rush hour, Metropolites
More exciting, perhaps, than any bloody hand is the debut of "Bosch" star Titus Welliver as Lex Luthor himself in "Titans" season 4. The clip above begins with the Titans in traffic in Metropolis. Superheroes are just like us, it seems: they pose for pictures with their bo staffs and their phones die, at least when they have villains who want to get their attention.
"I know this might seem like a bit much," Luthor says as he hijacks a frequency that only Superboy (Joshua Orpin) can hear. Then, at last, we see Luthor's bearded (but still bald) head, and between him and Brother Blood, it looks like the Titans have their work cut out for them in season 4.
"Happy rush hour, Metropolites." Season 4 of "Titans" premieres on HBO Max on Thursday, November 3, 2022.