How John Lithgow Dodged A Common Sitcom Problem With 3rd Rock From The Sun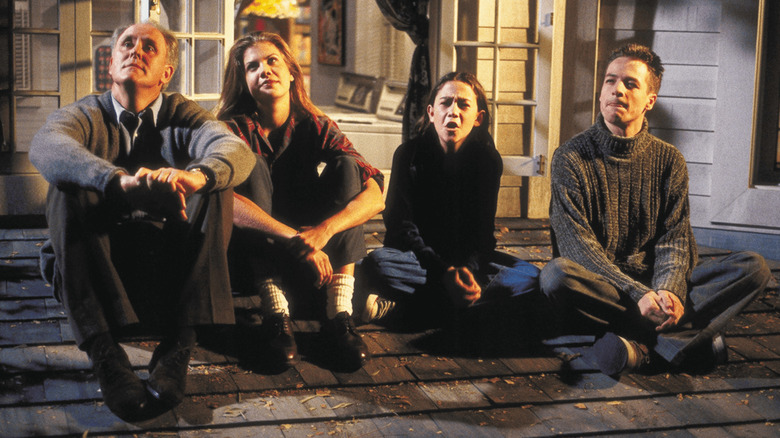 Carsey-Werner Distribution
When the creators of the '90s NBC sitcom "3rd Rock from the Sun" developed the idea about an alien family posing as humans on earth, they did so with the hopes of casting John Lithgow as its central protagonist, Dick Solomon. Lithgow got on board, breaking his own biggest rule in Hollywood, which was to never do a sitcom. "The thing I disliked about the idea of doing a sitcom was that they would – that's all you would be able to do," he told the Los Angeles Times.  "People would only think of you that way. The way Carroll O'Connor could never escape Archie Bunker, as great a character actor as he was."
Some of Lithgow's peers may have something to say about this. Courtney Cox earned her fame from playing Monica Geller on the sitcom "Friends" while she simultaneously established herself as an iconic figure in the horror genre: does the name Gale Weathers ring a bell?  Even Carroll O'Conner found success after Archie Bunker. He had a successful run as the leading star of the crime drama "In the Heat of the Night," which aired on network television for seven seasons and earned him an Emmy Award for Outstanding Lead Actor in a Drama Series for his portrayal of Sparta, Mississippi Police Chief Bill Gillespie.
However, I get Lithgow's concern about sitcom stars becoming trapped by their own success. Jaleel White's inability to shake his Steve Urkel moniker from "Family Matters" is one example; Dustin Diamond and his Screech character from "Save by the Bell" also comes to mind. So, Lithgow was very strategic in avoiding the same pitfalls. 
Dick Solomon was not just Dick Solomon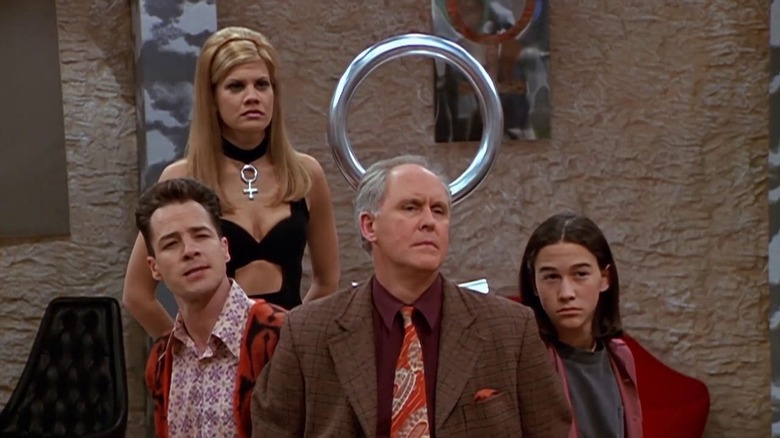 Carsey-Werner Distribution
Because the journey of the main characters from "3rd Rock from the Sun" is about their adaptation to society and wacky attempts to function as ordinary humans, it allowed John Lithgow to experiment wildly with Dick Solomon as the character discovers what kind of human he wants to be. "Dick Solomon was not just Dick Solomon," the actor told the LA Times. While Dick does have his own personality — a hilariously outlandish one I should add — viewers never know what to expect from the character from one episode to the next. "Anything could go! I could sing Gershwin songs, I could dance like Gene Kelly in 'Singin' In The Rain', I could dance like Michael Flatley, from Riverdance," Lithgow said. "It was just –- I could do anything!"
Because of this freedom, Lithgow, along with his co-stars, Kristen Johnston, Joseph Gordon-Levitt, and French Stewart, showed his range as an actor and helped made "3rd Rock from the Sun" one of the most unpredictable shows on TV at the time. Possibly, not only did this not trap him, but his showcase of range may have helped increase his stock. I'm now trying to think if there's any episode in particular that would have convinced the producers of the psychological crime drama "Dexter" that Lithgow would make the perfect Trinity Killer.