Here's Why Courteney Cox Doesn't Expect Gale Weathers To Die In The Scream Franchise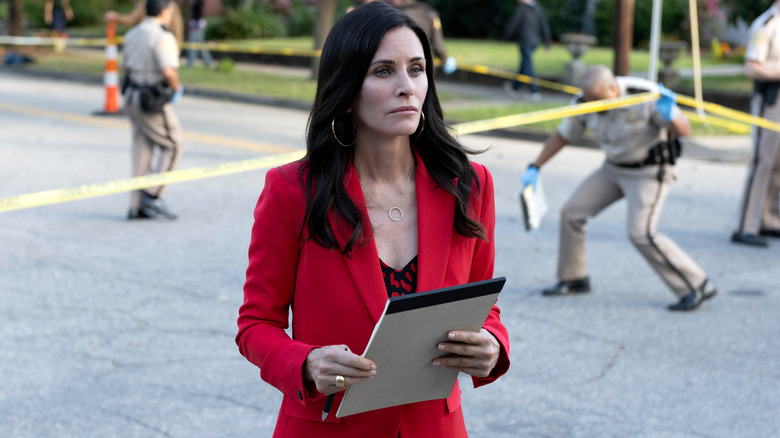 Paramount Pictures
As long as kitchen knives and Halloween masks are available to the folks of Woodsboro, there will always be a new Ghostface to rise from the ashes and terrorize some teenagers. At some point, this fictional town should probably be abandoned because nothing says red flag quite like multiple serial killers — but for now, the "Scream" franchise lives on.
After the box office success of this year's creatively titled sequel, "Scream," the series has been rejuvenated with a new ensemble of young protagonists. Now that they've got therapy bills, stab wounds, and lots of experience in a cat-and-mouse serial killer scenario, our new crop of survivors are gearing up for round 2. It didn't take very long after the film's warm reception for Paramount to greenlight a sequel that brings all the familiar faces back for more. And it's not just about the new kids on the block — "Scream 6" is also a return to the franchise's original players. Well ... some of them. Or maybe just the one. (Spoilers ahead for "Scream" 2022.)
Unfortunately, not everyone managed to make it through the fifth entry in the franchise. As far as we know, David Arquette has no plans to return as Dewey Riley given his tragic demise. As for Neve Campbell, it was previously reported that she won't return as the face of the franchise, Sidney Prescott, after receiving an underwhelming offer from the studio. So with Sidney and Dewey out of the picture, that leaves one member of the original trio to return.
Ghostface vs Gale Weathers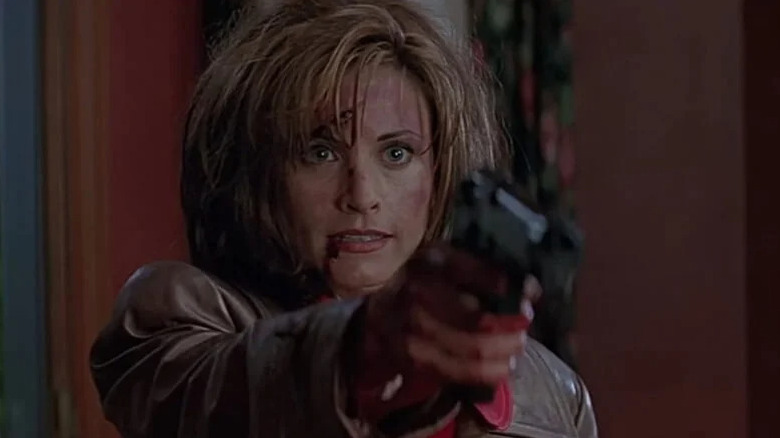 Paramount Pictures
Gale Weathers is set to return with yet another exclusive eyewitness account! Courteney Cox confirmed her return in back in March, and recently restated her intention to face off against Ghostface in an interview with Variety, saying, "I did not die so yes, you will see me." That joking comment could only mean one thing — Gale Weathers is eternal! So long as the relentless, scene-stealing reporter lives, she'll always follow the action and help unmask the killer. Of course, all of this does have a very dangerous "if" attached to it. For Gale to return, first she has to survive.
No one is ever safe in the "Scream" franchise, but for a little while, the Dewey-Sidney-Gale trio seemed immune to death. While they certainly found themselves in a number of bloody situations, they always managed to stitch it all up by the end and limp their way into the next movie (quite literally, in Dewey's case). But now that we've left the safety of the original films and shifted into legacy sequel territory, Gale is in a very special kind of danger. As the movie-obsessed teens of 2022's "Scream" explained, legacy sequels take special care to establish their stakes and assure us that everyone is in danger — and that means that everyone's fair game. Dewey learned this the hard way, which means Gale isn't safe either.
Can Gale Weathers survive? Courteney Cox has the answer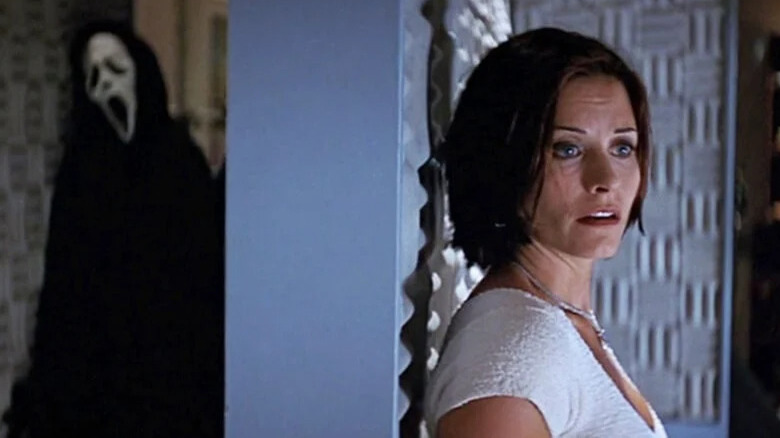 Paramount Pictures
If the recent updates on the Ghostface of "Scream 6" are any indication, then returning to the scene of the crime might not be in Gale's best interest. While chatting with Entertainment Tonight, "Scream" star Jenna Ortega teased that "Ghostface gets a lot more intimidating" in the upcoming film, adding:
"I just read part of the script, and it just gets more and more gory. I think that this is probably the most aggressive and violent version of Ghostface we've ever seen, which I think will really be fun to shoot."
Yikes. Things are looking pretty bleak for the latest batch of potential Ghostface victims. Is it time to start crossing fingers and worrying about Gale? Courteney Cox doesn't seem to think so. Along with confirming her return, she added: "Gale's pretty strong. She may not ever [die], but who knows!" She makes a valid point — at this point, the scrappy reporter has survived five different serial killers and a career in LA journalism. In other words, she's made of tougher stuff than some random psychopath behind a mask can handle.
Along with Cox's Gale Weathers, expect to see more of Melissa Barrera's Sam, Jenna Ortega's Tara, Jasmin Savoy Brown's Mindy, and Mason Gooding's Chad along with the much-anticipated return of Hayden Panettiere's Kirby. Henry Czerny, Dermot Mulroney, Jack Champion, Liana Liberato, Devyn Nekoda, and Josh Segarra are also said to be joining the cast. Directors Matt Bettinelli-Olpin and Tyler Gillett ("Ready or Not") are returning for "Scream 6," as are screenwriters James Vanderbilt and Guy Busick. Kevin Williamson, who wrote the original "Scream," is also returning to produce.