John Lithgow Originally Passed On Playing The Trinity Killer In Dexter, Even After Learning All The Secrets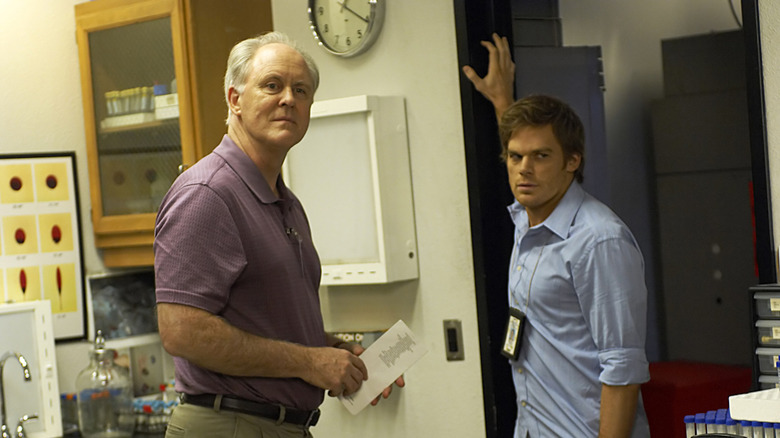 Showtime
John Lithgow is an actor you risk it all for. Since 1972, the "Blow Out" star has worked with an array of prestigious filmmakers, including Brian De Palma, Bob Fosse, Alan J. Pakula, Christopher Nolan, and most recently, Martin Scorsese. He's got Golden Globes, Primetime Emmys, Tonys, SAG Awards, and a tidy handful of Oscar and Grammy nominations. His television work in the '90s gained him even more recognition; his performance as Dick Solomon on the NBC sitcom "3rd Rock from the Sun" earned him three of his six Emmys. A fourth came from his turn as one of Dexter Morgan's most formidable foes, the Trinity Killer on the Showtime drama series "Dexter." In a brief career retrospective with Vanity Fair, Lithgow reveals that the role was practically handed to him – and he declined at first.
"I got a terrific pitch from Clyde Phillips. He and John Goldwin, the producer, sat with me at CAA and banished my agents. They said, 'Nobody else can hear this and you can't tell anybody about this, but we are going to tell you about the Trinity Killer.' And they told me the entire detailed unfolding story. But I kept saying, 'Well, wait a minute, what happened to the baby?' You know, things like that. They'd have to tell me, and I kept on saying, 'More, more, more,' to the point where they had given me way, way much more information than they intended. But they were trying to persuade me to take the part. Having heard all of that, I said no. 'I won't tell anybody any of this, but no. I'm not doing that.'
Lithgow goes on to tell VF that it took some convincing by his people, but he came around and joined the show as one of its greatest seasonal heavies.
Once, twice, three times a killer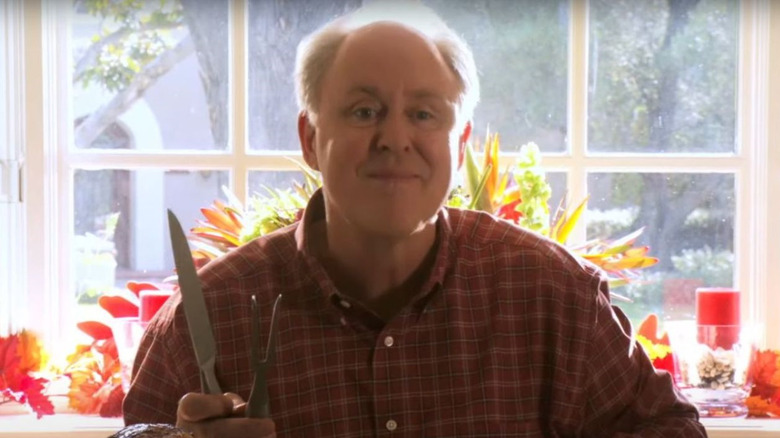 Showtime
By the time Lithgow joined "Dexter," the blood spatter technician (Michael C. Hall) had been analyzing blood spatter with Miami Metro Police, and practicing vigilante murder by night, for three seasons. There's always a serial killer who evades justice enough to justify a space in Dexter's plastic-lined kill room, and previous wolves like The Ice Truck Killer (Christian Camargo) and The Skinner (Jesse Borrego) were certainly vicious enough to warrant extrajudicial punishment. Season four brought forth a new kind of adversary, one who Dexter can't shake from his mind.
The Trinity Killer, alias Arthur Mitchell, was an older, more insidious killer. Traveling the country under the veil of his charity house-building organization, he operates in a different city for each set of murders. Every year, Mitchell orchestrated a specific pattern of deaths in a specific order: one victim bleeds out in a bathtub, the next is compelled to jump from a building, and the final victim is bludgeoned, completing a heinous trinity. 
This pattern would continue for three decades until Dexter gets involved. In the penultimate season 4 episode "Hello, Dexter Morgan," Mitchell succeeds in intimidating Dexter, casually unearthing a vulnerability previously unseen in the series. Before his reign is ended, Mitchell further succeeds in taking a part of Dexter with him, killing his wife Rita in the bathtub, per the Trinity m.o. Oscillating from cool family man to tortured soul to calculating butcher, Trinity became a pop culture staple beyond the series and earned a place among the top television baddies of all time. For his piercing performance in the episode "Road Kill" (an episode in which no one dies, funny enough), Lithgow would pick up another Primetime Emmy (his fifth) for Outstanding Guest Actor in a Drama Series before his return (as a vision) in "Dexter: New Blood."