Dexter: New Blood Image Reveals A Meeting Between Characters That Should Not Be Happening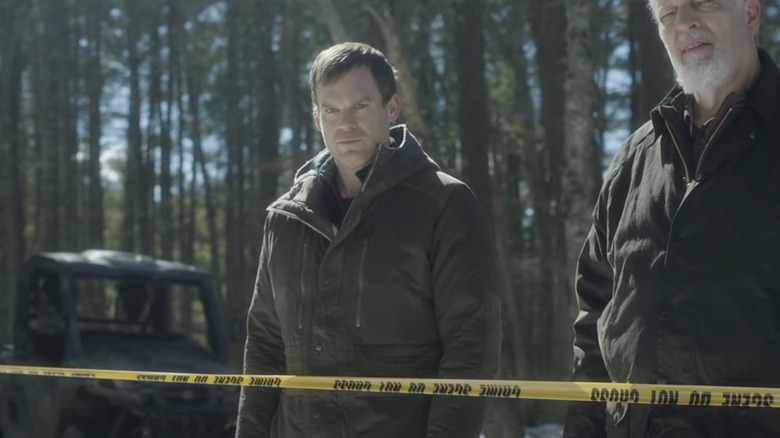 Showtime
"Dexter: New Blood" is a revival and continuation of Showtime's "Dexter" series, which ended eight years ago with a finale that left many viewers disappointed. Michael C. Hall steps back into the role of Dexter, the one-time blood spatter analyst and serial killer who preys on other serial killers. He's now in upstate New York instead of Florida (or Oregon, where we last saw him), and he's surrounded by a new cast of characters. But there might be one or two old familiar faces who show up as well.
If you haven't seen the previous eight seasons of "Dexter," or if you'd rather go into "Dexter: New Blood" without knowing anything else about it, look away now. Spoilers for the old series are fair game, and we'll also be discussing some details of the new series that are freely and publicly available to anyone who's not averse to TV marketing.
Let this recent trailer for "Dexter: New Blood" be your final warning:
As part of its look at fall 2021's new and returning shows, Entertainment Weekly has debuted a new promotional image for "Dexter: New Blood." In it, we can clearly see Dexter sitting across the table from his sister, Debra (Jennifer Carpenter).
But wait ... didn't Debra die? 
Yes, she did. We'll talk about the circumstances of her return in a second. But first, the image.
The Return of Debra Morgan (and the Trinity Killer)
Throughout the original series, Dexter's adoptive father, Harry Morgan (James Remar), regularly appeared to him in visions. It seems Debra has taken the place of Harry in "Dexter: New Blood." She's still dead but will pop up from time to time.
Speaking of guys named Harry (and dead characters returning), John Lithgow, who gave a standout performance as the Trinity Killer in season 4, will also be appearing in Dexter's visions. Lithgow played the dad in "Harry and the Hendersons," which followed a Seattle family as they had a run-in with Bigfoot.
By relocating from Oregon to New York, it seems like "Dexter: New Blood" missed out on a real opportunity for a "Harry and the Hendersons" crossover, with Dexter hunting Harry in full lumberjack regalia. Just picture it. Start the petition now: #ReleaseTheHendersonCut.
The eighth and final season of "Dexter" infamously ended with the titular killer becoming a bearded lumberjack. Even if you didn't see the finale, chances are you absorbed knowledge of it through pop culture osmosis. During a hurricane evacuation, Dexter took Debra off life support in the hospital, then took her out on a boat and buried her at sea.
He faked his death and went into hiding. Now he's living out his own version of the Jackie Daytona subplot from "What We Do in the Shadows."
As the trailer above tells us, he's an "evolving monster," a "wolf among sheep," still carrying his Dark Passenger.
"Dexter: New Blood" premieres on Showtime on Sunday, November 7, 2021.