John Lithgow Broke His Own Biggest Rule By Starring In 3rd Rock From The Sun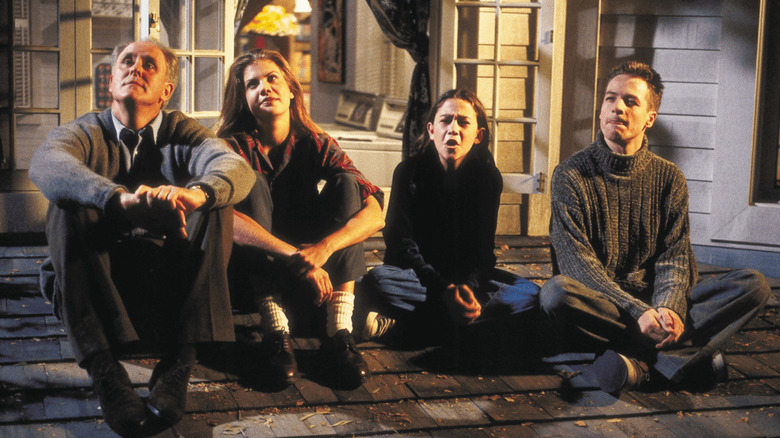 The Carsey-Werner Company
In a 2022 interview with Entertainment Weekly, John Lithgow revealed that his fans remember him most from the '90s NBC sitcom "3rd Rock from the Sun," on which his played the screwball Dick Solomon, the leader of a group of four extraterrestrials posing as a family of humans in the fictional city of Rutherford, Ohio. Even more than 20 years later, people on the street still ask him to do that popular alien salute. "[3rd Rock from the Sun] exploded my career," he said. "It exploded everybody's expectations of me. Nobody had seen me do that nonsense before, except for if they happened to remember the three times that I hosted "Saturday Night Live" way back in the '80s." With the help of his co-stars Kristen Johnston, French Stewart, and Joseph Gordon-Levitt, Lithgow snagged three Emmy Awards during the show's six-season run.
But the "Dexter" villain initially focused his career on theater and film. His performance as a rugby football player in the 1973 Broadway production of the play "The Changing Room" earned him a Tony Award. He later earned back-to-back Oscar nominations in the '80s for his performances in the comedy-drama movies "The World According to Garp," and "Terms of Endearment." When he did appear on the small screen, it was usually in TV movies like the 1986 drama "Resting Place," where he co-starred with Morgan Freeman.
It is no accident that Lithgow hadn't starred in any sitcoms in a career that spanned more than two decades at that point before he signed on for "3rd Rock from the Sun." In fact, him joining the show meant that he had to break his biggest Hollywood rule.
The 'no episodic TV' rule and Frasier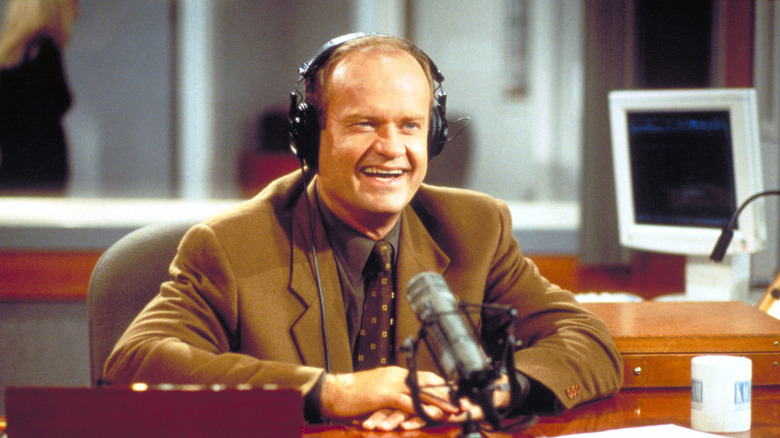 CBS Television Distribution
John Lithgow developed a few dos and don'ts in the industry, but just like my New Year's resolutions, he had broken them all. Well, except one: to never do episodic TV. Rumor had it that this rule led to him turning down the opportunity to play Frasier Crane on the classic NBC sitcom "Cheers" even though the character was written specifically with him in mind. He addressed the rumor to The Guardian in 2020:
"I never wanted to put that out into the public for many years — really sympathizing with Kelsey Grammar. But it was at a time when I was ticking off movies. I'd gotten two Oscar nominations in a row. A TV comedy series was so beneath my dignity that I barely even remember being told that it had been offered to me."
He communicated his position even stronger in a 2021 interview with Vulture: "I was never going to do a sitcom," he said. The role of Frasier would go to Kelsey Grammer, who played the character for 20 years, including 11 seasons as the titular protagonist on the popular "Cheers" spin-off, "Frasier." The show premiered in '93, and in just three short years later, Lithgow starred as the lead in another sitcom on the same network. What made him break the rule after all those years?
Did John Lithgow turn down Frasier role because of his 'no episodic TV' rule?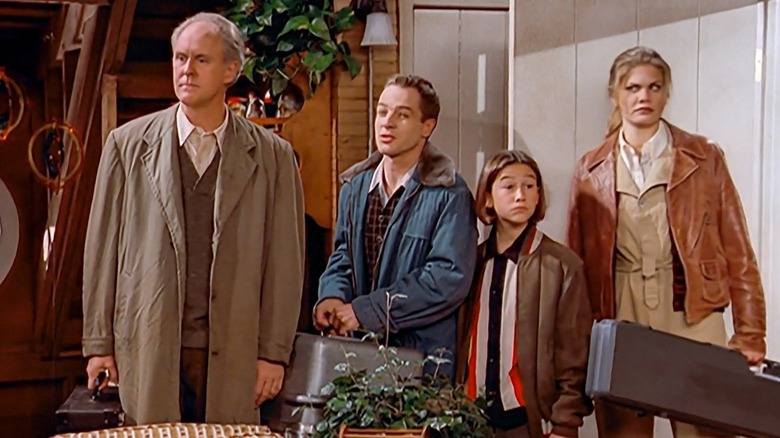 The Carsey-Werner Company
When John Lithgow hosted "SNL" in the '80s, he befriended staff writers and married writing duo Bonnie and Terry Turner, who are also known for writing the screenplay for "Wayne's World" and creating sitcoms "That '70s Show" and "3rd Rock From the Sun." Years later, they created the character Dick Solomon specifically for Lithgow. "They always said they needed an actor who was a combination of Bugs Bunny and Errol Flynn — and I was the only one they could think of," Lithgow told Entertainment Weekly. 
If he declined, the Turners would have scrapped the whole thing instead of finding a replacement. But putting the future of the show in Lithgow's hands wasn't enough to persuade him to make the leap to TV land. He recalled to Vulture how Bonnie and Terry Turner pitched him over breakfast at the Four Seasons and his heart sank when Terry told him the show was about four aliens. "I just thought, How am I going to say no and get out of this as gracefully as I can?" he said.
But the more he listened to the pitch, the more the premise grew on him. In addition to that, he hadn't earned an Oscar nomination since his back-to-back ones in the '80s and he began questioning whether if it was time to shake things up. '[The pitch] was at just the moment when I was thinking, I gotta do something other than these cornball villains," he told GQ. Is he talking about the '93 action-thriller "Cliffhanger"? Regardless, taking that leap at something different served him well; just ask the fans still asking him to do the alien salute.