Every Season Of Frasier Ranked Worst To Best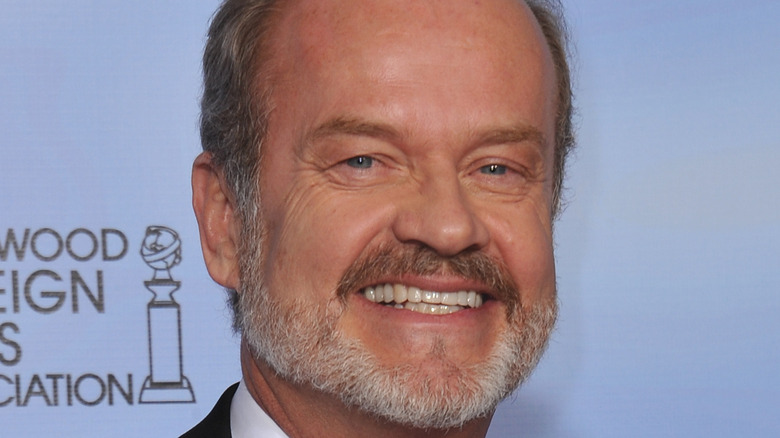 Featureflash Photo Agency/Shutterstock
To be considered amongst the best sitcoms of all time, it has to have that rewatchability factor — you can put on an episode any time, any place, and it will have you laughing throughout. "Frasier" absolutely has this because the dialogue is so sharp and endlessly quotable. The characters shouldn't be likable — the two central brothers, Frasier (Kelsey Grammer) and Niles (David Hyde Pierce), are rich know-it-alls. But surrounding them with Martin, Daphne, and Roz means that their pomposity is constantly pricked, and they remain warm and endearing despite their many flaws and foibles.
If there were some kind of "Hall of Fame" for television casting, "Frasier" absolutely deserves to be there. Just the casting of Kelsey Grammer and David Hyde Pierce as brothers alone is perfection, but all the core characters and so many of the supporting roles and guest stars are just so brilliantly cast. In fact, Frasier's dates and girlfriends alone make up a large sub-section of the cast that the show gets absolutely right — Felicity Huffman's horrendous Julia, Jean Smart as old flame Lana, Mercedes Ruehl as boss lady Kate, Lisa Edelstein as hippy Caitlin, Amy Brenneman as Faye, the list goes on.
Narrowing down the best episodes and seasons of "Frasier" is tricky because it's so strong throughout its 11 seasons (so far, a revival is apparently on the way). This was no mean feat, but somehow, we've ranked the seasons of "Frasier" — from worst to best.
11. Season 8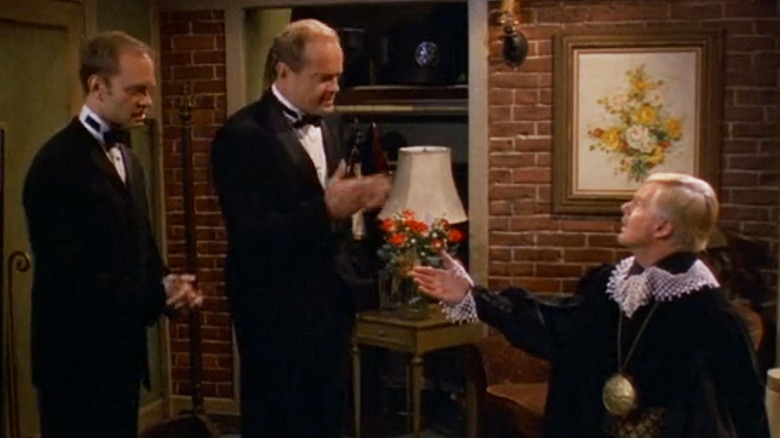 NBC
It's actually surprisingly easy to choose the worst season of "Frasier" because one season contains a choice so bafflingly bad and offensive, it has to be considered the worst. Unfortunately, the three worst seasons are all at the bottom for Daphne-related reasons. The brilliant Jane Leeves is, of course, innocent — but the writers often did not treat Daphne kindly. 
In Season 8, Leeves was pregnant, and even though Daphne was with Niles by this point, her pregnancy could not be written into the show for some reason. So, the writers decided that the way to explain it was that Daphne started eating too much and gained weight. It's a testament to how strong the series is as a whole that it can still be considered so beloved, despite this horrible decision. The fact that the worst season directly follows the best season just makes it all the more frustrating.
There aren't many highlights in Season 8, but "Cranes Unplugged," featuring Frasier's repeated refrain of "we leave at daybreak," and "The Show Must Go Off," which features Derek Jacobi as a horribly hammy Shakespearean actor, are probably the highlights.
10. Season 10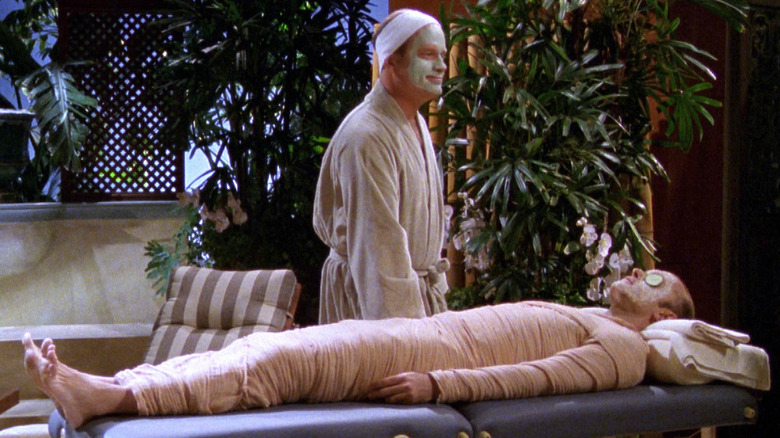 NBC
In Seasons 9 and 10, the "Frasier" writers made the unfortunate decision to introduce Daphne's brother Simon (Anthony LaPaglia) and her mother Gertrude (Millicent Martin) as recurring characters. But it's in Season 10 that Gertrude really overstays her welcome with Niles, Daphne, and the audience.
Despite this, the 10th season does have a few highlights, including a surprisingly tender and heartfelt dramatic episode called "Rooms with a View," which finds Niles in hospital, reflecting on his past and considering his possible futures. It also has a great Halloween episode called "Tales from the Crypt," in which Frasier pranks Bulldog. Good episodes at the radio station involving the wider supporting cast of eccentrics such as Gil and Noel are not as plentiful as one might hope, but Dan Butler's Bulldog was the best of the lot. 
And the best of the season has to be "Door Jam," where Niles and Frasier attend an exclusive day spa, only to realize that there are even more exclusive rooms hidden behind golden and platinum doors ("Please remain in the relaxation grotto — have crueler words ever been spoken?!"). Away from Gertrude Moon, plenty of laughs can still be found.
9. Season 9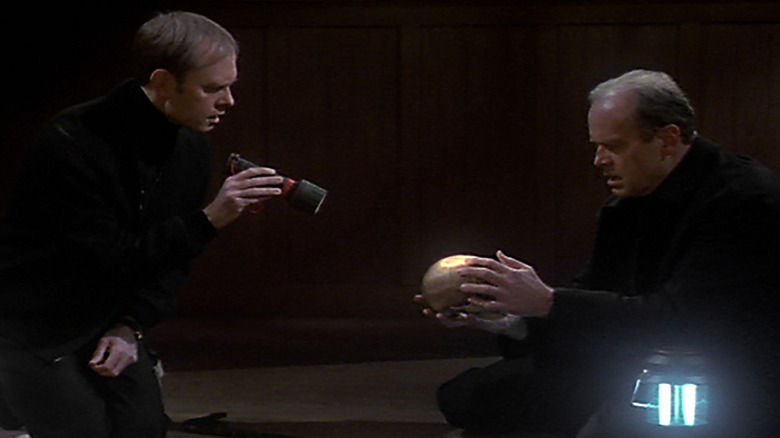 NBC
Unfortunately, Season 9 sees too much of Daphne's family and Simon Moon, in particular. However, there are still plenty of stand out episodes and fun to be had. Something that the show manages to pull off surprisingly well is Frasier and Roz sleeping together in "The Guilt Trippers," which is less weird and more heartfelt than we might have expected and ends in the right way — with them remaining friends.
This season also features Tony Goldwyn's guest appearance as Roger the garbage man in "Love Stinks," forcing Roz to realize that she's snobbier than she thought. Elsewhere, "Death Trap" sees a Crane Boys Mystery as Frasier and Niles try to solve a "murder most foul." And a plot revolving around Martin's ancient Lay-Z-Boy chair leads to Frasier setting it on fire and throwing it off the balcony, then having it painstakingly remade so that it becomes the most expensive piece of furniture in the apartment.
"The Love You Fake" offers the best and most memorable lines. It features Frasier's rivalry with his upstairs neighbor Cam Winston and Daphne starting a laundry protest, which leads Frasier to brandish a sock and demand, "Where is his mate?! I will not be strong-armed by threats against my laundry!" Another memorable phrase is, "I suspect his hand is at the spigot." Even when the series is not at its best, it still manages to produce lines of dialogue that become indelibly imprinted on the mind.
8. Season 2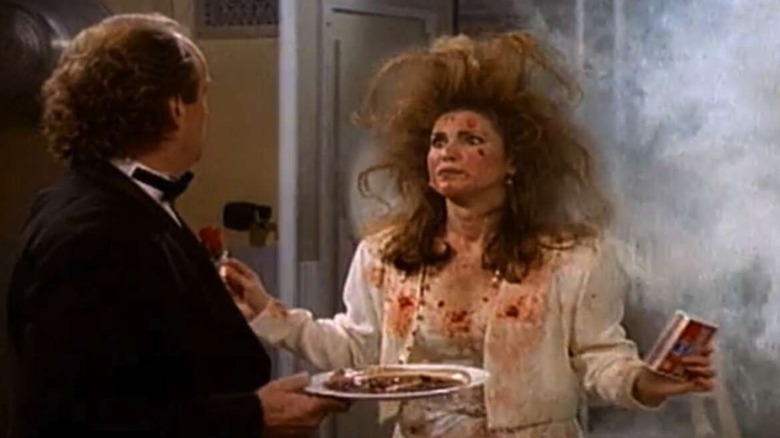 NBC
While Season 2 doesn't have many classic episodes, as the show is still finding its feet, it does contain a strong contender for the best "Frasier" episode of all time. Before we get to that, Harriet Sansom Harris deserves praise for her magnificent performance as Frasier's immoral agent Bebe Glazer, who gets a chance to stretch her deliciously evil muscles in "Agents in America." 
Another great episode is "Daphne's Room," which features something that "Frasier" does best — farce. The best "Frasier" episodes could be plays and revolve around misunderstandings and physical comedy in a limited location (usually Frasier's apartment). In this episode, Frasier makes repeated transgressions into Daphne's room until it culminates with all three Crane men flapping about (plus Eddie ends up with a bra in his mouth).
But there is one episode that rises head and shoulders above the rest, and it's "The Innkeepers." Niles and Frasier hatch an ill-advised scheme to open a restaurant together and recruit Martin, Daphne, and Roz to ensure the opening night goes smoothly. "You're not being asked to do anything that none of us hasn't done before, in our own kitchens in our own homes! Quick, Niles, kill five eels!" is a classic line, and the physical comedy peaks with Roz flambeeing the cherries jubilee ... and herself. This episode would be near the top of the list if you were introducing someone to "Frasier" for the first time and wanted to persuade them of its greatness.
7. Season 1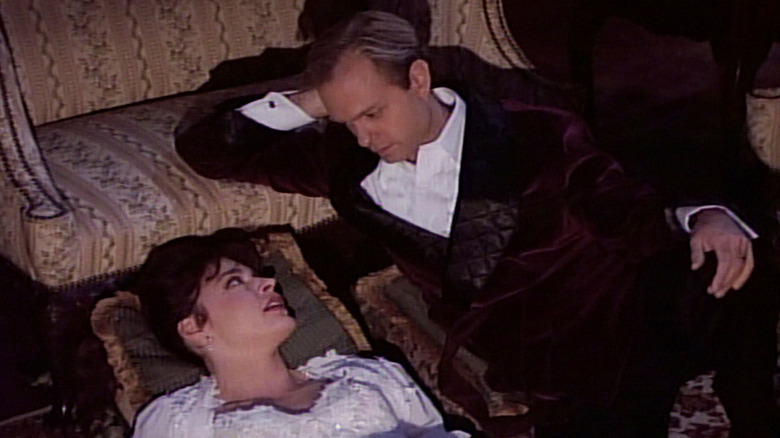 NBC
Season 1 of "Frasier" has to establish the dynamic between the central characters that would lead to them enduring for a decade as a beloved extension of our own families. Martin, Eddie, and the Lay-Z-Boy all move in with Frasier, setting up plenty of conflict. Frasier and Niles are so similar that you think their characters won't work, but their competitive natures and a few crucial differences mean that sparks are constantly flying between them. And when Frasier hires a home help to assist him with Martin, Niles immediately falls in love with her.
"Author Author" is the best episode for establishing the Crane brothers' sibling rivalry, as they hole up in a hotel room in an attempt to write a book together, which goes as well as would be expected. "Travels with Martin" is the first time a Winnebago is introduced, a theme that is picked up again in Season 7. The Cranes accidentally take Daphne across the border into Canada, unaware that she isn't supposed to leave the country for visa-related reasons. And the best episode of the season, "A Midwinter Night's Dream," sees a "vulnerable woman [Daphne] and an unstable man [Niles] in a gothic mansion on a rainy night" — and don't forget the glockenspiel.
While it obviously took a little while to reach its full potential, Season 1 contains many of the core elements that made "Frasier" a roaring success.
6. Season 11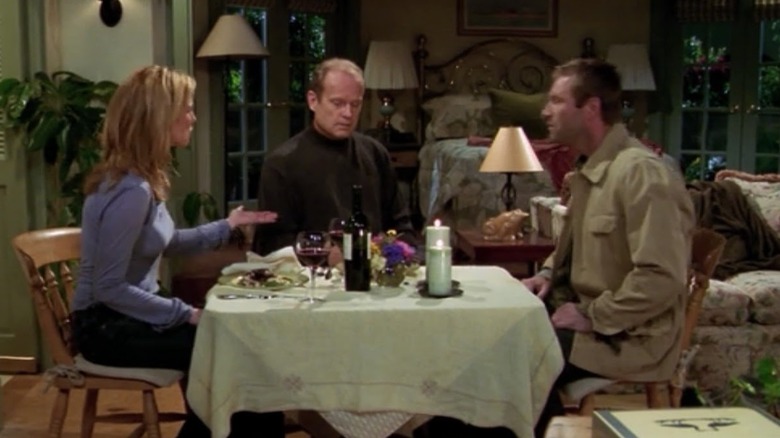 NBC
After the disappointing drop in quality seen in Seasons 8 through 10, things are thankfully pulled back in Season 11, just in time for the series finale. Daphne's infuriating family is finally out of the way, and just enough time is left to introduce a new love interest for Frasier — Charlotte (Laura Linney) — so we can be invested in them ending up together. "And Frasier Makes Three" is the episode where Frasier ends up (kind of) accidentally dating both Charlotte and her environmentalist boyfriend Frank (Aaron Eckhart), who is brilliantly funny.
Other highlights of the season include "Boo!", where Frasier dresses as a clown and gives Martin a heart attack, and "Caught in the Act," when Laurie Metcalf guest-stars as Frasier's rampantly horny ex-wife — children's entertainer Nanny G. And then there's "The Doctor Is Out," which guest-stars Patrick Stewart as an opera director who starts courting Frasier. It's also the episode in which Frasier ends up in a gay bar wearing Niles' extra-small tennis shorts and ordering a sherry from his furniture polisher.
It goes without saying that "Goodnight, Seattle," the two-part series finale, is an emotional wringer. It was the right call to have Martin find happiness with Ronee (the fabulous Wendie Malick) — as well as Niles and Daphne, of course — leaving Frasier with little reason to remain in his beloved apartment. A fitting end for the characters we came to love over the decade they were in our homes.
5. Season 6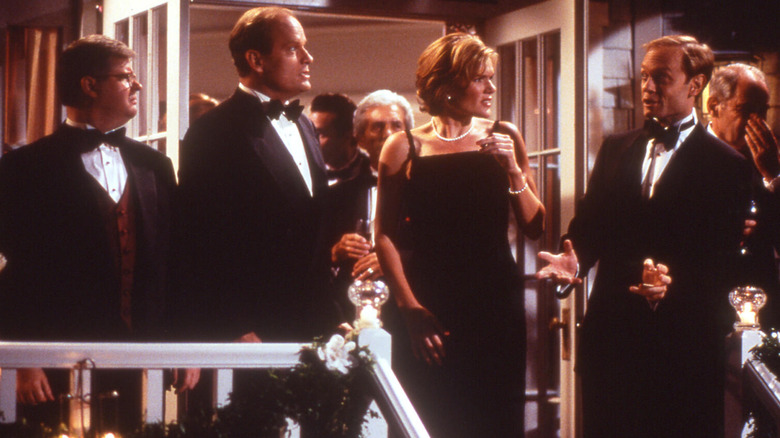 NBC
By the middle of the 11-season run of "Frasier," it had hit its stride and served up several strong seasons, one after another. Season 6 sees Niles finally divorce his high-maintenance but never seen wife Maris. He hits a low point when he briefly has to move into a haven for divorced men — the Shangri-La. It also has a great guest star in the form of Christine Baranski's Dr. Nora.
Some of the best episodes include "Merry Christmas, Mrs. Moskowitz," which sees Frasier pretending to be Jewish while Niles is dressed as Jesus. In "The Seal who Came to Dinner," which has a surprising beach house location, the Crane brothers attempt to throw several dinner parties, which (of course) end in disaster. "The Dinner Party" — also featuring the unique locale — is a bottle episode in which just the planning of the party is enough to finish them off.
The most famous episode from this season is "Three Valentines," which features David Hyde Pierce's masterful silent comedy routine in the show's cold open, ably supported by Eddie, of course. His work with the fire extinguisher alone is comedy gold. This section of just one episode is so good that it cements Season 6's place in the top five of the series.
4. Season 5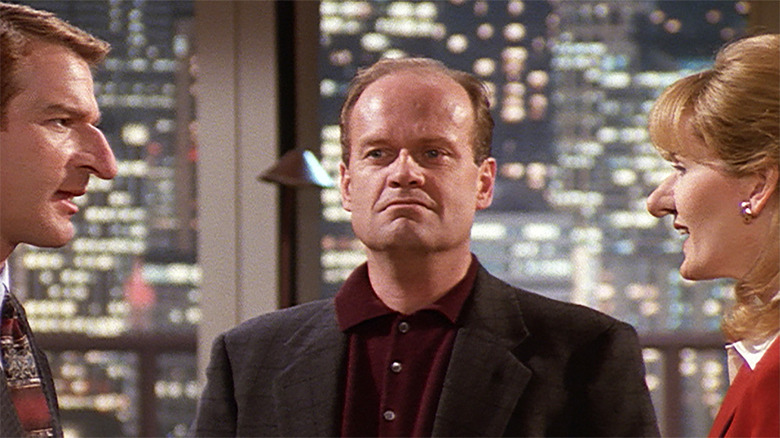 NBC
Season 5 is another mid-series gem for "Frasier." At this point, the characters have had enough time to embed with each other (before things go off the rails with the introduction of Daphne's family). The season shows that much of the humor and farce in "Frasier" surrounds dating and sex, and particularly Frasier's relentless bad luck at finding love.
There is "Frasier's Imaginary Friend," where he dates a supermodel zoologist, and no one believes him. Then there's "Room Service," in which the unthinkable happens, and Niles and Frasier's ex-wife Lilith (Bebe Neuwirth) sleep together. The ultimate sex farce, however, is "The Ski Lodge," in which "lust courses through the lodge and hormones virtually ricochet off the walls in every direction," from Daphne and her friend Annie to the French ski instructor Guy, and then Niles ... but none lands on poor Frasier.
Two episodes manage to find humor in Roz's pregnancy — the Halloween episode, in which Niles (dressed as Cyrano) thinks Frasier has got Daphne pregnant. Then there's "Roz and the Schnoz," where Roz meets the parents of her baby's father, only to discover they both have huge noses, leading to every nose-based pun imaginable. Season 5 is solid "Frasier" and a reminder that it's spicier than you perhaps remember it being. 
3. Season 3
NBC
Season 3 was a transition season — between early "Frasier," when the show and characters are still finding their feet (and the early '90s aesthetic makes it feel ancient), and the wave it rides between Season 4 and 7, producing hit episode after hit episode. Season 3 has a Bebe Glazer appearance (always a bonus) and features Frasier's boss Kate (the fabulous gravelly-voiced Mercedes Ruehl), with whom he has a steamy affair.
The highlight episodes of the 3rd season include "Martin Does It His Way," in which Frasier and Niles try to help Martin write a song for Frank Sinatra. Another music-based episode, "Look Before You Leap," will have the phrase "buttons and bows" rattling through your head for days after. Season 3 contains probably the best "Frasier" Christmas episode, where he frantically tries to find an Outlaw Laser Robo Geek for his son Frederick, and it contains one of the best ever "Frasier" lines: "The Cranes of Maine have got your Living Brain!"
As a nice follow-up to the glockenspiel episode in Season 1, Season 3 has a lovely Niles and Daphne episode, "Moon Dance," in which Daphne wears a stunning red dress and does a passionate tango with Niles, leading to a confession of adoration and even a kiss. This classic episode ensures Season 3's status as one of the best.
2. Season 4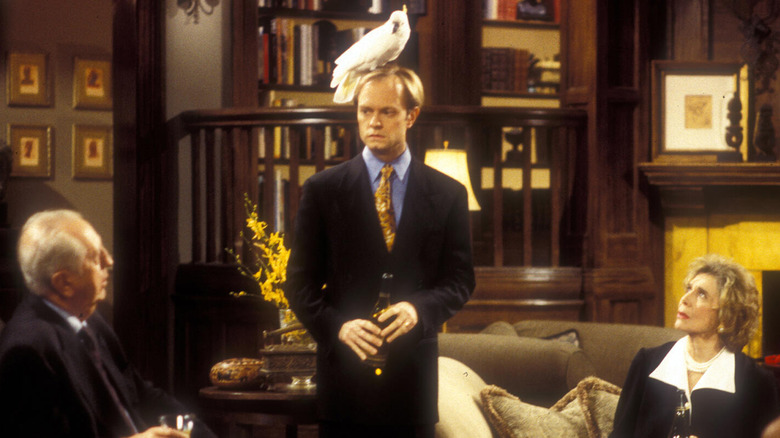 NBC
In Season 4, "Frasier" hits its peak and rides that wave until Season 8's unfortunate Daphne-based decision. It features banger after banger, with the only slight downside of the season being Martin's girlfriend, Sherry.
The 4th contains the best episode title, "Roz's Kranz and Gouldenstein are Dead," and it has a great Eddie episode, "Death and the Dog," as well as a Bulldog episode, "Love Bites Dog." This season also sees Daphne dating a Niles clone in "Mixed Doubles." One of the undoubted highlights is "A Lilith Thanksgiving," in which Lilith and Frasier are preoccupied with getting Frederick into a prestigious prep school while Niles and Martin do their best to injure the precious boy himself at every turn. It also features "a turkey so underdone a skilled veterinarian could still save it." There's also "Ham Radio," in which Frasier tries to produce an elaborate murder mystery for the radio station. 
This is also the season where Niles moves into the Montana, starting many epic episodes of him throwing disastrous parties, including "To Kill a Talking Bird," where his highly-strung cockatiel gets stuck on his head. And then there's "Are You Being Served," which sees Niles getting "hot and foamy" and is the closest we'll to seeing the cast corpsing on camera. Season 4 is certainly in contention for the best season of "Frasier."
1. Season 7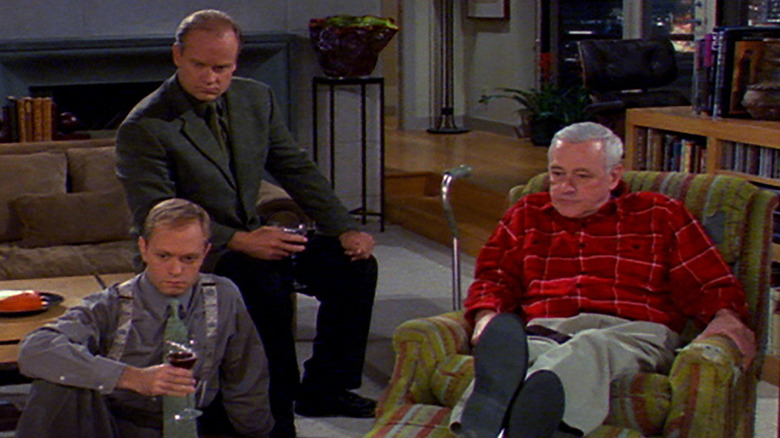 NBC
It was a tough decision and hard to narrow down, especially when it came to choosing between the top two seasons, but there can be only one winner, and it's Season 7. Unfortunately, "Frasier" hits its peak just before a series of baffling Daphne-based decisions derail things somewhat for Season 8 through 10.
Season 7 sees the introduction of Jean Smart's Lana in "Big Crane on Campus," with her catchphrase "put your brother on the phone!" cementing her status as maybe Frasier's best girlfriend. There are two great Martin episodes, "Out with Dad" and "RDWRER," and the latter involves Niles getting kidnapped in a Winnebago. There are also two great radio station episodes — "Radio Wars," which involves Frasier getting into a prank war with a pair of "shock jocks," and "They're Playing Our Song," where Frasier writes a new jingle for his radio show, which turns into an epic involving a full orchestra. And we must appreciate every time we get a Bulldog episode, and this season has a doozy — "The Dog That Rocks the Cradle."
If forced to choose just one favorite episode of "Frasier," it would have to be "A Tsar is Born," in which the Crane brothers become convinced they're descended from the Romanoffs. It contains so many great lines, including, "I think it's the swans I miss most" and "there's a back aching for the lash." And let's not forget that Season 7 culminates with Daphne finally discovering that Niles loves her — perfection.