Shudder Announces V/H/S/85, David Bruckner, Scott Derrickson, Gigi Saul Guerrero And More Directing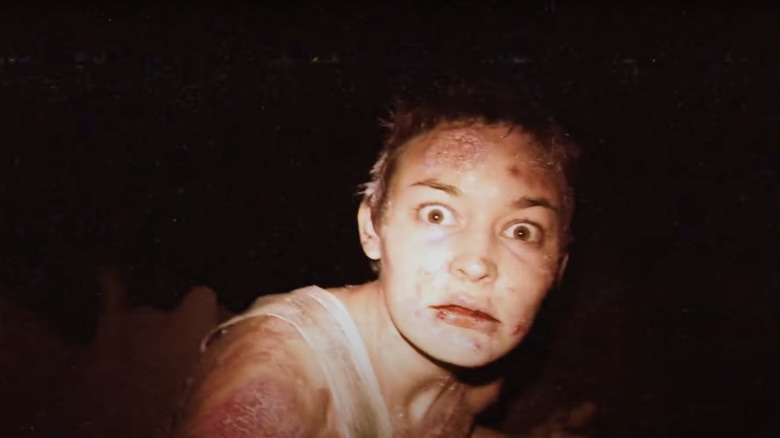 Shudder
Ahead of the streaming release of "V/H/S/99" this month, Shudder has announced the next installment of the franchise with "V/H/S/85." "Sinister" and "The Black Phone" director Scott Derrickson and "Hellraiser" and "The Night House" director David Bruckner will helm new segments in the found-footage anthology sequel along with Gigi Saul Guerrero ("Bingo Hell"), Natasha Kermani ("Lucky"), and Mike P. Nelson ("Wrong Turn"). Derrickson himself confirmed on Twitter that he has already filmed his segment for "V/H/S/85."
This will be the sixth movie in the main "V/H/S" series, after the original film and its first four sequels, "V/H/S/2," "V/H/S: Viral," "V/H/S/94," and "V/H/S/99." Since the VHS home video format hasn't exactly been in fashion in the 21st century, it makes sense that the series would go back in time to the 1980s with "V/H/S/85" rather than try and move forward into the 2000s. The Shudder Original film and Studio71 production will be released in North America, the United Kingdom, Ireland, Australia, and New Zealand in 2023.
In a statement via press release, Bruckner — who also directed the "Amateur Night" segment in the first "V/H/S" and co-wrote "V/H/S/94" — said, "The 'V/H/S' series is a continued love letter to found footage nastiness and the mad variety of anthology horror. Having helmed a segment of the OG film, I'm beyond excited to be back behind the camera in 'V/H/S/85,' alongside some of my very favorite voices in the genre."
V/H/S staying power
Just last month, we spoke with "Hobo with a Shotgun" director Jason Eisener, who helmed a segment in "V/H/S/2" and expressed interest in returning for another "V/H/S" movie. While Eisener isn't attached to this particular installment, there's clearly a love for this series among the horror community, and the fact that, after so many sequels, it's still able to pull in high-profile directors like Derrickson and Bruckner for "V/H/S/85" is a testament to its staying power. The anthology format gives filmmakers a playground to tell short stories without having to commit themselves to the massive endeavor of an entire feature film production.
According to Shudder's press release, "V/H/S/94" was the biggest movie premiere in the streamer's history, setting a record for opening-weekend views, and it continues to be their top-performing title almost a year later. The upcoming "V/H/S/99" premiered at the 2022 Toronto International Film Festival and is set to bring a new anthology tale your way that "harkens back to the final punk rock analog days of VHS, while taking one giant leap forward into the hellish new millennium."
In "V/H/S/99," "a thirsty teenager's home video leads to a series of horrifying revelations." The film features five new stories from "47 Meters Down" and "Resident Evil: Welcome To Raccoon City" director Johannes Roberts along with Maggie Levin ("Into The Dark: My Valentine"), Flying Lotus ("Kuso"), Tyler MacIntyre ("Tragedy Girls"), and Joseph & Vanessa Winter ("Deadstream"). 
"V/H/S/99" premieres on Shudder on Thursday, October 20, 2022.