The Sopranos' Paulie Walnuts Was A Reflection Of The Real Tony Sirico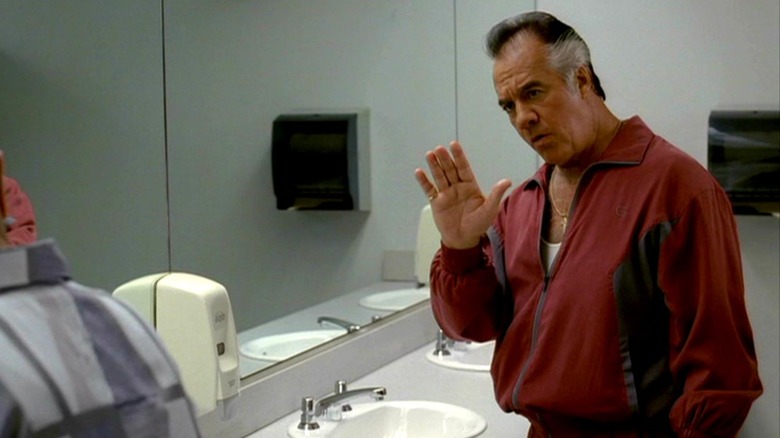 HBO
There's no question that the late Tony Sirico gave an inspired performance as Paulie on "The Sopranos," but did you know the role was actually based on the actor? Sirico originally auditioned for a different part, but series creator David Chase felt that he wasn't the right fit for the role. Still, the actor made such an impression that Chase wrote an entirely new character just for him. Since Sirico himself inspired Paulie, the character was crafted in his image.
Sirico initially auditioned for Uncle Junior, a part that eventually went to Dominic Chianese. When Chase called Sirico to reject him, he reassured the actor that he would still find a place for him on "The Sopranos." Sirico remembered Chase telling him, "'I've got something in mind for you. I want you on the show. I haven't decided what you're gonna do or who you're gonna be,'" the actor recalled on Today. "He hung up — I wasn't sure if he was pulling my pretzel ... an hour later he calls me up and he says 'You are Paulie Walnuts, you're on the show.'"
Michael Imperioli, who played Christopher Moltisanti on the show, asked Sirico if Paulie was in the initial script for "The Sopranos" pilot. "No," Sirico replied. "So he created Paulie Walnuts for you?" Imperioli clarified. "Yeah. He told me I'm Paulie Walnuts. I loved it," Sirico said.
Sirico is the most similar to his Sopranos character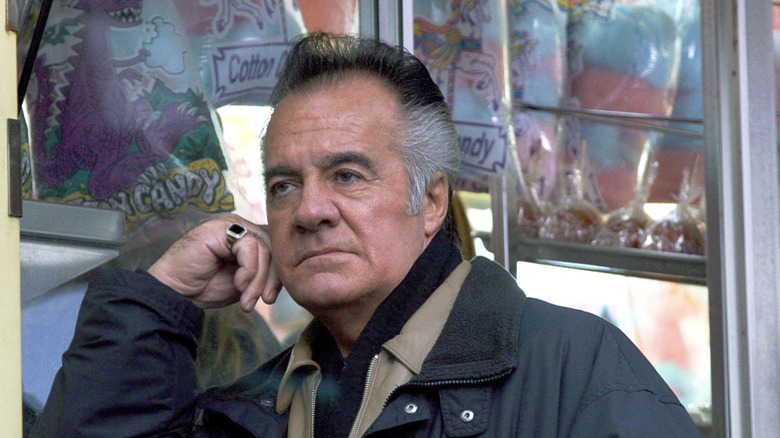 HBO
Paulie "Walnuts" Gualtieri was not only written for Sirico, but some parts of Sirico's life directly inspired his "Sopranos" character when the creative team was at a loss. "There was an episode where they were going to go to Paulie's apartment, and the set designers and producers were racking their brains to figure out what the apartment would look like," his co-star Steve Schirripa recalled. "Finally, somebody said, 'The guy is the guy. Let's go to Tony Sirico's apartment.' That's what wound up being Paulie Walnuts's apartment. It was an exact replica of Tony's."
Sirico's hair was also a source of character development on the show. "Tony has gray hair. But he would go to a barbershop in Brooklyn called Three Brothers, and they would dye his hair jet black and then put the silver wings in on the sides," Schirripa explained. "If you look [at] the pilot, the wings are very small. They get bigger as the series goes on."
Naturally, it's not unheard of for a filmmaker or television creator to draw from actors' personal lives as a source of inspiration. Sam Levinson has famously co-written many of the characters in "Euphoria" with the actors that play them. Chase, however, did not typically take this approach, which made Sirico somewhat of an outlier. "Out of all the characters on 'The Sopranos,' Tony Sirico, out of anyone I think, is the most similar to his character," Imperioli asserted.
He took the part personally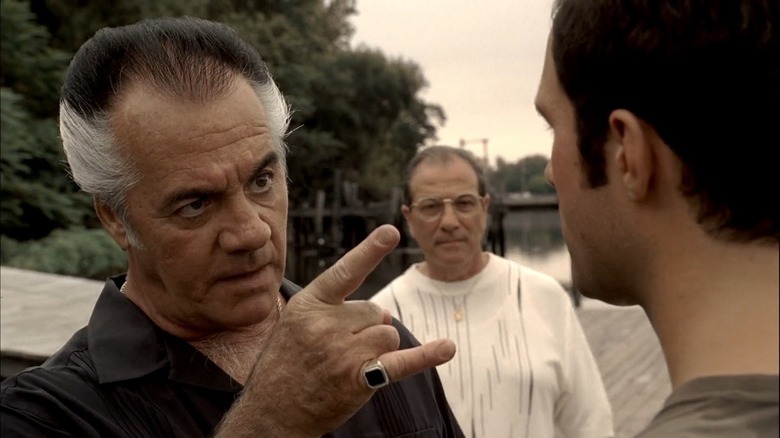 HBO
Since his role in "The Sopranos" was so personal to Sirico, his character remained loyal to his code of honor. "Tony Sirico in real life, what would he always say? 'I'll never play a rat,'" Schirripa said on Talking Sopranos.
Chase often insisted that his actors stick closely to scripts, but he made his sole exception for Sirico. "[Sirico] was the only one who ever asked me to have a line changed. And I did it," he admitted to Vulture. "Another character was talking about Paulie, and they said he was a bully. Tony didn't like that," Chase explained. "He asked me to take the word 'bully' out of there. And I did."
Sirico's link with Paulie may have caused him to take the insult to heart. "I wonder if [his past had] something to do with why he was so sensitive about it. Maybe he had been a bully as a young man," the series creator speculated. The actor did have a violent criminal past, which he spoke about openly in the 1989 documentary "The Big Bang." He admitted to viciously beating several men and was sent to prison for manslaughter.
The late actor was the perfect model for a "Sopranos" character, and luckily, Chase recognized it right away. There would be no "Sopranos" without Paulie, and there would be no Paulie without Sirico.