Adrien Brody Begged For His Character's Life On Peaky Blinders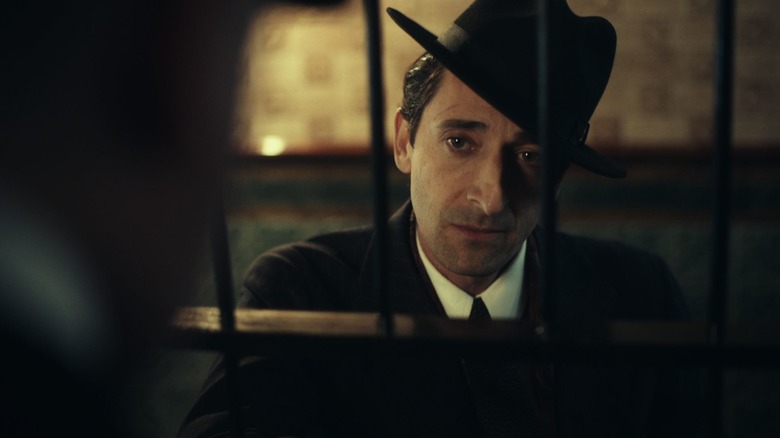 Netflix
Before "Peaky Blinders" built to its thrilling climax in the final season, pitting Cillian Murphy's Tommy Shelby against his own flesh and blood Michael Gray (Finn Cole) in a power grab for the ages, the popular BBC series largely featured one primary antagonist per season — often portrayed by established character actors or even big-name stars. Early seasons saw the street gang come up against the relentless Inspector Campbell (played by a delightful Sam Neill in full mustache-twirling mode, dodgy Northern Ireland accent and all). Soon followed Noah Taylor as mobster Darby Sabini, Paddy Considine's loathsome priest Father Hughes, Sam Claflin as fascist Oswald Mosley, and even Tom Hardy as sometimes-enemy, sometimes-ally, Alfie Solomons across the entire show's run.
"Peaky Blinders" took a turn, however, once Adrien Brody turned up in all his stereotypically New York/Italian glory as the formidable Luca Changretta in season 4. Vowing revenge on Tommy Shelby and his entire family for the brutal killing of his father, the mobster ended up becoming one of biggest threats the Peaky Blinders ever faced, leading to the near-deaths of some major characters and helping set up the rivalry between Tommy and Michael.
Brody's scenery-chewing performance instantly made his antagonist a favorite among fans, but his all-too-brief run would come to a bloody end by the conclusion of the season. You can count the actor himself as the character's biggest champion, with Brody recently going so far as to say that he never wanted the good times to end. After all, who could blame him?
'I did not want to go home'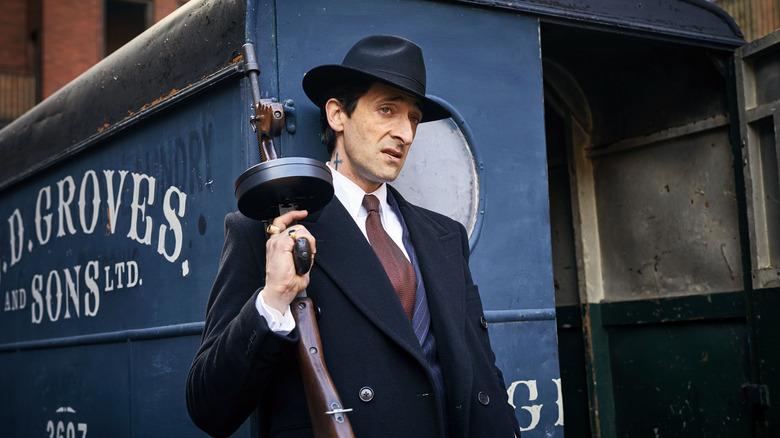 Netflix
With his tommy gun in hand and a toothpick perpetually in his mouth, Adrien Brody's Luca Changretta turned out to be almost as fun for viewers to watch as it was for Brody to actually play the violent mafioso in "Peaky Blinders." In a career retrospective published by Entertainment Weekly, the actor briefly ran down many of his career highlights such as 2002's "The Pianist," M. Night Shyamalan's "The Village," the Peter Jackson remake of "King Kong," and most recently his turn in the controversial "Blonde," Brody made sure to single out his short-lived but memorable role in "Peaky Blinders." According to him, the villain was a dream come true and one that he never wanted to come to a grisly end:
"A character like that was something that I'd been wanting to play for many years. It had room for all of this fun stuff to honor a style in filmmaking and acting that I loved, and a style and character and lore within the foundations of family, mafia, honor, and all these things. I desperately tried to persuade them to find a way to keep Luca alive to come back for revenge. I really wanted to stay. I did not want to go home."
The throwback role to classic mob boss depictions of old allowed Brody to sink his teeth into the performance, playing off several veteran performers like Murphy, Paul Anderson, and especially the late Helen McCrory. His time on "Peaky Blinders" may have been painfully short, but Luca Changretta certainly cast a long shadow. There's no path for Brody to ever reprise his role (outside of some unlikely flashbacks, perhaps), but fans can expect more "Peaky Blinders" goodness to come when the franchise returns with a feature film spin-off.