The Junior Targaryen Family Fight Club Is House Of The Dragon's Most Epic Battle Yet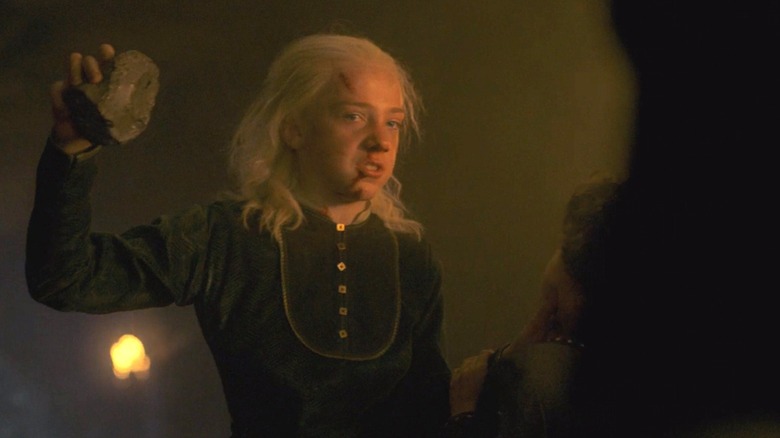 HBO Max
The historically fantastical world created by George R.R. Martin has always been riddled with violence, with some of the most memorable episodes of "Game of Thrones" centering around legendary battles and wedding night massacres. Thus far, the spin-off series "House of the Dragon" has been a masterclass in emotional manipulation and the devastating understanding that the birthing bed is as much of a battlefield as the fields of war. However, without White Walkers, Wildlings, and multiple kingdoms fighting for the Iron Throne, the violence has been minimal compared to the series predecessor. This isn't necessarily a bad thing as extreme portrayals of violence do not a good show make, but "House of the Dragon" finally gave us an epic battle worth talking about, and it's all thanks to the littlest members of the Targaryens and Velaryons.
In the episode titled "Driftmark," the adult rivalry between Queen Alicent Hightower (Olivia Cooke) and Princess Rhaenyra Targaryen (Emma D'Arcy) has boiled over into the lives of their children, with this baby brawl looking like a foreshadowing of the events in "The Dance of the Dragons." The familial House of the Dragon is being torn apart from the inside out, as in-fighting, selfishness, and a sense of royal entitlement become dominant forces. The destruction of the families is inevitable, but without the fully-developed brain capacity to understand how to "play the game," it's the children that trigger the beginning of the end.
Knuck if you buck, because the Junior Targaryen Family Fight Club is House of the Dragon's most epic battle yet.
Bullying in the bloodline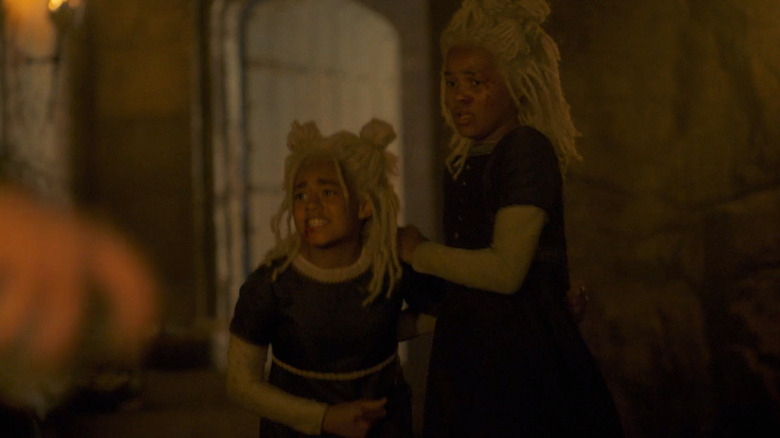 HBO Max
The royal kids of Westeros have it rough. Following Lady Laena's passing, which has left her daughters Rhaena (Eva Ossei-Gerning) and Baela (Bethany Antonia) absolutely devastated, Rhaenyra's sons Jacaerys (Leo Hart) and Lucerys (Harvey Sadler) are put in the horrible position of having to attend the funeral of their aunt, but unable to acknowledge the passing of Ser Harwin Strong (Ryan Corr), their rumored father. Rhaenyra cannot allow the children to acknowledge him as "family" or their births will be deligitimized, so these poor kids aren't able to attend the funeral of their own father, are lied to about their parentage by everyone in their family, and mocked ruthlessly by those that know the truth.
It is painfully obvious that Ser Strong is the true father of the boys, but Rhaenyra and King Viserys are clearly operating under the practice of "LA LA LA, I CAN'T HEAR YOU!!!" and hoping the kingdom will buy into this lie long enough to make it fact. At the same time, lil' Aemond Targaryen has spent weeks being bullied for not having a dragon, and decides to sneak onto the beach to bond with Laena's dragon Vhagar while her children are in mourning. 
Aemond enjoys his "The Neverending Story" joyride, giving a grand total of zero f**** about what he's done. This leads to a fight between the youngest generation, sans diphead Prince Aegon, who was too busy getting white-haired boy wasted to join in on the fighting festivities. Rhaena and Baela, along with Jace and Luke, confront Aemond about what he's done, who gleefully instigates a 4-on-1 fight by calling the boys "Strongs," as a jab about the identity of their real father.
IT'S ON! RING THE BELL! FIGHT!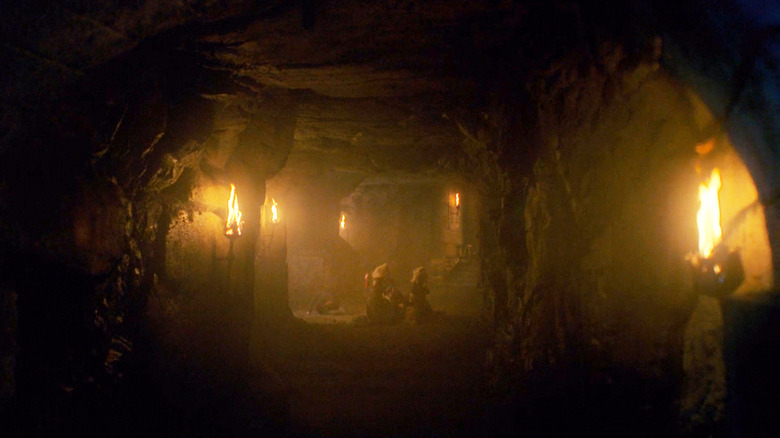 HBO Max
I now present to you, the Junior Targaryen Family Fight Club color commentary.
Aemond is a cocky little bugger, telling Rhaena that maybe Jace and Luke could find her a pig to ride, "because it would suit her," and BUSINESS IS ABOUT TO PICK UP! She dives at Aemond in a furious rage, but he tosses her to the side like a ragdoll. Baela tags in, THROWIN' BIG OL' SOUP BONES, decking Aemond directly in the face. 
DOES HE HAVE NO CONSCIENCE?! DOES HE HAVE NO HEART?! DO YOU HAVE NO SOUL?!
Aemond freely returns the hit and clocks Baela in the face, knocking her to the ground. Jacaerys doesn't take too kindly to Aemond's comments and delivers him a bowling shoe-ugly blow to the face! I can't believe it! 
Ser Harwin Strong's teachings have proven well, because after Aemond kicks the boys to the ground, they recover and run back toward him and topple him like a Jenga tower. 
HE'S ON THE GROUND! AEMOND HAS NOWHERE TO GO! THEY'VE GOT HIM PINNED! BY GOD! IT'S FOUR ON ONE! STOP THE MATCH!
But the match doesn't stop! The three pummel Aemond into the ground, stomping a mudhole on his face and walking it dry! Things don't look good for our fair prince, but he gets a second wind, kicking them off of him, and grabbing Luke by the throat. IT'S A HUMAN DEMOLITION DERBY OUT THERE! 
With Luke in his hands, Aemond picks up a rock and threatens to bludgeon him with it. THAT'S AN ILLEGAL OBJECT, REF! GET IT OUT OF THERE!
The bastard and the blade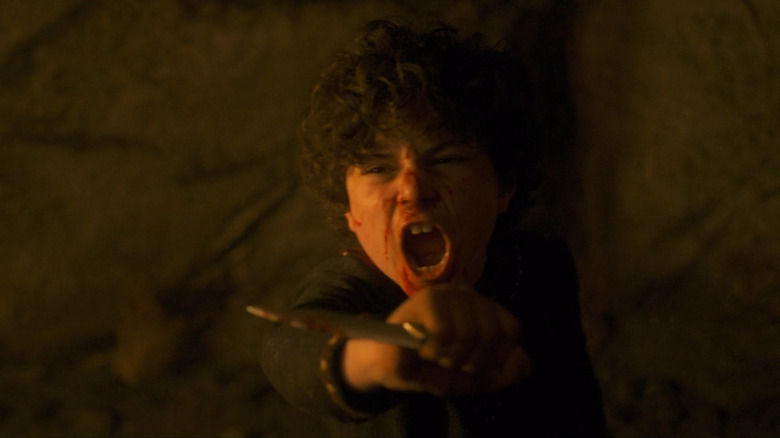 HBO Max
It's a real slobberknocker out there, folks. If Aemond makes a connection with that rock, it's all over for Luke. 
BUT THEN! FROM DOWNTOWN, JACE'S GOT A KNIFE! He makes a dash for Aemond, but he knocks him to the ground! Aemond is tougher than a two-dollar steak! He picks up the rock again, fully ready to turn Jace's pretty face into a pile of meatloaf. The blade is nowhere in sight! It looks like this could be the end of it for our strong boys, but then in a moment of brilliance, JACE THROWS A PILE OF SAND IN AEMOND'S EYES! HE'S BLINDED! HE'S OFF HIS GAME!
WHAT'S THAT? WHAT'S THAT?! LUCERYS VELARYON HAS GRABBED THE BLADE AND TAKES A SWING AT AEMOND, COMPLETELY SLICING HIM IN THE EYE! 
RING THE BELL! STOP THE MATCH! IT'S ALL OVER! WITH GOD AS MY WITNESS, THAT BOY HAS A FAMILY! Annnnnd one less eye, it would appear. 
The Kingsguard finally enters the ring, gods be good, and bring Aemond to the attention of the royal court and to seek medical assistance. He gets a nice stitch job that would make Chucky the killer doll proud, and it's clear by everything about him that he'd do it again in a heartbeat. We love a solid heel.
These parents are destroying their children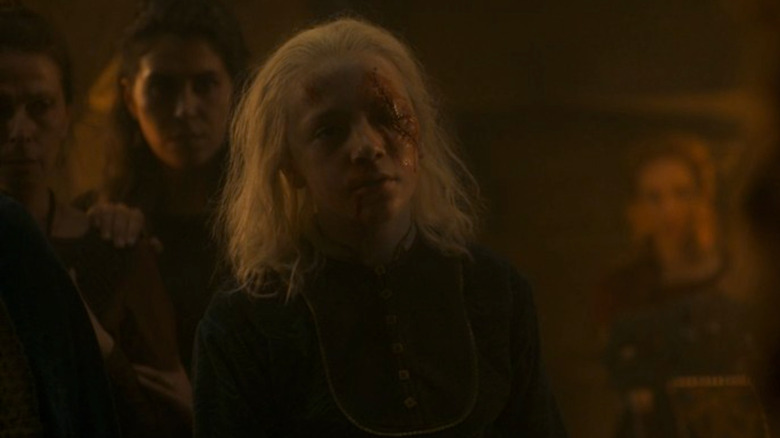 HBO Max
I'll admit, I had far too much fun treating a bunch of preteens knocking the crap out of each other like my own personal round of "WWE 2K22," but these babies should not be bringing blades to battles or getting caught in the middle of their parents' constant dysfunction. As the adults in their lives continue to let slip the truth of their strife in front of them, the heavier resentment grows. Aemond fully lost an eye, and regardless of whether or not "he deserved it," it's telling that King Viserys views the questioning of Rhaenyra's children's royal legitimacy as the worse crime compared to his own son getting his face sliced open like a cantaloupe. He's half a step away from making his entire family hug it out and say one thing nice about each other as if that will squash the deeply rooted conflict.
This event will be the root of the children's future fighting and has now validated Alicent's paranoid conspiracies that Rhaenyra will bring harm to her children. Alicent demands retribution in the form of an "eye for an eye" and even makes an active threat to pluck out Lucerys' eye herself after Viserys tells her to let it go. She fortunately misses but slices Rhaenyra's arm in the process. 
Something's rotten in Driftmark, and it's the whole damn house. Who knew that the canary in the coalmine leading to "The Dance of Dragons" would turn out to be a children's fight club in a cavern? This is the future of House Targaryen, and it's not going to be pretty.