Under The Radar: Athena, Saloum, And Vesper Brought The Thrills In A Spectacle-Starved September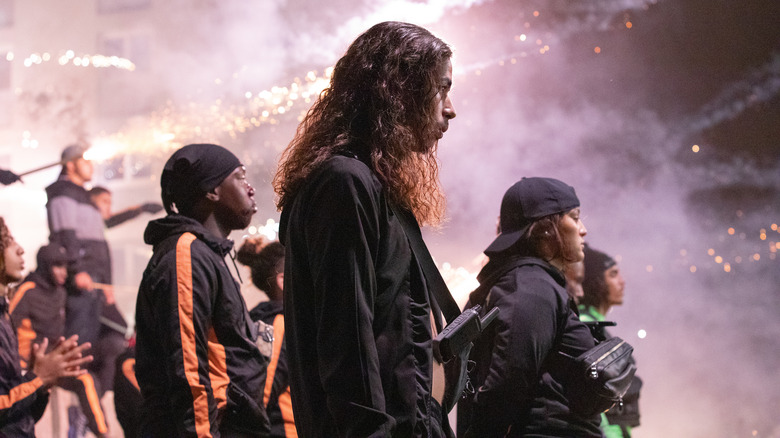 Netflix
(Welcome to Under the Radar, a column where we spotlight specific movies, shows, trends, performances, or scenes that caught our eye and deserved more attention ... but otherwise flew under the radar. In this edition: "Athena" juggles eye-popping filmmaking with harrowing violence, "Saloum" boasts action and the supernatural in equal measure, and "Vesper" delivers the original sci-fi we always yearn for.)
Believe it or not, the idea of blockbusters dominating the multiplexes year-round is only a relatively recent phenomenon. Previously reserved for prime-time slots during the hot summer months, big budget fare has increasingly taken over the other months of the year as studios staked their claim to more and more landing spots. Last year, "Shang-Chi and the Legend of the Ten Rings" debuted in early September to incredible success, while recent years have seen (the pandemic-delayed) "Tenet," both "It" movies, and even a major re-release or two take the top spots during the month.
This year has unfolded a bit differently, with original and non-IP (and adult-targeted!) movies like "The Woman King," "Barbarian," "Don't Worry Darling," and "Smile" leading the way this past September. Granted, even the somewhat mixed performance of these films probably disqualifies them from a column dedicated to underseen gems, but that only highlights the fact that they're far from the only movies worthy of discussion. Without an endless parade of blockbusters sucking up all the available oxygen, this "Under the Radar" edition is dedicated to the smaller — but no less impressive — efforts that are well deserving of praise.
September featured the likes of "Athena," "Saloum," and "Vesper," all of which have are currently available on streaming and VOD, to tide over adrenaline junkies, genre aficionados, and all who simply enjoy ambitious and creative features in an otherwise low-key month.
Suspense blends with the supernatural in Saloum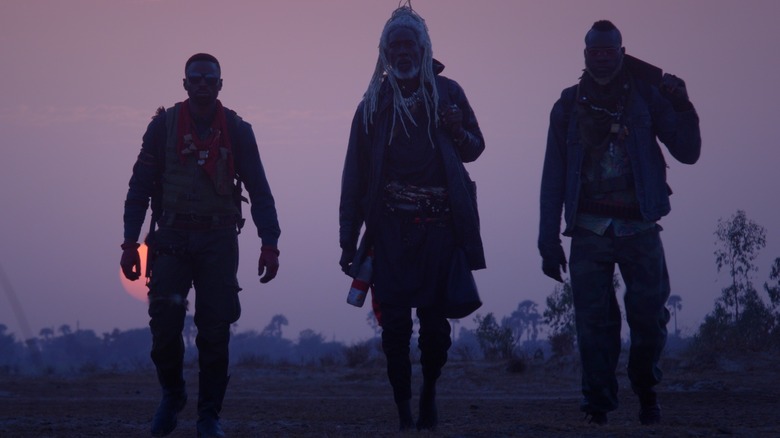 Lacme Studios
Spooky Season may only have just begun in earnest for those waiting until the calendar flipped over to October. Real ones, however, know that they could've kicked off the Halloween festivities with the unconventional action/horror joys of "Saloum." The Senegalese-language film, written and directed by Jean Luc Herbulot, rode a wave of social media hype upon its streaming debut on Shudder largely due to its brazen rejection of any easy genre labels.
Part Western, part supernatural fable, and part revenge thriller, "Saloum" starts off under the auspices of a typical drug-running crime drama before transforming into something else entirely by the final act. After its unforgettable, handheld-operated opening sequence throws us headfirst into the story of three highly proficient mercenaries hunting for a valuable bounty, their foiled escape plan provides the opportunity for the script to suddenly switch gears and remain impressively content to play things with a slow-burning sense of calm before the storm. The steadily-churning tension builds during a middle sequence set in an isolated village in Saloum, Senegal that practically drips with hidden secrets, ancestral ghosts, and a genuinely terrifying local legend that may have just set its sights on our bloodthirsty main characters.
Though perhaps ending up biting off a little more than it can reasonably chew, it's difficult to fault a movie like this for going too far in places when so many mainstream options insist on playing things frustratingly safe. Luckily, here comes the perfect antidote to those suffering from a case of creative burnout, leaving audiences invigorated and setting the bar impossibly high for any other movies unfortunate enough to follow a first-time viewing of "Saloum."
Athena succeeds as both a tech demo and a heart-stopping thriller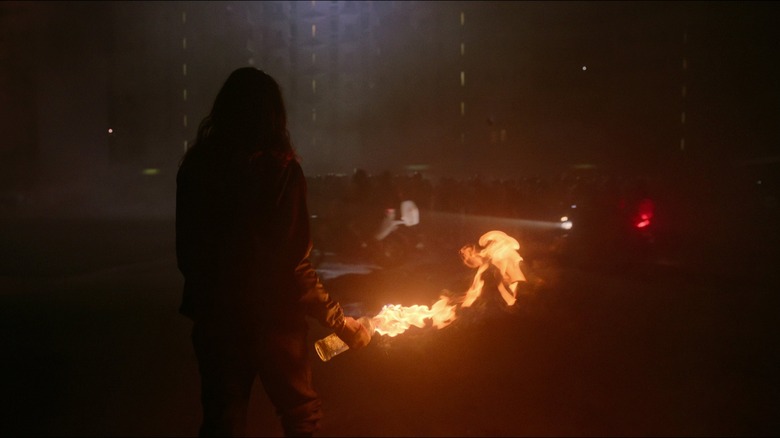 Netflix
Sometimes you catch yourself watching a movie and simply gawk at the images unfolding in front of you, utterly baffled at how anyone was actually able to film them in the first place. The initial 11 minutes of breathtaking footage in "Athena," shot all in one take in one of the most elaborately-staged sequences of bravura filmmaking you'll ever see (especially on this budget), has gotten most of the attention in recent days. But it'd be a shame to let the eye-opening oner distract from the fact that the rest of the French-language film currently streaming on Netflix is pretty damn great, too.
Directed and co-written by Romain Gavras, the visceral drama tells the story of a trio of brothers caught up in the middle of a rapidly spiraling revolution of their own making. In a visceral display flawlessly uniting both form and function, "Athena" evokes the feeling of constantly one-upping itself to gleeful and heartbreaking results alike with several more long takes throughout the brisk (yet punishing) 97-minute runtime. Gavras repeatedly allows the camera to linger on characters as they move through the mise-en-scène of each fully lived-in location, boldly calling attention to his own filmmaking to elicit just as much shock and awe from viewers as the characters themselves are undoubtedly experiencing.
Breathlessly paced, unapologetically political, and unflinchingly emotional, the technical precision of "Athena" behind the scenes is only matched by the incredible confidence dripping from the screen at every moment.
Vesper finds personal stakes in the end of the world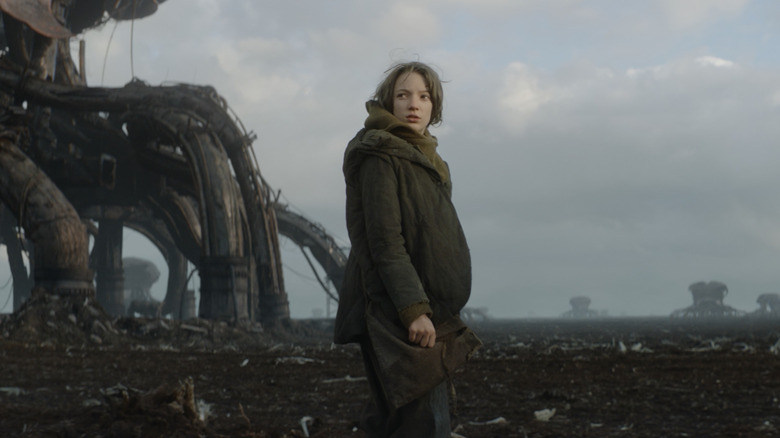 IFC Films
Sci-fi comes in many forms and flavors, but post-apocalyptic stories face a particularly steep hill to climb when it comes to carving out their own memorable space in this niche. Far too many unsuccessful attempts fall under the mistaken belief that world-building alone can make up for a sagging story, strung together by an overwhelming focus on what makes the circumstances of the film so different from our own, instead of connecting the dots with how things remain disturbingly the same.
"Vesper" thankfully avoids this trap, even as it boasts an incredibly detailed vision of a world taken over by genetic experiments gone horribly wrong as a scarred remnant of humanity struggles to survive in the aftermath. Ostensibly serving as a cautionary tale of environmental collapse, the film, directed by Kristina Buozyte and Bruno Samper, finds even greater meaning in pursuit of answering a very simple question: Why shouldn't we give up when things get impossibly hard?
The answer arrives through the eponymous Vesper (Raffiella Chapman), the stubbornly capable child at the center of the action who's been abandoned by her mother and forced to care for her disabled father (Richard Brake) left in a vegetative state (though capable of communicating through a drone-like piece of floating futuristic tech). As gorgeously rendered as the details of this misbegotten world are, with its roving camera constantly finding the beauty in the monstrously mutated surroundings, the somewhat conventional script soon places her in the path of an untrustworthy stranger (Rosy McEwen) who may ultimately change everything.
We've seen stories like this before, but "Vesper" proves greater than the sum of its parts thanks to its simple, yet striking insistence on staying personal amid calamity.