Why Black Panther: Wakanda Forever Star Dominique Thorne Didn't Need To Audition For Riri Williams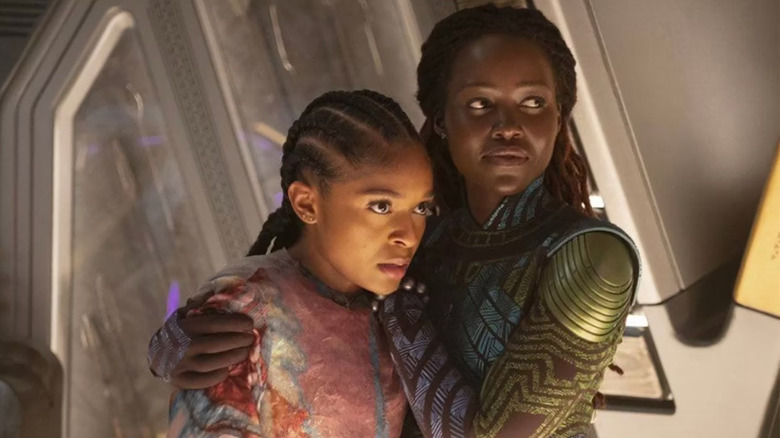 Marvel Studios
Riri Williams, aka Ironheart (above left), has been a long-awaited addition to the Marvel Cinematic Universe for quite some time. As a character, she's still relatively new — having debuted only six years ago in "Invincible Iron Man" Vol. 2 — but she quickly endeared herself to many Marvel fans, especially those hankering for a bit more Black female representation. "Judas and the Black Messiah" actress Dominique Thorne will lead the aptly-titled Disney+ series "Ironheart," but first, she'll make her proper MCU debut in the forthcoming sequel "Black Panther: Wakanda Forever."
It's a role that's been a long time coming for Thorne, who's still more or less a newcomer in Hollywood. Despite her lack of experience, however, Thorne wasn't required to audition for "Wakanda Forever" at all. But that's not to say she didn't put in the work to score the role. She simply earned it in a less-than-traditional way.
The long game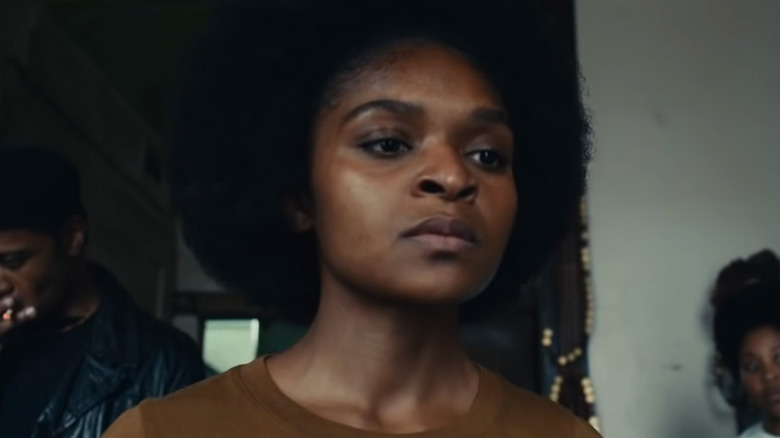 Warner Bros. Pictures
While Thorne didn't audition for the "Black Panther" sequel, she did for the original 2018 film. Back then, the actress was a sophomore in college, and had yet to make her feature film debut in Barry Jenkins' "If Beale Street Could Talk." While the "Black Panther" braintrust definitely saw potential in Thorne, her greenness did give them pause. "They said, 'We'd love to work with you in the future, but you just don't have enough experience right now,'" Thorne told Entertainment Weekly. "At the time, I was like, 'Yeah, yeah, sure, okay. That's what you tell everybody, isn't it?' But I guess they meant what they said."
A few years later, Thorne scored a role as a different kind of Black Panther, in "Judas and the Black Messiah." The film was produced by "Black Panther" director Ryan Coogler, and her performance in it went a long way in securing her future role in the MCU. Thorne recalls getting a call from Marvel producer Nate Moore some time later. He asked whether she was familiar with Ironheart, and when she said yes, he offered her the role on the spot, no audition or self-tape required.
The MCU's timing is always right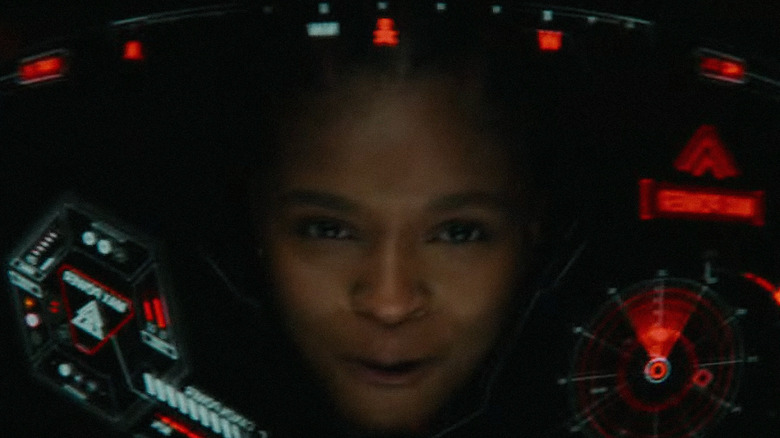 Marvel Studios
Thorne now jokes that her audition for "Wakanda Forever" did happen, just a few years too early. And though she didn't manage to get a role in "Black Panther," Thorne already seems like a perfect fit for Riri Williams. Not unlike Michael B. Jordan's Killmonger in "Black Panther," Riri will serve as a foil to Wakandan princess Shuri (Letitia Wright). "Black Panther" explored the similarities and differences between Africa and its diaspora in the Americas through Killmonger's relationship to T'Challa (Chadwick Boseman), and it's an exploration that will continue in "Wakanda Forever."
"It's like that's being done again in a fresh, beautiful way," said Wright. "I think it's just beautiful to see that there's more room being made for those characters to shine."
Carrying on the legacy not just of a great character like Killmonger, but of the late Chadwick Boseman, comes with an indelible pressure. But "Wakanda Forever" will also take steps to explore who Riri is outside of the Ironheart suit. "She's definitely not the typical or traditional superhero," Thorne added. "She's very much Riri Williams, the 19-year-old student first, and then there's this whole Ironheart business that she has to figure out."
Thorne begins her journey as Ironheart in "Black Panther: Wakanda Forever," in theaters November 11, 2022.