Oliver Stone Thinks Val Kilmer's Performance In The Doors Was Doomed To Be Snubbed From The Start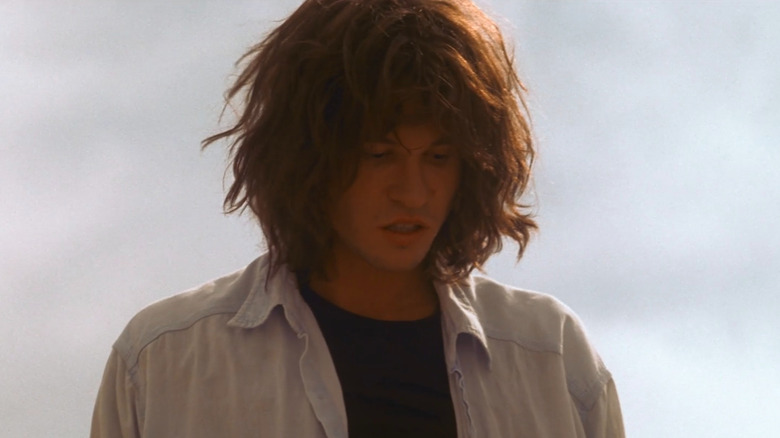 Tri-Star Pictures
Val Kilmer was on a real transformative streak in the early 1990s. Two of the "Top Gun" actor's most memorable, chameleonic performances — Jim Morrison in "The Doors" and Doc Holliday in "Tombstone" — came within two years of each other. "The Doors" hit in 1991 and "Tombstone" hit in 1993, the same year Kilmer also played a convincing Elvis Presley hallucination in "True Romance." After another two years, he would have perhaps the biggest year of his career in 1995 when he co-starred with Al Pacino and Robert De Niro in "Heat" and took on the role of the title superhero in "Batman Forever."
Somewhere in there, it feels like Kilmer should have received a little more recognition for his work, maybe in the form of some awards accolades for "The Doors." The Academy of Motion Picture Arts and Sciences usually loves lavishing Oscar nominations and wins on actors for biopics. Yet "The Doors" didn't find much favor with them or any other awards voting bodies despite Kilmer's magnetic central performance, which involved him doing much of his own singing, similar to what Joaquin Phoenix would later do as Johnny Cash in "Walk the Line."
More love in 1991 went to "JFK," Stone's political conspiracy thriller about the Kennedy assassination. Starring Kevin Costner, "JFK" happened to release the same year as "The Doors," and it racked up eight Oscar nominations, winning two for Best Cinematography and Best Film Editing. For his part, Stone was not surprised that "The Doors" and its counter-cultural energy didn't seem to align with the conservative voting tastes of the Academy.
'I do feel he was slighted'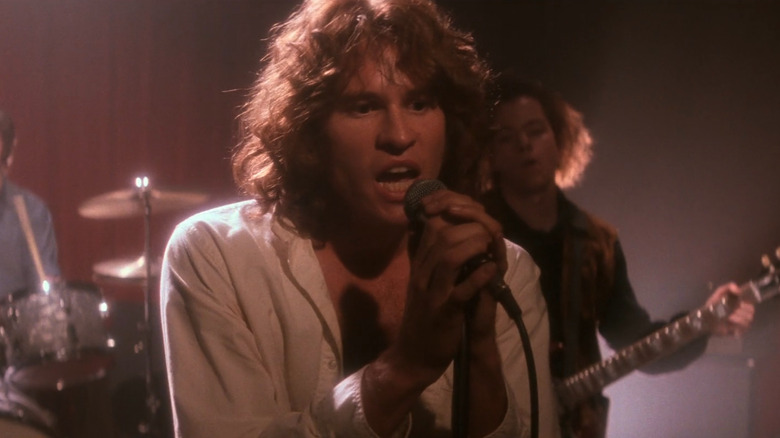 Tri-Star Pictures
"The Doors" celebrated its 30th anniversary in 2021, which gave Stone occasion to reflect on the movie again in a retrospective interview with The Hollywood Reporter. The lifelong Doors fan and director and co-writer of the film (with J. Randal Johnson) acknowledged that Kilmer was probably snubbed for his performance as Jim Morrison, saying:
"I do feel he was slighted. It was a once-in-a-lifetime kind of performance. I certainly know the pain and the sweat he put into it. But I kind of knew 'The Doors' was doomed because of the hijinks Morrison was going through. In other words, it was a crossing-the-line kind of movie. It's become more acceptable now. But this is 1991. You gotta look back. Certainly Val deserved it, but also the sound: There were so many sound breakthroughs and editing breakthroughs in that movie. We were using some new methods. The sound work by Paul Rothchild and that group was unbelievable. The fact that Val was singing about 70 percent of his stuff was pretty significant."
In Stone's mind, the lack of official awards love for Kilmer's performance seems to be related to Morrison's reputation. The music critic Lester Bangs, played by Philip Seymour Hoffman in "Almost Famous," once referred to Morrison as "a drunken buffoon posing as a poet." Maybe Oscar voters felt the same way.
Whatever the case, Val Kilmer really made the character of Jim Morrison come alive in "The Doors," and I know I can't be the only person who first got into the music of the actual Doors band after seeing Oliver Stone's movie.