Reese Witherspoon Was 'Hoodwinked' Into Singing For Walk The Line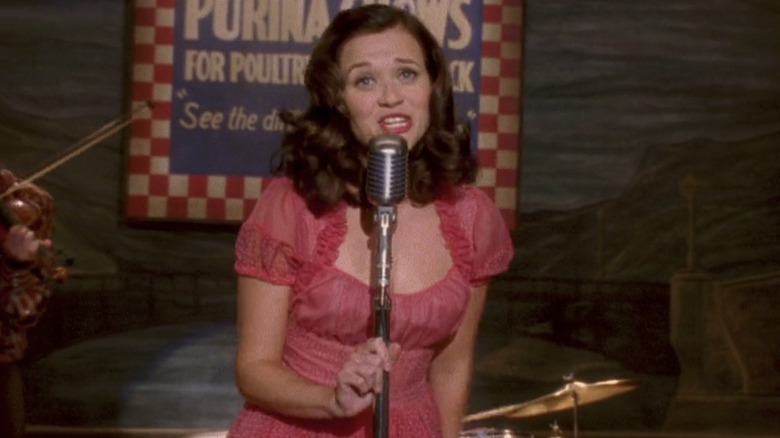 20th Century Fox
June Carter Cash was destined to be a country music star. She was the daughter of Maybelle Carter, who revolutionized the way country music musicians played their guitars, and, later, the wife and better half of superstar Johnny Cash.
Today, Carter's life and career have become intertwined with the Man in Black, but she made her professional debut at the Grand Ole Opry and toured with Elvis Presley before hooking up with Cash. So when Reese Witherspoon was tapped to play Carter in the Johnny Cash biopic, "Walk the Line," she knew she had some pretty big stage shoes to fill.
Hailing from Nashville, Tennessee, Witherspoon certainly knew that portraying a member of country music royalty was a big job, but she was up for it. However, she was far less confident about singing Carter's famous songs, which she had not initially agreed to do.
'Hoodwinked'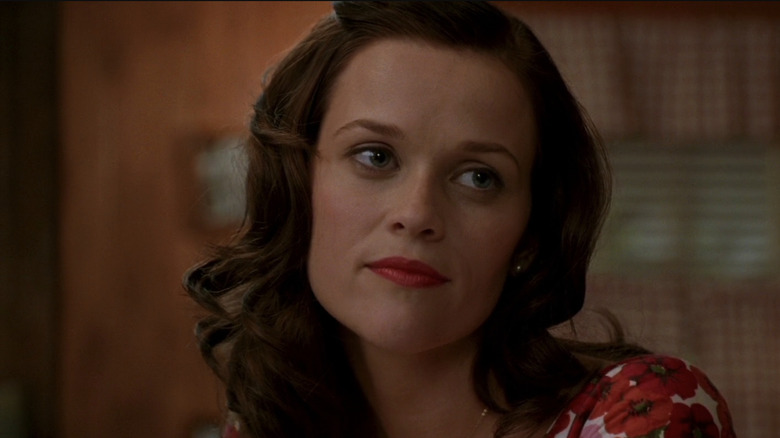 20th Century Fox
Back in 2005, Witherspoon appeared on T"he Conan O'Brien Show," where she discussed her role in "Walk the Line." Witherspoon revealed that while she agreed to portray June Carter, she never conceded to singing any of her songs for the movie. However, two weeks after signing the contracts, the young actress discovered the director had a hidden plan to get her to do just that. In the Conan interview, Witherspoon recounts the moment she discovered she'd be singing Carter's tunes for the movie:
"I was a little bit hoodwinked there. They told me I had this job and I was going to be doing the acting part and play June Carter. Then, about two weeks after I signed all the contracts, the director called me up and said, 'I want you to come to my house.' I came to his house and he said, 'Sing a little something for me.' I was like, 'Why?' He said, 'Oh, because I'm going to have you record all her tracks.'"
While some Hollywood starlets might have embraced the opportunity with open arms, Witherspoon told Conan that she was terrified by the idea:
"I freaked out because I'd never sung professionally before and, moreover, I have stage fright, terrible stage fright. I sweat, my knees sweat, my ears sweat, when I see more than 20 people, it makes me very nervous."
If you've seen the film, and heard her sing, it might be hard to believe that the actress doubted her vocal capabilities, but the voice heard on-screen took a lot of work to develop.
'Hello, I'm Johnny Cash'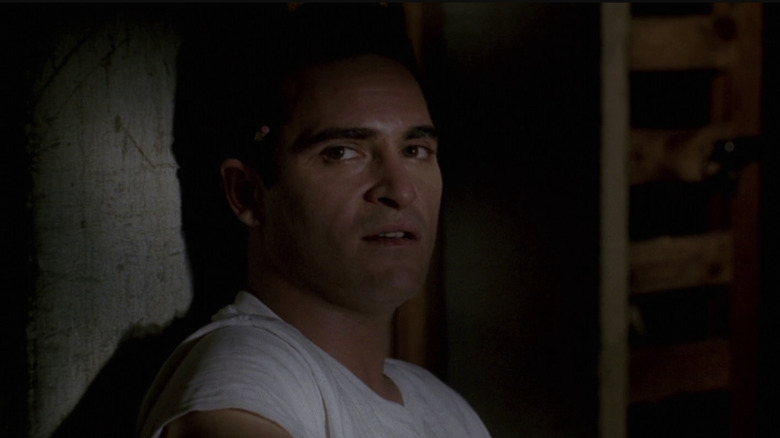 20th Century Fox
Despite her initial fears, Witherspoon stuck it out and, along with co-star Joaquin Phoenix, took six months of voice lessons. After those lessons, both actors' voices had progressed enough to successfully appear in the film, and the official soundtrack, but how did Witherspoon get over her stage fright so quickly?
During an interview with Charlie Rose, the actress credits her co-star for helping her find the courage to sing:
"When [Pheonix] went on stage, he always had to begin every performance by saying, 'Hello, I'm Johnny Cash,' which, to me, takes so much courage... I couldn't believe he got up there and said it in front of, at one point, thousands of extras, and, after that, I couldn't really bow or duck out of anything. He was very inspiring."
This is a mirror image of what occurred between the real life couple. In reality, Cash found inspiration in Carter, and found the courage to leave his addictions to amphetamines and barbiturates behind. In an interview with Rolling Stone, Cash spoke about his relationship with Carter:
"She loves me in spite of everything, in spite of myself. She has saved my life more than once. She's always been there with her love, and it has certainly made me forget the pain for a long time, many times. When it gets dark, and everybody's gone home and the lights are turned off, it's just me and her."
The heart of the film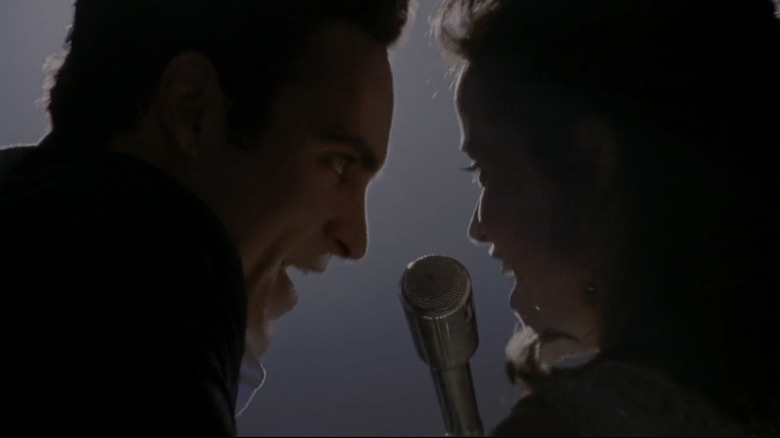 20th Century Fox
On the surface, "Walk the Line" is about the life and career of Johnny Cash. Although he is a country music legend, loved by many, the movie doesn't skirt the darker side of The Man in Black, and honestly shows the darkness of Cash's personality and addictions. However, the film focuses on the unconditional love between Cash and Carter, who stuck together through the brightest and darkest moments of their lives.
While the film was promoted as a film about the musical icon, Johnny Cash, the movie is actually about the inspiring nature of love and acceptance between Cash and Carter. It's fitting that a similar connection occurred off-screen between the actors portraying the famous duo.