Val Kilmer Went Violently Off-Script During His Audition For The Doors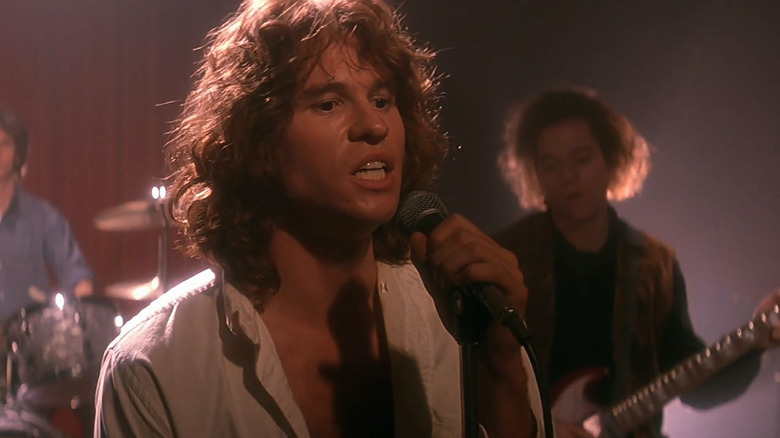 TriStar Pictures
Like many '60s rock stars, Jim Morrison lived fast, died young, and became a music icon. Known for his soothing voice, poetic lyrics, and public antics, The Doors' leadman was celebrated for pushing boundaries with his music and lyrics after bursting onto the rock scene in the late '60s. In addition to pushing boundaries on stage, Morrison exposed himself on stage, mocked concert audiences, and experimented with hard drugs. In 1971, "The Lizard King" joined the tragic 27 club when he died of heart failure in a french bathtub. It's suspected that drugs contributed to Morrison's death, but an autopsy wasn't performed.
Never one to shy away from a controversial event or character, Oliver Stone co-wrote and directed "The Doors," a biopic focused on Morrison and his chaotic life. After portraying an elite navy pilot in the '80s hit, "Top Gun," Val Kilmer grew his hair, slid into skintight leather pants, and became a rock star. The actor immersed himself in the role and learned to talk, move, and sing like the legendary frontman. In an interview with Buzzfeed, former actor, Caitlin O'Heaney, claimed Kilmer also took on Morrison's violent tendencies and punched her in the face during her audition.
Becoming The Lizard King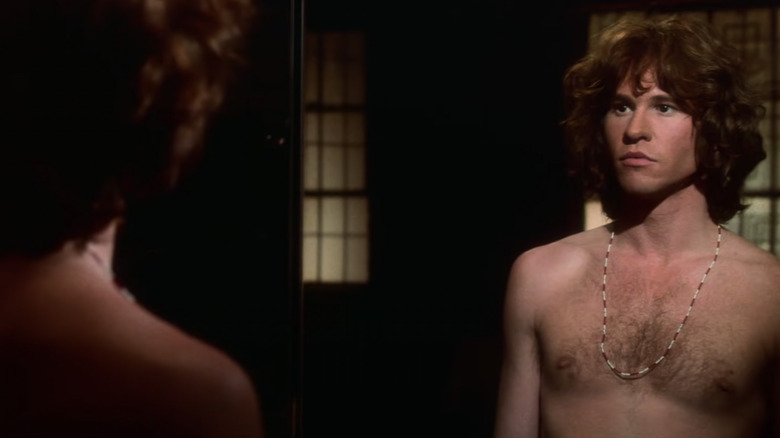 TriStar Pictures
According to an interview with The Washington Post, Kilmer was introduced to Morrison and The Doors as a child. So, when famed director Oliver Stone decided to further immortalize the musician on-screen, Val Kilmer wanted the role, and he threw himself into it.
During the height of Morrison's career, he was extremely thin from substance abuse, so Kilmer dropped down to 158 pounds. He also spent six months rehearsing The Doors catalog and learning to mimic Morrison's voice. He learned to imitate Morrison so well that Stone used Kilmer's voice throughout the film.
The Doors' producer Paul Rothchild assisted Kilmer on the film and was impressed by his dedication to, not only the film role, but understanding Morrison as a person. He told The Washington Post:
"I spent hundreds of hours with him interrogating me about what Jim would think in this or that situation. We might have been out to dinner, for instance, and a waiter would do something and he would say, what would Jim have done there? I kept on filling his cup with anecdotes, stories, tragic moments, humorous moments, how Jim thought, what were my interpretations of Jim's lyrics."
Known as a character actor, it makes sense that Kilmer would want to get into Morrison's head and understand his thought processes, but did he take it too far? According to Caitlin O'Heaney, the answer is a resounding yes.
'That got kind of wild'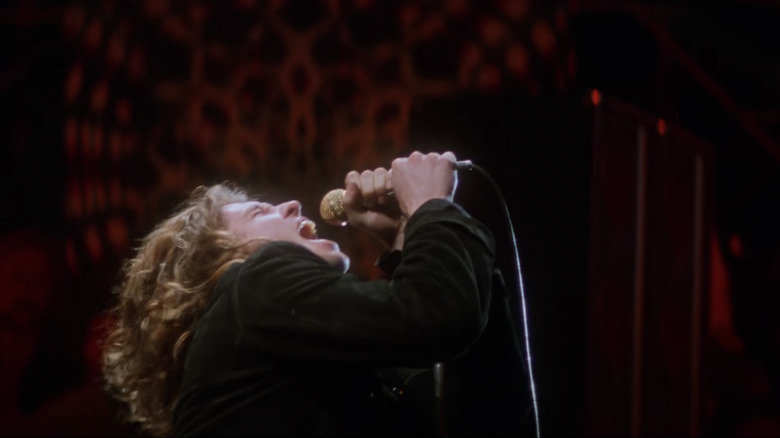 TriStar Pictures
Back in 1989, O'Heaney landed an audition for Oliver Stone's biopic, where she would read for the role of Morrison's girlfriend, Pamela Courson. The scene used in the audition process focused on an argument between the two lovers. In an interview with Buzzfeed, O'Heaney said Kilmer used method acting as an excuse to commit violence against her. She recalled, "When I got to the room and Val Kilmer picked me up and shaked me, throwing me down to the floor. Stone just stood there the whole time laughing." The actress also claims Kilmer punched her.
After the audition was over, she claims Stone summed the interaction up with, "That got kind of wild." Shocked by the interaction and needless violence, O'Heaney said she retreated to her car and cried. A month later, she went to the police and filed a report, but no one else at the audition corroborated her story. Stone and Kilmer's lawyer, Norman Oberstein, called the incident a "workplace mishap" and Risa Bramon Garcia, a casting director who was at the audition said that the whole thing was "blown out of proportion."
In the end, Stone and Kilmer settled with the actress for $24,500, and all parties were supposed to keep the entire incident confidential. However, the recent conviction of Harvey Weinstein inspired the actress to speak out about her own experiences.
Of course, only the four people that were in that room know what happened that day, but it's a fact that the actress' career ended after she went to the police:
"My agent would call me and say, 'Absolutely nobody will see you. We can't even get you a reading or an audition. You're dead.'"
Despite publicly breaking the confidentiality agreement, Hollywood and the public largely ignored O'Heaney's story, so further investigation of this incident is unlikely.