Val Kilmer Had To Be 'Tortured' Into Even Auditioning For Top Gun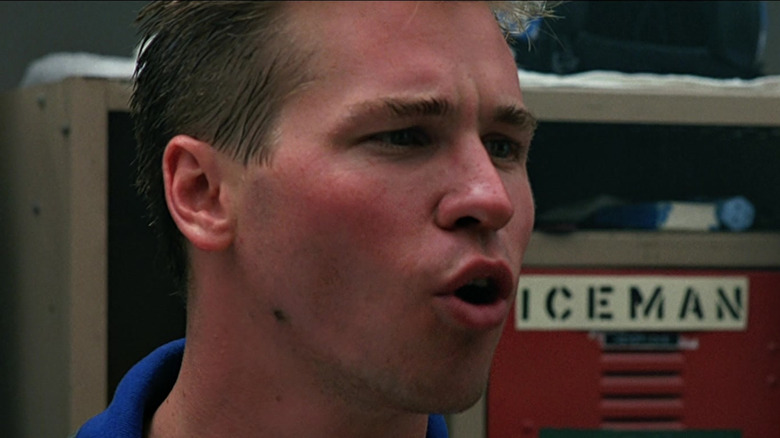 Paramount Pictures
Val Kilmer's role as Tom "Iceman" Kazansky in "Top Gun" (and in its sequel, "Top Gun: Maverick") remains one of his most talked-about to date. Was it his aggressively spiked high-and-tight haircut, the tangible chemistry that fueled his rivalry with Tom Cruise's Pete "Maverick" Mitchell, or Kilmer's knack for crafting unforgettable characters? It's one of life's great mysteries, and ironically, Kilmer was almost never involved in the legacy of "Top Gun" at all. 
According to Kilmer's 2020 memoir "I'm Your Huckleberry," the actor apparently had zero interest in the film or in the character he'd later make famous, when the script was first making its rounds in the '80s. It took a lot of wheedling from Kilmer's agent, who "basically tortured" the actor into meeting with director Tony Scott. From there, it was the pure passion of the filmmaker that convinced the actor to audition for the role at all.
Take his breath away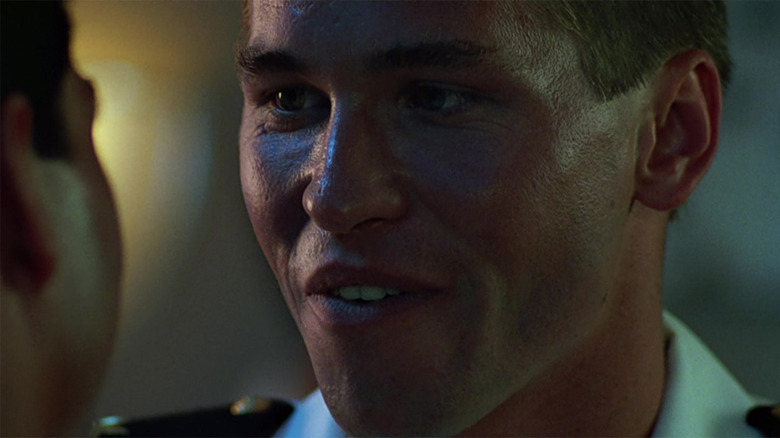 Paramount Pictures
In hindsight, Kilmer is well aware of what a ludicrous success "Top Gun" has become. But back before that particular breed of action film first made millions in Hollywood, "Top Gun" just didn't seem like a safe bet to the actor. "I didn't care about the film," Kilmer wrote in his book, "The story didn't interest me." 
But Tony Scott was keen to meet with the actor anyway. According to Kilmer's agent, the director was "completely obsessed" with him. So Kilmer did his due diligence and showed up to his audition, but he put very little effort into it. He arrived "looking the fool," dressed in oversized, "nausea green" shorts. Even his line reading, apparently, left something to be desired.
But that did little to deter Scott. He offered the role to Kilmer anyway, and the filmmaker even chased the actor down after his audition:
"The moment I got into the elevator, the director ran after me and slid his arm in to block the door. He blurted his truth in his chipper British accent: 'I know that the script is insufficient, but it will get better, Val. Wait until you see these jets. They take your breath away.' He then proceeded to imitate aircraft sounds and motions as if we were six years old and as if there were no one else in the hallway. 'I know you've been told this before, I know you're a serious actor, but you are perfect for this role. It's as if they wrote it for you. It has to be you. It's not the lead, but I'm going to make you feel like it is.'"
'You guys are going to be kings'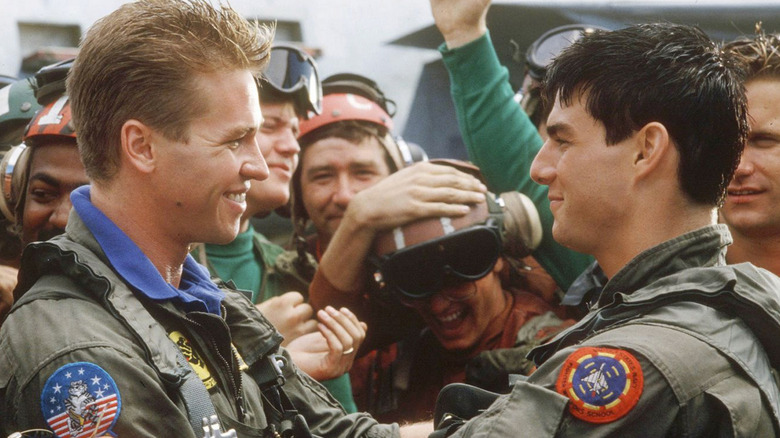 Paramount Pictures
Scott's passion was "a wrecking ball" to Kilmer's resolve. "I had never before been treated with such passion," the actor recalled. "I was so accustomed to giving passion, less familiar with receiving it." Kilmer is notorious for his propensity to give everything to a role, even if he didn't get much in return. Prior to his "Top Gun" audition, Kilmer had been lobbying for a role in a Stanley Kubrick film — possibly "Full Metal Jacket" — and was so set on working with the director that he flew all the way to London to deliver his audition tape by hand. As that story goes, Kubrick was too stubborn to meet with Kilmer, which sent him back to America "deflated."
But Tony Scott was different. His "British enthusiasm" was exactly the "pick-me-up" that Kilmer needed. He reveled in whatever Kilmer did, and though he'd begrudgingly accepted the role of Iceman, Scott inevitably won him over completely. Kilmer recalled:
"Everything was fuel to Tony. Every time a jet took off, Tony swooned. I threw lines away. He would jump for joy. Ultimately, he overwhelmed my disdain for the project with pure unadulterated positivity. Every day he would exclaim, 'This is incredible! This is beautiful! This is beyond belief. You guys are going to be kings.'"
Scott's instincts certainly weren't wrong. "Top Gun" soared at the box office, thanks to its favorable word of mouth, as well as the dedication of the team behind it. It turned Tom Cruise into a certified mega star almost overnight, and it turned Kilmer into an optimist. "Infusing things with light was a sport Tony Scott has mastered," Kilmer said, "and one I would emulate for many years to follow."