Val Kilmer May Have Helped Matthew Modine Secure His Full Metal Jacket Role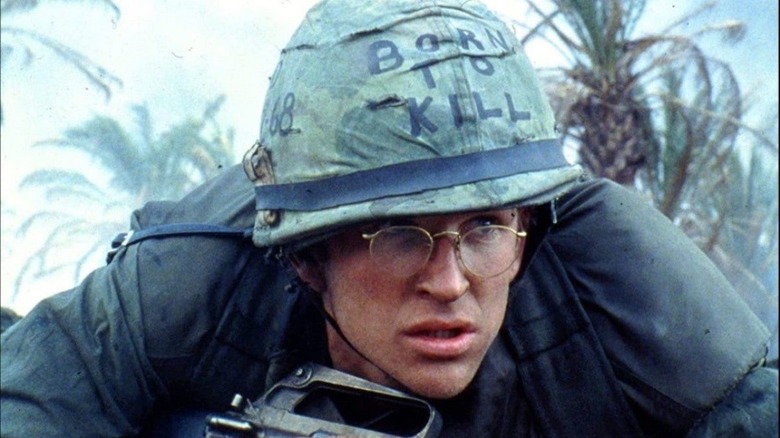 Warner Bros.
It's almost impossible to discuss the greatest war movies of all time without bringing up "Full Metal Jacket." Stanley Kubrick's 1987 Vietnam War epic stars Matthew Modine as young Marine, Private — though he later becomes Sergeant — J.T. "Joker" Davis, who we follow all the way from the brutality of boot camp to the even harsher reality of war. The film is remembered not only for its brutal commentary on war in general, but also for unforgettable performances from Modine, Vincent D'Onofrio, Adam Baldwin, and of course, the late R. Lee Ermey.
Like the sets of other Kubrick films such as "A Clockwork Orange" or the "The Shining," the shoot was demanding to say the least. Modine even released a diary chronicling the intense two-year experience back in 2005. The actor may have been stellar as Private Joker, but he came by the role in a rather interesting way. In fact, a star who had practically nothing to do with "Full Metal Jacket" was at least partially responsible for Modine being considered for the part. So, how did Val Kilmer help him land his starring role in "Full Metal Jacket?"
A chance meeting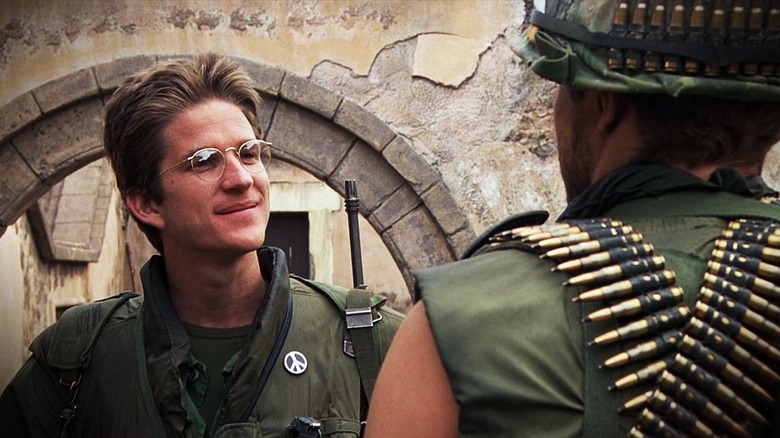 Warner Bros.
While it's impossible to imagine anyone other than Modine as Joker, he wasn't initially in consideration for the part — at least not that he knows of. When speaking to Unframed, Modine recounted a fascinating tale about how he got the role of Private Joker:
"It's a funny story. I was with a good friend of mine, David Alan Grier; we were having pancakes at a place on Sunset Boulevard called the Source, and over David's shoulder there was a guy looking at me, giving me the hairy eyeball. David looks over and says 'Oh, that's Val Kilmer, he's a really nice guy,' [and] he introduced me. Val says 'Yeah, I know who you are. I'm sick of you.' I had been on this run of films—'Birdy,' 'Mrs. Soffel,' and 'Vision Quest.' And Val says, 'Now you're doing Kubrick's film.' When we finished our breakfast I called my manager. He didn't know anything about it. I knew [Kubrick] was making a film with Warner Bros., so we asked [director] Harold Becker to send a print of 'Vision Quest,' and we asked Alan Parker to send some dailies from 'Birdy.' It turns out that maybe Stanley didn't know anything about me and Val Kilmer might have been responsible for me getting the part in 'Full Metal Jacket.'"
According to IndieWire, Kilmer was up for the part himself, so perhaps that accounted for his seemingly sour sentiments. It does appear to have all worked out for the best though, since if Kilmer hadn't said those words, Modine may never have wound up on Kubrick's radar in the first place. Interestingly, Kubrick's first choice to play Joker was actually Anthony Michael Hall (via Metro), best known at the time for his roles in John Hughes' movies, but they were unable to reach an agreement.
Modine did have a string of hits throughout the '80s as he mentioned above, but he's also had a long and varied career, appearing in unforgettable films such as "Short Cuts," as well as beloved TV series like "Weeds." Speaking of shows people love, the actor is likely best known to modern audiences as the villainous Dr. Martin Brenner from "Stranger Things," who may or may not return in the show's upcoming 4th season. Next up, Modine has a role in Christopher Nolan's star-studded "Oppenheimer," which is set to hit theaters in 2023. He has worked with the director previously on "The Dark Knight Rises."