PETA Wants Steven Spielberg To Cut A Scene From The Fabelmans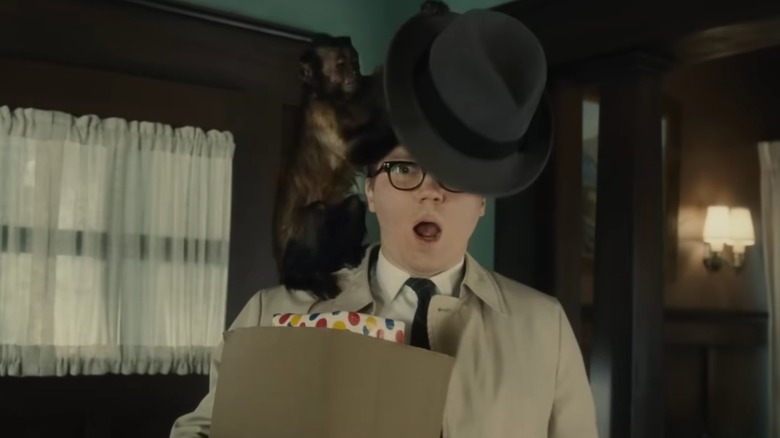 Universal Pictures
Steven Spielberg's film "The Fabelmans" won't hit theaters until November, but the movie that /Film's Chris Evangelista calls a "funny, sweet, and comfortably warm" retelling of the director's early life has already struck a chord with audiences who caught the premiere at the Toronto International Film Festival this fall. It's also, unfortunately, already struck the wrong chord with one group: People for the Ethical Treatment of Animals, or PETA.
It seems strange that a movie about a boy named Sammy (Gabriel LaBelle) growing up, discovering his love of films, and learning about family secrets in post-war Arizona would raise alarm bells for an animal rights group, but apparently, there was a live animal used for the film. In one scene in the trailer, a capuchin monkey climbs on a chandelier, grabs Sammy's father Burt's (Paul Dano) hat, and makes one of his little sisters scream. "Why'd you get a monkey?" someone asks, to which Sammy's mother Mitzi (Michelle Williams) replies, "because I needed a laugh!" The monkey also appears on the film's poster, perched on Dano's shoulder.
PETA released a statement soon after the trailer debut, explaining that monkeys used on film sets are often mistreated by their trainers and separated from their families at a young age. They also said the following:
"Steven Spielberg was imaginative enough to create a lovable alien in 1982 and followed that up with herds of realistic computer-generated dinosaurs in the 1990s, so what's his excuse for dragging a real monkey onto a film set in 2022? His mother might have 'needed a laugh,' but PETA's not laughing — and neither should anyone else who cares about animals."
A monkey on set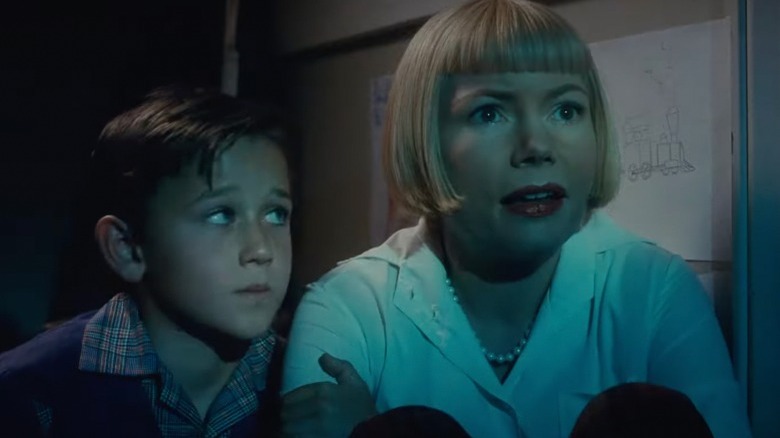 Universal Pictures
The organization goes on to call the scene "an endorsement of the cruel animal-training industry and an advertisement for the seedy wildlife 'pet' trade," asking Spielberg to edit the scene from the film. This isn't the first time PETA has made a similar request. The organization often publicly calls out celebrities for working with live animals, from the "Jackass Forever" crew to Zac Efron. On the other hand, PETA's own track record in terms of sensitivity and ethics certainly isn't spotless: the organization has outraged the public on several occasions in the past, with ad campaigns that reference Nazis and the KKK, fatphobic messaging, and images that some see as exploitative to women, according to Insider.
While Spielberg's team doesn't seem to have responded to PETA's callout, there are definitely signs aplenty that the film industry is steadily changing its tune on the on-set use and treatment of live animals. Many recent movies, like this year's streaming horror hit "Prey," use CGI animals in place of real ones, while Jordan Peele's blockbuster "Nope" directly addresses the safety concerns surrounding live animal use on film and TV sets. In the past, "Finding Dory" cut out scenes at a SeaWorld-like park in response to reports of the park's controversies, while even "Jackass" star Steve-o has become an advocate for animal rights over the years.
Audiences will see for themselves whether the monkey makes the final cut when "The Fabelmans" debuts in theaters on November 11, 2022.