What Does The Orca Doc 'Blackfish' Have To Do With Pixar's 'Finding Dory'?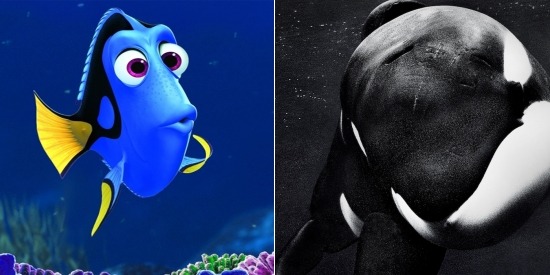 The wave of negative publicity that slammed SeaWorld following the release of Gabriela Cowperthwaite's Blackfish came as no surprise, seeing as the documentary exposed the park's inhumane treatment of orca whales. But now the film is also having an unexpected impact on an unrelated company.
In the wake of the public reaction to Blackfish, Pixar has decided to tweak the ending of Finding Dory, which involves a marine park. The overall plotline reveals under wraps at this time. Hit the jump to find out what they're planning to change about the movie.
According to an inside source who spoke with the NYT, Finding Dory originally had an ending set at a SeaWorld-like park. However, the studio is now restructuring part of the plotline so that the animals arriving at the aquatic center have the option to leave.
The Pixar sequel is still in the early stages, so adjusting the plotline at this point isn't such a crazy undertaking. Still, it's interesting to see the real-world impact Blackfish is already having on marine parks, and the way the public thinks about them.
Aside from that tidbit about the new ending, few plot details have been revealed about Finding Dory. Ellen DeGeneres returns to provide the voice of sweet but forgetful Dory, a regal tang fish. You can get more info from our D23 recap here.
Finding Dory swims into theaters November 25, 2015. Andrew Stanton is directing from a script by Victoria Strouse.